Tucked in the basement of a laundry at its Kearny Street location, gallery Et al. presents the works of the emerging Bay Area artist Sophronia Cook and the Mexico City-based collaborative ASMA. Showcasing two bodies of work by the respective artists, "Gutz" (through June 5, more info here) poetically and, at times, sardonically explores visceral materiality and biological imagery. Most strikingly, the exhibition examines an in-betweenness as process and content.
Cook presents the exhibition's most intriguing works in six collages encased in resin, a series called temporal collapse. The resin's wrinkles and indentations suggest the artist cast the works in boxes, where foam and cardboard dividers secure and organize a package's contents. Appearing as if vacuum-packed, the resin casts are negative impressions, where the original contents are mysteriously suggested in a terrain of irregularly shaped circles and rectangles.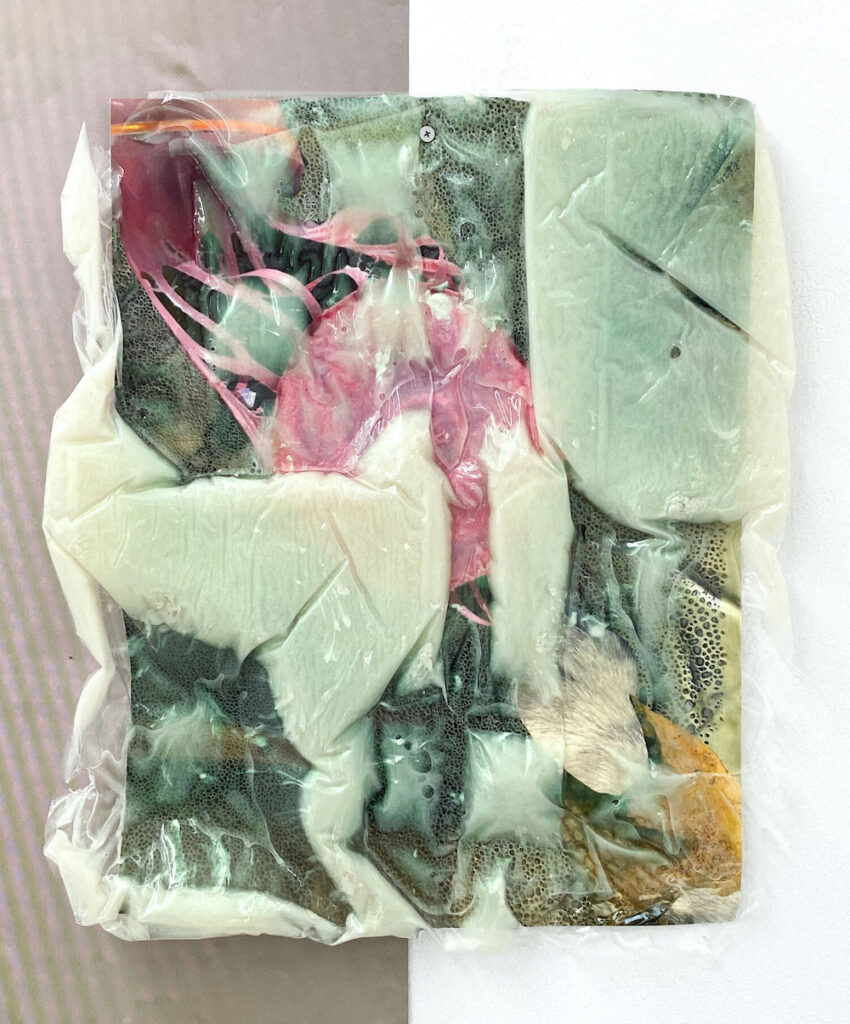 With their jagged edges, bubbles, and unevenness, Cook's light pink, white, and yellow semi-transparent resin pours are satisfyingly messy and unpolished, evoking the ooziness of bodily fluid or sugary hard candy. Poignantly, Cook's works suggests the box and body as vessels that contain fluid, sometime somewhat haphazardly. Embedded in the resin, Cook includes disjointed photoshopped collages of landscapes, plants, candles, teeth, and a hand.
With her bright pinks, acidy greens, and tonal grays, Cook's color palette imparts an artificiality and moodiness to her images of nature and biological forms. As the images bend and fold, Cook reveals only parts of her imagery. Moreover, as the density of the resin builds up in opacity, it blocks out parts of the images, sometimes completely. Cook's obfuscation and unnatural color palette explores the natural world as a suggestive and messy place of absence, one that resists ideas of clarity and the picturesque.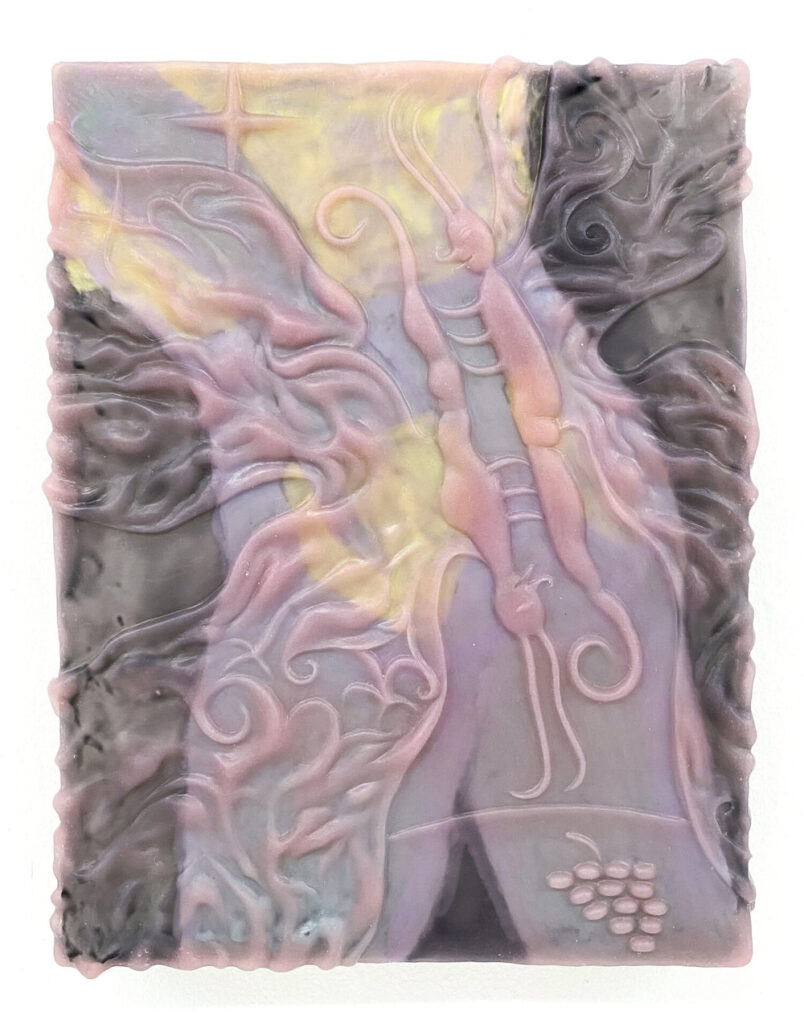 Presenting a series of five small painted panels encased in silicone, ASMA's works strongly dialogues with Cook's in materiality, relief, and imagery. Repeated on each panel, ASMA presents a cartoonish silicone relief of two vertically interlocking butterflies. Through imagery and the series title 69 (2021), ASMA suggests the sexuality of intertwining bodies.
This carnality is reinforced with the fleshy and squishy quality of the silicone, a material frequently used in sex toys. Beneath the semi-transparent silicone, ASMA presents crude surrealist paintings of a forest, bodies, a dog, and a pear in dark muddy colors. With titles for the individual pieces, like "I'm so self absorbed I'm acting desperately" and "My blood simulating," the work conjures juvenile dark dreams that merge the rather glib and gothic.
Cook's and ASMA's works have a refreshing edge to them that explores the body and nature as dark, visceral, and mysterious places and ideas. Cook's works, in particular, have a physicality that speaks to process, in terms of artistic making and the evolution of ideas.
"Gutz" runs by through June 5 at Et al. in San Francisco, by appointment only. More info here.