In response to this year's uncertainty and isolation, "A Joy Unexpected" at Root Division (through June 26) presents a complicated exploration of the seemingly innate feeling of joy. Curated by Tavarus Blackmon, the arts organization's inaugural Curatorial Fellow, the exhibition explores an array of joy-expression in paintings, sculptures, and videos by 15 artist. Blackmon astutely hones in on how joy becomes particularly palpable after anxiety, melancholy, grief, and trauma; the exhibition's most poignant works balance holding an anxiety with the relief of release.
Among the show's stunning offerings, Summer Ventis presents "29 Held Breaths" (2021), a cluster of white and silver mylar balloons delicately dangling from the ceiling. With each balloon possibly standing for a hope, anxiety, person, or day, the cluster stands as that enigmatic and ephemeral thing that awaits the relieving sigh of exhalation. Like Andy Warhol's delicate and reflective "Silver Clouds" (1966-ongoing) and Felix Gonzalez Torres' (1957–1996) works that poetically use mundane objects to address loss during the height of AIDs crisis, Ventis' work speaks to the fragility of the everyday, where shiny helium balloons inevitably deflate and fall.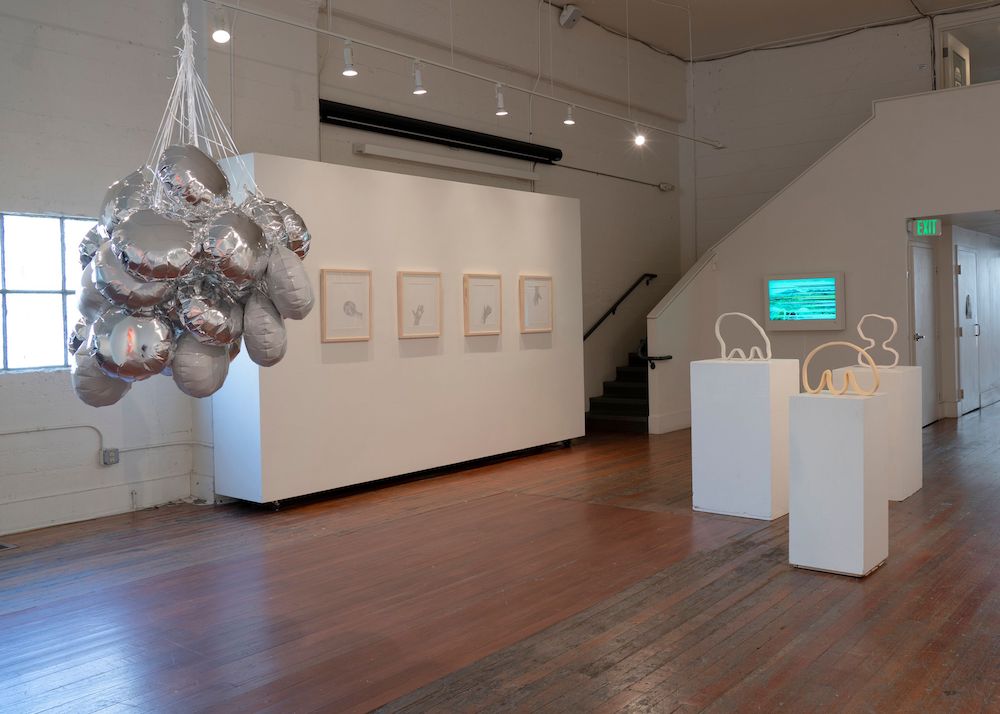 In addition to the conceptual materiality of the work, Ventis suggestive a narrative component with hands subtly silkscreened hands on the balloons, some of which hold items, like an asthma inhaler or a marijuana joint. As the inhaler conjures the relief when asthma seizes one's lungs, the joint alludes to inhaling a hit that transports or mellows. Rich in poetry, Ventis positions mylar, lungs, or the psyche as delicate membranes awaiting release.
Moving from poetics to critique, Hea-Mi Kim's video "Are You Chinese" (2016) draws upon Hollywood stereotypes that depict Asian women as coquettes. Kim's short video montages scenes from feature films, like the "James Bond" and "Rush Hour" series. As Sean Connery, Jackie Chan, and Chris Tucker play central characters in the films, Kim's video cuts between exoticized spa and bedroom scenes where Asian women attend to the male star's fantasies, leisure, and grooming.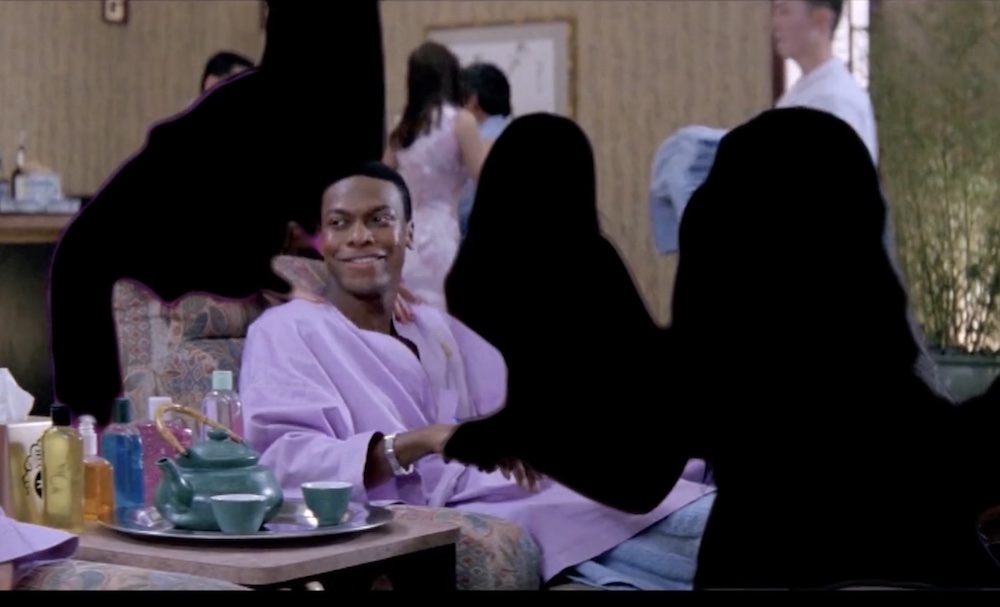 In most of Kim's video, the artist crudely blacks-out the women as redactions, with only occasional glitchy points where the women are partially or momentarily revealed. Kim's blunt obfuscation the women's individual identities calls attention to them as black biomorphic forms in contrast to the exotic Hollywood sets. Cunningly, Kim plays into these exaggerated stereotypes with a plucky soundtrack of traditional Chinese music that pushes the work into a comic discomfort. Kim's video presents a subtle joy in addressing an issue that for far too long has been unspoken.
As Ventis and Kim explore the exhalation of no longer holding one's breath or tongue, the works suggest the release of tension. For many, joy these days may be the mitigation of anxiety or the freedom to just be in the world, unburdened by negative forces. However, as recent events have painfully demonstrated, this freedom for BIPOC individuals carries very specific weights and urgencies, where breath and life continue to be at stake.