The cannabis world lost a major player as legendary hash-maker Frenchy Cannoli passed away unexpectedly at 64 due to complications from surgery on July 18. Immediately, the cannabis pages on social media were inundated with posts celebrating The Master of Hashish.
"Not just a legendary Master Hashishin who elevated the world through Cannabis—he was our dear friend," posted Luna Stower, Vice president of Development for Inspire Vape Co and Founder of Luna Stower Marketing LLC.
"His sly smile and smooth accent will be sorely missed—especially at The Emerald Cup, where his mind-blasting hash hookah and world class temple balls were the main event. To say he was impactful and revered is a gross understatement: He taught the masses how to produce the finest hash, and left behind endless sweet memories…." she wrote. "The world lost a bright, magical, loving, spiritual, peaceful light, and our industry lost a real one this weekend… and so unexpectedly. Rest in Paradise, Frenchy, keep puffin' that great chillum in the sky."
His online memorial and spiritual will be livestreaming Sun/15, 11am-2pm Pacific Time from both his Facebook and Instagram accounts.
"Frenchy was spiritual but not religious. That said, for my comfort, meaning, and joy I've asked friends from three different spiritual orientations—Hindu, Jewish, and Buddhist—to share a blessing from their traditions with us during this celebration of Frenchy's life. And, of course, I've included a celebration of Frenchy's beloved hashish as part of the ceremony," reads a statement from his wife, Kimberly Hooks aka Madame Cannoli, on social media.
"Frenchy left an amazing legacy. The Emerald Cup and other NorCal community gatherings won't feel quite right for a while," wrote Veronica Guevara, Director of Equity Affairs at Flower to the People. "Frenchy's uplifting and happy attitude would fill up the whole space even if it was outdoors."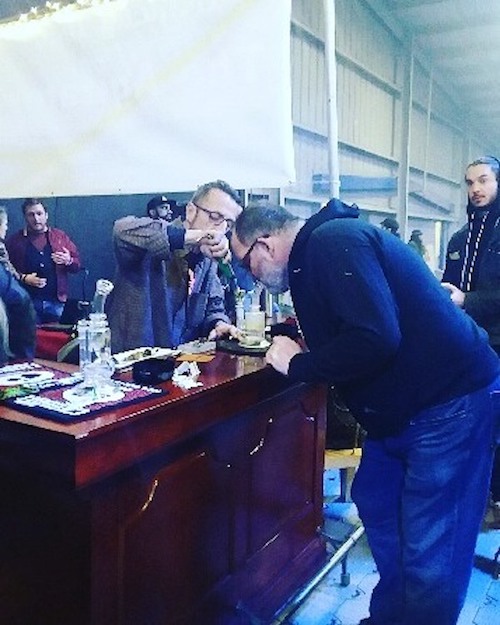 I myself have a great memory of Frenchy. He dabbed me out at the Emerald Cup a few years ago in Santa Rosa. My friend snapped a picture for a keepsake. It was exciting. He had a rock star vibe and was super nice.
According to his New York Times obituary, Frenchy grew up in Nice, France "dreaming of traveling the Silk Road and sailing the Red Sea." At 17 he tried hashish for the first time which changed his life forever. It brought him a sense of well being and happiness he had never felt before. So he left home at 18 to see the world, have adventures and learn more about hashish.
Frenchy's biography on his website says, "He lived nomadically for over 20 years, staying with traditional producers and learning techniques handed down over generations. This took him from Morocco to Mexico, Nepal, Pakistan, and India, where he spent eight growing seasons living in caves and harvesting cannabis resin with Parvati Valley cultivators. Eventually, he settled with his family in California, where early medical access laws let him go from hiding his life's work to producing legal cannabis concentrates."
Then using his experiences abroad and his knowledge of wine making from France, he developed The Lost Art of Hashish seminars which he began giving in 2015 attracting thousands of hash aficionados. His YouTube channel has almost 48000 subscribers, with 197 videos chronicling the making of hash and the many wonders of the cannabis world. There, forever, we can see the master at work.
As he told Emerald Magazine, "Our work is like making wine. On a bottle of wine, you find the name of the wine and the place where it was grown, not the name of the person who made the wine. We sell only one grade of traditional pressed hashish. In French, it's called la crème de la crème, meaning "the best of the best." The name of the farmer and where their farm is located are written on our packaging. Our educational efforts are 100% open source.
"The processes we share in our workshops are the same processes we use in our day-to-day operations. We want to plant the seeds to inspire a whole generation of artisanal hash makers that are focused obsessively on creating the best traditional hashish they can make. We strive to pass on the traditions that were given to us…. Through the use of water and other modern techniques, we've been able to create some great smoke, and we are sure that … other students of our workshop are going to carry on the tradition and take it even further in the pursuit of perfection."
There is currently a docu-series Frenchy Dreams of Hashish in post production. Frenchy is survived by his wife and daughter, Oceane.
So raise your pipe, hookah, bong, joint or rig and inhale a deep one in memory of one of cannabis' true legends, Frenchy Cannoli.