Walking down the narrow staircase leading to Et al. Gallery in San Francisco, the sound of a voice emanates from the gallery below. Someone is telling a story–their tone is at times solemn, and at others is interspersed with exclamations and laughter.
Bri Williams' exhibition "Playbill" explores threads of their family history through a series of sound works and sculptures using collected objects encased in soap, wax, and resin. Many of the objects connect to an intimate domestic: wood from cabinets, peeling wallpaper, jewelry, and ceramic figures.
"Bate" holds a trio of dried flowers, embedded into a layer of soap atop a piece of cabinet wood with peeling floral wallpaper. The flowers are inserted through a metal locking mechanism attached to the wood base. These are objects of memory; they beckon towards a room where that wallpaper might have been, whose flowers were so delicately preserved, and what may have lay behind the lock. There is also a palpable tension that if the lock opens, the flower stems will break. There might be much behind the cabinet door of "Bate," like the vault of knowledge held by family history.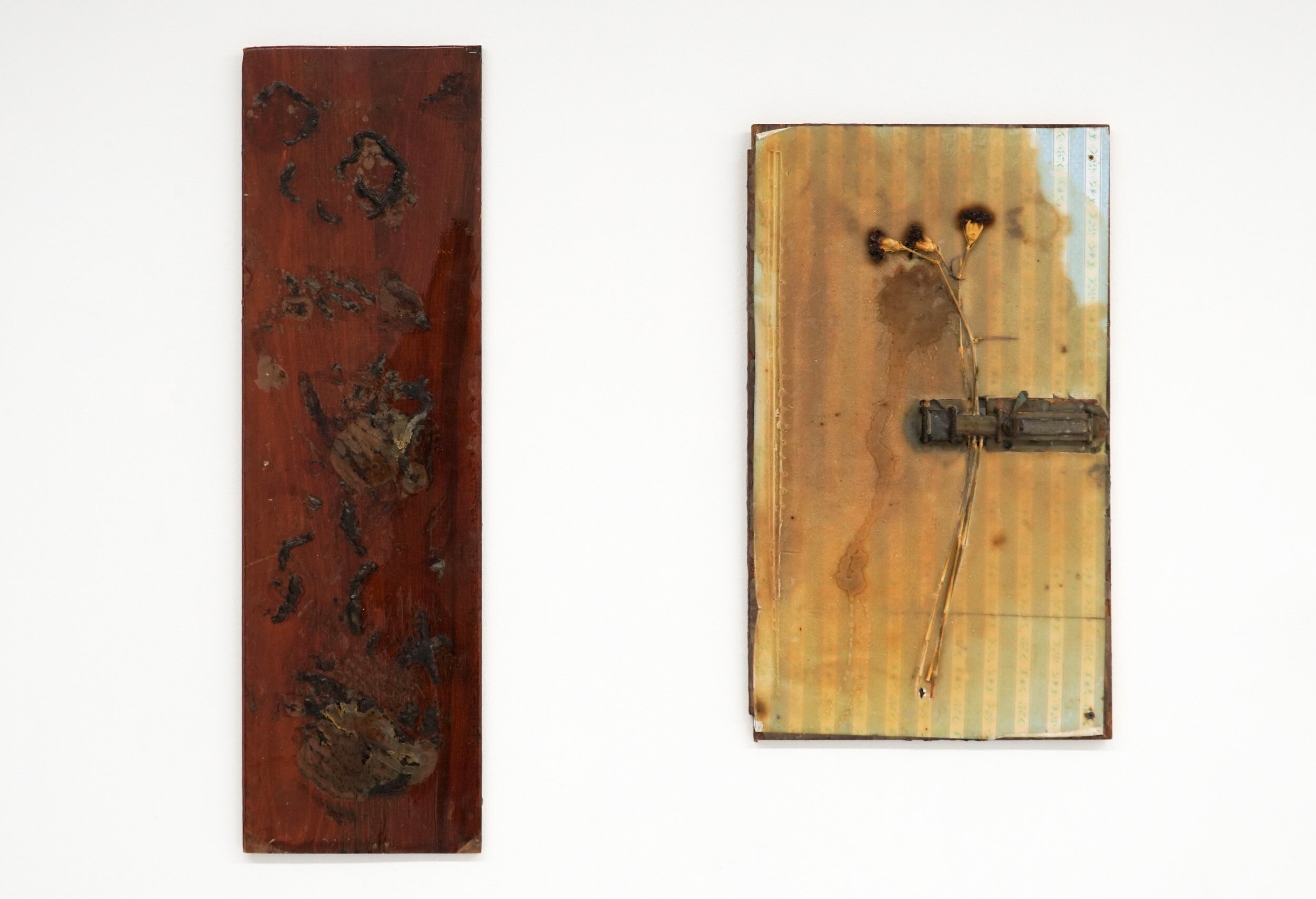 Soap is a core material in Williams' practice, an organic form that feels very much alive. In "Bate," the flowers and soap both appear to be in states of decay and transformation. The soap's surface has become a field of rounded forms resembling water droplets. This is the result of an effect called "sweating," which occurs when soap is exposed to moisture in the air. This texture was present in most of the works at the time of visiting, which have changed since the show was first installed. Similarly, when stories are told and brought to air, their forms shift. Stories can be preserved through sharing but they will change form, as the soap both holds and changes the objects encased within.
Family storytelling is a conceptual backbone of Williams' exhibition. The sound works explore a series of stories told by Williams' father, recorded as conversations between the artist and their father. These sound pieces fill the space of the gallery, as if infusing the sculptural objects with these memories. The audio stories in "Playbill" hold all the complexities in the lived experience of Williams' father's experience as a young Black man growing up in a small Louisiana town that was segregated through the 1970s. They are not unlike a family album, in Williams' work to document these stories as "a record for family keepsake," as written in text for the exhibition.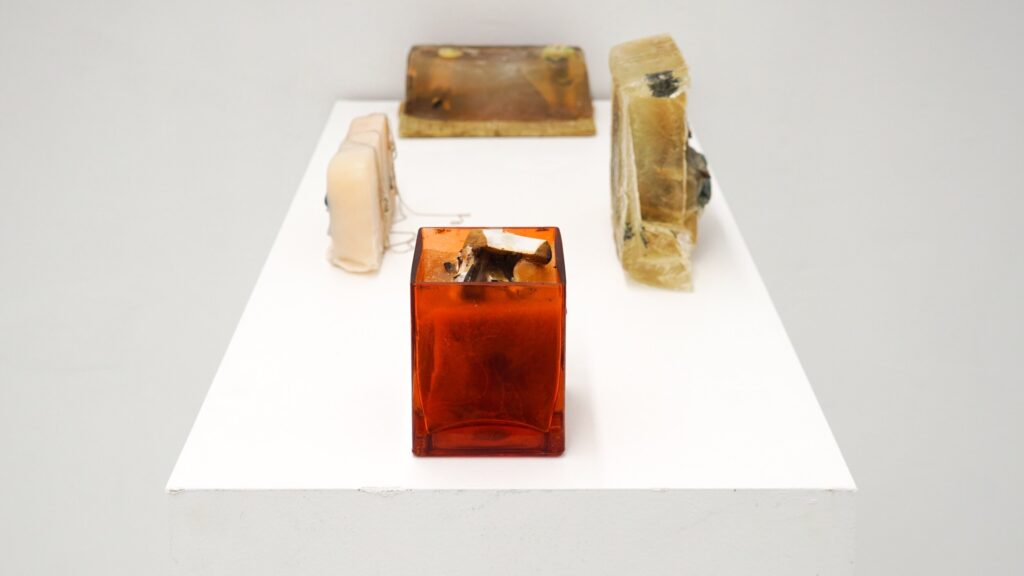 "The stories," as Williams writes, "became fables, as the characters and elements that are rooted in the aspect of strife, are told from a place of gratitude and comedy." The duality of struggle and humor is central to "Wall," an audio work in which Williams' father recalls a painful childhood story. Told frankly, with an emotional spectrum of hurt, laughter, love, and respect, he recalls being struck by a white woman on the street as a young boy and his grandmother's fiercely protective gesture of redress. This story evokes both the lifelong pain of racial violence and the love from an unwavering drive to protect one's family at any cost. In its presentation in the exhibition, "Wall"is generously intimate to bring listeners into this deeply personal moment.
There is a palpable sense of grief and longing in Williams' sculptural works. In "Pearl," one of four small sculptures resting on a single pedestal, a figurine of a small child reaches out towards a maternal figure at the left. The child appears as if they are being pulled away by an unseen force, the two reaching towards each other while seeming to move further apart. Links of ball chain are embedded into the soap, however, are draped over one another between the figures like the connectivity of ancestral lines. Family stories build bridges across time, keeping alive those that may no longer be with us and opening up new understandings of elders.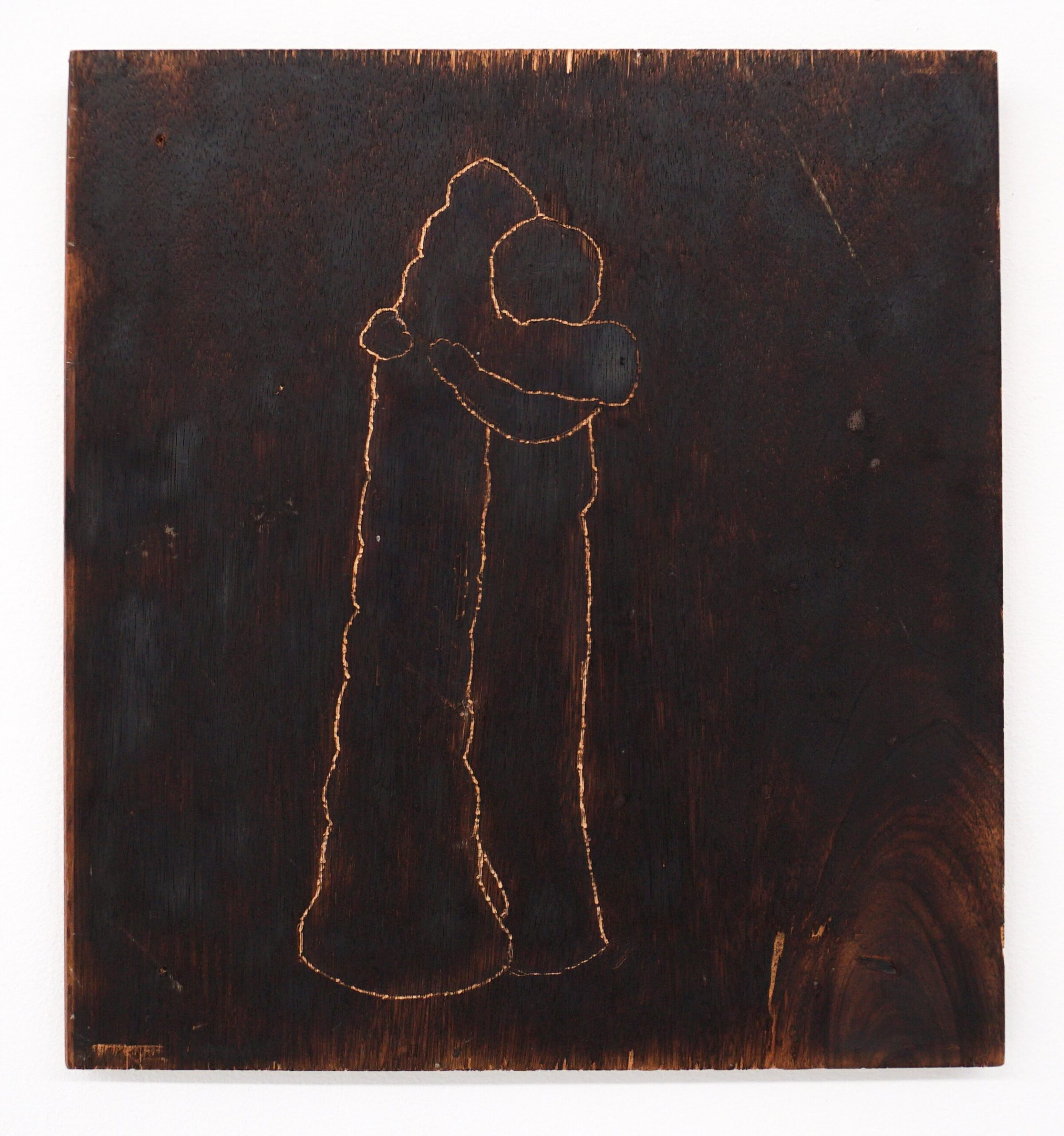 The show concludes with "Meeting": the outline of two figures in an embrace, carved into a piece of aged wood. One figure, slightly taller than the other, offers shelter in their arms. Seeking out the memories of our family helps, as Williams writes, "mold us into who we become at the end of our journey." The practice of family storytelling is one of record-keeping, but is also a form for building intergenerational guidance and sanctuary. In this exchange of memories, generations meet and find home in each other.
"Playbill" runs through August 28 at Et al. Gallery, 620 Kearny, SF. More info here.