More than 200 food service workers at the Giants' Oracle Park, walked off the job briefly this morning, and demanded to meet with the Giants about deteriorating safety conditions at the ballpark. There was yet another report on Wednesday about a new COVID infection.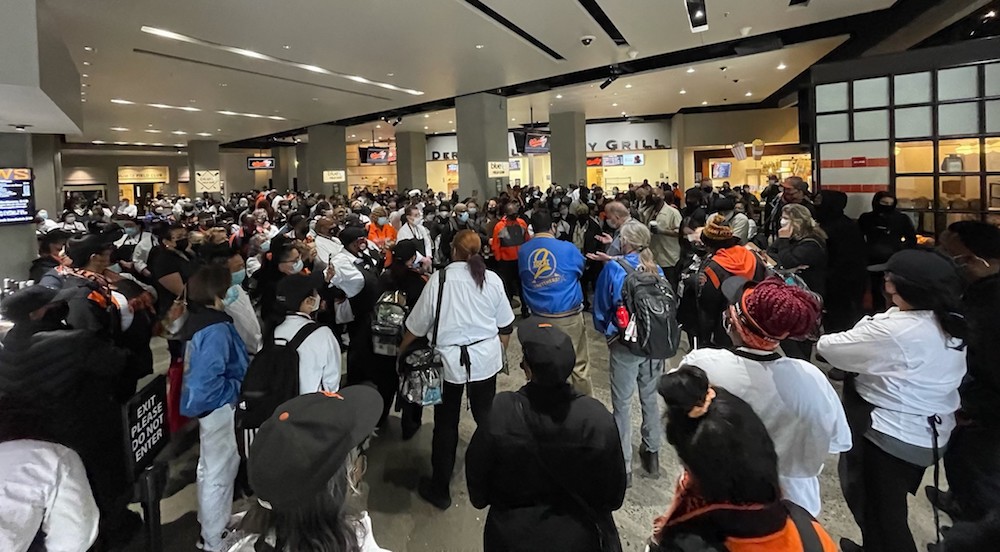 The workers assembled at the Field Club, one of several indoor venues in supposedly "outdoor" Oracle Park. Representatives of Bon Appetit, the food service contractor for the Giants, met with the workers. The Giants chose to stay away, although everybody knows that the Giants are the ones ultimately responsible for COVID health and safety protocols.

The photo tells the tale. The man in the blue jacket in the center is Anand Singh, President of UNITE HERE Local 2.

The workers returned to the job after the action, but a full-fledged strike could take place at any time. A  97 percent majority of food service workers have voted to authorize a strike.
See our previous coverage of this ongoing story here.

Marc Norton is a UNITE HERE Local 2 Giants service worker, and has written extensively during the pandemic about the Giants and the class war they have been waging against ballpark workers.