Adopted as a three-year-old from South Korea and as thoroughly Cajun as crawfish etouffee, Antonio LeBlanc has never had any reason to question his American citizenship in Blue Bayou, actor/director Justin Chon's latest drama, now playing in theaters. But just as the tattoo artist, his wife Kathy, and Jessie, Kathy's daughter he's raising as his own, start counting the days to the birth of a new child, a fight lands him in jail—and a deportation order soon follows, when the authorities discover that his citizenship was never naturalized.
"The idea of international adoption originated from South Korea after the Korean War by Henry and Bertha Hold, a couple that found children that needed families and placed them in Christian homes in the United States," says Chon. "Over the years, it has become a big business; it's actually a lot of money in exchange for children.
"I have quite a few Korean American adoptee friends," Chon said. "Growing up with them, you're kind of tuned in and I started hearing about this issue and then I started to do the research."
One might assume that a child adopted from a foreign country by American citizens in the United States would automatically become a citizen once the adoption was finalized. But immigration law and bureaucracy in this country being the messes they are, the issue wasn't even addressed until 2000 and even then, it didn't apply to adoptees who turned 18 before the law was passed. And that's the situation 37-year-old Antonio finds himself in. He can fight deportation, but if he loses, not only does he have to leave the United States, but he can also never come back.
"I spent some time without even writing, just gathering information," Chon says. "I talked to an immigration lawyer and found out the legalities. And I put together a team of adoptees to consult with on this project. I'm not adopted. I don't know what it feels like to be adopted, and I wanted to make sure that I respected their experience.
"And the reason I chose to set it in New Orleans was because I wanted to see an Asian American be normalized from that region. Also, I felt that a Korean adoptee growing up in the South, you could only imagine the difficulties that individual would have growing up there."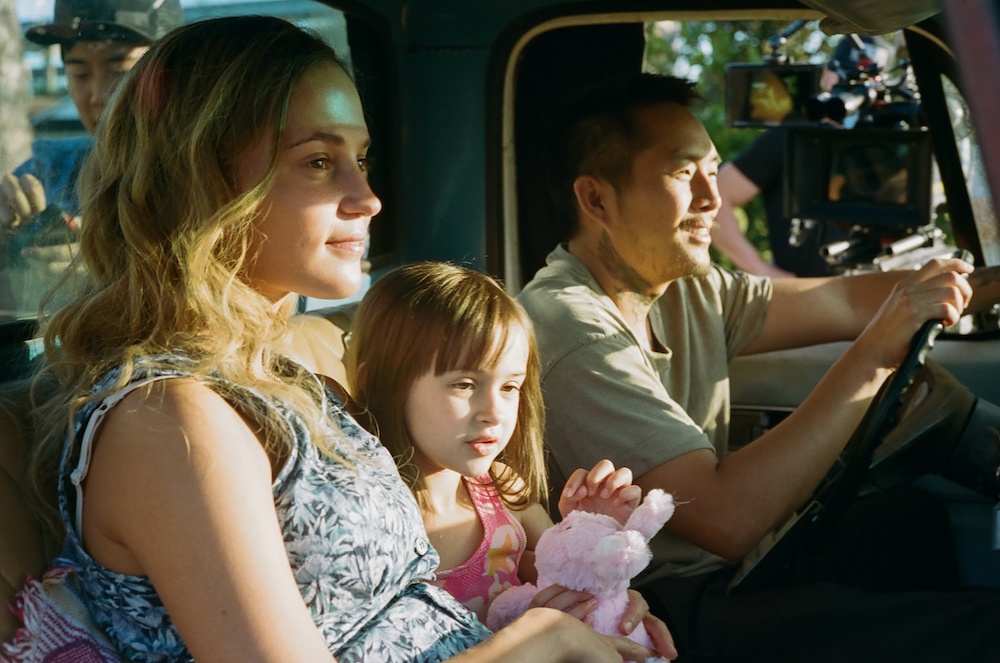 A busy actor as well as a director and screenwriter, who previously starred in his Sundance Award-winning movie Gook, Chon takes the role of Antonio. He cast César Award-winner Linh Dan Pham (The Beat That My Heart Skipped) to play Parker, a Vietnamese refugee who befriends Antonio and gives him a different perspective on his life-altering situation. For Kathy, he turned to Oscar-winning Danish actor Alicia Vikander (The Danish Girl), a huge get for a small independent film.
"Without her, I don't know what the movie would be," Chon says. "You need someone to anchor a film and bring that sort of gravitas. Alicia is an incredible actress, and I've never seen her play this type of role, a blue-collar, salt-of-the-earth American woman. That was so exciting. I think it shows who she is as an artist, being open to this small type of film. She was always on set, she didn't go back to her trailer, ever.
"She just understood what this film was and we were on the same wavelength. I'll be forever grateful to her for going on the ride with me and also singing in the film because she was nervous about doing that."
The song Vikander sings is the one that gives the film its title, "Blue Bayou," the early 1960s Roy Orbison tune that became Linda Ronstadt's signature song in the '70s.
"There is the power of music in a particular song," Chon says. "'Blue Bayou' is so famous that you're almost waiting for it. 'Why did they call this Blue Bayou?' Placing it at that moment in the film shows how this family is going through something so tough. They're putting on a good face, but there's this insurmountable obstacle to come. Alicia is very raw and real and that is what I was hoping for."
BLUE BAYOU is now playing in local theaters. More info here.