A family of real-estate investors who own multiple residential units in the Bay Area has filed to evict longtime housing activist Fernando Marti and his family from their Noe Valley home.
Peter and Tanya Omran of Novato and their daughter Tatiana are seeking to evict Marti, Michelle Foy, and their 12-year-old child from a flat where Marti has lived for 23 years.
It's both ironic and infuriating: Marti and Foy have both dedicated their lives to protecting vulnerable communities in the city, Marti most recently with the Council of Community Housing Organizations and Foy with the Chinese Progressive Association.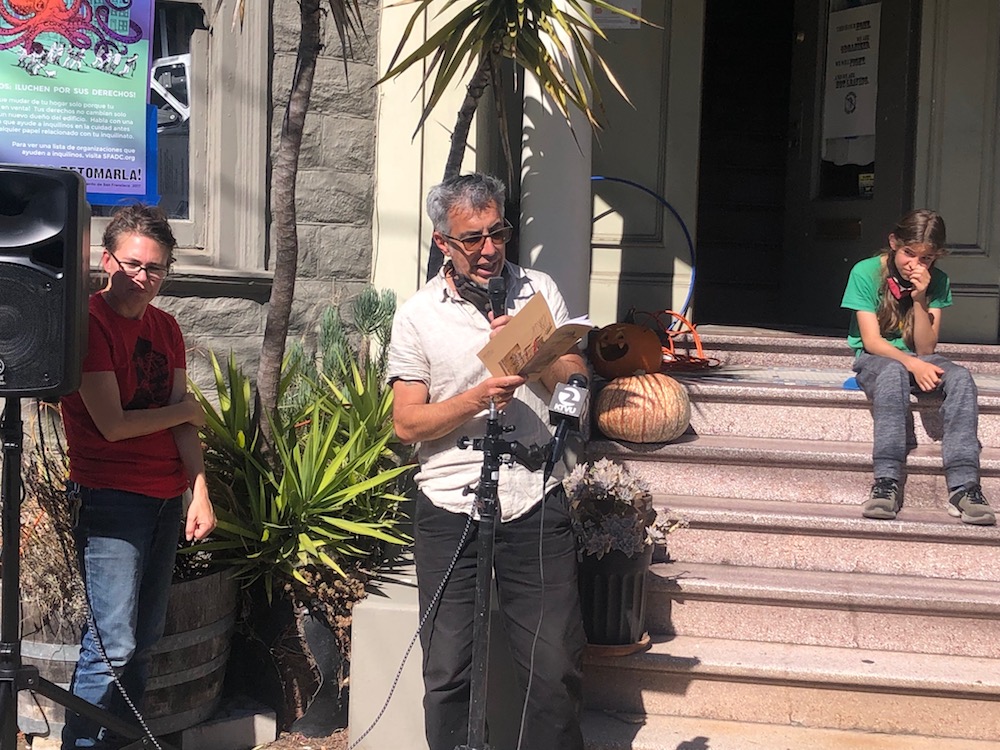 More than 50 of their allies showed up Tuesday at a lively rally and press conference in front of their building.
The Omran family has filed an owner-move-in eviction, claiming that Tatiana wants to live in the apartment. But as Marti said at the event, the family owns multiple housing units in the Bay Area, and it's unlikely that this is the only place she could live.
The owner-move-in loophole has been badly abused in San Francisco; KRON reported in 2016 that at least a quarter of the OMI petitions filed that year were fraudulent. In essence, landlords use it to get rid of longtime rent-controlled tenants, since OMI is one of the only legal ways to force a rent-paying, well-behaved tenant out of their home.
Once the tenant is gone, the unscrupulous landlord waits a few months then rents it out again, at a much higher price. And for the most part, nobody ever checks.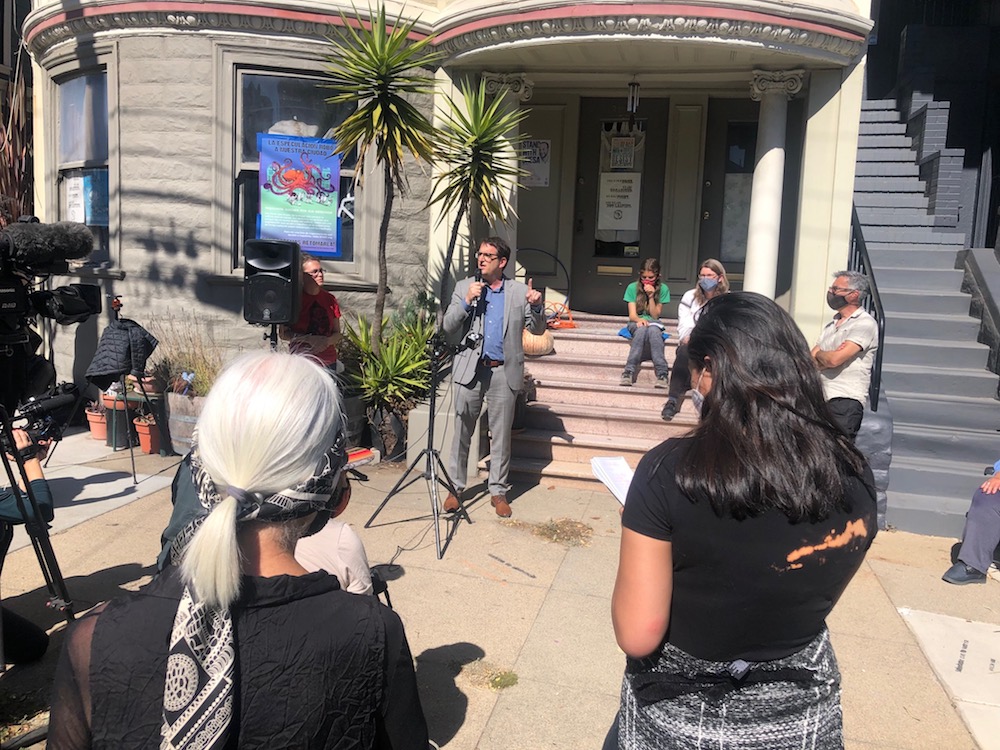 The city only rarely goes out and enforces the ordinance, which would require a housing inspector to visit each OMI unit six months after the eviction to make sure the designated family member actually occupies the place. And the former tenants may well have left the city; they certainly aren't doing an investigation into the new occupants of their former home.
The state's COVID eviction moratorium has expired, and while the city still has one in place, state law trumps local law. And as soon as the state moratorium expired, Marti and Foy got their eviction notice.
But local law still bars evicting a family with a school-age child during the school year, and Marti and Foy have a 12-year-old who was born in their flat and has never lived anywhere else.
An eviction would likely force them out of the neighborhood, out of their community, and away from their child's school.
Sup. Dean Preston told the rally that "this eviction is blatantly illegal."
The problem: Local judges are not always on board. Noting that all of us live on the ancestral territory of the Ohlone people, Marti said: "The judges and the speculators think that greed is the way things work on this stolen land."
The Omran family runs a sustainable coffee company, but Peter and Tanya also describe themselves as "Christian missionaires." That, Marti told the rally, is inconsistent with their current actions:
"Who would Jesus evict?" he asked.
A contested eviction is a long legal process, and the crowd of activists made clear that they are in this fight for the duration. "And sometimes when tenants fight back," Gen Fujioka, representing the Chinatown Community Development Center said, "they win."