For almost four years, a developer has been working on plans to put a five-story building on Broadway, near Chinatown, with 42 housing units, six of them—14 percent—affordable.
For almost four years, the developer has met with some neighborhood people and worked with Yimby Action and the Housing Action Coalition, among others.
But for most of that time, the developer has had no contact with the residents of an SRO building that would in essence be surrounded by the new tower, most of whom are monolingual Chinese speakers.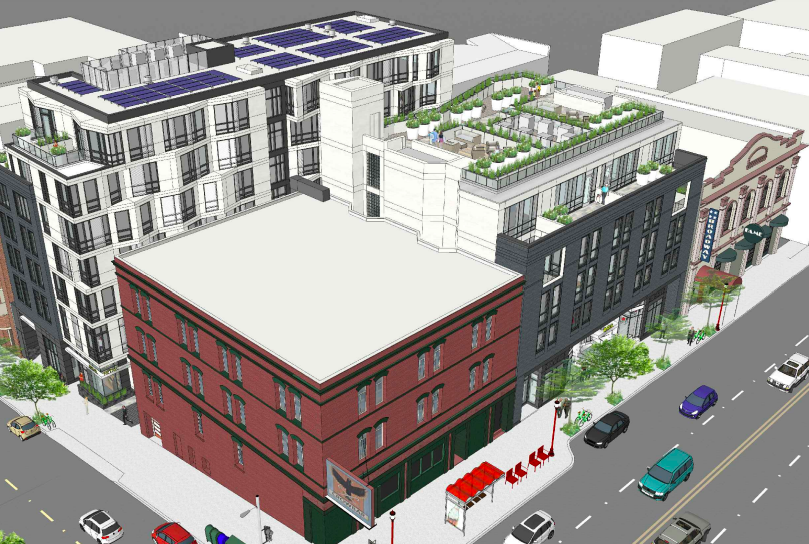 "They didn't know what was going on," Maggie Dong, a planner at the Chinatown Community Development Center, told me. "They were not involved in any of the meetings."
In fact, the list of contacts that the developer has provided to the Planning Commission shows a series of meetings, starting in March 2018, with the Telegraph Hill Dwellers, North Beach Neighbors, HAC and Yimby Action, and another series with nearby merchants. HAC and Yimby Action have both endorsed the project.
The documents show that the developer has "more recently" reached out to CCDC and the residents of the SRO at 401 Broadway.
"More recently" seems to be after longtime land-use lawyer Sue Hestor noticed that the project was coming up and contacted CCDC, among others, to raise the issue.
In November, Dong asked for a continuance to allow community input. The hearing, originally scheduled for Dec. 2, has been continued to Dec. 16.
In a Dec. 2 letter to the commission, Hestor noted:
Staff packet for 12/2 hearing on development of 2 parking lots at 425 Broadway shows that there was ZERO outreach to Chinatown by project sponsor.

Staff packet sent 11/25 has 9/28/21 sponsor's brief (pp 95-113) with their outreach matrix (102-113). Details outreach for input only to Telegraph Hill (102), North Beach (103) , SF HAC (105), YIMBY Action (106), night clubs (107). Outreach began March 2018.

Planning staff provided Zoning Map (90) which shows 425 Broadway site very close to CHINATOWN. About same distance as Telegraph Hill and even closer than North Beach. Nothing on Outreach Matrix to any organization in Chinatown. Photos and Maps provided by staff (92-94) show that 401 Broadway SRO is LITERALLY surrounded by 425 Broadway site. Residents are heavily low-income mono-lingual Chinese tenants. Who were not contacted for input before the past two weeks.

ZERO outreach to Chinatown. ZERO outreach to heavily Chinese speaking residents of 401 Broadway SRO. In nearly four YEARS.

Racial and social equity?
Dong said that the letters that city planners send out to neighbors describe projects in some detail in English—but only include contact information in Chinese. "I tried calling, and it's just not accessible in general," she told me.
When she and other CCDC staff went into the building to explain to the residents what was happening, "they weren't happy at all."
And for good reason.
The SRO at 401 Broadway has parking lots on two sides. We can stipulate that parking lots aren't typically the best use of land in a city with a housing crunch.
But for the 60 residents of this building, the open space provides light and air.
"Some of them say that the reason they chose this building is that it has the most sunlight," Dong said. The nearest laundry is far enough away that many residents do their wash by hand and hang it out the windows to dry.
The new building would block all of the ambient light and air, replacing it with narrow light wells.
In a Nov. 22 letter to the Planning Commission, Steven Vettel, a lawyer for the developer, gave this response:
To address the lightwell windows on the west façade of 401 Broadway (which provide light and air to a kitchen, bathrooms and a stairway, in addition to the five SRO units), we will incorporate matching light wells in the Broadway building's east façade. As shown in the attached drawing, the matching light wells will provide a 7'-3" separation between the two buildings. Our light wells will have no transparent windows facing 401 Broadway, will be painted white to maximize reflected light, will incorporate fresh air input to provide air flow into the 401 Broadway windows facing the light wells, will incorporate heliostats to direct sunlight into the light wells, and will have access doors so that our building's staff can remove any debris that may fall into the light wells.
That, Dong said, is far from what the residents have now. "The residents want a change in the design, a setback on Broadway, and more separation between the buildings," she said.
Oh, and while CCDC was cc'd on the letter, Dong said it never arrived; her organization got a copy from Sup. Aaron Peskin.
It's entirely possible that a developer looking at this parcel could make changes that would address the residents' concerns. Neither CCDC nor the residents of the SRO are against more housing (although let's be honest—36 market-rate condos on the site are going to put upward pressure on land values and could lead to displacement in the future).
But this is what happens when a developer ignores the immediate community, the people most likely to be impacted by the project, who don't happen to speak English.
The Dec. 16 hearing starts at 1pm.