As I write this, I'm forced to look back over the state of Bay Area theatre as a whole during the pandemic. On one hand, that's expected—what with COVID still raging on due to many people ignorantly refusing to get vaccinated, let alone boosted.
But it hits me more specifically because opening night for the ACT's 2020 production of Toni Stone wound up being the last show I saw live before the original shutdown. COVID had already made its presence known in the Bay Area, but no one wore masks that night (a few people fist-bumped in lieu of shaking hands or hugging). I found myself sitting next to SF's own Danny Glover in the sparsely-populated Geary Theater; he'd just returned from campaigning for Bernie Sanders to see his nephew in Toni Stone.
The show closed the very next day. The world hasn't been the same since.
I've now spent nearly two years reporting on a Bay Area nightlife scene struggling to hold on as it tries its best to keep would-be patrons safe. I saw the "hot vax summer" turn into "Dawn of the Delta Variant"; I've personally seen the same SF mayor who wisely enacted that shutdown openly mock those of us who followed the very rules she's breaking; and yes, I've watched re-opened theatre after re-opened theatre appear to prioritize maximum capacity over COVID safety.
In short, it's been a scary time to be a theatre-lover.
The dichotomy of theatrical escapism and COVID terror wasn't lost on me at the Strand Theatre. After getting my press materials for the scare-promising "Woman in Black" (through January 16)—the 'longest-running ghost story in London—I retreated outside to get away from all the uncovered mouths I spotted eating and drinking. I actually was hungry myself, so I got a bacon-wrapped hotdog from a masked vendor outside The Warfield—one of very vendors our mandate-mocking mayor busted shortly afterward.
The dichotomy was also apparent when, from the outset, this Stephen Mallatratt adaptation of the Susan Hill gothic novel (twice adapted to film) sets out to make itself as theatrical as possible. Seriously, our haunted narrator is transformed from simple omnipresent voice to actual character enmeshed in the story.
Mallatratt's version sees Arthur Kipps (Robin Herford) in a spartan mid-century English theatre recounting from an in-hand manuscript his memories of a none-too-pleasant Christmas Eve. At least, he's trying to recount it, but by his own words, he isn't an actor. His young companion (Anthony Eden, known in the script as "The Actor") actually is an actor. In fact, he's someone who cares dearly about the craft and thinks Kipps' manuscript would, through adaptation and editing, make for an excellent stage production. As such, The Actor collaborates with Kipps to transform the latter's memoir into a play, with the Actor as young Kipps, now narrating the story, and Kipps himself as, well, everyone else.
Thus we're taken back some 30 years to 1921, the year a young Kipps—like Bram Stoker's Renfield and Jonathan Harker—is sent to a remote village to close the account of Mrs. Alice Drablow, recently deceased. Situated in Mrs. Drablow's secluded home, Kipps' attempts to recover the details of her death are nearly as hard as recovering the details of her life: A task made none the easier due to the reticence of the locals. The only consistent detail is the continual appearance of a mysterious Woman in Black, whom Kipps sees wherever he goes. But he's the only one who sees her.
I recall an interview with Alan Moore years back in which he lambasts the perceived "legitimacy" of film over other media. Moore, an author first and foremost, took umbrage with the idea that his stories weren't "real" until they were adapted for the big screen—adaptations he's always renounced. I find myself wondering what the cranky Englishman would make of this adaptation, which champions theatre as a legitimate format for terror, even without the bells and whistles of film. Technological advancements are noted in the play, such as when The Actor demonstrates pre-recorded sound for Kipps, but the production (for which Herford also serves as director) benefits from theatrical tricks more than a century old. This show makes more creative use of an omnipresent scrim than other shows have with gallons of fake blood.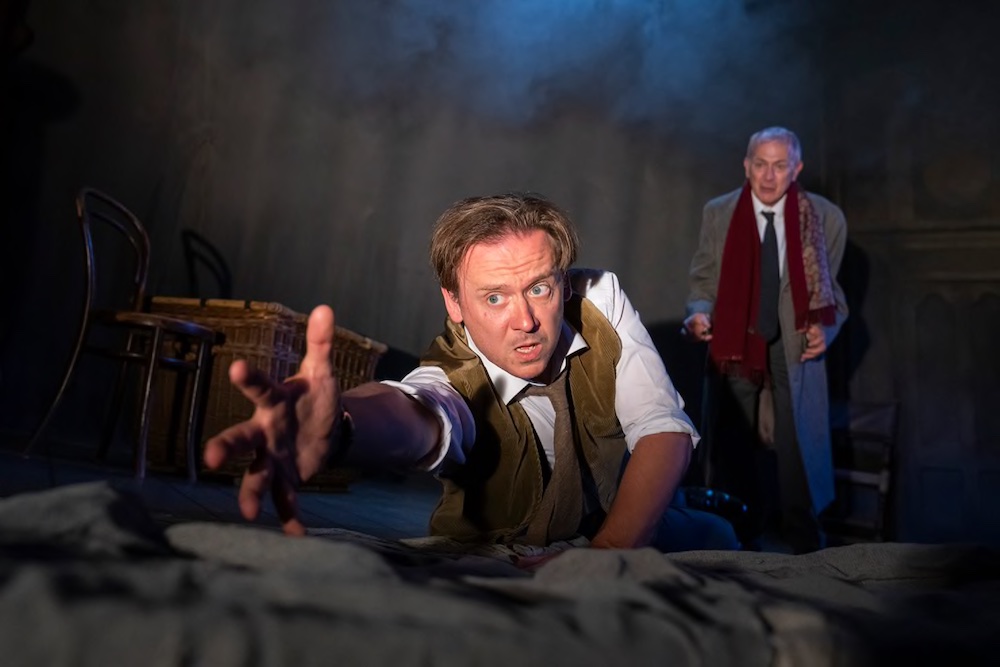 Then there's the blurring of lines between play and audience. At the beginning, we're introduced to The Actor as he pops up out of the audience to give Kipps direction—not unlike Lloyd in Noises Off!. When he sees how well Kipps begins to take direction, he frequently stops the proceedings to make sure the elder man isn't in legitimate pain from recounting such traumatizing memories. As Hereford and Eden give excellent performances, they and the crew of The Strand create an unwavering atmosphere of discomfort and fear, even when describing things that clearly aren't there (like the dog which becomes an important character in the second act).
Despite being an unabashed horror film aficionado, I haven't seen either version of The Woman in Black's film adaptations. Having seen this stage version, however, I can't imagine how either of them would compare. The beauty of theatre is that although there's less to work with in terms of creating visuals, being in the presence of actual human performers is far more effective at putting an audience in an environment they otherwise would never be in (at least, when done well).
With spot-on performances and a creepy tone that maintains until the final bow, The Woman in Black is the first pandemic-era production that had me scared for all the right reasons.
You're probably wondering why I haven't credited the actress playing the titular Woman in Black. None of the materials credit her either. Was there actually a woman? Are you sure?
THE WOMAN IN BLACK runs through January 16 at the ACT Strand, San Francisco. More info and tickets here.