Editor's Note: In the wake of its theaters shutting down, ACT is streaming its plays Gloria (reviewed here) and Toni Stone, reviewed below on opening night by Elaine. To view the ACT streaming plays, click here and support ACT with a pay-what-you-want model. Berkeley Rep has also just announced it is streaming its productions of Culture Clash (Still) in America (reviewed here), School Girls; Or, The African Mean Girls Play, and many more. For more details on how to purchase and stream Berkeley rep plays, click here.  
I grew up with three brothers, and the recitation of baseball players' stats was the background noise to my childhood. So when the eponymous Toni Stone (Dawn Ursula) took the stage at ACT and rattled off teams, players, positions, trades, RBIs and earned run averages it sounded very familiar to me. Although I didn't understand those terms as a kid, and I still don't, it made perfect sense that Stone, who dreamed of  playing professional baseball ever since she was a small girl, would memorize her baseball cards and make those stats part of her every conversation.
Helen Hayes award-winner Ursula is mesmerizing, capturing every bit of Stone's moxie—and she had plenty—as well as her vulnerability. The talented trailblazer was the first woman to play professional baseball: She took Hank Aaron's place at second base for the Indianapolis Clowns in the Negro Leagues when he went to the majors. She defied everyone from her mother, to white neighborhood coaches, her husband, and even some of her jealous teammates to do what she'd always wanted to do—play professional ball. "No one is going to tell me what I can't do!" she repeats several times to those who tried.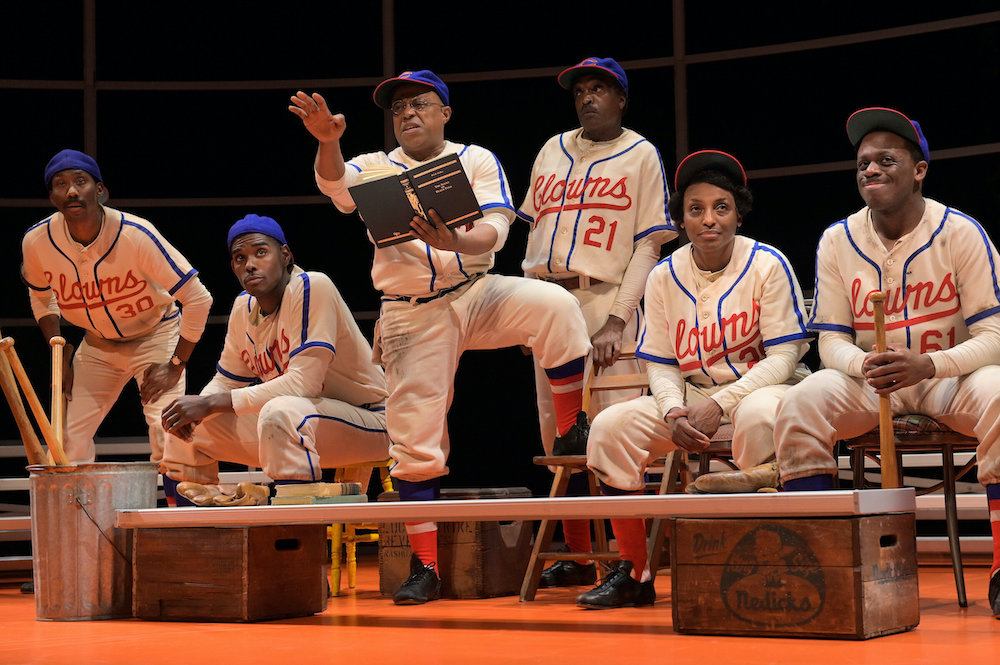 Playwright Lydia R. Diamond drew on Martha Ackmann's biography Curveball:  The Remarkable True Story of Toni Stone to evoke a Jim Crow era when Black baseball teams had to endure racist catcalls from the stands, ride overnight on cramped team buses because no white hotels would allow them to stay, and perform humiliating minstrel-style routines (powerfully choreographed by Camille A. Brown) as well as play excellent ball. Director Pam MacKinnon wanted to draw out America's ugly racial history as a backdrop to Toni's unique story: "This is a baseball team that had to clown.  It demands that the actors go to this deep, ugly well of American performance traditions."
Against scenic designer Riccardo Hernandez's backdrop of a barebones baseball field—aluminum bleachers, stadium lights and metal garbage cans to store the bats—the ensemble of eight men and then gutsy, single-minded Stone become the Indianapolis Clowns. There is outfielder Spec, who is always reading books in the dugout and speechifying to his teammates, quoting W.E.B. Du Bois and Harriet Tubman. There's the gentle first baseman King Tut (JaBen Early) who welcomes Stone back to the team after a rough patch. He tenderly reminds her that, yes, he has heard her story about getting a hit off of a Satchel Paige pitch. The actors double up on roles playing women, children and white men. Kenn E. Head is especially moving as Millie, the down-to-earth prostitute who befriends Toni in the brothel where the team often stayed when no other accommodations would take them in.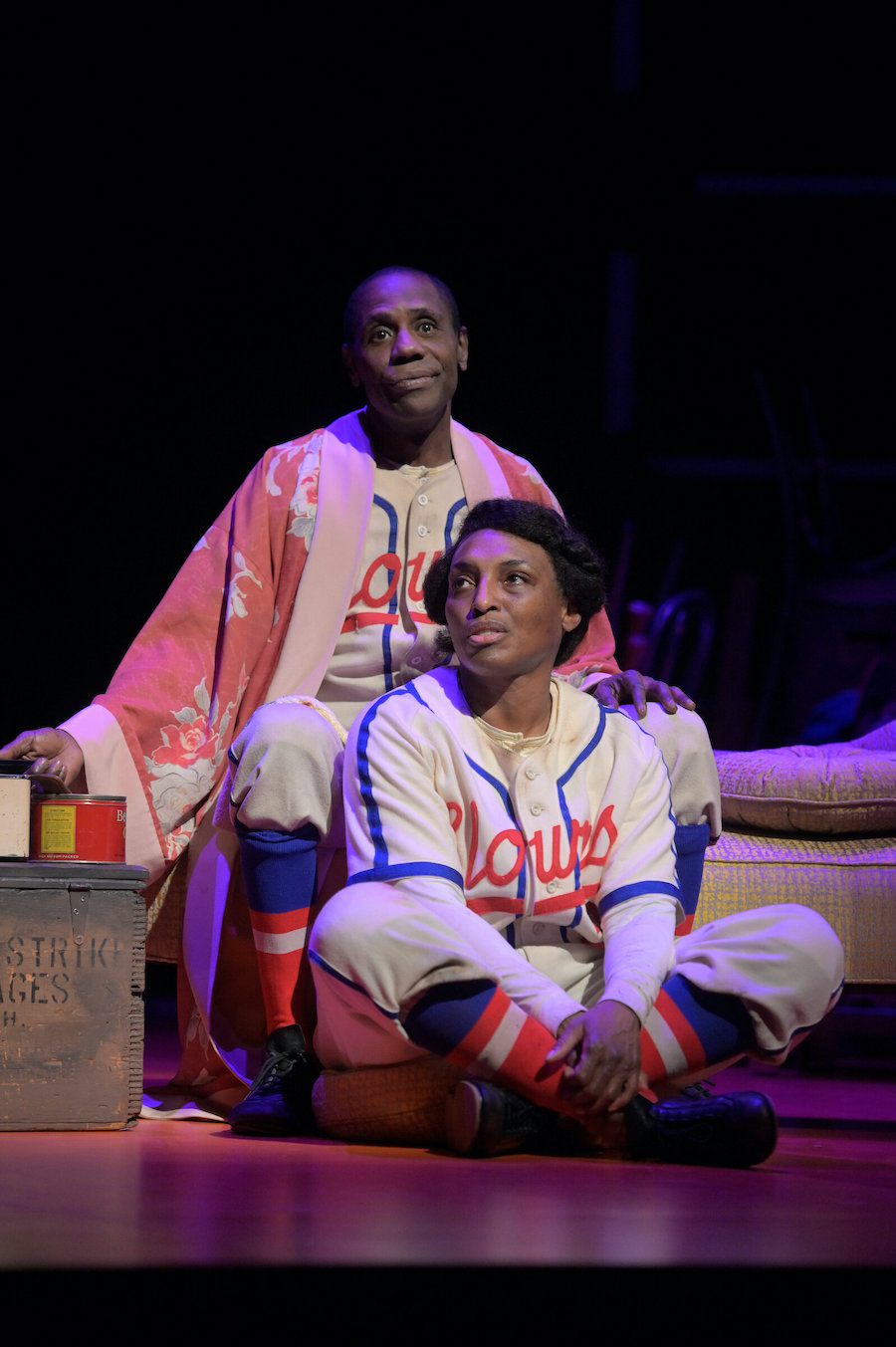 Director MacKinnon noted that the pioneering, audacious Stone had deep roots in the Bay Area. She lived in San Francisco's Fillmore and first played for the San Francisco Sea Lions. She met her husband Alberga (Ray Shell) at one of the first clubs to cater to the Black community, Jack's Tavern at Sutter and Fillmore Street, and worked in Bay Area shipyards during World War II. "I was glad to bring her home," MacKinnon told the audience on opening night. Her word choice became especially poignant the following day, when all live performances of the play were cancelled due to the COVID-19 pandemic.
Though I know this is a necessary measure to protect the health and safety of the actors, theatergoers and all of our neighbors, I still regret that others will not be able to see this remarkable play  about a remarkable woman live this time around. As my brothers would say, Toni and the Indianapolis Clowns hit an inside-the-park walk-off home run!