One thing we can say for the SF Playhouse's new production of Will Arbery's Heroes of the Fourth Turning is that opening night felt safe. Well, safer than previous shows: Despite not being asked for my ID when I showed my physical vax cards, it was a relief that the company has erred on the side of safety with reduced, "checkered" seating.
Yet, their choice of script was one that more or less traps the audience in the theatre for a two-hour-thirty-minute right-wing gab-fest with no intermission. Politics aside, 2½ hours is an endurance test. That may seem odd when, even before the pandemic, blockbusters were averaging nearly three hours (plus trailers and pre-show adverts), but there's a reason Hitchcock—perhaps apocryphally—cited playwright George Bernard Shaw as to why a production's running time should be "based upon the endurance of the human bladder".
Perhaps that's the point; for audiences in "the most left-leaning city in America" to have nowhere to run from the people who are the political polar opposite? Perhaps we're meant to fully recognize their humanity and understand their accusations of fascism as they defend their reasoning for voting (the play is set in 2017) for a spray-tanned failed business man who literally ran off the support of Nazis. Whatever the intention, an intermission was needed; especially since the ending seems to go on forever.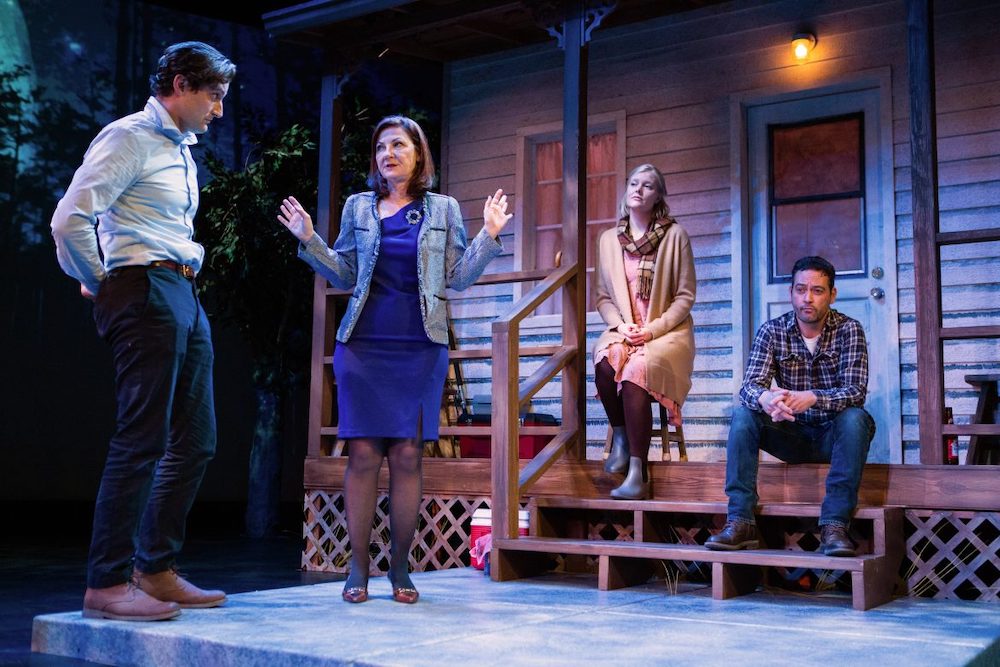 Our story takes place in the yard of a backwood house in Wyoming. The date is August 19, 2017, one week after the social unrest in Charlottesville. Our players include hunter Justin (Johnny Moreno), the cane-walking Emily (Wera von Wulfen), the very drunk Kevin (Joshua Schell), and pantsuited Teresa (Ash Malloy). All four are alumni of the Catholic and right-leaning Transfiguration College of Wyoming. Gen-Xer Justin is the only one who isn't a Millennial.
They're at Justin's for a sort of after-party for the school's inauguration of new president Dr. Gina Preston (Susi Damilano), a longtime faculty member and Emily's mother. As they deal with Kevin's inebriation, keep an eye on Emily's health, and wait for Dr. Preston herself to arrive, they wax openly about the supposedly blessing it was to get Trump elected the year prior. Kevin sees Trump as a necessary evil (drinking to drown his guilt) and Emily sees him as simply evil (it's never stated, but one gets the impression she didn't vote for him), but Justin and Emily see him as just shy of a full-fledged Saviour. Emily, a right-wing blogger, is particularly quick to laud Steve Bannon and his ilk lashing out against the "elites" as she and Justin proclaim that a war (possibly one of the "civil" variety) is eminent.
Kevin and Emily believe no such thing. The former is a proponent of "compassionate" conservatism, and replies to Teresa's referring to him as "soy boy" (she's a very big fan of toxic masculinity) by pointing out that her town-car conservatism—like Ann Coulter, Teresa's is a New York life of cocktail parties—exemplifies the very elitism she claims to have despised in Hilary Clinton. Emily, despite openly abhorring abortion, will also openly sing the praises of her pro-choice friends. The inevitable appearance of tipsy Dr. Preston will challenge the quartet's core beliefs all the more, as will a series of secrets that are revealed. Also, an ear-splitting screech pops up every now and then. Justin claims it's his generator.
To the credit of all involved, they do try to find the humanity of characters who carry guns and warn of imaginary "Pizzagate" scenarios, but there's no excuse for the interminable run time. Cutting one or two lines from any of their tangents, along with shortening the ending severely, would have gotten Arbery's script to fit a more manageable 90 minutes without sacrificing the story. Instead, we spend nearly three hours listening to these people rail against Black Lives Matter and mythologize themselves as heroes in some imagined "fourth turning" of culture at large. All I'm asking for is a break.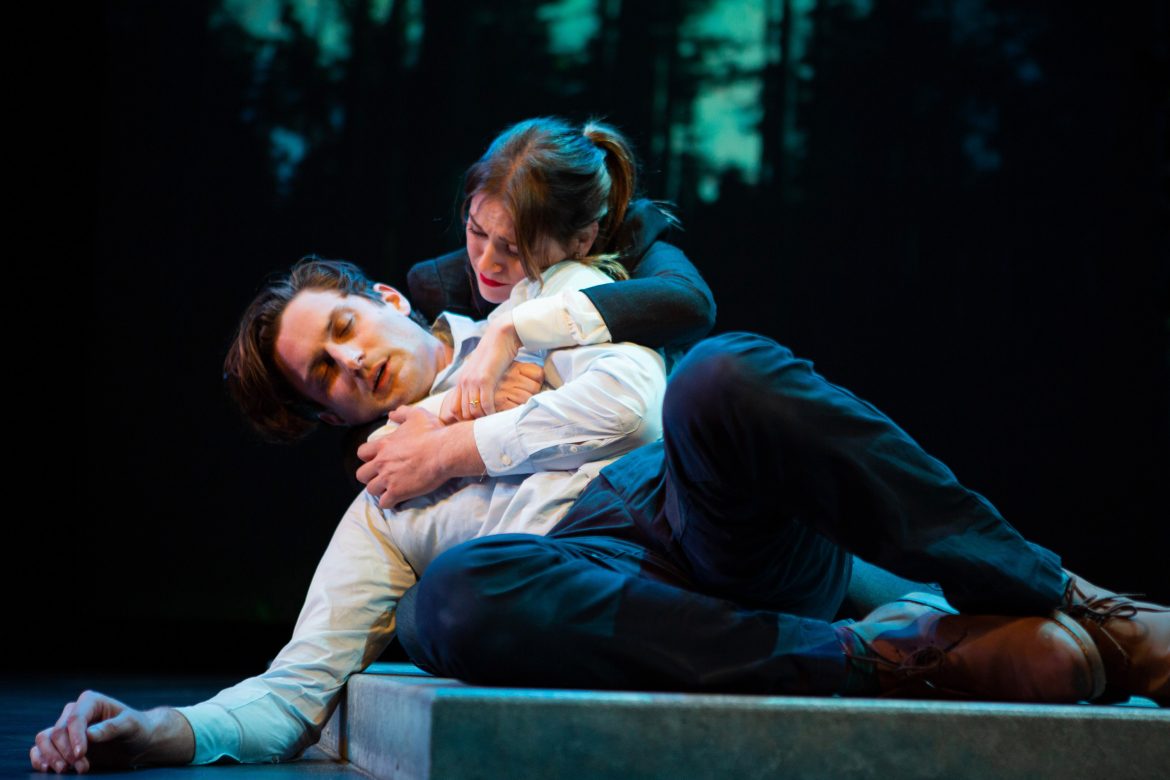 Fortunately, director, set designer, and Playhouse Artistic Director Bill English makes us believe we're right there in the boondocks of this flyover state, complete with a backyard fire pit. He and the cast do their best to elevate characters who are mostly thin. All the cast members are Playhouse regulars and each gets a moment to shine. Although Moreno never finds the right vocal tone for Justin, his best moments are quiet points when he's visually shaken by having killed a deer at the start of the show. Schell seems caught somewhere between sympathy and parody for Kevin, but von Wulfen and Malloy (who Playhouse regulars may recall from Born in East Berlin) give fine respective turns as fragile Emily and hard-ass Teresa, the latter of which would fall into self-parody in the hands of a lesser actor.
As usual, English and the Playhouse make the best use of their most valuable player, Susi Damilno. The Boomer idol of this Gen-X-Millennial quartet, she best differentiates herself by subtly showing that she's long known what these young 'uns are just now realizing. Even when adopting a Betty Draper-esque outlook of the world being "not ready" for radical political change, it comes off less as a slogan and more like what Dr. Preston is: a parent and educator afraid of the world she's left for her children and pupils. Dealt the shortest amount of time, Damilano gets the most use out of a character whose shadow looms large over the other four.
Before the play is over, it takes a turn for the possibly supernatural with an out-there explanation for the loud screech (courtesy of Playhouse sound guru Theodore T.H. Hulsker). It's one of the things that could have been excised to streamline and perfect the script. It's to the credit of English and his collaborators that they do so well elevating the material. But the endless run time and WTF-ending are far more stifling than the masks these 2017 characters won't wear three years later.
HEROES OF THE FOURTH TURNING runs through March 5 at the San Francisco Playhouse. More info and tickets here.