Last Friday, the Bay Area Mural Program filled a historic ballroom with dazzling suits, floor-length gowns, and gamed-up folks of all ages who had gathered to share an evening of art and celebration. As one attendee playfully commented, it felt like being at "the player's ball," where everyone was thriving, vibing, and eating together.
That's because BAMP's spirit of collaborative, cross-diasporic solidarity was on colorful display at what is mean to be their first yearly gala, which honored artists in the community by auctioning off artwork, spotlighting local performers, and raising funds towards future projects.
From a lineup of live music that featured Dani and Zoe Boston, to honorary speakers like Refa Love from Aerosoul, the night highlighted a vibrant energy from an organization that knows how to give love in more than one medium.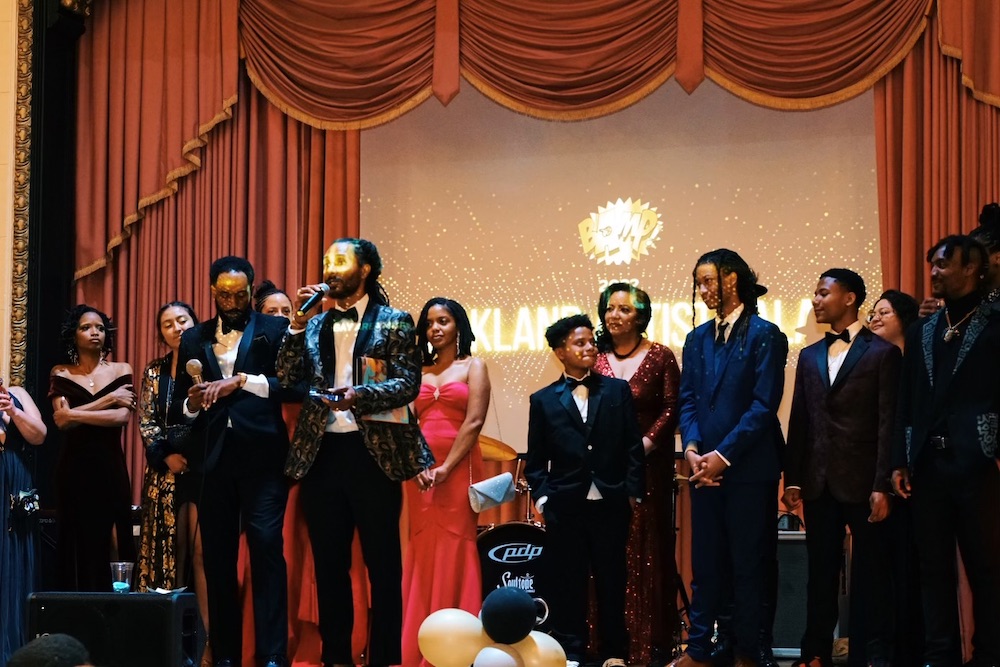 For the past five years, BAMP has been leading the way as one of few Black-led public arts programs in the Bay Area—creating a holistic community-based art movement under the guidance of their executive director and founder, Andre Jones.
"This is not only a Black organization. We have a Black executive director, but we are inclusive and everyone belongs," Jones said.
More commonly known by his muralist name, Natty Rebel, Jones and his team have spearheaded comprehensive projects from covering streets with Black Lives Matter messages in 2020 to the massive 2022 Steph Curry mural on downtown Oakland's Kaiser building.
Most importantly, Jones and his crew, which include collaborations with prominent art visionaries like Rachel Wolfe-Goldsmith, Hueman, and TDK, are providing pathways for emerging artists in the Bay by hosting workshops, providing sponsorships, and now, publicly fundraising for future projects.
"We weren't given a seat, so we built our own table and invited the community to join us," says Langston Avery, a comedian who hosted the event inside the sold-out California Ballroom.
Like the many other multidisciplinary artists who are a part of BAMP, Avery is committed to the group's vision of providing accessibility for marginalized voices to thrive in a socioeconomically-divided Bay Area landscape, which has been criticized for celebrating transplant artists in recent years and erasing local perspectives.
Knowing this, BAMP is actively working to cultivate and retain homegrown talent by redistributing resources and allocating funds. The organization fights to claim visible public spaces for artists who might otherwise be unable to enter the field, particularly as members of communities that are historically relegated when it comes to gatekept arts institutions.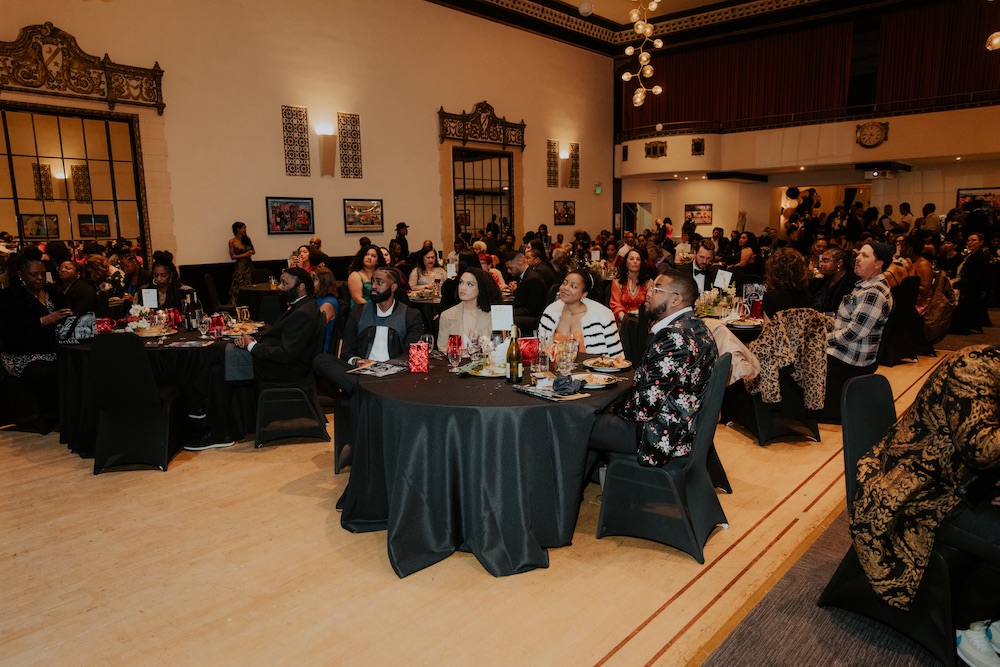 Founded in 2017 by Jones, BAMP has already helped to launch the careers of many, including Wolfe-Goldsmith, meriting support from the City of San Francisco, the Golden State Warriors, and the East Oakland Youth Development Center.
With yearly events like Art Clash—which invites artists to paint and compete in a community vote-based format for the chance to win money and arts supplies—BAMP is constantly spotlighting fresh voices and uplifting community members like Tracey Williams. In 2021, Williams was celebrated during the gala for earning first place in Art Clash. This, despite the fact that she had entered the event last summer with no budget or formal art training. Since winning, her work has been featured in BAMP's spaces and has sold for as much as $500 per piece.
"These events represent hope, appreciation, and support for artists," Williams told me. "Events like this are important in the Bay Area arts scene because they create opportunities and help beautify our city. It also provides a safe space for artists and creators to network and learn from each other."
As a non-profit, BAMP has independently raised funds, and has had to remain innovative when it comes to running an arts programs for teenagers, adults, and volunteers. All this while supplying enough paint, materials, equipment, and payment to keep the organization growing and properly compensating its contributors.
The group has made it work for half a decade. And at the gala, they looked back on what they've accomplished, while looking forward to what they still hope to do.
If you've walked around Oakland, Vallejo, San Francisco, or other cities nearby, chances are you've seen the work of BAMP. On more than one occasion, I've bumped into one of their artists scaling a wall with spray paint and paintbrushes in hand. In January, their work was hailed on Twitter by Steph Curry, who thanked them for their latest contribution to Oakland's walls:
A beautiful day for Oakland. Big S/O to @Rakuten for the 🔥🎨 new view at 2350 Broadway with the help of @BayAreaMuralPro. Not only are they bringing new art to The Town, they're also giving out 300 books for free at @MarcusBooks 🙌🏽 We're on a mural for a purpose, y'all… pic.twitter.com/yCDEMYmKDl

— Stephen Curry (@StephenCurry30) January 24, 2022
But it's not just the Bay Area's own Splash Brother who recognizes the waves BAMP is making with its artwork. The gala was a reminder of the connections and partnerships they have nurtured, and the festivities showcased the powerful result of artists taking the time to connect and synergizing towards a common belief.
"This is a do-it-yourself, each-one-teach-one, Bay Area flavor," said one member of the legendary TDK graffiti crew.
In that sense, it wasn't exactly the player's ball. Instead, it was a painter's ball: the first of many in coming years of paint, joy, and abundant unity.
For future BAMP events and projects, follow the organization online. The group welcome donations and volunteers.