The last time I saw a show by the Oakland Theater Project (OTP), it was 2018 and they were still Ubuntu Theater. That was also the year I last saw a Ferocious Lotus show, an Asian-POV satire of white privilege in theater that took a considerable turn for the meta. Given how this show takes similar turns, one would guess that Ferocious Lotus picked the script for Celine Song's Endlings (through May 1 at FLAX Oakland), making its West Coast premiere as a co-production with OTP. After all, there's always room for a new BIPoC work skewering white supremacy.
But that comes later. For most of its hour-and-a-half runtime, Endlings is simply the humorously profane story of a generation of Korean women who are dying out along with their traditions.
After going through a lax COVID check (vax card glanced at, no check for booster, no ID requested), one already hears Elton Bradman's ocean soundscape as Karla Hargrave's dressing makes for a creative shoreline set with little more than fishing nets, leather strips for seaweed, and dollar store crustaceans sprinkled in.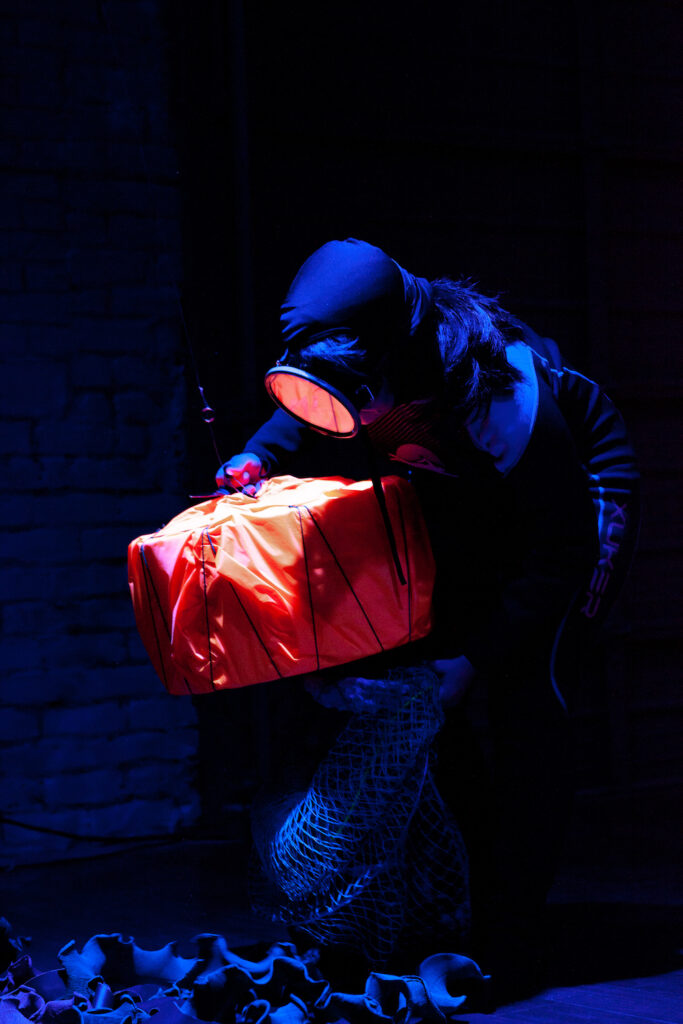 This is the oceanside workplace of the haenyeos, Korean women who go diving for all forms of aquatic life. In particular, we meet three haenyeos in their 70s and 80s, still diving as often as they did in their youth. These three—as we learn from a condescendingly cheery tour guide voice—are Go Min (Mia Tagano), who has no shame in how much she beat her kids; Han Sol (Keiko Carreiro), the self-professed "leader" who loves television to an absurd degree; and Sook Ja (Pauli N. Amornkul), the "youngest" of the three who takes the biggest risks by making the deepest dives.
Their daily routine consists of waking up early, fighting through bodily aches, stretching themselves into their scuba gear, diving, surfacing, selling whatever they've caught, maybe having a late meal, and falling asleep so as to do it all again the next day. The diving is the only point at which our fantastically foul-mouthed trio aren't reciting gallows humor about how they and their millennium-old industry will both soon be gone for good. Death is regarded as something as inevitable as the sunset, yet inconvenient in how it leaves more work for the survivors, who have to inform the mainland of a body that need retrieving.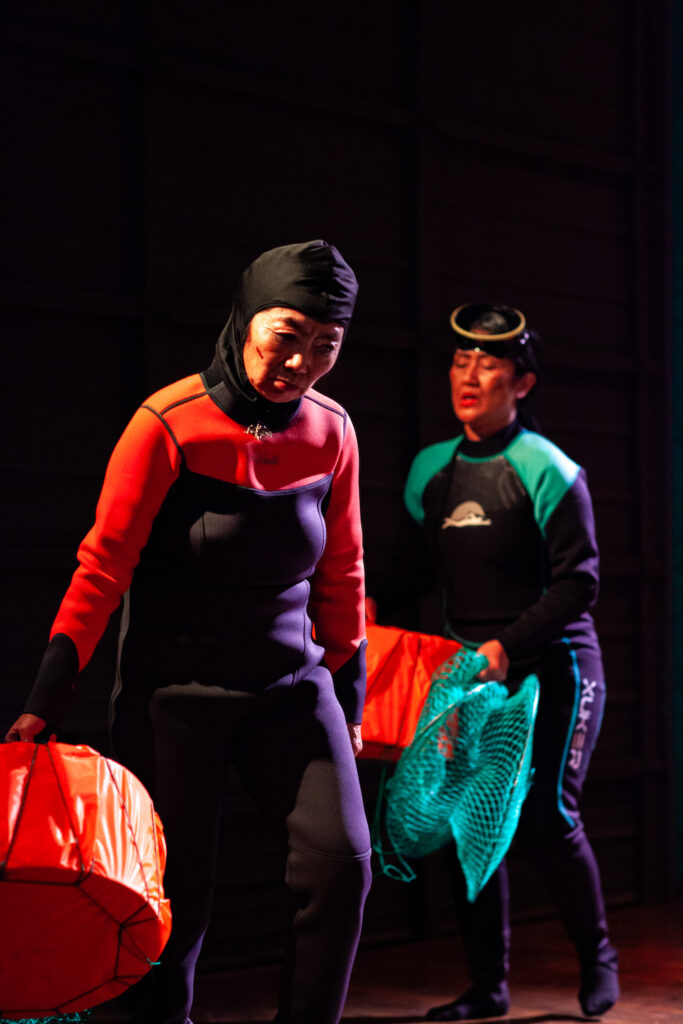 If you wonder what kind of mind thought up such a story, the play shows us with Ha Young (Joyce Domanico-Huh). She's a playwright; specifically, she's the one writing the tale our deep-diving trio. She occasionally addresses us directly to give us historical context on Korea before and after the war, as well as personal insight on being a Korean-American playwright who "write[s] white plays." Such is the only way she's able to get recognition in an incredibly homogenous NY theatre industry. One scene has Ha Young and her White Husband (Adam KuveNiemann), also a playwright, suffering through a play chockful of every Tracy Letts-style cliché one can think of.
Both stories are interesting stories to hear, but they don't seamlessly fit together. Much like Two Mile Hollow, the aforementioned 2018 show by Ferocious Lotus, this show has so much to say that it's in danger of buckling under the weight of its own urge to get it all out. The play is essentially two one-acts mashed together, which would make an interesting twofer. Clearly, playwright Song has a lot on her mind, that's a good thing. She tries to say it all at once, that's where she stumbles.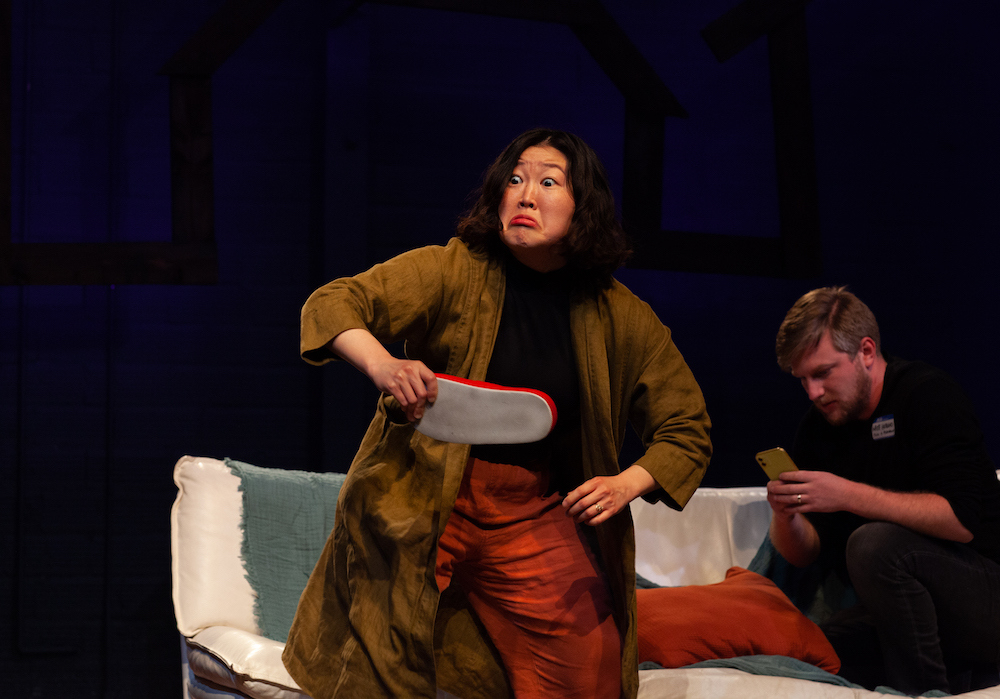 That "stumble" isn't for a lack of refined effort. I hesitate to single out any one member of the cast, as they each provide laughter and depth to their roles. It probably helps that they do so under the direction of May Liang. It was also 2018 when I last saw one of her shows, Bay Area Children's Theatre's adaptation of the novel Inside Out and Back Again. Whereas most BACT shows are goofy distractions for the little ones, the Liang-directed version of the YA novel was, in my opinion, one of the best shows produced that year. As with that show, Liang here balances an ever-looming darkness with the humor of everyday life, as seen through the eyes of Asian characters. It's only a benefit.
By the time Song's play reaches its conclusion, it tries to connect its two stories in a way that contradicts the fact that one is a fiction within the other. It's a funny and sad in all the right ways, but it frequently bumps into the wall dividing its two stories. Still, there are far worse ways to spend 90 minutes than listening to three old Korean women making jokes about drowning.
ENDLINGS runs through May 1 at FLAX art & design, Oakland. Tickets and information here.