When I went to City Hall to see the photo show, David Johnson: In the Zone (1945-1965), the man working at the voting booth acted really excited to see me. Well, not me specifically, but to see anyone taking in the show, pointing out photos of the protestors at City Hall and a portrait of a family, and enthusiastically showing me how the exhibit extended down both hallways.
You can't blame him. If I were sitting right in the middle of 65 photos by one of San Francisco's most important photographers, known for documenting life in the city, particularly in the Black community in the Fillmore District, I would also want everyone to see it.
Johnson's life is as remarkable as his photos. Born in 1926 in Jacksonville, Florida, he was interested in photography as a kid, and after serving in the Navy in World War II, when he wasn't even out of his teens, he saw that Ansel Adams was starting a photography department at the San Francisco Art Institute (then the California School of the Arts).
Johnson wrote Adams a letter telling him he wanted to study there. Adams told him the classes were full, but then, when another student dropped out, he wrote to Johnson that he could come. Johnson, using funds from the GI Bill to pay for school, traveled across the country. Future legend Minor White (whom Adams had recruited to teach at the school) met him at the Embarcadero Ferry and took him to Adams' place in Sea Cliff, where Johnson stayed until he found his own place.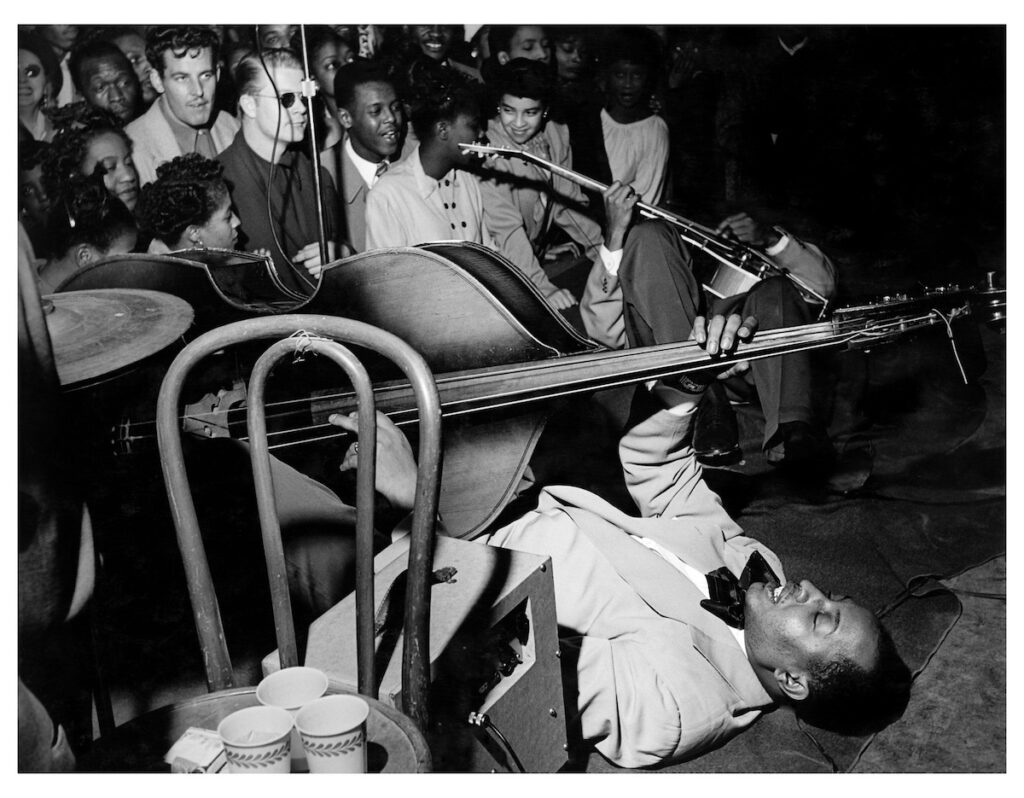 "There was something fascinating about a camera that took pictures of people," the 95-year-old Johnson said in a phone conversation. "That was my goal to do that, and it happened. God was reading my mind. I thought, David, this is your chance, go for it."
The photos in the show come from UC Berkeley's Bancroft Library, which holds Johnson's archive of more than 5,000 prints and negatives. They include Johnson's iconic photo of the Fillmore, Looking South on Fillmore, and others in the neighborhood. There are also photos of civil rights events, and famous people, like singer and actor Eartha Kitt and poet Langston Hughes. Johnson had a photo studio on Divisidero, and some of his portraits are in the show. He also documented protests and happenings at City Hall. 
Jeff Gunderson, the librarian and archivist at the San Francisco Art Institute since 1981, thinks Johnson's photography is accessible to anyone. He says he loves the famous shot of the Fillmore that Johnson climbed up on scaffolding to get, but he finds all of Johnson's work dynamic.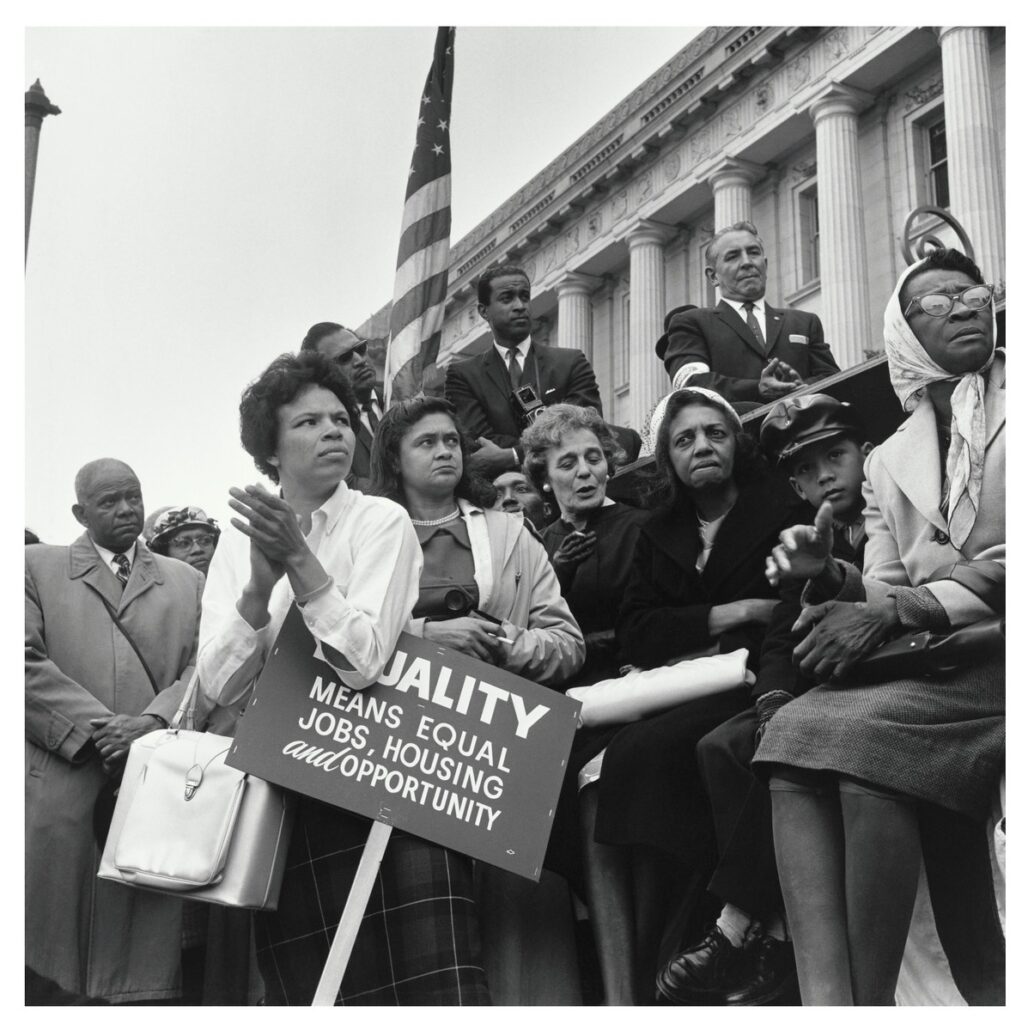 "He could capture that decisive moment," he said. "There's that one of the couple dancing and the expressiveness of it, and the one of the integrated kids at church. It's more than charming and so indicative of the time and sprit and optimism."
Gunderson became aware of Johnson's work when, in 1995, SFAI was looking to do something to commemorate the 50th anniversary of the beginning of the photography department.
"Along with Ansel Adams and Minor White, Dorothea Lange was there and Pirkle Jones," Gunderson said. "They were all talking about photography, and it just sounded so rich."
Johnson learned a lot at SFAI, says his wife Jaqueline Annette Sue (author of a play and five books, including A Dream Begun So Long Ago: The Story of David Johnson, Ansel Adams' First African-American Student) who was on the call with her husband.
"He learned how to use a light meter from Ansel Adams, and Minor White told him, 'Well, go take photography of what you know.' That's why David went to the Fillmore. He wasn't going to follow Ansel into Yosemite—he went to take picture of what he knew the best, and that was African Americans."
Because photography didn't pay a lot, Johnson went to work at the post office, and organized for the postal service workers' union. Not one to sit still, he also co-founded UCSF's Black Caucus, and went back to school at 65 to become a social worker.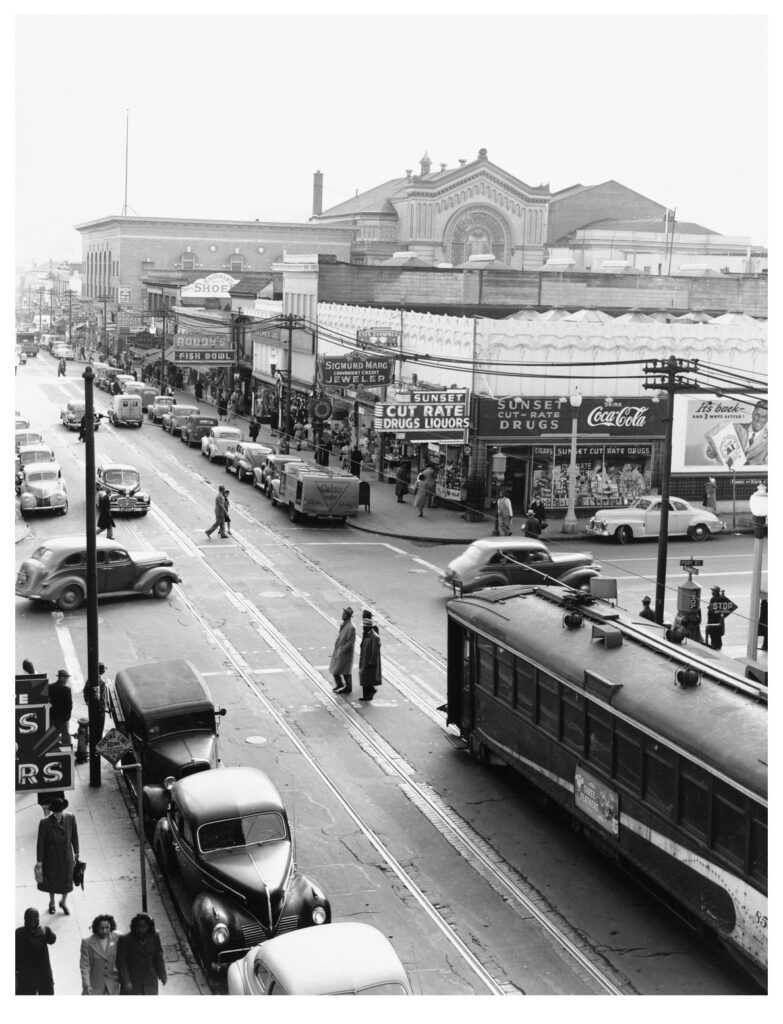 Meg Shiffler, gallery director for the San Francisco Arts Commission, said it makes a lot of sense that the show is at City Hall. Johnson wasn't just a great photographer, she says, but a great citizen as well.
Asked what she liked most about the show, Sue was effusive in her praise of Shiffler, citing the care she took.
"I cannot say this enough — Meg Shiffler did an outstanding job," she said. "I've worked with a lot of curators in New York and Georgia and Florida and the detail in this one is awesome. It's a world-class show."
Gunderson says Johnson's work is unique. And there's something about the man himself as well, he thinks.
"He doesn't bluster, and he's not pretentious at all," he said. "He's just cool."
DAVID JOHNSON: IN THE ZONE (1945-1965) shows through January 6, 2023, on ground floor level and the North Light Court of San Francisco City Hall. More info here.