San Francisco indie-pop band The Umbrellas typifies the DIY community spirit of the upcoming three-night local music showcase Oakland Weekender (which runs June 23-25 at The Golden Bull.) The group chose to create their self-titled first album themselves a few years ago, in order to keep total control. With very small margins for error—a restricted budget and a very specific sound, for example—they created a mobile recording studio in an empty house in Southern California. That compelled the crew to get up and personal with their project.
The band informed Brooklyn Vegan that during the album's recording process, they resided together—eating and sleeping in a communal manner for almost a week—until the task was completed. Hand-sewn, the experience made the band members' debut record that much more intimate.
Personal.
On three nights over the last weekend of June, The Umbrellas will perform alongside 14 other bands and three DJs at Oakland Weekender. The event's lineup features local musicians from the Slumberland and Emotional Response record labels who embody the contemporary Bay Area indie-pop sound. This is art, united and corralled, making a scene, fighting back against harsh circumstances.
"End of the world, global epidemic, rightwing fascism," mused Mario Hernandez, Oakland Weekender organizer and collaborator. "Great art always happens during high duress and I believe we are on the crest of another wave that has been constant in our little world." Hernandez, a member of bands Kids On A Crime Spree and Artsick, both of which will be performing on the bill, has organized a few festivals over the years. To his eyes, this moment in history looked like an ideal opportunity to join forces with others.
And so, the roster of bands and DJs on the bill also includes Neutrals, Cindy, Lunchbox, Blues Lawyer, Chime School, Peel Dream Magazine, Jeanines, Seablite, Mick Trouble, Boyracer, The Reds, Pinks & Purples and The Umbrellas. DJs Jessica B, Poindexter, and Kid Frostbite will also show up to contribute sets.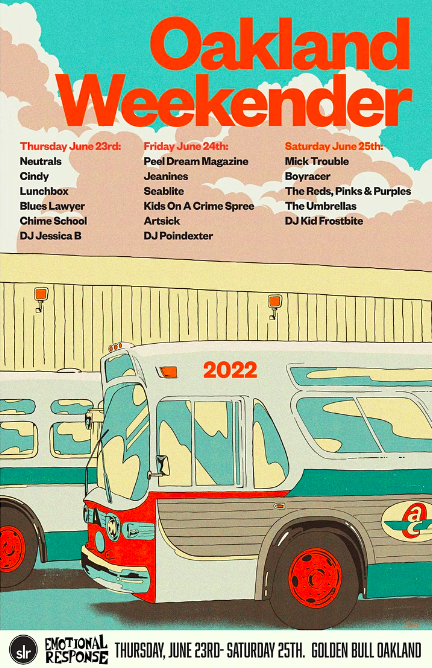 "I always like to see what people are doing and creating when the spotlight isn't on them, and the local bands we're talking about who are playing the festival have been steadily working, creating, and supporting each other for years when people were definitely looking elsewhere," Slumberland Records founder Michael Schulman told 48hills. "It's really good to see some attention come to the SF scene after what's been a difficult couple of years for everyone."
An explosion of releases in the previous few years has sustained and in some ways, rejuvenated indie-pop history in SF and Oakland. During the intervals between COVID spikes, if you went to watch a Chime School, Seablite, or Neutrals concert at Balboa Theater, Bottom of the Hill, or Rickshaw Stop, you'd probably see identical faces among those supporting. The scene is just that personal. Intimate.
Christina Riley, a musician who is a member of both Artsick and Boyracer as well as an organizer-collaborator for Oakland Weekender, felt that bringing these musicians together to play wonderful music would serve several purposes.
"I think it has a lot to do with everything that has happened over the past few years," says Riley. "We had all been pretty isolated due to the pandemic, and have watched in horror as the fascist population grew. It is a lot to take in. As artists, we are often driven to create during challenging times—for therapy and for change— and I think it is our responsibility to stand up against fascism and oppression. I think all of it has really created a magnetic scene of like-minded artists who instead of being competitive, are supportive and encouraging. We need to stick together. There is comfort in that. We are very fortunate to have each other, as well as so many talented musicians in the Bay Area (and beyond), and top-notch record labels that support us."
OAKLAND WEEKENDER 2022 June 23-25. The Golden Bull, Oakland. Three-night ticket package with a Weekender t-shirt and poster, and a Buzzcocks tribute tape; $60. Advance-sale one night ticket, $20. Tickets at the door per show, $25. For more information go here.