Daniel Geller and Dayna Goldfine spent years making Hallelujah: Leonard Cohen, A Journey, A Song, a documentary that looks at the late singer-songwriter's career through the lens of his most famous song, "Hallelujah." They listened to countless versions, both Cohen's own interpretations and covers from Jeff Buckley, Rufus Wainright, Brandi Carlisle, reality show contestants, and more.
The song became so ingrained in his psyche that Geller remembers new, crazy lyrics coming into his head unbidden as he would shower in the morning.
"That song has that cantorial chant-like rhythm to it," Geller says during an interview with him and Goldfine at the Fairmont Hotel. "It really does get into your head.
"The lyrics are so deep and so multifaceted: funny at the same time as yearning, at the same time as completely depressing. It's the same line, depending on the day. I can't remember a moment where I was burned out. Also, all those different interpretations by different artists have such different musicality. The song has so many different possibilities."
Hallelujah: Leonard Cohen, A Journey, A Song has its roots in a dinner shared between Geller and Goldfine and film critic-historian David Thomson and photographer Lucy Gray. The filmmakers were in between projects after finishing their last documentary, The Galapagos Affair: Satan Came to Eden, when Thomson asked if they thought it was possible to make a film about a song. 
Goldfine's initial response was that it wasn't a great idea but as the dinner conversation continued, she began to see a possibility.
"I had this very concrete image of Leonard Cohen, at the Paramount in Oakland, where we saw him a couple of times, dropping to his knees as he started 'Hallelujah;'" she says. "It just came to my brain whole cloth. I was like, I know the song and its inseparable from the artist. So, it would be 'Hallelujah' and it would be Leonard Cohen and that's where the journey began.
The next morning, unable to get the idea out of her head, Goldfine turned to Google and discovered The Holy or the Broken: Leonard Cohen, Jeff Buckley, and the Unlikely Ascent of "Hallelujah," Alan Light's book charting how a song from a Cohen album rejected by his label, Columbia Records, came to be such a classic. She ordered the book immediately and Light would come on board the film as a consulting producer.
Cohen died in November 2016 at 82. He was still living when Geller and Goldfine began the project. His agreement was crucial in the documentary going forward. He no longer controlled his publishing rights, but retained his right to refuse projects wanting to use his music. There were also the ethics involved in making a film about a living person's life without their approval.
"We could not have made the movie without his tacit blessing," Geller says. "I wouldn't have gone ahead with making a movie that's probing not only someone's song but also their deep spiritual journey without at least getting some okay from them and some understanding of what we were planning to do.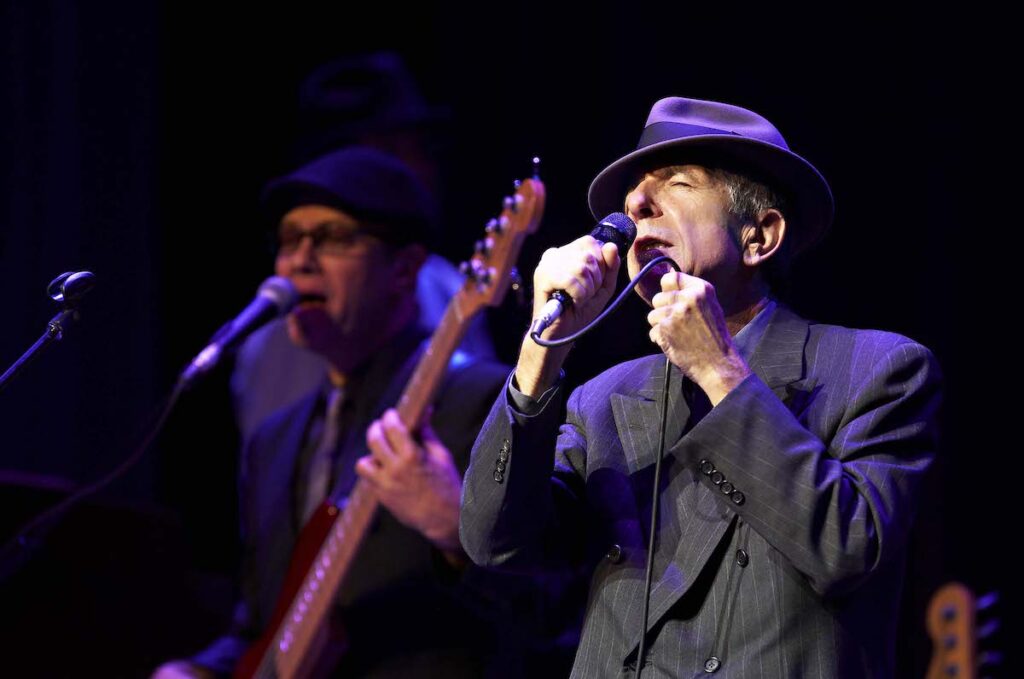 "He was intrigued," he adds. "I think he was intrigued because we were saying we're not just going to make a story about the song and it's unlikely rejection and ascent into the stratosphere, but that we were really looking at the creative process and spiritual journey of Leonard Cohen to make that song. And how he then changed that song over decades afterward. He kept writing new lyrics and singing in a different way. So that I think intrigued him, that we were coming at it from a different perspective."
Eventually, Geller and Goldfine gained access to Cohen's notebooks and could see for themselves the many forms "Hallelujah" took for its writer over the years—there are at least 80 verses, both secular and solemn. And while the song is the focus through which the filmmakers view the Canadian poet-novelist-singer-songwriter's life and career, it is not alone. There are 22 other compositions in the film.
Alternating with the music are the interviews. Larry "Ratso," Sloman, a music journalist who interviewed Cohen extensively; the late, legendary music producer Hal Willner; singer Judy Collins, former Columbia Records president Clive Davis, and Cohen collaborators John Lissauer and Sharon Robinson are among the people who appear on screen alongside some of those who have covered the song, including Wainwright, Carlisle, Regina Spektor, and country singer Eric Church. That last is one the filmmakers found a surprise.
"He is more of a country crossover singer, not necessarily what you would think of as Leonard Cohen territory," says Geller. "But his story was so beautiful that he, as a surprise to his own band, performed it, spur of the moment, at a concert at Red Rocks.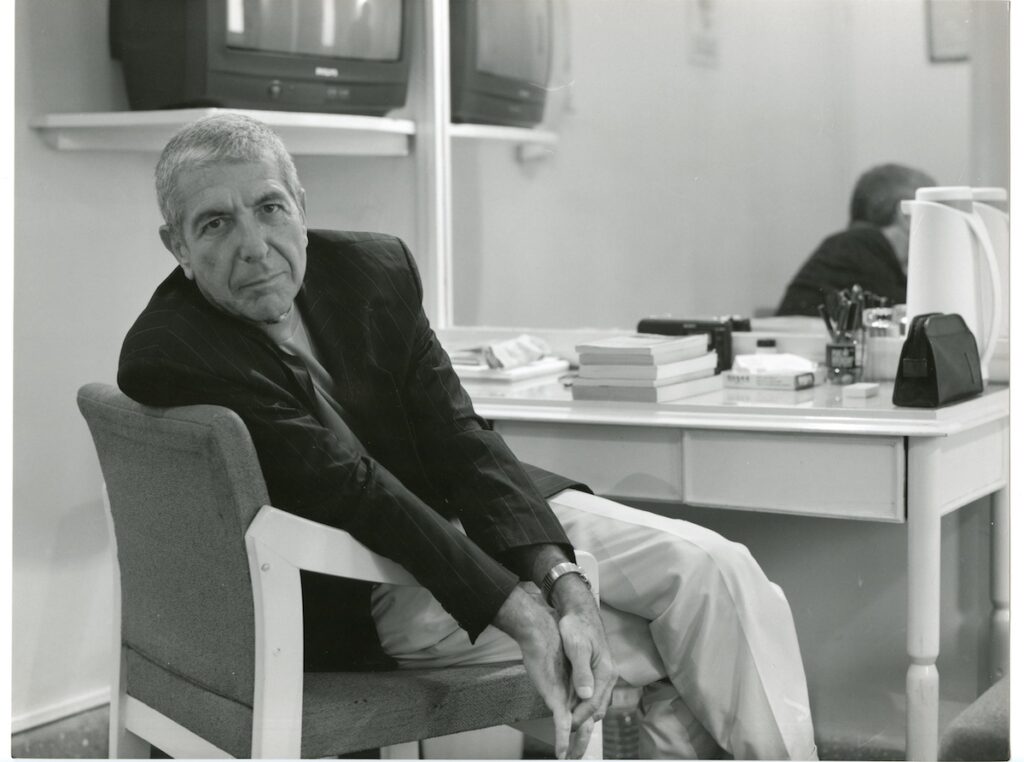 "His reaction to it was so profound, his reaction to hearing Jeff Buckley's version, but then his reaction to seeing the crowd explode in front of him into this other kind of ritual space in a way. It meant so much to him that he then, on one of his tours that came through the Bay Area, opened his shows with a microphone and a blue spotlight, nobody there, just playing Jeff Buckley's recording to settle the audience into a certain space. He never sang it on that particular tour. He just used that as a mood setter, so unusual.
"There is something so genuine and unpredictable about how he came to the song. It fit beautifully into a movie about how unpredictable the whole journey of the song has been."
Goldfine describes seeing Cohen in concert as a "conversion experience." Watching him perform on his final 2013 tour at Oakland's Paramount theater, she describes as "unbelievable." And for all the versions of "Hallelujah" in the documentary, including Buckley's, the interpreter most responsible for exploding the song into the public's consciousness, it is Cohen's own singing of it that dominates.
"The the sheer number of ways that Leonard sang it over the years, tossing verses, putting new ones in, and going back to old ones, I don't know of any other songwriter or performer that has done that or has had the kind of treasure chest of lyrics sitting there to do it with," Geller says.
"It's pretty amazing just to watch, in the course of the movie, how, in 1984, he sings it in a very straightforward way, the King David version, but then he gets into the secular version, and then flips it again when he's really in his deepest depression… You can see it on him and his just singing the word 'hallelujah' at that point and seeing the way his face looks, it's so broken.
"And then seeing him later on, I think, my god, it's resonating through him in all these different versions along the way, and I had no idea—having only seen him sing it live at the Paramount—his own very complicated relationship with his song."
HALLELUJAH: LEONARD COHEN, A JOURNEY, A SONG opens at Bay Area theaters on Thu/7. Dan Geller and Dayne Goldfine will take part in Q&As after the following screenings: 7pm Thu/7, and 4pm, July 10 at Opera Plaza, SF; 4pm, Fri/8, and 7pm, Sun/10 at Roxie Theater, SF; 4pm, Sat/9 at Elmwood Theatre, Berkeley; 7pm, Sat/9 at Smith Rafael Film Center, San Rafael