Under the Stars is a quasi-weekly column that presents new music releases, upcoming shows, opinions, and a number of other adjacent items. We keep moving with the changes, thinking outside the margins, and forever grateful for the magical power of music. Live, recorded, mixed…. It's a salve, baby… Let's get it!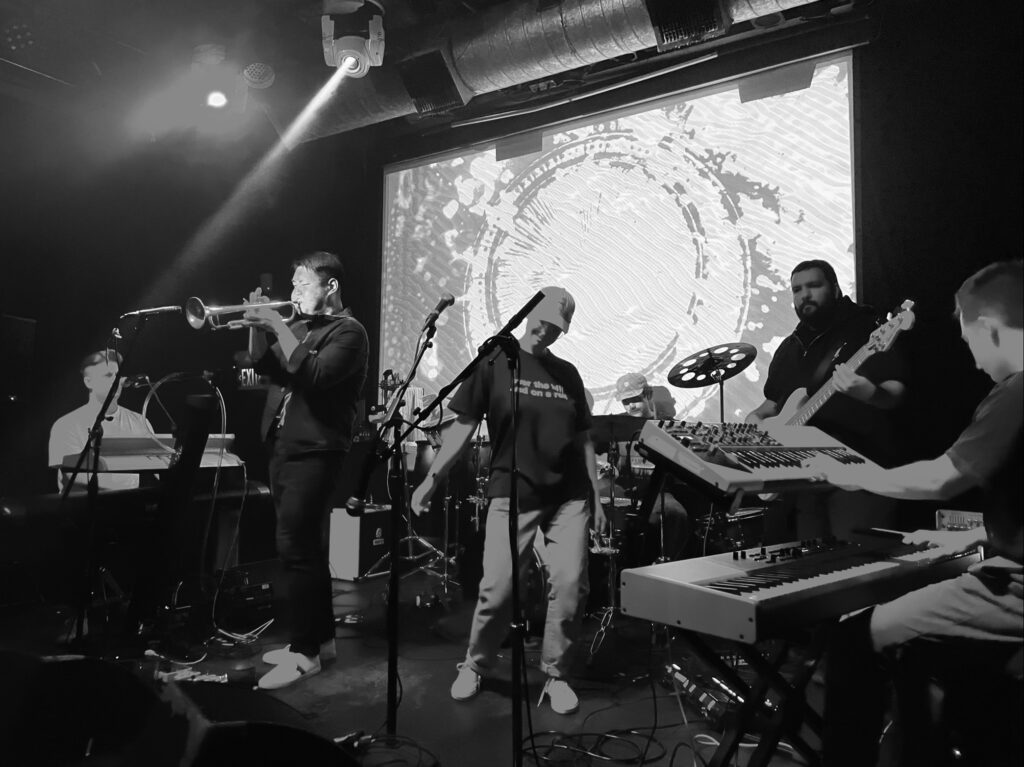 REVIEW: FOAMBOY AT POSCENE, JUNE 28 AT RICKSHAW STOP
Catching up with lead vocalist Katy Ohsiek after her band foamboy, which brought a line-up that was dealing Jack, I discovered the group has a Halloween show planned in Portland at the legendary Doug Fir Lounge that Ohsiek is anxious to perform in costume for.
For those in the PDX, go check out and support your incredible talent on July 10 at Doug Fir Lounge, the same location.
Back in San Francisco, I figured I'd enjoy the concert, but good lord and butter…
It was a fully developed joy with an extended band—Wil Bakula on keys-synths, August King on keys-talkbox (the vocoder-looking thing), Greyfean Eastland on drums, Jarryd Venti on bass, and Chang Park, cutting those brassy lines on trumpet.
Ohsiek's vocals on the highlight jazzy house meet disco treat "Logout" just drifted on and on with that pounding swing, reconnecting the sturdy audience with the movement of their bodies.
All heads were bopping, toes were shuffling, and amazing sensations of warmth accompanied by thunderous low-end assistance made this modest opening band the ace in the overall that few saw coming.
Hopefully, the next time they come to town, it will be a headlining show and I will have a better camera to catch it.
KAIDI TATHAM, DON'T RUSH THE PROCESS (FIRST WORD RECORDS)
Spectators have dubbed Kaidi Tatham "the UK's Herbie Hancock." Although flattering, it is insufficient.
Tatham is a seasoned producer of all sorts of London underground music, from West London broken beat to deep house and jungle, Phuture boogie, and hip-hop: His discography is linked to every new, reinterpreted Black genre that emerges in the UK.
Tatham, like his on-again, off-again musical companion Dego (Dennis McFarlane), is the mortar to most of the sound London's Black community has danced to over the last three decades.
That's specific. In the jazz refreshed video we provided above, there is not ONE dislike. That's microscopic, and correct.
Don't Rush The Process is Kaidi's fourth solo album under his own name. The 12 wide-ranging tracks sweep up incredibly groovy boogie arrangements, melancholy interludes, kick-drum-driven hip-hop darts, two-stepping piano rhythms, vintage Fender Rhodes-led jazz earworms for current aficionados, Afro-Cuban house with soul accents, and brief but satisfying downtempo modes.
Kaidi Tatham's release date remains set for July 29. Pre-order here before it sells out.
LUCKY SUN, BALANCE (LUCKY SUN RECORDINGS)
Tom Lown is well-known as a producer for instilling a direct feeling of warmth into his incredibly deep and wonderfully rich arrangements. Balance, his second studio album, under the Lucky Sun moniker, stays true to his style. "Rain and Sunshine", the third release on the album, features Alison David, known for her vocal work with The Black Science Orchestra and Bugz In The Attic, and stirs an uplifting sort of essence that keeps a steady path.
Balance, set to be Lown's greatest yet, with nods from producer Ashley Beedle to boot.
Out July 20 pre-order here.
PAPERCUTS AT THE CHAPEL, AUGUST 6
So, back in February, while watching Chime School at Bottom of The Hill during Noise Pop, a couple chided me for sleeping on Papercuts. That's who they were there to see. Their insistence bordered on playfully annoying. Despite their civility. I had forgotten.
Four months later, Jason Quever's SF project is appearing on those love 'em or loathe 'em, Best of 2022 So Far music lists. Now that I've caught up, I'm not sure how I missed the compelling "Palm Sunday" music and visuals.
Past Life Regression, developed shortly after Jason's return to the San Francisco Bay Area after several years in Los Angeles, revels in the contrasts between the joys of homecoming and the shared pandemic doldrums of the moment. If you enjoy the relaxed storytelling nature of Andy Shauf and the jangly mojo of SF's The Umbrellas, go get this.
Purchase album here and buy a ticket to their August 6 show at The Chapel here.
BYRON THE AQUARIUS AT MONARCH, JULY 7
This Birmingham, Alabama native, a keys player by trade, has made a significant impact as an electronic producer who has been tapped by all of the heavyweight high-level independent labels during the last eight years.
We're talking Jeff Mills, Axis Records, Wild Oats, Eglo Records, and other artists.
For someone who began their career predominantly in the "beat scene" of the 2000s with producers such as Onra, Mecca 83, and Flying Lotus, his career continues to rise, and we are the benefactors.
Purchase your tickets today because the first tier is already sold out.
REVIEW: OAKLAND WEEKENDER JUNE, 24 AT THE GOLDEN BULL BAR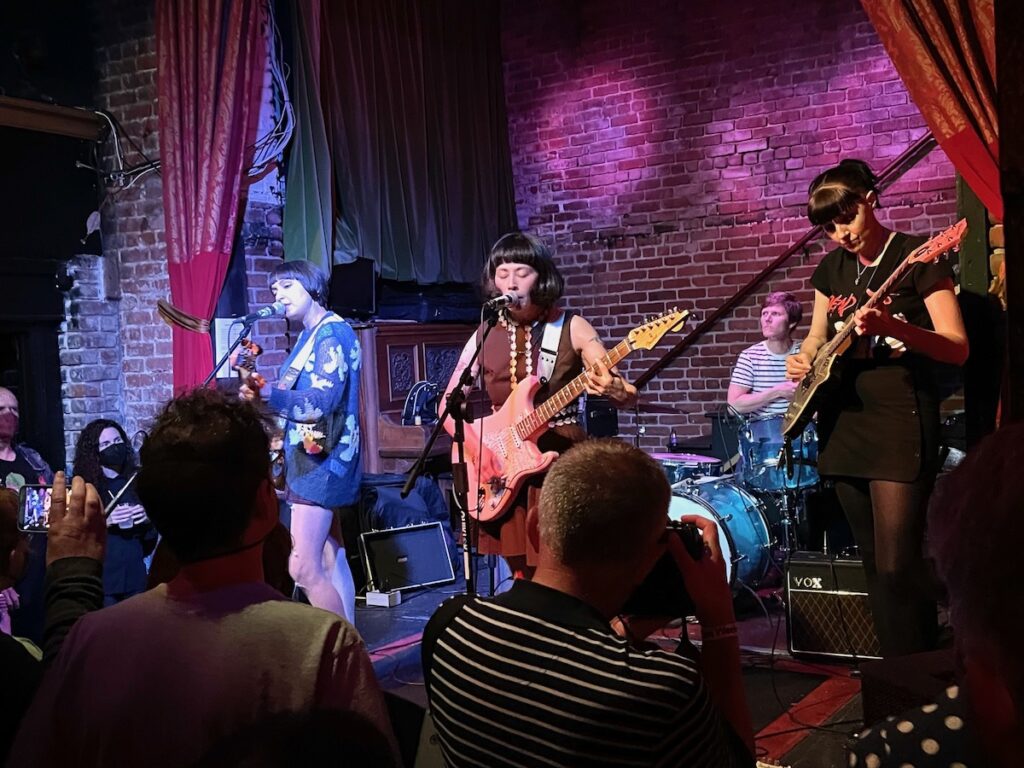 As I snuck in to catch the very tail end of the uproarious set from Kids on A Crime Spree, some random dude asked me if I was covering the event. I had my pen and post-its out, cussing out loud about how my Sharpie S-Gel was currently on strike, and responded "Yeah man, I am." He proceeded to tell me he was in a band, and how his band performed there and somebody was covering them.
"Why would anybody cover a band here?"
Oakland Weekender, the three-night event from Slumberland Records, which according to Instagram gathered visitors from all over the States to watch this concentration of largely SF/Oakland bands and some from New York and Northern Mass.
This sound, in the midst of COVID, SF reeling from a perfect storm of societal difficulties, not all London Breed's fault (AHEM) my perspective, has nurtured a new scene that's maturing rather beautifully. If ever there was an unofficial music festival, where all the bands performing are ready to go out on tour, fill in for any mainstream band selling out stadiums, this was the place to find them, of the jangly sort.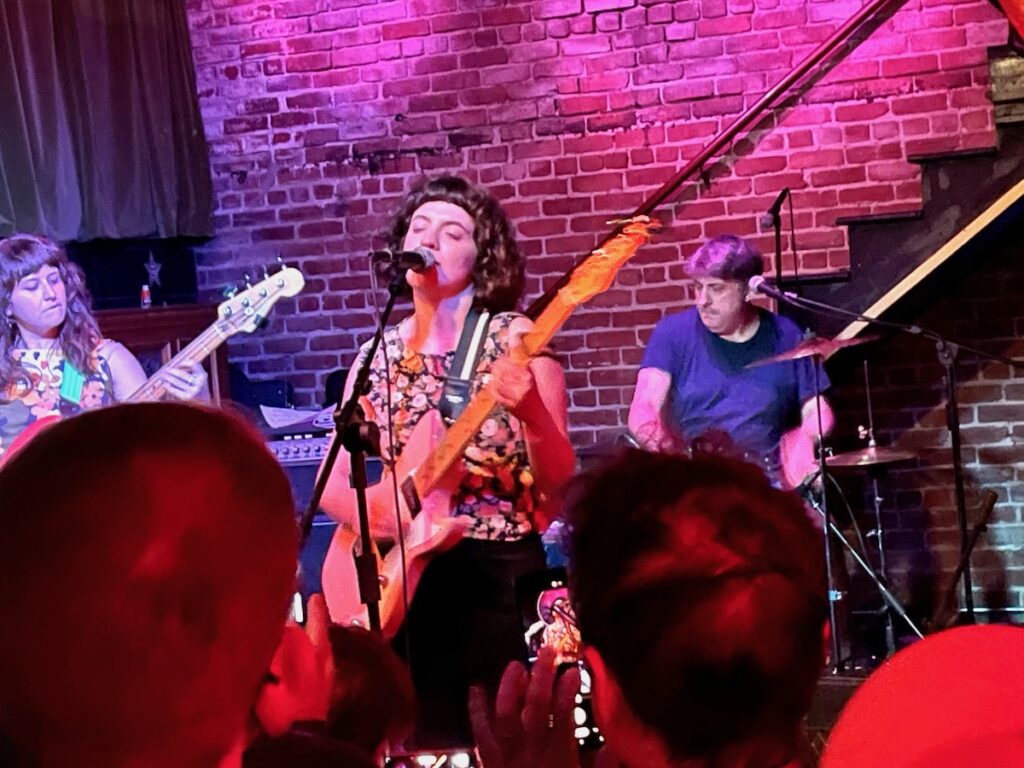 As I watched and loved the stoic Seablite battle tooth and claw through a set beset by soundboard feedback troubles, I observed the crowd, including members of Jeanines and Neutrals—dance, applaud, and sway. Dig in deeper and cheer on Seablite even more. 
This is what a supportive scene does….it looks after its own. Jeanines went on and captivated the sold-out venue, providing that communal feeling to the booming throng as I was leaving to catch that BART train.
The music was fantastic, but the energy of the night was palpable. Excellent work, Oakland Weekender.