Hello local arts fans—I'm away for August but will be popping in with the gossip and glory of our scene on occasion. The column might look a little different in the meantime, but there's still plenty for you to do and see!
THE POWER OF PEI
I attended a star-studded opening party for the Legion of Honor's gorgeous "Guo Pei: Couture Fantasy" exhibit (through September 5)—the first semi-retrospective of the 55-year-old Chinese fashion star's work, famed for her celebrity Met Gala follies. And look, I know what to expect at these things, but I still had a giggle at all the rich white women in cheongsams swanning about the Legion's cavernous hall. No out-of-bounds appropriation here, probably—they're selling the traditional silk dresses in the gift shop—and many were quite beautiful. But it did feel a bit like I'd dropped into a mid-'60s Peter Sellers movie, sans the six-inch cigarette holders.
On to the clothes in the actual exhibit: The 80 designs from recent collections presented here are often striking, veering a few times into Hunger Games territory with their willful eccentricity and moneyed gleam. Most are completely impractical for everyday humans, who do things like sit down or run, which isn't what this level of fashion is about anyway. (That's the "fantasy" part, and she's done some lovely toned-down runway work. I had fun imagining what her off-the-rack collection would look like.) Some looks, however, are phenomenal in their melding of futuristic with traditional.
What truly made the show a luscious stand-out were two things. First, the materials themselves, which "can take thousands of hours and multiple years to create," aiming to capture and reinvigorate Chinese embroidery and painting traditions that date back millennia. I don't know too much about how they are made, but wow, there are some stunning examples here, including technologically advanced fabrics that blew my mind. It was one of those times I ached to touch the artwork, run my mitts over that awesomeness.
Second, the Legion has ingeniously placed some of the designs throughout the museum's main floor, within the context of its extensive collection. This enlivens both the Legion's halls and the designs. Yes, visually—one incredible confluence consists of blue and gold dresses places amid matching Louis Quatorze chairs in a gilded salon; there's another breathtaking moment like this involving a blue-and-white Ming vase-patterned dress and a Dutch cabinet, which conjures up visions of Delftware.
But also philosophically: You can't help but think of the role Orientalism has played in classic museum collections, and imperial exchange in general. (Example: Dutch Delftware was used as a cheaper alternative to all-the-rage Chinese porcelain, until it became cheaper to actually produce it in China.) The show is definitely an eye-tickling romp, go see it.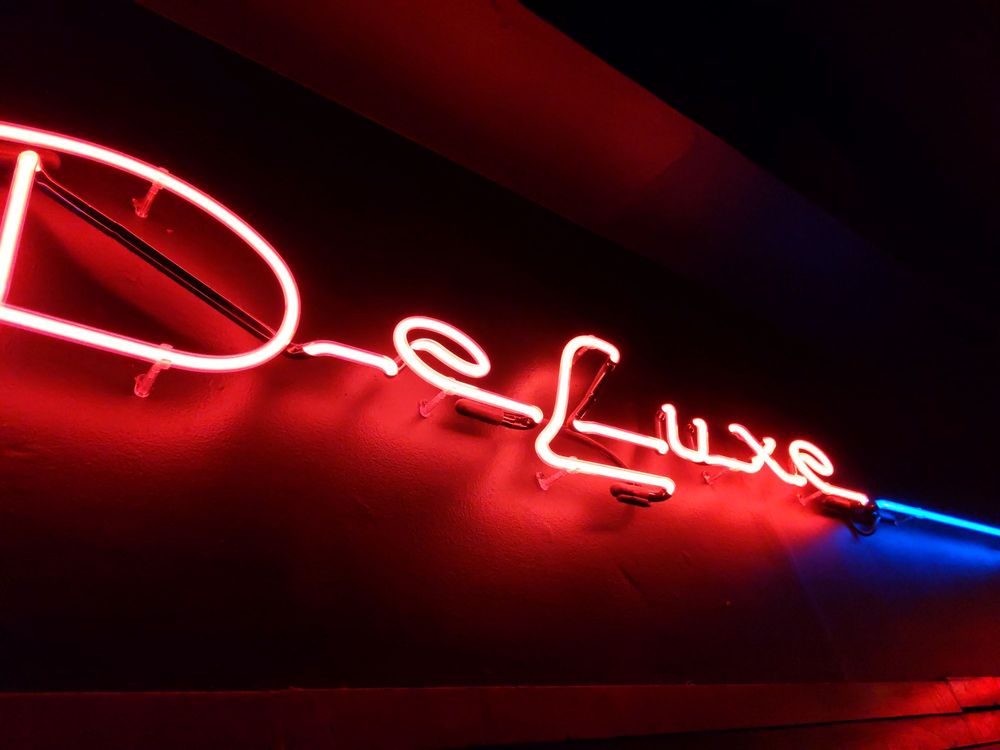 CLUB DELUXE CLOSING?
On Tuesday afternoon a message began circulating from Sarah Wilde, an owner of Haight Street's Club Deluxe, one of SF's niftiest joints and a rare spot for live jazz, saying that the club would be closing at the end of the month. Although a bit cryptic (and no journalists including myself seem to have been able to reach her to confirm), it looks like the corporate landlord is the problem:
Dear Musicians,

It is with sadness, and a hint of disbelief that I must let you know Deluxe will be closing.Please allow me to say, I have done everything I can. We do not need a GoFundMe. We need the multi-billion-dollar real estate company that owns our building, to allow a fraction of their portfolio to remain occupied by small businesses, artists, the unsigned musician, the carpenter, the waitress, and the single parent. Not because any of the above are pitiable, in need of charity or cannot pay fair market rent, but because we simply cannot be held to the same leases as multimillion dollar companies; we do not have real estate assets to put up as collateral or inflated tech salaries piling up in our accounts.We need the insatiable greed of wealthy investors, to give a flapjack about the cities they are systemically draining the color out of…but they do not.

We need these investors to see us as having value in our community, but they do not, and so we vanish from the cityscapes they come into.I love San Francisco, but I worry for her soul. I would like to move Deluxe. I would like to see it continue. I don't know exactly how, or when. And, like moving into a new house, the family will be the same, but life will inevitably change. It will look and feel very different, and there will be trepidation, and resistance. I am willing to take on the obvious criticism that it will not be the same….

Please know, it has been a huge honor for me to run Deluxe these past 7 years. I feel more grateful to all of you, and to my staff than I can express.Thank you all for the music!
Deluxe helped kickstart the swing revival which was integral to SF culture in the '90s and 2000s, and remains an emblem of lie music class in the Haight. (It's the perfect secret date-night weapon, too) We're rapidly losing our endangered jazz clubs—the Black Cat was just broken into and looted as the police stood by—and it would be such a shame to lose this one as well. Supervisor Dean Preston says he is in contact with the club and is looking into strategies like nominating it for legacy business status to help keep Deluxe afloat in some way. Club Deluxe is still open until the end of the month, show them some love.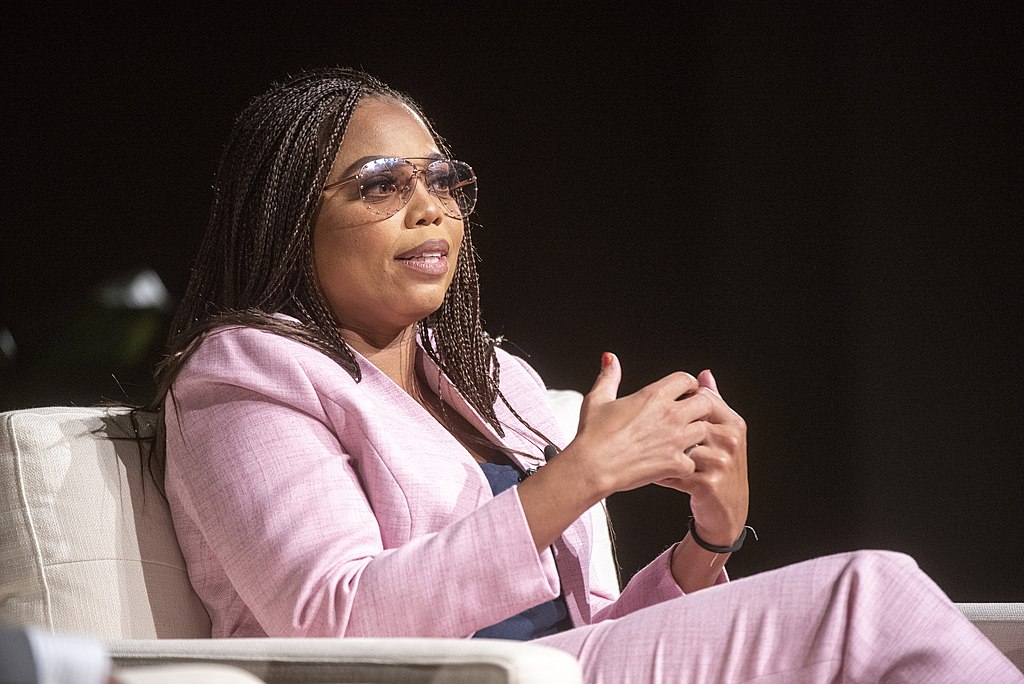 CITY ARTS & LECTURES ANNOUNCES HOT NEW SCHEDULE
Venerable talk series City Arts & Lectures (held in that neato Spanish Revival hulk, the Sydney Goldstein Theater) just released its fall in-person schedule, and it's poppin'. There's several people I can't wait for—sports reporter-activist Jemele Hill, sci-fi guru Kim Stanley Robinson, trash-talking genius Fran Lebowitz, legend Patti Smith, New Yorker theater critic Hilton Als, and local favorites W. Kamau Bell, George McCalman, Andrew Sean Greer, and Thao Nguyen. The CA&L folks tell me that virtual viewings may be an option, stay tuned. Check out the lineup and get tickets here.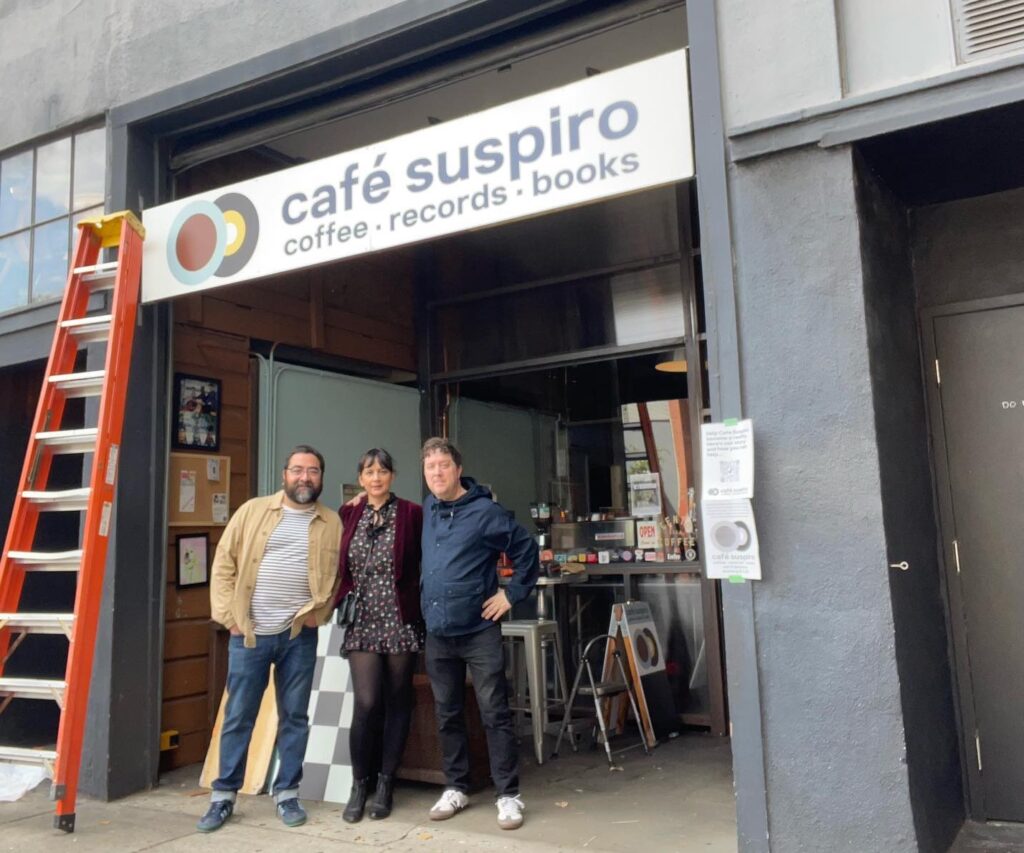 A NEW BOOKS AND RECORD CAFE IN SOMA? HELLO, CAFE SUSPIRO
For 13 years, adorable Vega Cafe has held down the hole-in-the-wall coffee scene in SoMa, on Folsom near 8th, with a dedicated clientele popping in for a hot pour-over cuppa on a foggy industrial day. Now, Vega manager (and dear friend) Raul Sanchez has taken over the wee cafe and is expanding it into a books and record shop—both of which have been absent for some time in that hood. He's calling it Cafe Suspiro, for very personal reasons:
Named after my grandfather's tiendita in Mexico, we envision a lively shop where coffee, record, and book lovers come together to share, explore, and enjoy our space. A shop that fully supports and promotes local bands, musicians, and writers. A shop that is hospitable, inviting, inclusive and welcoming to all. A live event space for musicians and writers to share their craft. However, for all of this to materialize, we would appreciate your help.
OK to all that! Let's help that area become an arts hotspot instead of devolving into just another broken-down luxury condo wasteland. The spot is soft-opened now, with a grand opening planned August 21. There's currently a GoFundMe up to help Raul and his crew jump over all the hurdles it takes. You can find out all about it here.
TONS OF LIVE PERFORMANCES ANNOUNCED FROM THE SF CONSERVATORY, MANY OF THEM FREE
Last year I wrote about the Bowes Center, the beautiful new San Francisco Conservatory of Music building in the Civic Center, including student housing, state-of-the-art recording studios, and best of all, new concert spaces that were pledged to hold many free concerts. Now you can explore the full fall concert calendar (some of which takes place at the old SFCM building on Oak Street), full of free gems like Edwin Outwater conducting Mahler with the SFCM Orchestra in September and the New Music Ensemble getting hyper-contemporary with works by Rongrong Chen and David Conte in October. (There are some great ticketed events, too.) Dive in here.