Call us literarily-lusty, but the sprawling, city-wide annual book fest founded in 1999 that is Litquake always puts a certain … page-turning excitement into the autumnal air. This year's program will be announced in full on Tue/6—but the sneak peeks at the lineup that have been announced are pretty spectacular. So far, such stand-outs include author Margaret Wilkerson Sexton speaking of her hotly-anticipated novel on the Fillmore jazz age, On the Rooftop, on which she'll "riff" at an October 7 event in conjunction with KQED. If real-life tales of lesbian mountaineering is more your rhythm, Silvia Vasquez-Lavado will also be presenting on October 7, speaking of her book In the Shadow of the Mountain at the Verdi Club. Black Panther Party former member Ericka Huggins speaks on October 12 at the SF Public Library, and there's a special October 15 presentation of YA guide to modern-day environmentalism Girls Who Green the World at the SF Botanical Gardens. For proof of poetry's transcendent powers, attend an October 16 event at Grace Cathedral featuring bards Saeed Jones, Amanda Moore, Shelley Wong, and A.A. Vincent, and curated by D.A. Powell and Preeti Vangani. Are you ready to be read (to)?
More info here. Full program will be announced Tue/6.
OTHER EVENTS OF NOTE
THU/1 RAWDANCE BENEFIT PARTY This year's celebration of the ground-breaking contemporary dance company will reportedly feature flowing drinks and a performance from SF's favorite faux queen Fauxnique. Feel fancy in the War Memorial (a.k.a. Opera building)'s Green Room and sweeping balcony while supporting one of the Bay's stellar arts organizations.San Francisco War Memorial & Performing Arts Center. More info and tickets here.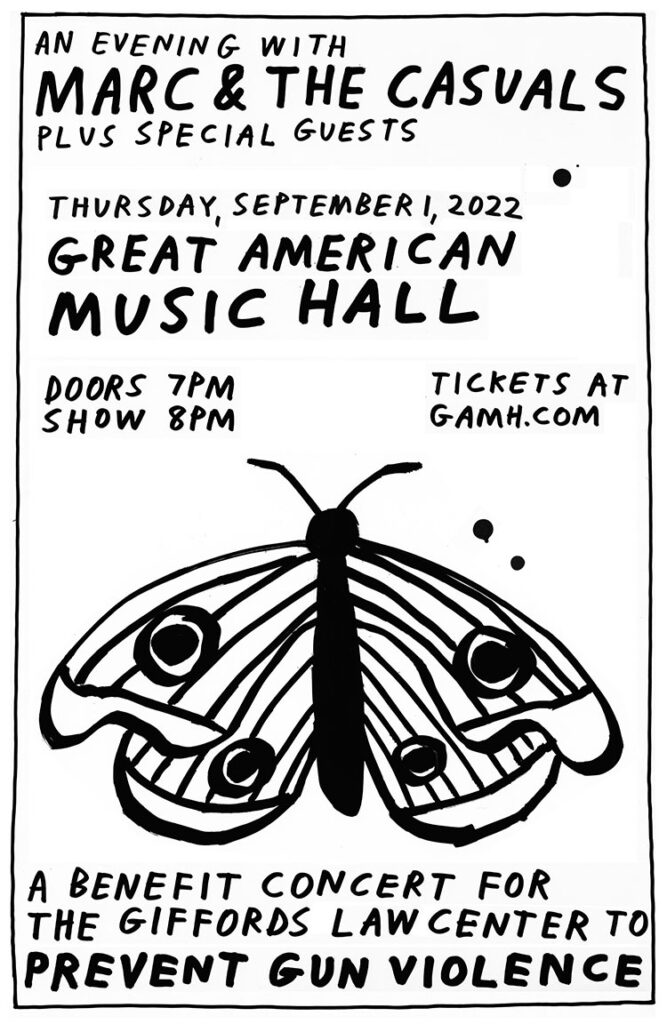 THU/1 AN EVENING WITH MARC & THE CASUALS: BENEFIT FOR GIFFORDS LAW CENTER Local soul band Marc & the Casuals queues up a wide-ranging set of classic tunes at GAMH—and it's all in benefit of gun control advocates Giffords Law Center. There's no mystery behind the band's involvement in the issue: bass player Pete Straus lost his father Stephen Straus in the Highland Park Fourth of July shooting. Proceeds from the sale of a limited "Ungun America" print by Tucker Nichols (above, right) will also go towards to Giffords. Great American Music Hall, SF. More tickets and info here.
SAT/3 LIPS AND LASHES DRAG BRUNCH Carnie Asada hosts this drag and burlesque review at gay bar The Lookout, which is perched atop Market Street. The performers are most perfectly peeped over a chorizo-tots breakfast bowl or brussel sprouts salad—and an daylight-hours cocktail menu will help you to keep their tips flowing! The Lookout, SF. For more info and tickets go here.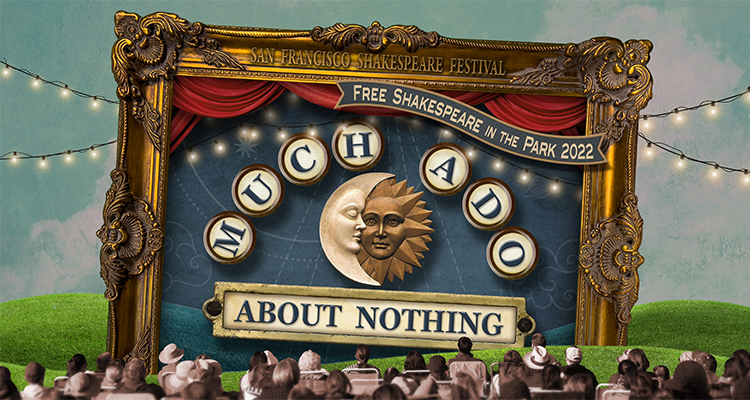 SAT/3-SUN/4, MON/5, SEPTEMBER 10-11 SHAKESPEARE IN THE PARK: MUCH ADO ABOUT NOTHING For the 40th year in a row, San Franciscans can take in the Bard's words al fresco, as Shakespeare in the Park delivers its rendition of the comic Much Ado. Says artistic director Rebecca J. Ennals in a press statement that, "after the past 2 years, we were ready for a comedy." Same! Jerry Garcia Amphitheatre, McLaren Park, SF. More info here.
SUN/4 BIZERKELEY FOOD FESTIVAL This Black-founded, accessibility-focused food fest will be a welcome respite from vegans sick of elitist plant-free get-downs. Birzerkly will feature 40 vendors, bingo, a kid's section, and plenty of booze this year, and between tempting plates and a passel of free samples, even an otherwise-carnivore is unlikely to end up hungry. Sports Basement Berkeley. Tickets and more info here.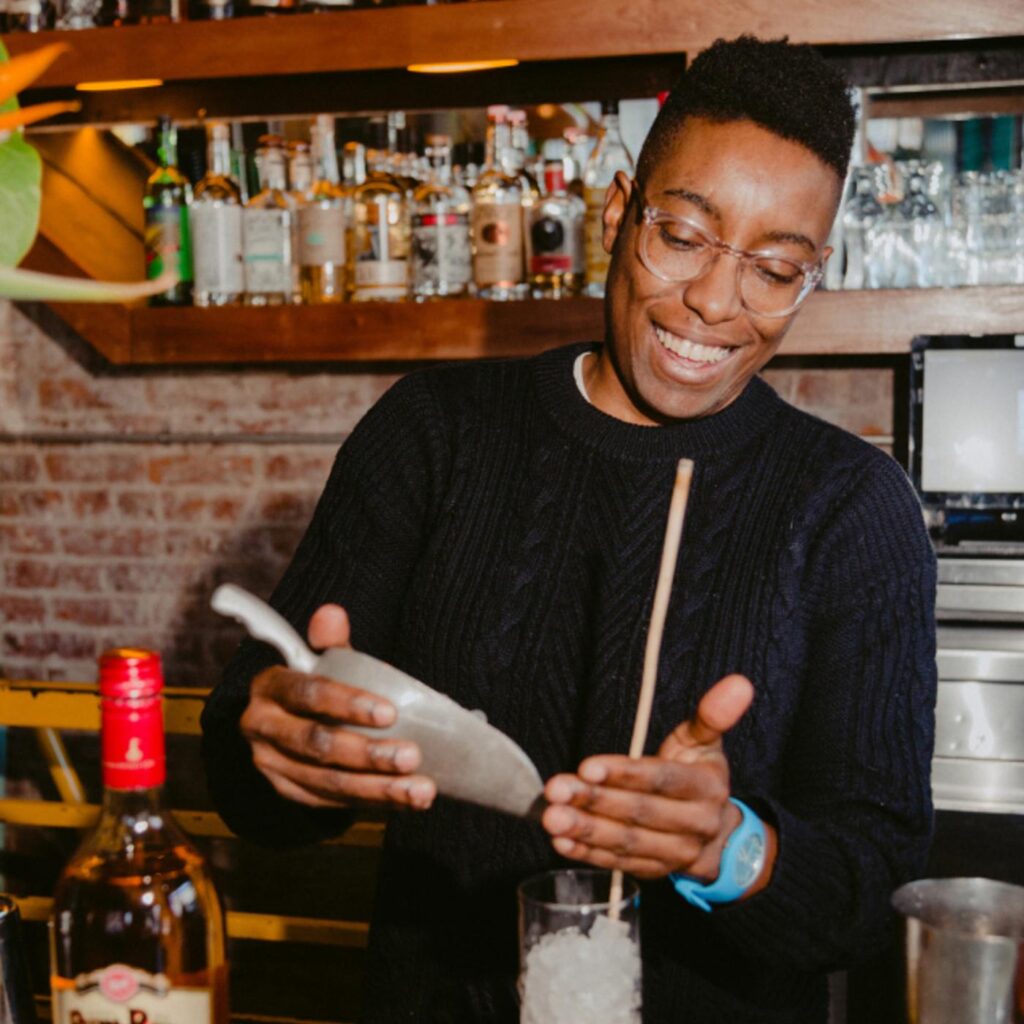 SUN/4 SAN FRANCISCO RUM FESTIVAL This is the spot if you wish to savor the difference between a gold and a navy: a vast expo that last year attracted some 80 different "rum expressions" vendors (we think this means boozy brands or platforms.) The fest will also host a marketplace hawking wares of the "tiki" persuasion—or "tropical," as some are trying to rebrand in order to reclaim the often-exotifying USian alcoholic tradition. Featured speakers include spirits educator Shannon Mustipher, founder of Winnipeg's Gladys Caribbean Kitchen and the "Women Who Tiki" pop-up. The Hibernia Bank Building, SF. More info and tickets here.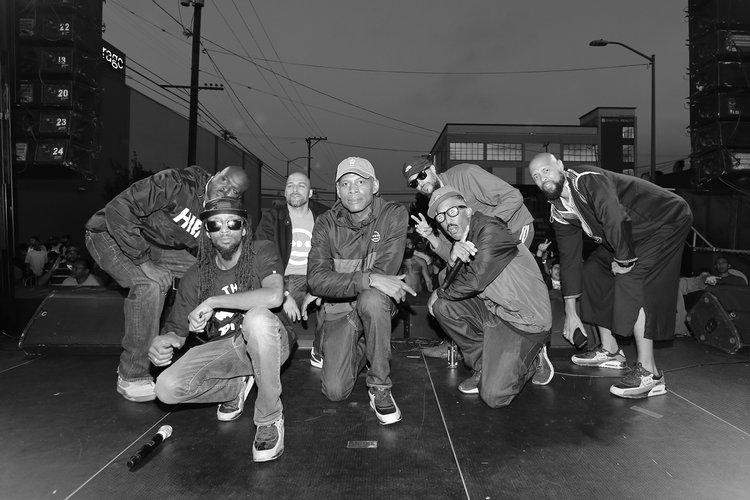 MON/5 HIERO DAY Fans of hip-hop group Hieroglyphics and the real Bay Area, get hyped. Ever since 2012, this street fair has built up the vibes, and 2022 will be no different, with a Kev Choice-led tribute performance to Zion-I to commemorate emcee Zumbi's unfortunate death this year. This year, the event has expanded across various sites, with satellite fashion shows, a Friday night kick-off party, stand-up comedy night, podcast recording sessions, and much more. Third Street and MLK, Oak. More info and tickets here.
WED/7 LITERARY DEATH MATCH Because writers don't work hard enough, this nationwide event series pits them against each other in a read-off whose winner is decided by literary celebrity guests. It's been a pandemic-minute since LDM came to town, and competitors would certainly appreciate your whoops and wails as they compete to be the absurdist champion. Valencia Room, SF. More info and tickets here.