What seemed like an improbability about four months ago has become an embarrassment of riches. The whole Bay Area has gone music festival cray-cray, and we are going to Run The Voodoo Down.
Yes, we know Outside Lands is days away, pretty stoked about it too, but I got news for ya, that showcase is a midway snack in light of the rest of the festival season.
Electronic, Afrobeats, acoustic, BBQs, curated line-ups by artists, and of course, old favorites are ALL making a buzz, even the ones that sat several years on the bench. This summer IS a musical festival resurgence. Seriously, I kid you not, we didn't have half of these listings two months ago.
Local artists showcasing their talents to the world and international expertise bringing it to Karl The Fog. Live music aficionados got their prayers answered two and three-fold. So as my favorite 20th Century composer, Mr. Barry White, would say: "Let the music play!"
STERN GROVE'S "THE BIG PICNIC" FEATURING PHIL LESH AND FRIENDS, AUGUST 14
Festival organizers have put together a wonderful performance that speaks vintage San Francisco tie-dye expressiveness to cap off a fantastic return for the 85th Anniversary at Sigmund Stern Grove.
Phil Lesh (& Friends) will finish the midsummer classic with his first admission-free show in his hometown in more than 30 years, following the Laughter, Love, and Music festival in the winter of 1991, which celebrated the loss of famous concert producer Bill Graham. The Big Picnic is a fundraiser for the Stern Grove Festival, which provides free music and community outreach initiatives to the Bay Area.
Scott Metzger of Joe Russo's Almost Dead and Grammy Award-nominated jazz guitarist Stanley Jordan will join Lesh on stage, along with other well-known session musicians like Stuart Bogie, John Molo, Jason Crosby, Katie Jacoby, and Mikaela Davis. Grahame Lesh, a Bay Area native and co-founder of the band Midnight North, which is helping to start the Sunday afternoon event, will also join his father on stage to finish out the roster.
While the final concert will remain free to the public, special picnic tables starting at $5,000 for up to 10 guests are available for purchase as part of the Festival's fundraising efforts. Those who book a Big Picnic table will receive valet parking, a catered picnic hamper, and access to two VIP lounges.
Stern Grove Festival will also provide free live streaming in order to reach as many music enthusiasts as possible, particularly those who are unable to attend in person. You can find more information about the Big Picnic here.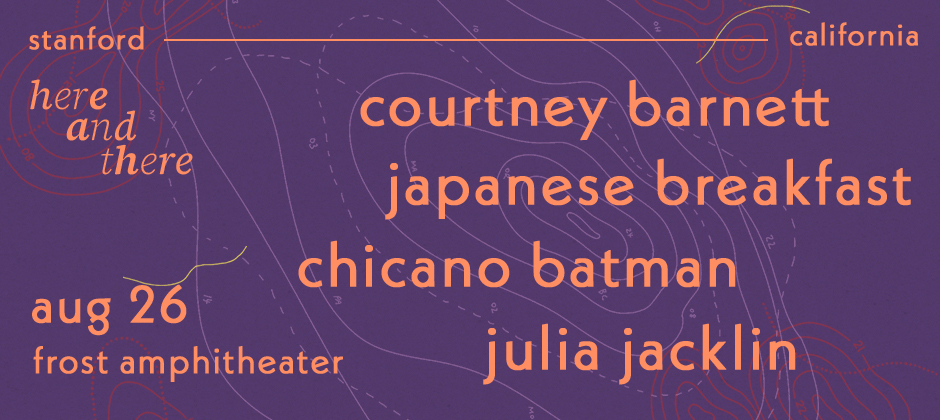 HERE AND THERE FESTIVAL, AUGUST 26 AT FROST AMPHITHEATER, STANFORD
Courtney Barnett says she feels that talent combined with technique is the essence of existence, which is why the Australian indie favorite is curating a moment with some of her favorites. On August 26, Japanese Breakfast, Chicano Batman, Julia Jacklin, and Barnett will perform at Frost Auditorium on the Stanford campus as part of 'Here And There,' a late summer and early fall boutique traveling festival with a rotating lineup.
"When I was a kid I would make mix-tapes and dream up my own festivals," Barnett said. "I'd even design the T-shirts, and pair up musicians for iconic collaborations. I'd listen to the mixtape and pretend it was the live recording of a concert, all my favorite artists on stage together. 10 years ago I wrote this lyric: 'I got lost somewhere between here and there, I'm not sure what the town was called.' Whether that was meant to be interpreted as a geographical, emotional, or philosophical journey, I thought it was the perfect title for my roaming festival."
For Here and There, Barnett is donating $1 per ticket to TAC, The Ally Coalition for their work supporting LGBTQ youth across the country. You can purchase tickets here and gear up for a super sweet hot August night on the lawn.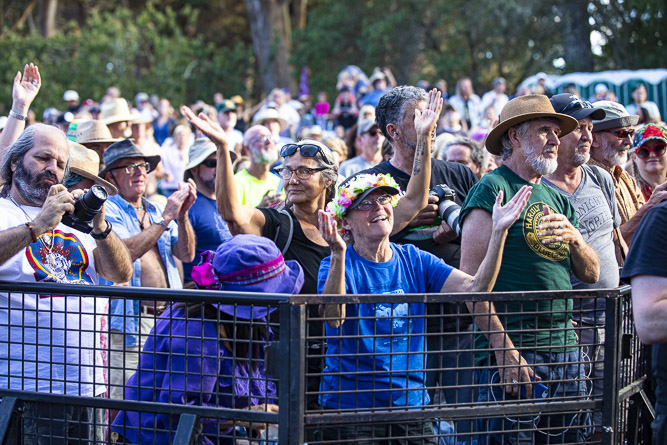 HARDLY STRICTLY BLUEGRASS FESTIVAL, SEPTEMBER 30-OCTOBER 2, GOLDEN GATE PARK
San Francisco's cherished Hardly Strictly Bluegrass Festival shall return in person to Golden Gate Park, marking the first time this free three-day concert has gathered in front of a live audience since 2019. The festival's organizers revealed the 2022 dates on their social media outlets and website. The festival lineup is being revealed through a series of online musical medleys featuring the bands on the bill.
With the rumor mill churning—Jerry Harrison of Talking Heads fame announced on a Marc Maron WTF Podcast on July 25 that his "Remain in Light" show with Adrian Belew, originally planned for the 2020 HSBG, will be performing this year, and Bay Area musical journo Adrian Spinelli speculated through sleuthing that Wilco shall perform on the Thursday or Friday show—this hungry general consensus is geeked up with enthusiasm.
Folks seem to be done with the virtual, at this time. All updates may be found on the Hardly Strictly Bluegrass site.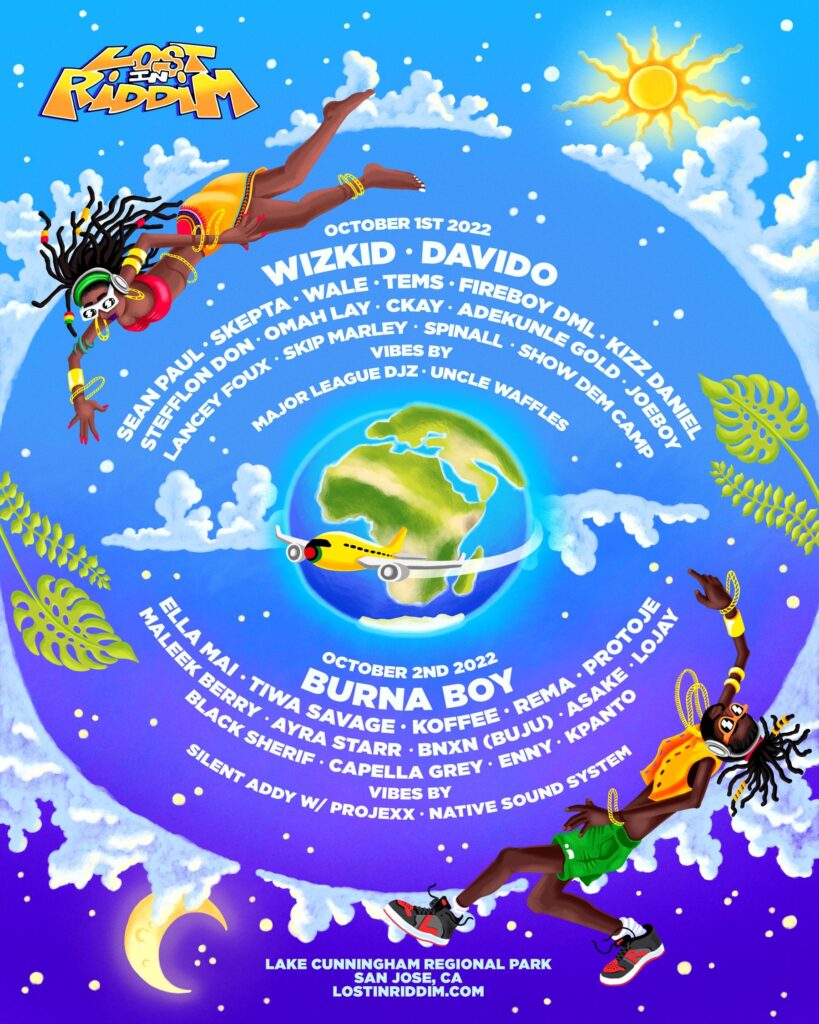 LOST IN RIDDIM AFROBEATS FESTIVAL, OCTOBER 1 AND 2, LAKE CUNNINGHAM PARK, SAN JOSE
Wizkid, Burna Boy, and Davido, three of Nigeria's preeminent acts, will co-headline the Lost In Riddim Afrobeats music event taking place this year on Nigerian Independence Day Weekend. Also on the bill will be international performers Ella Mai, Skepta, Kizz Daniel, Sean Paul, Tems, and many more.
Sol Blume, the celebrated R&B-hip-hop-soul music festival started by a couple of first-generation African immigrants, is also behind Lost in Riddim—for this second installment of the largest Afrobeat music festival in the US, they're transferring it to a to a much bigger outdoor home. Two main stages with non-overlapping acts and a third, more intimate tent stage with daylong DJ sets, will go off right in our Bay Area backyard.
"As proud children of immigrant parents, we created Lost In Riddim because we wanted to offer a festival experience more authentic to ourselves and our culture. Something that speaks to us not only as music fans but who we are as people," said Fornati Kumeh, festival cofounder and talent buyer. "With a new and larger location, not to mention this incredible lineup of international artists locked in to perform, I'm expecting this to be a weekend for the record books."
The festival, which also includes reggae, dancehall, afro-fusion, hip-hop, and R&B, attempts to highlight the many sounds of the African Diaspora. For more information and to purchase tickets go here.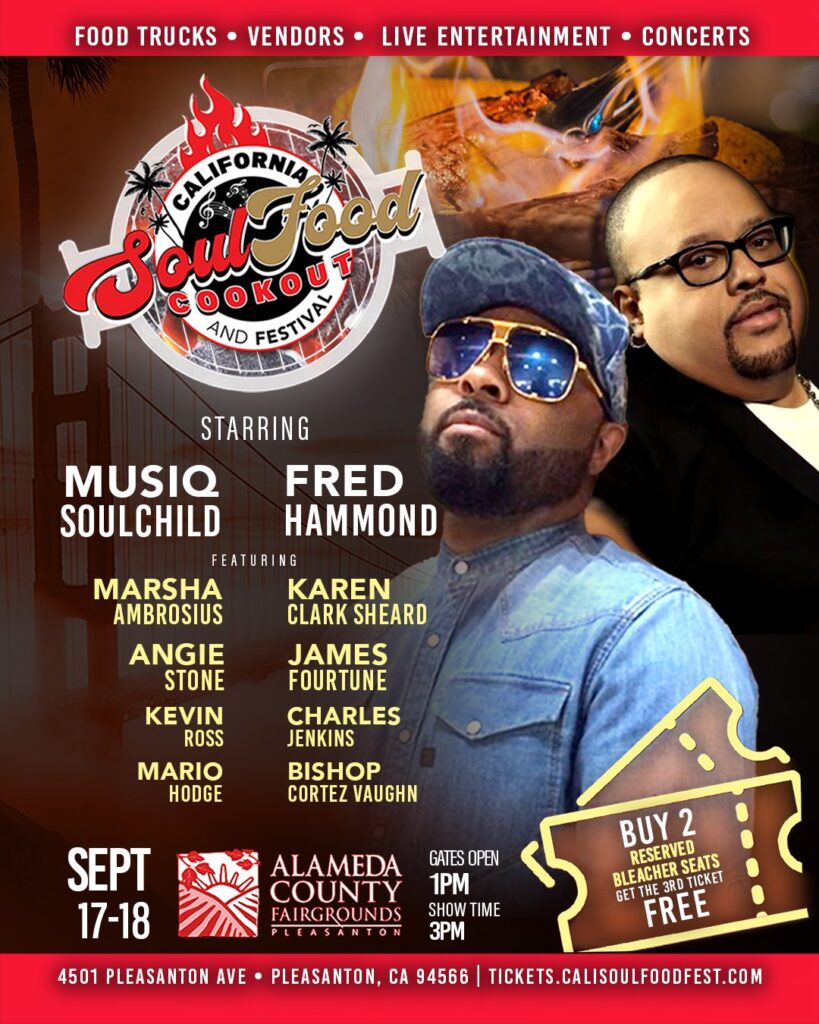 CALIFORNIA SOUL FOOD COOKOUT AND FESTIVAL, SEPTEMBER 17 AND 18, ALAMEDA COUNTY FAIRGROUNDS
The California Soul-Food Cookout & Festival hosts a two-day old-fashioned barbecue event featuring some of the best soul food and music for the ears. Featuring R&B concerts on the first day with Musiq Soulchild, Marsha Ambrosius, Angie Stone, and Kevin Ross, hosted by comedian Mario Hodge. Day two features a Gospel Extravaganza Explosion with Fred Hammond, Karen Clark Sheard, Bishop Cortez Vaughn, Charles Jenkins, and James Fortune, and hosted by Steven Parker of KDYA Gospel 1190AM The Light.
All amid food trucks serving some of the most talked about and unique soul foods and other special-order meals and beverages. Get a bite and be blessed here.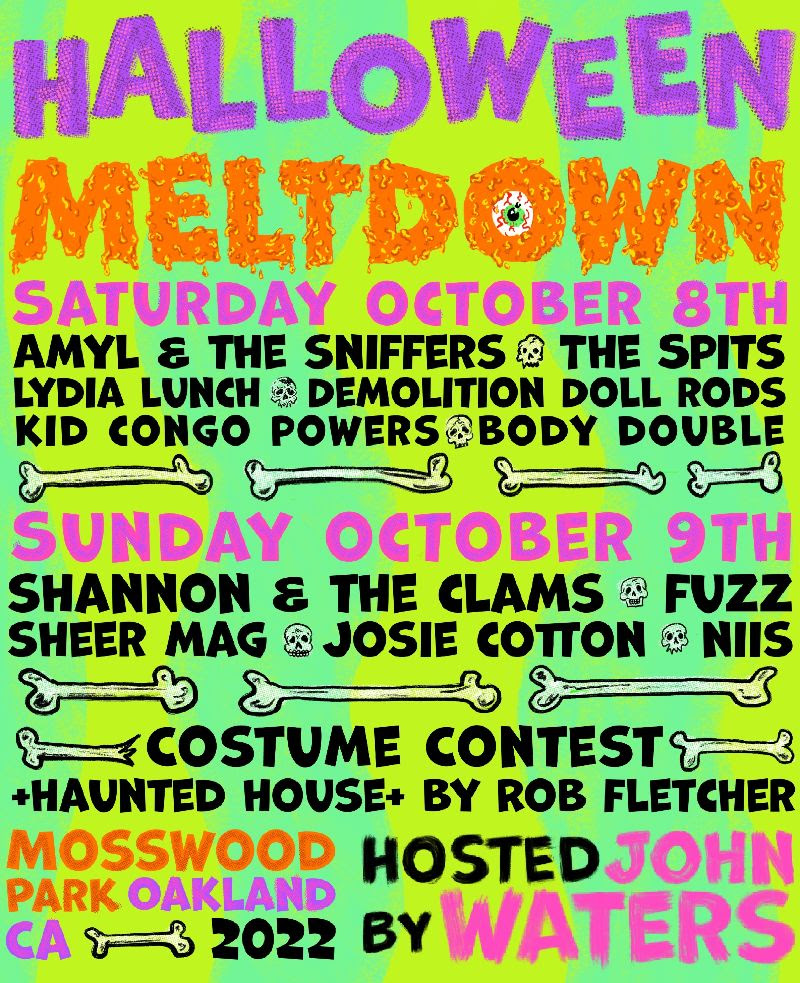 HALLOWEEN MELTDOWN 2022, OCTOBER 8 AND 9, MOSSWOOD PARK, OAKLAND
Halloween Meltdown, the dressed-up goth sister event to the Oakland's ever lovely Mosswood Meltdown, will feature performances by Amyl & The Sniffers, Shannon & The Clams, Fuzz, Sheer Mag, The Spits, Lydia Lunch, and more. Hosted by John Waters, the 2022 edition will include a costume contest with a $500 cash prize and a haunted house constructed by East Bay musician and horror artist Rob Fletcher.
For ticket prices and band line-ups go here.
BREAKAWAY MUSIC FESTIVAL, OCTOBER 14 AND 15, OAKLAND ARENA GROUNDS
The traveling electronic music cavalcade known as Breakaway Music Festival will make its way to the same Oakland venue that hosts Porter Robinson's Second Sky festival after stopping in Kansas City, Grand Rapids, Columbus, and Charlotte.
While the front-of-house lineup includes Gryffin, Louis The Child, Big Wild, Said The Sky, Tycho, and many more, it's Kilamanzego, the artist from Philadelphia who was influenced by the punk and hip-hop settings she grew up in, that is the secret sauce in this roster. She's not producing "bangerz" or anything like that for the foam parties.
In her five years as an artist, her music has been praised by Machinedrum, Anna Lunoe, ROMderful, OddKidOut, and NNAMDI, and her work has been featured on NPR, Bandcamp, Reverb, UK's NTS Radio, and various top of the line outlets. She's legit, one to watch, and a good reason to check out this festival.
Purchase a ticket here; the first tier is already sold out.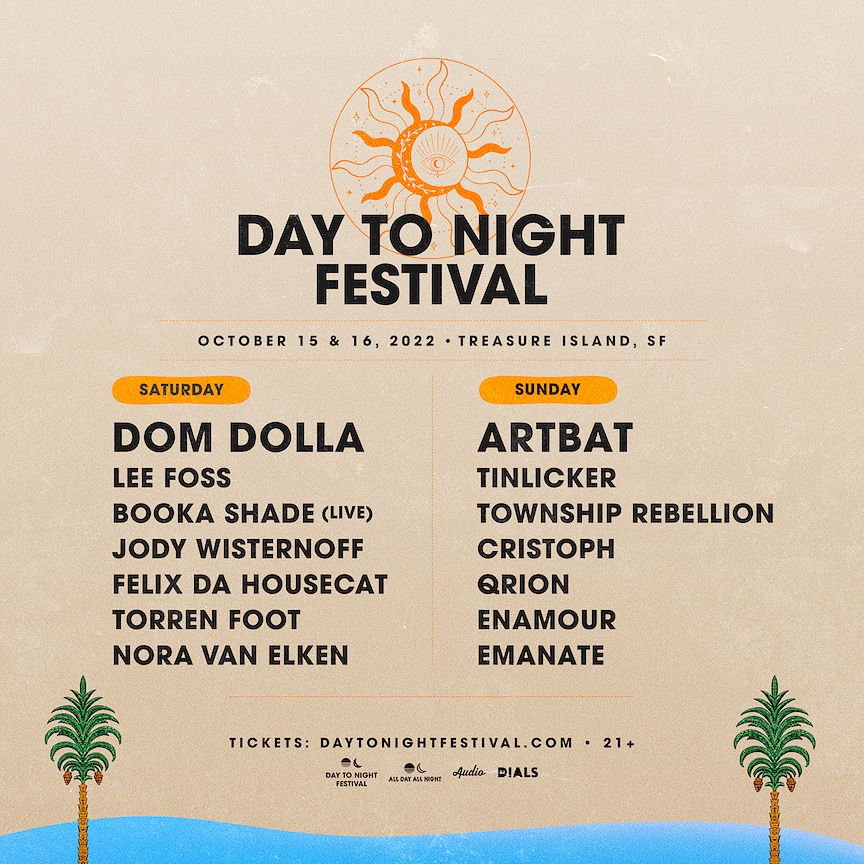 DAY TO NIGHT FESTIVAL, OCTOBER 15TH AND 16TH, TREASURE ISLAND
DJ Dials, local promoter and selector, has collaborated with Audio SF to provide a "boutique performance and community experience on Treasure Island."
Day To Night Festival is described on its website as "that feeling of the sun on your neck and the Bay Area breeze on your brow, that feeling you get when you hear the best music with your best friends. Call it a festival. Call it a moment. Call it whatever you want, but know that it's a VIBE".
With a roster that includes Dom Dolla, Booka Shade, Felix Da Housecat, and Emanate, as well as cuisine and art, and set against the stunning backdrop of San Francisco, this may be the October move to make. (And a good substitution for the old Treasure Island Music Fest that used to take place here.)
Tickets may be purchased here.