The late Wes Craven was often asked by parents and conservatives why he created such "evil" imagery with his films. He'd frequently reply to their pearl-clutching hypocrisy by asking "What world do you live in? I wanna go there!" The creator of Last House on the Left, The Hills Have Eyes, and Hitchcockian thriller Red Eye made no secret that his films were often a reaction to—if not a direct commentary on—the horrors of the real world, and they often serve as a catharsis for audiences. As we enter the autumn in a planet currently threatened by a great many real-life terror, it's safe to say that Bay Area audiences can do with a little blood-splattered release. I just so happened to have seen two shows that aim to provide just that.
Even though SF sketch troupe Killing My Lobster named their latest show after Wes Craven's most famous creation, the production Freddy Krueger's Day Off (through October 29 at EXIT Theatre) was preceded by a reminder that was a little scary and pretty sad. The group frequently performs at PianoFight's two locations, but KML's artistic director Nicole Odell lamentably reminded us that the night would mark the troupe's final-ever show at the soon-to-be-gone EXIT. The news really got to me, even though I hadn't been inside the building since early 2020.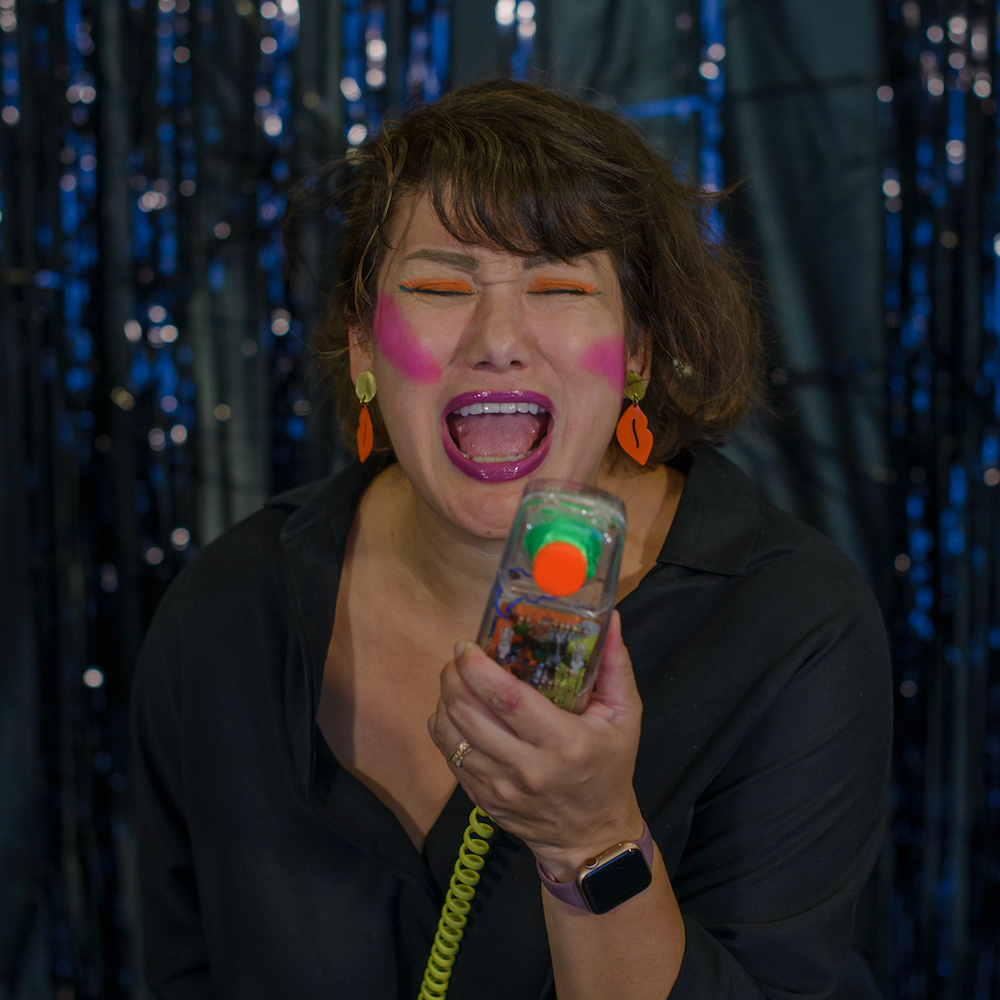 After that bummer news, bloody catharsis thankfully came, courtesy of the show's head writer Meg Trowbridge and director Nick Hongola (who is moving away from the Bay Area.) Their Freddy Krueger's Day Off is a send-up of not only horror tropes of the New Wave era, but also the Gipper-era bullshit that nourished the genre; hence the show's tagline, "Sketch comedy that's spookier than Reaganomics." That's why a recurring gag features Meghann Hayes as a bouffant-sporting Nancy Reagan, whose "Just Say No" campaign says parents should be more afraid of their kids using drugs than things like zombies, lycanthropy, or even Satan (which she defines as "empathy for someone different.")
Other sketches include a Chucky the Doll inserted into The Breakfast Club (the film gets multiple nods), Sandra Day O'Connor training Jennifer Beals in Flashdance, and one in which a Freddy-esque night creature (Isabel Anne Torres) has to constantly pause his haunting because his wife keeps calling him on the job. Personal favorites include an early sketch where a slasher skips over the obvious virgin of the group, and a quick bit where John Carpenter (Hayes) re-pitches the Halloween theme music to Debra Hill, but now with lyrics—horribly hilarious lyrics.
Though not the strongest KML show ever, Freddy rightfully throws its weight behind making explicit the queer subtext we actual '80s kids only speculated about when we first watched these films. What's more, having an all-female cast and mostly-female writing crew makes leads to several well-aimed shots at both the era and genre's hypocritical attitudes toward sex and gender. These particularly stand out in a sketch featuring a Debbie Gibson-scored pillow fight that takes a more erotic turn than its participants were expecting.
Whilst some sketches (like one in which Ripley discusses "traditional" gender norms with the Alien queen) don't always land strong, others (like two cockneys who are intentionally vague with an American backpacker heading out to the moors) are laugh-out-loud funny. Add to that the necessary vax checks, mask requirements (unless drinking), and a CO² reading that topped out at 897ppm, meaning KML wisely keeps the scares on stage rather than off. That's great, 'cause everyone's final trip to EXIT Theatre should be a memory one enjoys.
***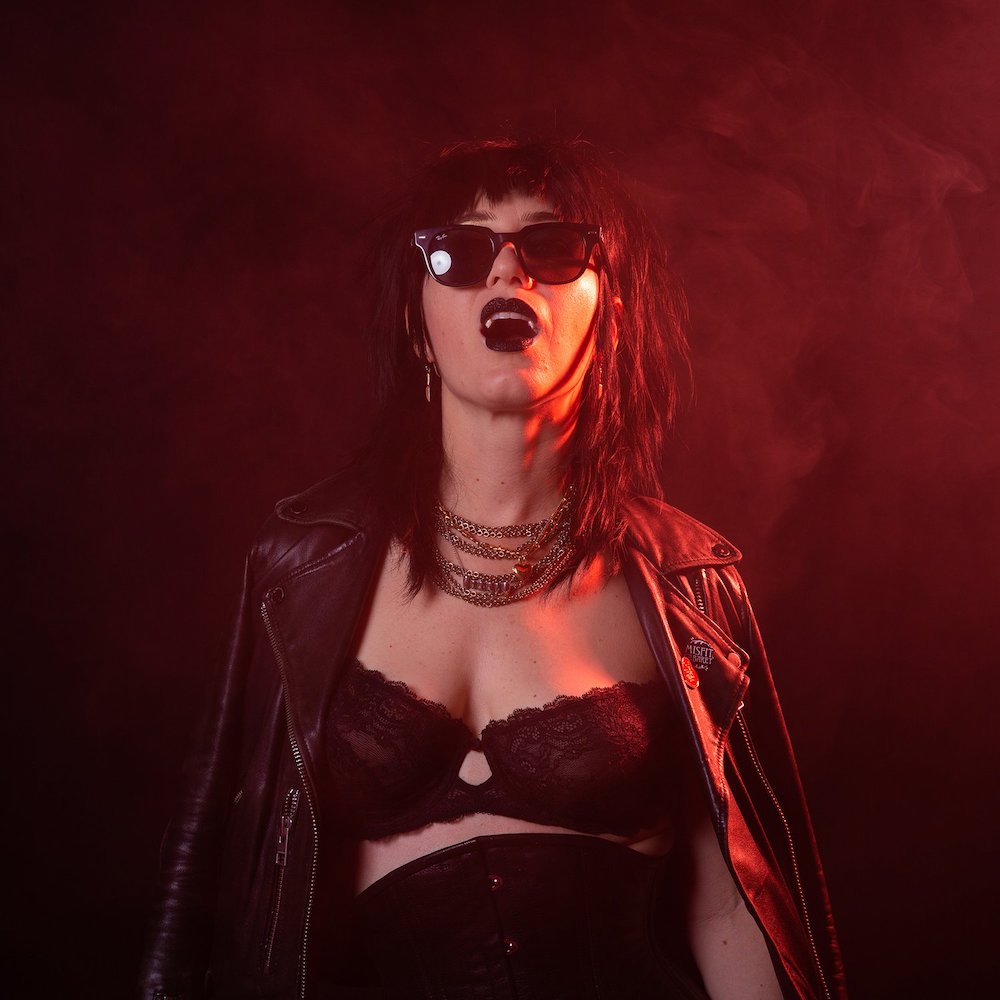 Kat Robichaud also has an affinity for the macabre movie genre. That's apparent to anyone who's ever picked up her albums. (I myself have nearly every one on CD, even The Design's Laziest Perfectionist and Young America. The only disc I'm missing is Kat Robichaud and the Darling Misfits.) For a good decade now, she and co-founder Jordan Nathan have been turning that love into the motley performance showcase that is Misfit Cabaret, which regularly plays in SF and Seattle. When the spooky season comes around, it makes sense that they'd want to show out.
Like the KML show, the opening night of Misfit Cabaret's Bite (through October 22 at the Alcazar Theatre) saw a "small-but-mighty" audience in attendance—the theater was maybe half-full, with attendees concentrated towards the stage. Though vaccines are required, neither of the folks behind the door wore masks, suggesting that the troupe's advertised mask requirement was more of a suggestion. As such, I sat in the back row by the open door, my Aranet4 topping at 885ppm.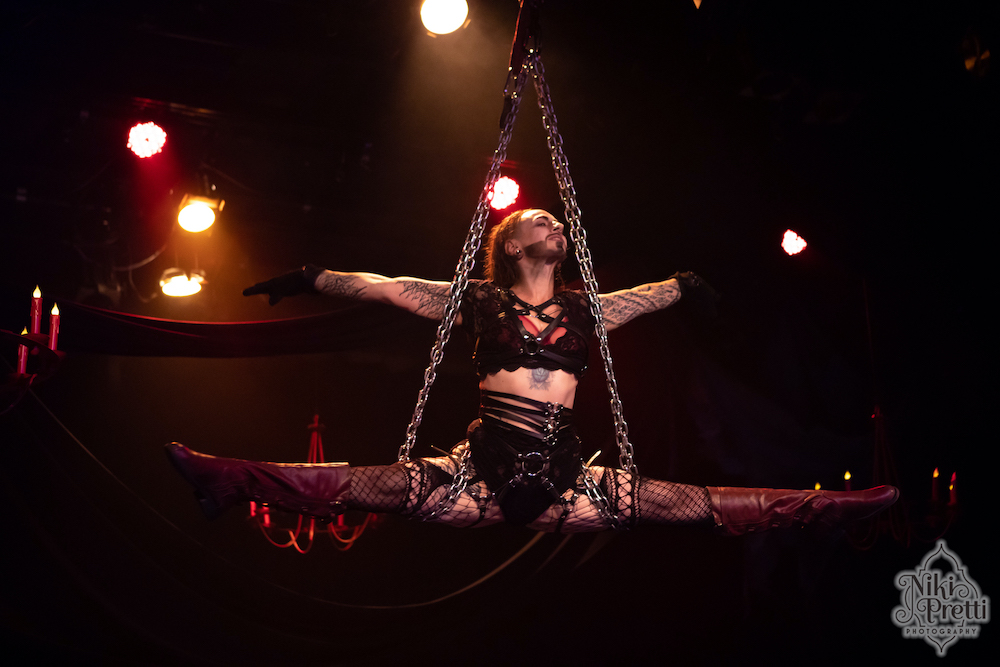 This being my first proper MC show, I can't compare it to others. The band was situated upstage on the all-black set, with black tapestries strewn about and red chandeliers hanging down. The opening skit features a trench-coated Robichaud making the classic horror ingénue mistake of walking alone at night, whereupon she's attacked by a leather-clad vamp. Once he turns her, she becomes a goth Joan Jett with fangs as she and the band begin a 20-or-so-minute medley of horror tunes, from the True Blood theme to "Cry Little Sister" from The Lost Boys. No one will doubt that Robichaud is a scary-talented vocalist (I'm sorry), but the sequence leaves less time for the performances of her co-stars.
These include a catchy burlesque moment with dancer Edie Eve's Santanico Pandemonium, a Nosferatu turn from Johnny Rockitt, and further dance and aerial routines that see the performers (whose names I didn't entirely catch) dressed as Gary-Oldman-as-Dracula, Nandor from What We Do in the Shadows, and even Buffy (with Robichaud portraying Spike.) They're pretty good and probably could have done more—even with an under-90-minute runtime—with some trimming of Robichaud's medley.
Both the KML and Cabaret shows deliver overall entertaining horror nights. Both make a point of putting the narrative in the hands of the genre's most frequent victims. Neither is perfect, but they're uniquely SF shows proving October (not December) is the best time of the year.
KILLING MY LOBSTER PRESENTS FREDDY KRUEGER'S DAY OFF runs through October 29 at EXIT Theatre, SF. Tickets and further info here.
MISFIT CABARET'S BITE runs through October 22 at the Alcazar Theatre, SF. Tickets and further info here.