Under the Stars is a quasi-weekly column that presents new music releases, upcoming shows, opinions, and a number of other adjacent items. We keep moving with the changes, thinking outside the margins.
The time of year has come when Kit Kats and spiced pumpkin lattes are in high demand, i.e. it's peak season for new music releases. Your preferred streaming services are inundating you with serious and/or high-caliber music projects and endeavors, a deluge similar to social media's insistence on trampling that Usher meme from his NPR Tiny Desk Concert across all of your social media channels earlier this year during Black Music Month. (That gig was still fire. Just saying …)
So, listen up Buttercup, and unprejudice your Spotify Pollen playlist, boppers. The faucet is actively engaged. We're going to make that effort to keep up with the pieces of music that sound true. Circumstances get the gas face—they don't matter, because when the intentions are good, everyone wins. OK, let's get it!
MYELE MANZANZA, CRISIS & OPPORTUNITY (VOL 3) (DEEP MATTER)
The forthcoming album Crisis and Opportunity from multifaceted New Zealand jazz virtuoso Myele Manzanza is well equipped to "shake you out of a slumber," despite the album title sounding like an intense Ted Talk you don't want to hear.
Consider the earworm and booty-seducer "Therapy," a pusher that makes you say "Gwan then," which elicits that head-nod procedural showing respect, or gets in those steps in by way of that footwork. It's in the building for sure, allowing us all to work our collective shit out to swooning chords, erratic kick-drum funk, and some drunkenly-beautiful melodies floating about the ether. With the dynamic vocal talent that is Omar featured too? It's R&B royalty, folks.
Pre-order the album here.
ORCHESTRA GOLD, "KELEYA (JEALOUSY)"
The new single by African psychedelic rock group Orchestra Gold, based out of Oakland, hits you with a certain level of profundity, cosmic swirl, and Fela-like groove.
In the Bambara song "Keleya (Jealousy)" off the group's upcoming Medicine album, Mariam Diakite delivers raw, mesmerizing vocals. Attacking saxophone charts, measured bass lines, and galvanic meter serve as the ideal foundation for expanding guitar lines that squall through. In a nutshell, it's dope.
Pre-order the album here.
ALLYSHA JOY TORN: TONIC REMIXED – EP(FIRST WORD RECORDS)
I am the first to express extreme caution regarding remix projects. It's a new type of white-collar crime in the crypto age, when so many cats perch to collect cheese from the reheat beat economy. I'm serious.
But Allysha Joy is not one of those felines. So do not worry, fellow humans—with her low-slung remix EP and all the new heat it creates, she commits no crimes.
Yes, she revisits her self-produced project from May, but she carves out a new trajectory, forges a new path, and tells a dance floor story you can't wait to hear on repeat.
With Shy One's garage-inspired remix of "Still Dreaming" featuring Rara Zulu to Risa T's aggressive chill version of "Calling You" (feat. Ego Ella May) with a sub-bass wood-bump throb—uou only need to listen to understand.
Purchase here.
DRUGDEALER AT THE CHAPEL, MON/31
The new LP from Drugdealer has a certain "broken-down" blue-eyed soul that catches your ear and heart. This modernized Lee Hazelwood character, if you will, from the Los Angeles-based project of psych-pop songwriter Michael Collins knows how to hold down the folky-funk. With corduroy arrangments drenched in melodies, and tales of down-and-out protagonists, it's an amalgam that reads pleather, but is still believable.
Several guys in the bathroom at the Vinyl Williams show I attended a few months ago were staring at the poster for the Drugdealer show. I simply forgot about it because, off top as a Black man, I find any art title referencing "drug dealer," to be, let's just say, "irksome."
Up until this song reached my ears.
Visit Drugdealer at The Chapel on Halloween if you're looking for a down-on-your-luck Steely Dan vibe. The music (and I do mean this in a good way) has the kind of '70s audiophile integrity you will need to balance out any type of ghoulish behavior happenin' on the streets.
Get your tickets here.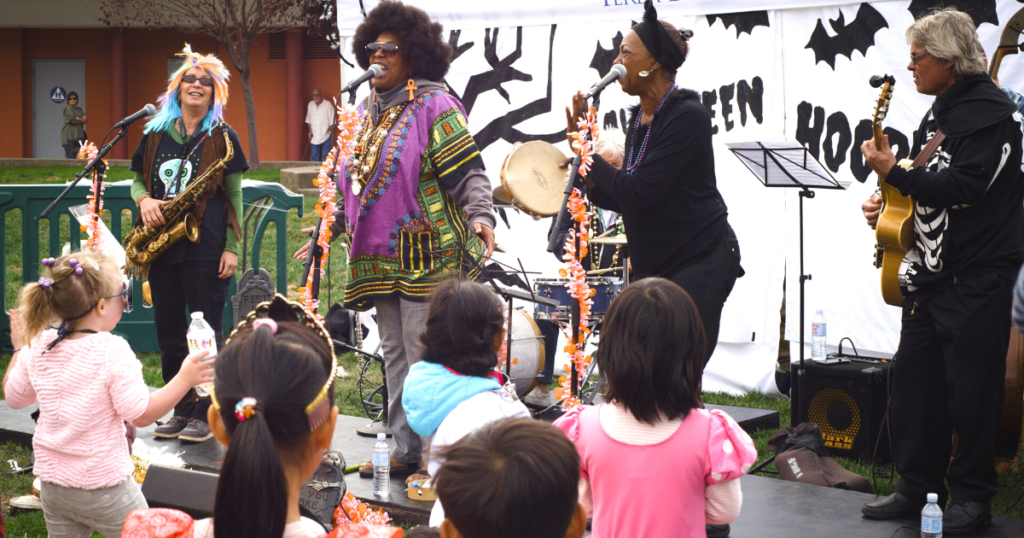 YERBA BUENA GARDENS FESTIVAL, ONGOING
Your Halloween spirit will be kept in motion by outdoor-focused Yerba Buena Gardens Festival events like the 22nd annual Halloween Hoopla on Sat/29 (past year edition's pictured), which features entertaining performances and activities for children under 10 and their adults, and the health-focused "Free Yoga In The Gardens" program on Fri/29 and November 4.
To learn more, click here.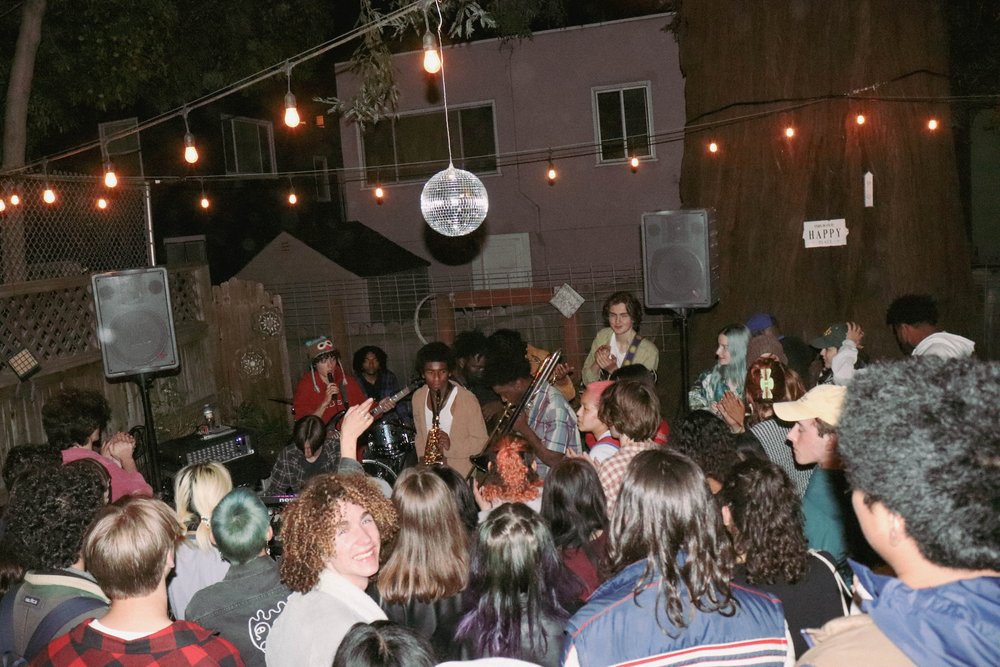 THE FLANNELS AT ASHKENAZ, SUN/30
Local upstarts in sound The Flannels, fresh off their success at the Laurel StreetFair World Music Festival in Oakland, will perform at Ashkenaz in Berkeley for the first time with their "high-energy" show. This promises to be a fantastic way to ring in Halloween and to see a new Bay-Area band that continues to flourish. Based on previous performances at Oakland Style Labs, the San Jose Summer Fest, and a recent feature via KQED, now's the best time to catch them in ascension.
Get more info here.