The smoke has cleared from another lovely sampling party for the Puff Holiday Cannabis Gift Guide. A group of stoners, a tray of weed products, a homemade apple pie cooling in the kitchen. Ready, set, get stoned!
I kicked off the party with my favorite items of the year, the Moon Rock Blunts and Pre-rolls from Presidential, far and away some of the most popular, flavorful, and strongest infused joints I tried this year. If I am out at my neighborhood watering hole The Cinch Saloon, all I have to say is "Presidential," and a whole group of people will excuse themselves from their conversations to join me on the sidewalk for a toke.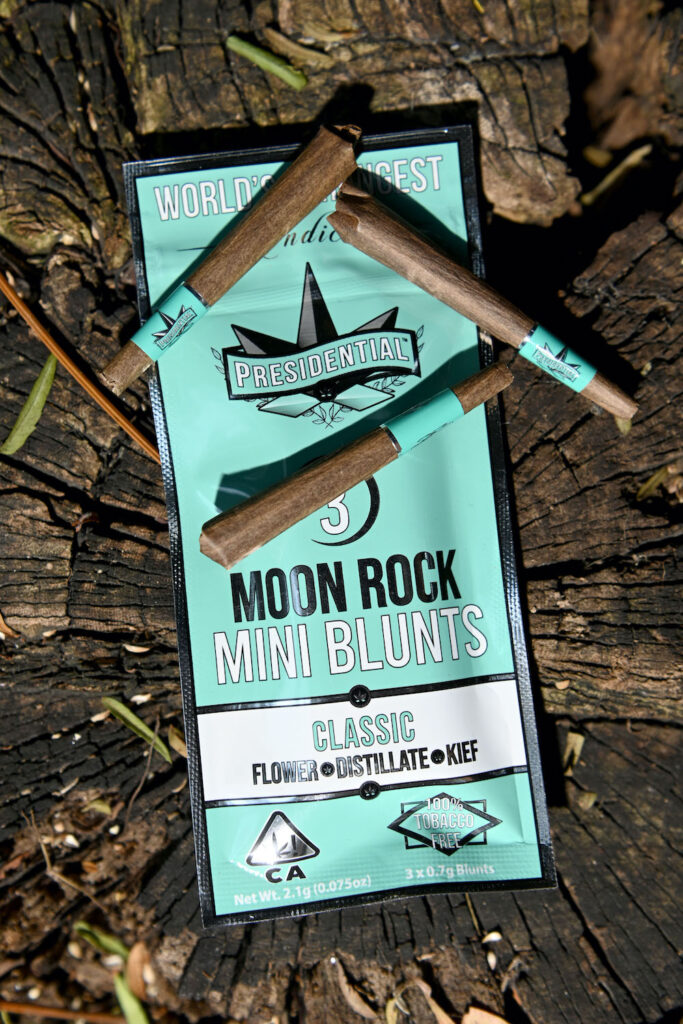 The classic moon rock is a high quality nug coated in cannabis oil and then rolled in hash or kief (or both) and stored in a jar until they cure and look like a fuzzy rock. Presidential sprays their flower with a cannabis distillate and sprinkles in the kief to create their own spin. It works—they are plenty strong but don't get me too high.
I am a big fan of the Maui flavor, but a close second is their new Skywalker which is a collaboration with Rove. They also collaborated with THC Design on their Crescendo and other tasty flavors including strawberry, watermelon, grape, peach mango, pineapple, and their classic edition. They all taste great and range from 48 to 55 percent THC, and are sold as pre-rolls, non-tobacco blunts, and minis. I just noticed they are putting out eighths as well. I will search those out pronto!
Presidential's moon rock joints can be found at most local dispensaries, or you can check their website for locations and prices.
The most popular item at my party was the hash. Sitka Hash House has some really nice blends including the Single Press Chemdog Cookies (34 percent THC) collaboration with Sunrise Gardens and their Coastal Cream (26 percent THC) hashish mixed with live resin.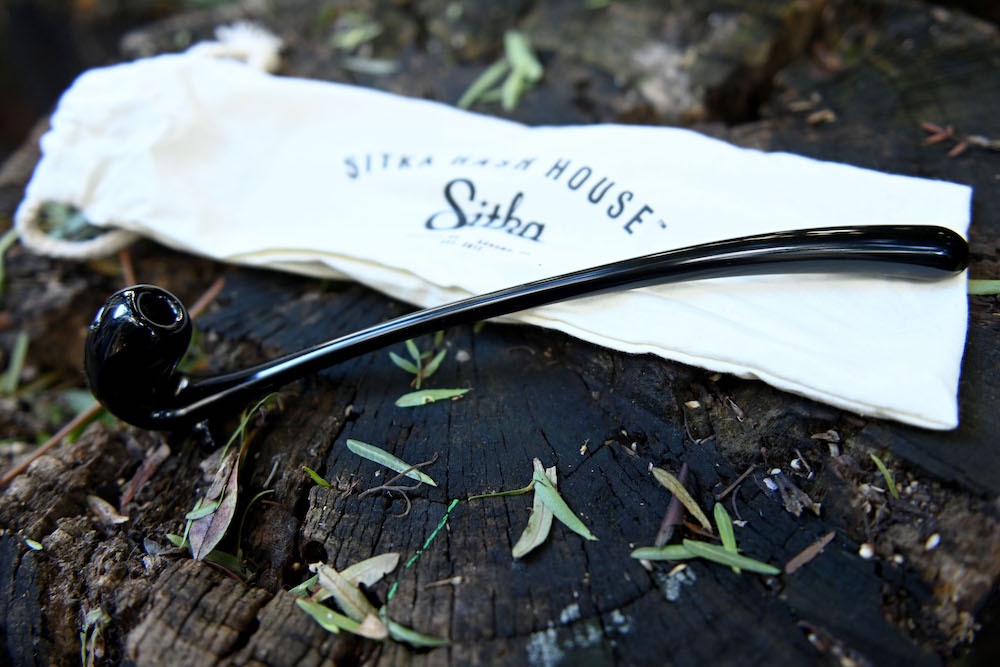 We rolled little balls and put them into Sitka's traditional glass pipe, which looks like something a hobbit might puff on, would make a fantastic gift for the hash lover at $50, and lit up. Sitka has other interesting hash smoking accessories, if you check our their website.
The buzz off that hash was nice and mellow, yet kept us alert—well, for the moment. Even after so much cannabis sampling, the hash definitely set itself apart. Its flavors were fantastic, too.
Sitka's hash-infused joints and super-strong Lebanese Gold hash-wrapped blunts are available at Bloom Room and online.
Our favorite flower of the afternoon was A Golden State's Snow Dream (indica, 29 percent THC, .09 percent CBD), which was beautifully frosty and purple with a lavender and lemongrass aroma. It smelled fantastic and tasted even better. Its lineage is Mochi Gelato x Zkittlez.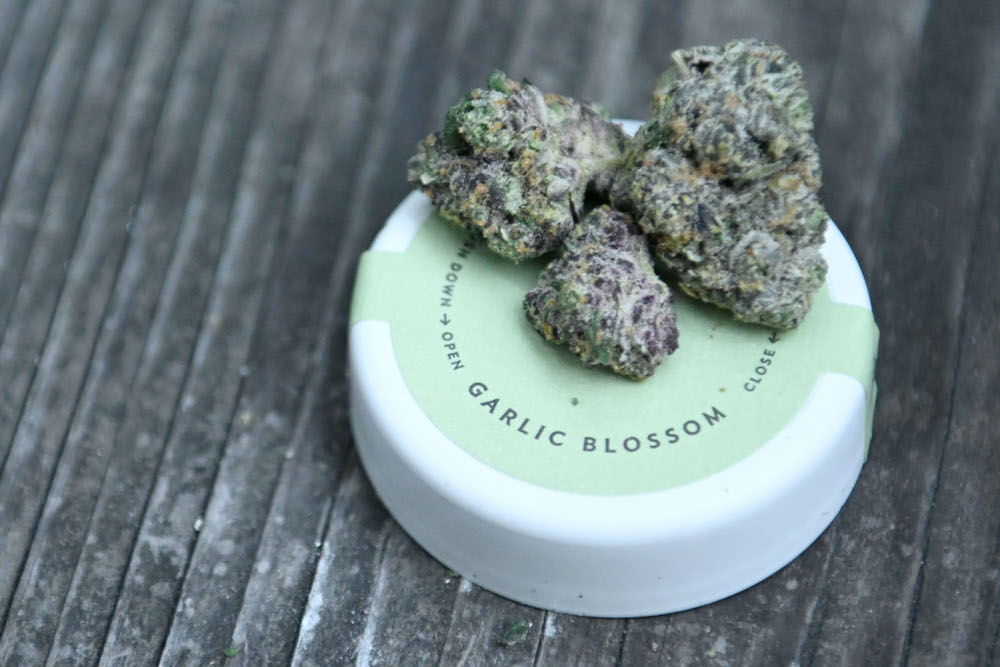 We also enjoyed the Garlic Blossom (hybrid, 40 percent THC, .10 percent THC) with its peppery and lemon notes and their light Sunbeam (sativa, 21 percent THC, .05 percent CBD.) The latter got a thumbs down from the group, but I retried it on a day when I wasn't smoking so much weed, and enjoyed its nice uplift. I'm writing this column while high on the Sunbeam, as a matter of fact! A Golden State can be found all over the Bay Area and has a convenient store locator on the brand's website.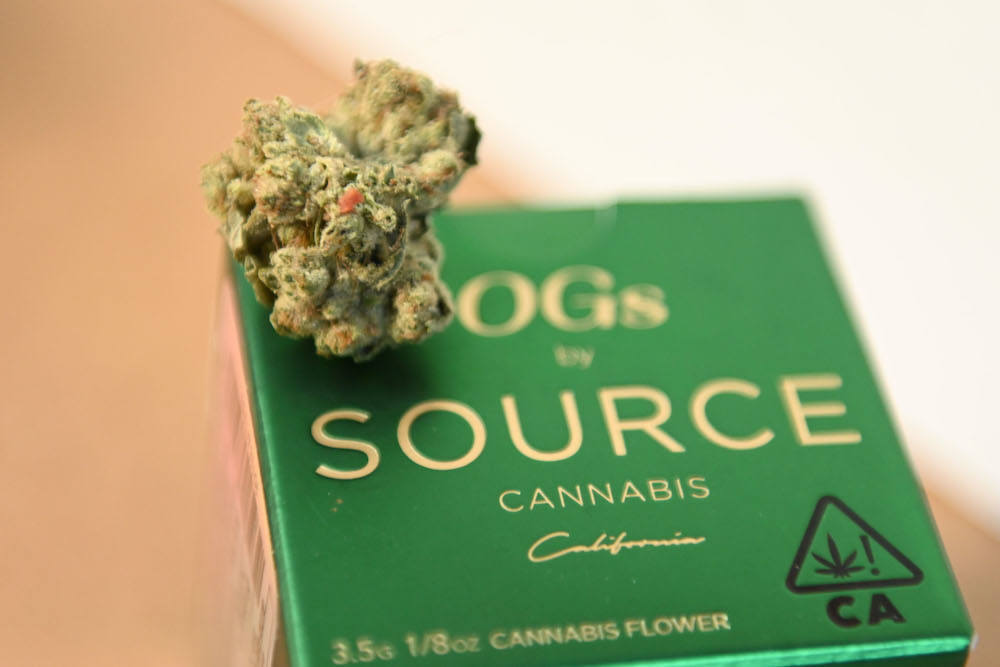 I want to give a shout out here to Source's Motor Breath (indica, 39 percent THC), a cross between Chemdawg and SFV OG. It feels like more of a hybrid to my body, and has provided me with many a nice daytime buzz. It has a nice piney smell and the terpenes taste excellent. Source can be found all over the Bay Area.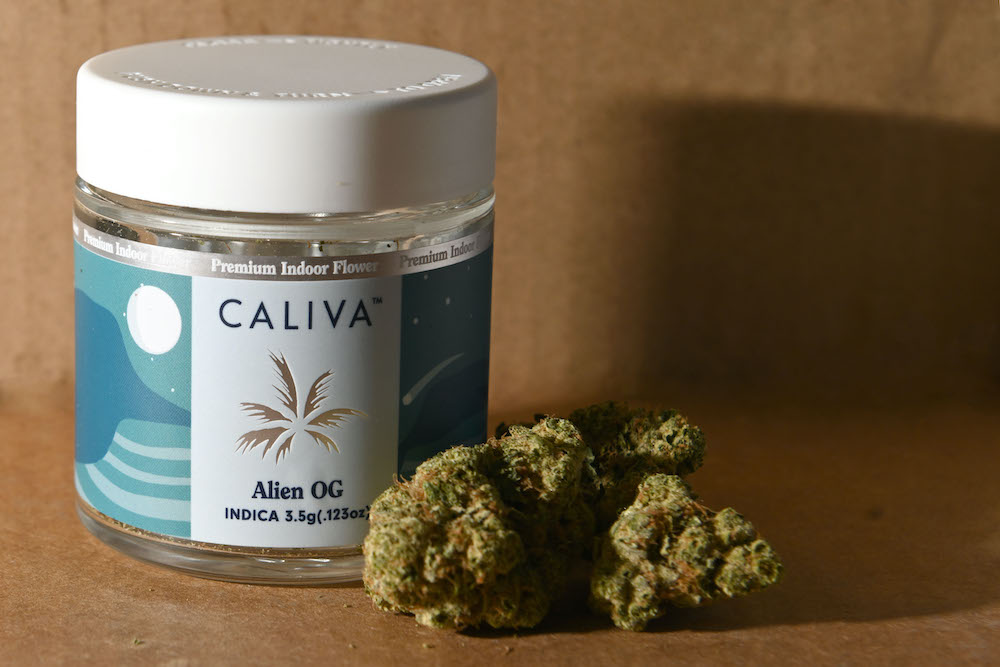 I have also been enjoying Caliva's Alien OG. I scored it at the Hall of Flowers, and really enjoyed it. Again, it was one of those nice daytime-into-evening highs that goes beyond the typical sativa morning buzz. You can buy this online at Caliva or easily find it in your neighborhood dispensary. It has a nice aroma and plenty of those wonderful red hairs.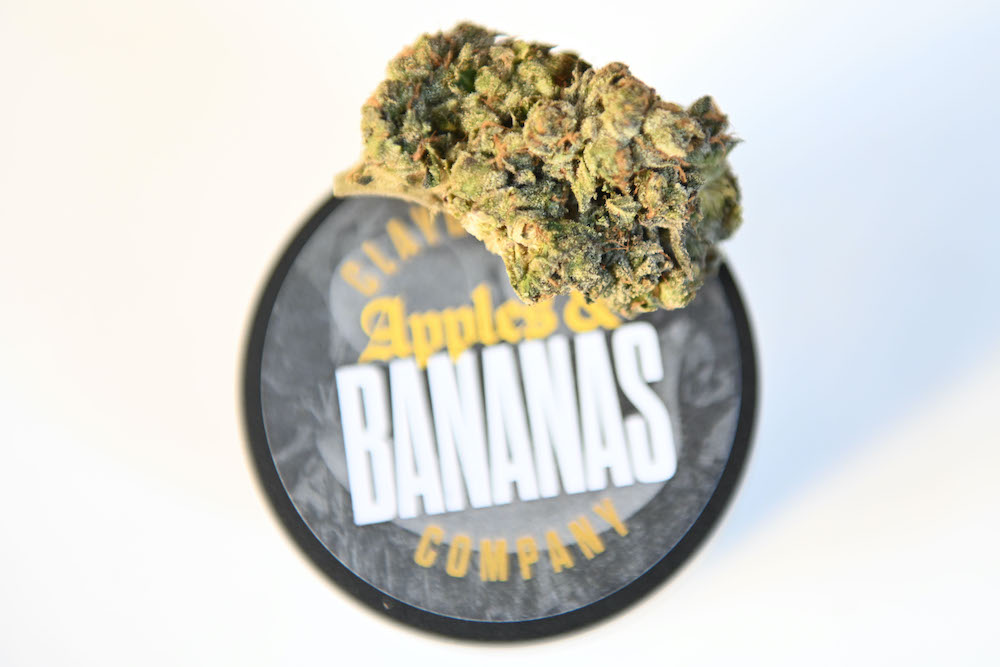 Another Hall of Flowers find that I shared with my guests was Apples and Bananas (sativa dominant hybrid, 30% THC, .07% CBD) from Claybourne Co., which has a nice hoppy, peppery, and piney aroma that hits all of the endocannabinoid areas in my body quite well. You can purchase it online or at a nearby dispensary.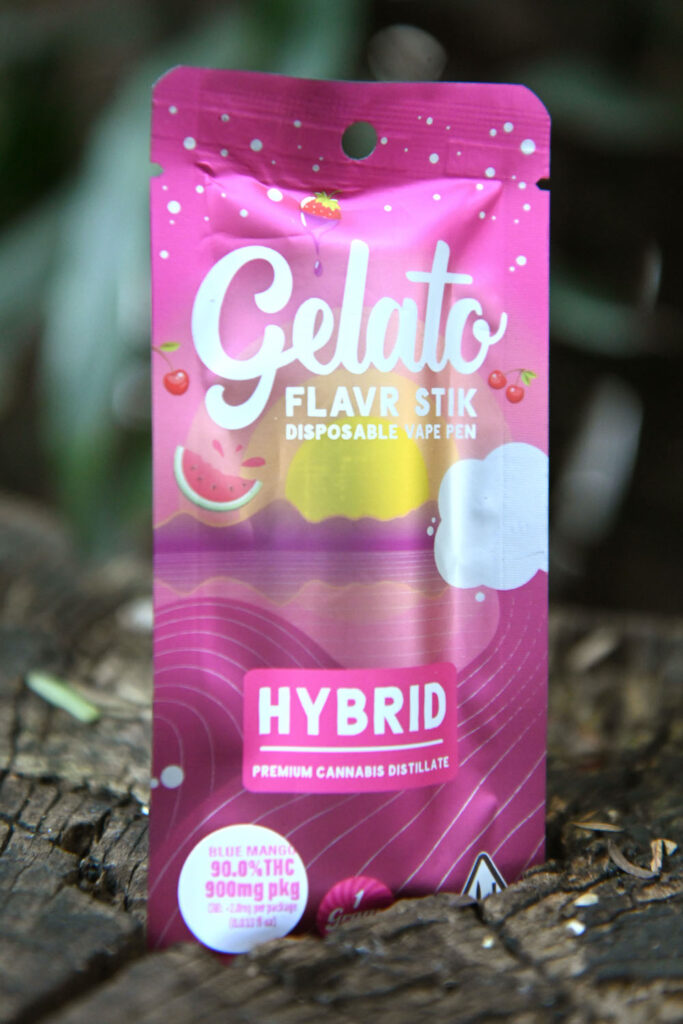 Next, we passed around a Flavr Stik from Gelato, which is a flavored disposable vape pen. I was ready to take a puff and toss it back in the bin, but it tasted fantastic and then a couple of seconds later a fruity, stoney haze hit me. Well it should do at a whopping 90 percent THC! I passed it around, and we all agreed that the Flavr Stik was definitely a good and flavorful holiday gift idea. I checked Gelato's store locator and they are sold throughout the Bay Area.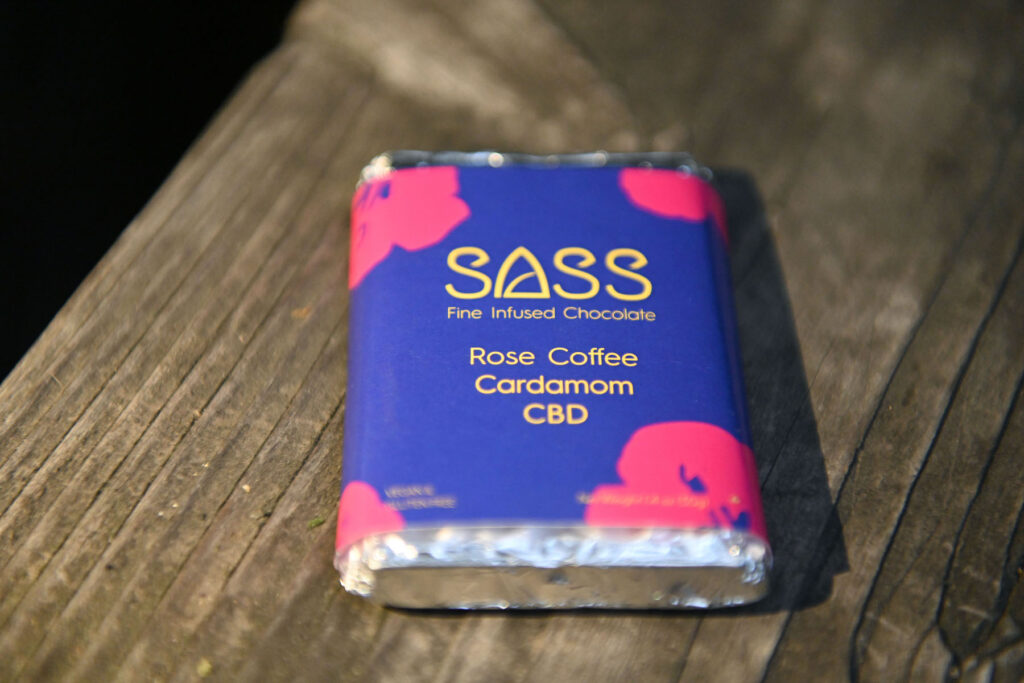 At this point in the party, we needed relief from our highs. The best things to do when you are super high are drink water, go outside for fresh air, or eat something—especially something with CBD in it. We started munching on a Sass Rose Coffee Cardamom CBD bar. In a few minutes we started to come down, so hooray for CBD. The chocolate was on the dark end, which I love, and the flavor was wonderful. I really liked the cardamom flavor, a flavor I don't often think about when it comes to candy. The brand also offers chipotle sea salt and Kettle Chip bars. They sell for $20 and are available to order online.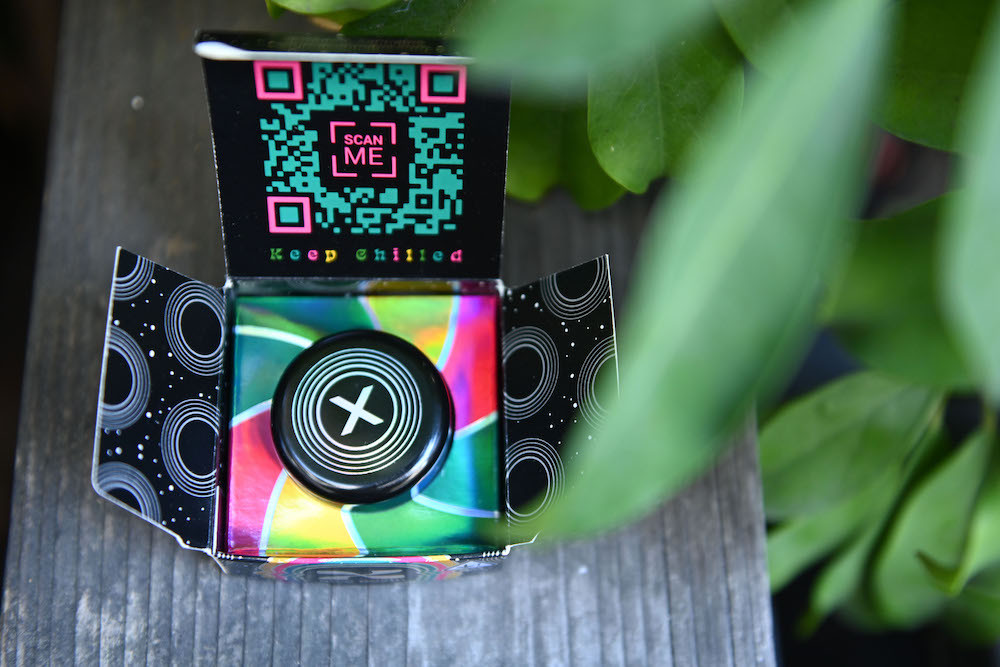 Now that we had sobered up, it was time to kick back into gear with the the dab rig. Our favorite concentrate of the day was Papaya Tangie Rosin (indica, 75 percent THC, .29 percent CBD) from Source X, whose flowers we tried earlier on.
The terpy taste was amazing, and it gave us a fantastic, zesty buzz. Wonderful.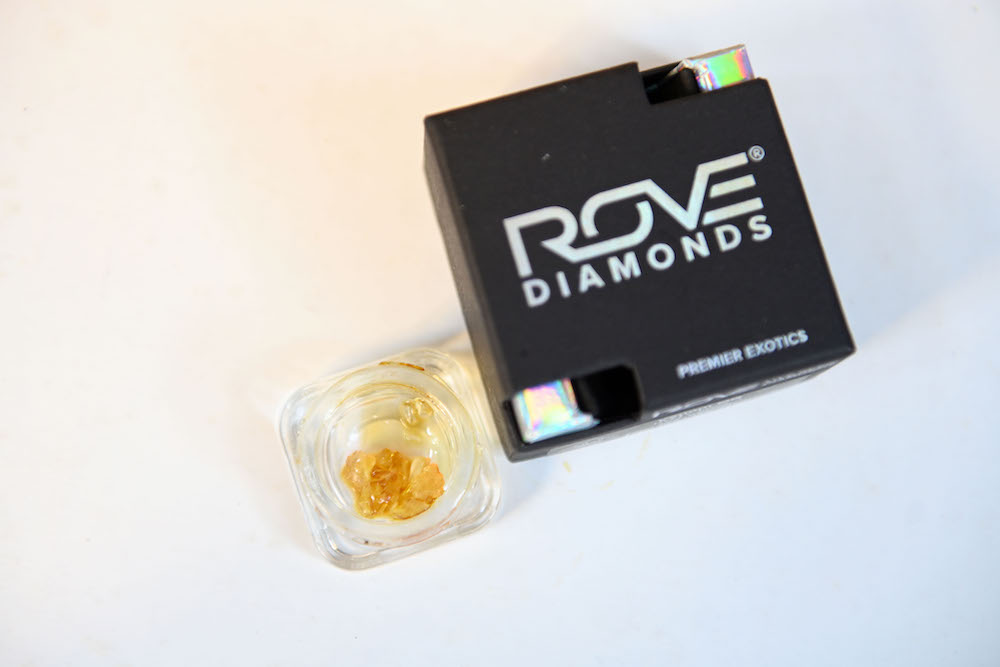 Next came diamonds from Rove, who teamed with Presidential on the moon rock pre-rolls described above. We tried their Venom OG live resin diamonds (indica, 90 percent THC). The dab tasted great, then I got super-high and had to go outside for fresh air. I think my diamond was too big! After some water and fresh air, I settled in for that astral dab feeling, which was pleasant and not too paranoid. Of course, at that point everyone wanted to try what made me so high and it worked well for everyone. These diamonds can be found locally through the store locator on the website.
At this point homemade pie and ice cream were served, and you can only imagine what they did to our taste buds after all our pot shenanigans.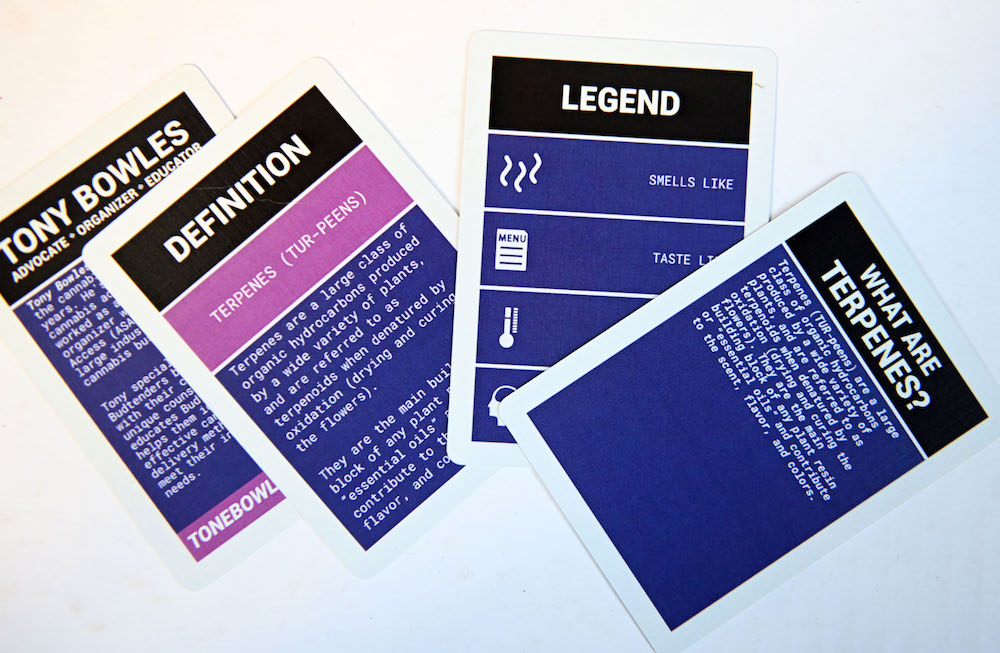 As we coasted on our sugar buzzes and cannabis highs, we perused the Terpene Flashcards created by Tony Bowles. Terpenes provide the taste and smell of cannabis, and can affect the quality of your high. You can test yourself to learn about the terpenes that make you the highest. Or maybe you want to be a better budtender? Learn your terpenes! These colorful cards cost $42 and make a fantastic gift idea for the curious stoner in your life.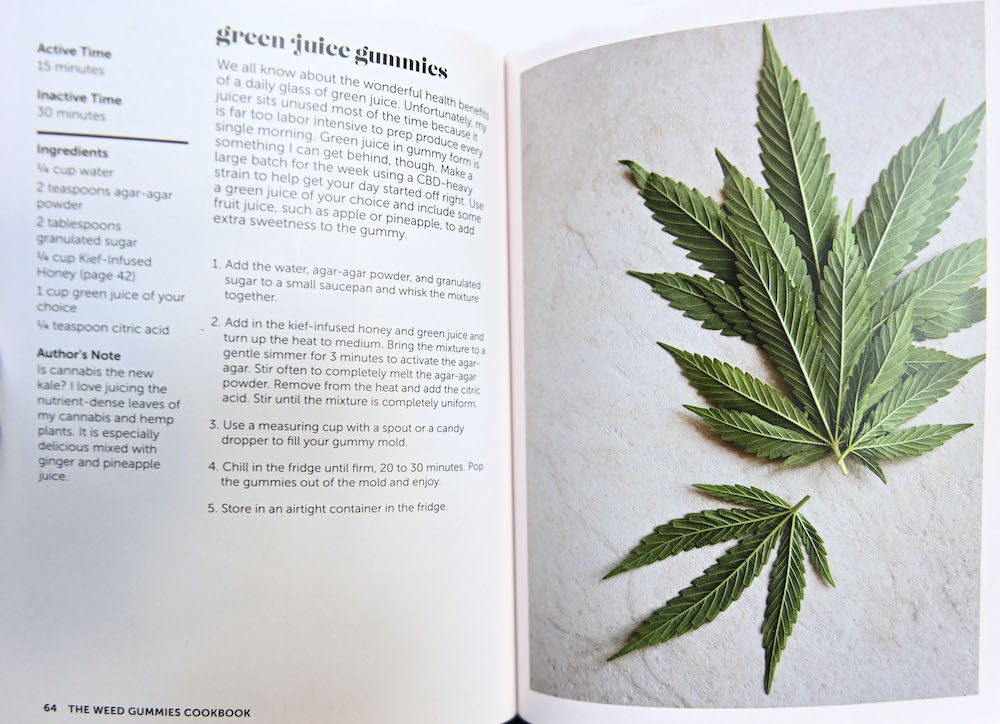 Next I showed everyone a wonderful new cookbook. Earlier this year, I moderated a panel about cannabis books for the Bay Area Book Festival, featuring The Weed Gummies Cookbook by Monica Lo. The book had not been published at the time. Now it is out, and it's a wonderful guide to all things weed gummy. Monica takes you through making infusions step-by-step, and once that is done, you can make all kinds of wonderful cannabis sweet treats.
I have my eyes on making the kombucha gummies, mimosa gummies, bubble tea tapioca balls, miso butterscotch caramels, honeycomb brittle with almonds and sesame seeds, lemon rosemary spiced nuts, marzipan truffles, and so much more.
Monica provides easy to follow recipes with beautiful photographs. The softback cookbook costs $17.95 and is available all over the internet.
This is a great gift to give to a kitchen-savvy friend now so they can start making these treats for the holidays, and then you can also give it to your other friends and family as a holiday gift so they can get started on making gummies for the new year. It just keeps giving!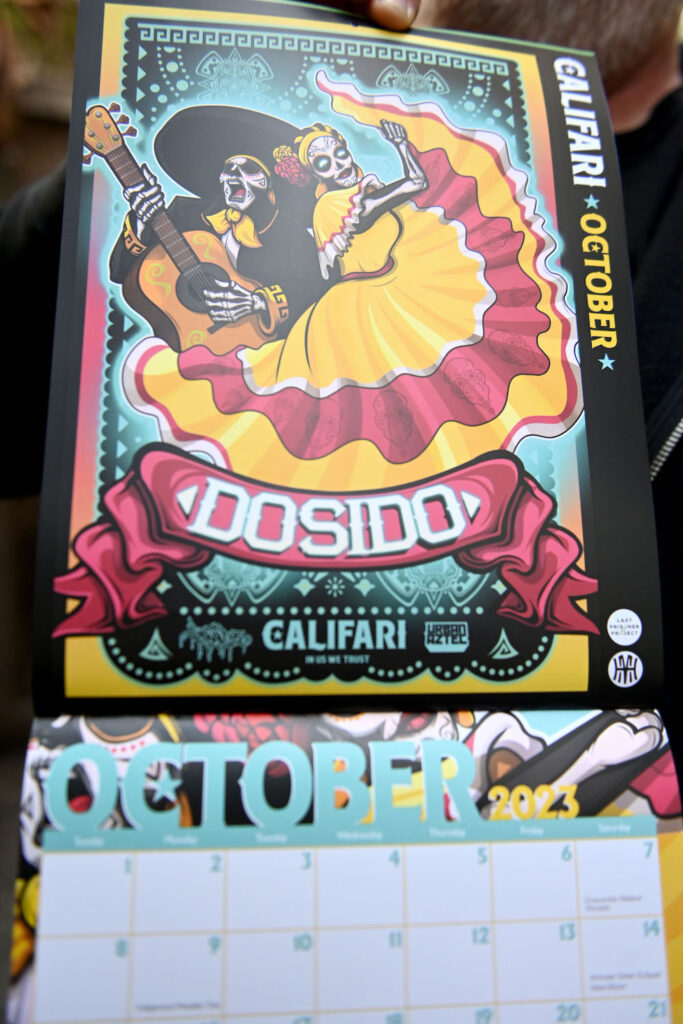 Another thing we really liked was the artwork in the Califari 2023 Cannabis Art Benefit Calendar. Half of the proceeds go to the Last Prisoner Project, a worthy non-profit working to get people out of jail for cannabis charges.
Each month, a different artist created a cool rendition of a popular weed strain including Northern Lights, Angel Cake, Forbidden Fruit, Blue Dream, Banana Glue, Ice Cream Cake, Pink Lemonade, Sour Diesel, Tahoe OG, Dosido, Black Mamba, and Grand Daddy Purple. The calendar is only $15, so buy a lot of them for your family and friends and raise money for a good cause.
As the afternoon wore on, we re-sampled our favorites, listened to fun music, and just chilled. A pot party is always fun. One of my favorite parts was when my non-smoking friend dropped by and got a big old contact high by simply being in the room. He had as fun of a time as did we watching him. (Then we gave him some CBD chocolate, that helped.)
Finally, the munchies overtook us all and we headed out for a super-fun dinner which tasted amazing to our very high and primed taste buds.
This has been only the beginning of the Puff Holiday Cannabis Gift Guide. Stay tuned for part two, which promises more flower, concentrates, edibles, surprises, and great gift ideas for the stoners in your life.
I want to thank Aaron Levy-Wolins for photographing my gift guide this year!
Now it's time for me to light up and continue my quest!