A weekly menu of places to eat and people to meet, today's Good Taste is dedicated to surveying the current Japanese sando scene in San Francisco. Though not all of the spots recommended here adhere to the conventions of serving a katsu cutlet or egg salad on untoasted, crustless shokupan (milk bread), they collectively represent how the city interprets the sando. All are worth sharing with a friend (or going HAM on your own).
Echigo Home Cook (2760 Octavia St.)
Named after an old province in Japan, Echigo Home Cook is the newcomer on this list. I've lately been ordering sushi and sandos with strawberry hojicha tea with almond pudding or homemade yuzu ginger lemonade with boba from the spot and everything is solid. But the pork sando is a true standout—definitely the thickest cuts of the bunch, as you can see in the above image. All of these are quite splittable, but this one is especially good to experience with someone else. I'm guessing they ran out of cabbage the particular day I ordered and needed to sub it for some greens, which weren't crunchy, but I was too busy being a meat monster to care much.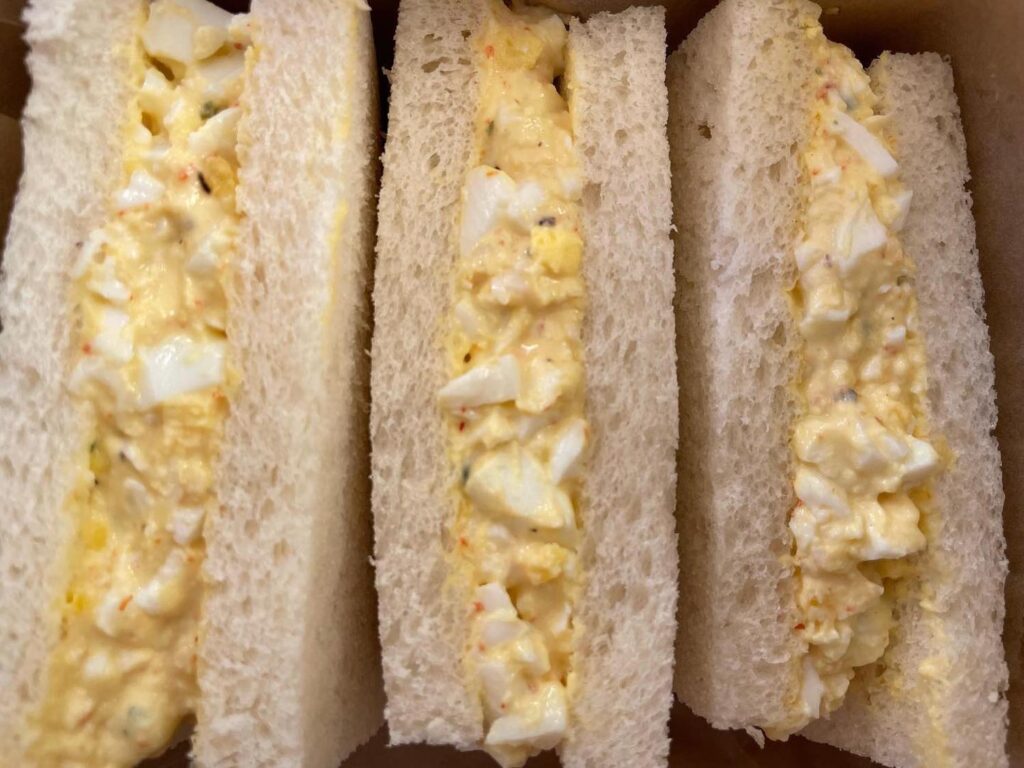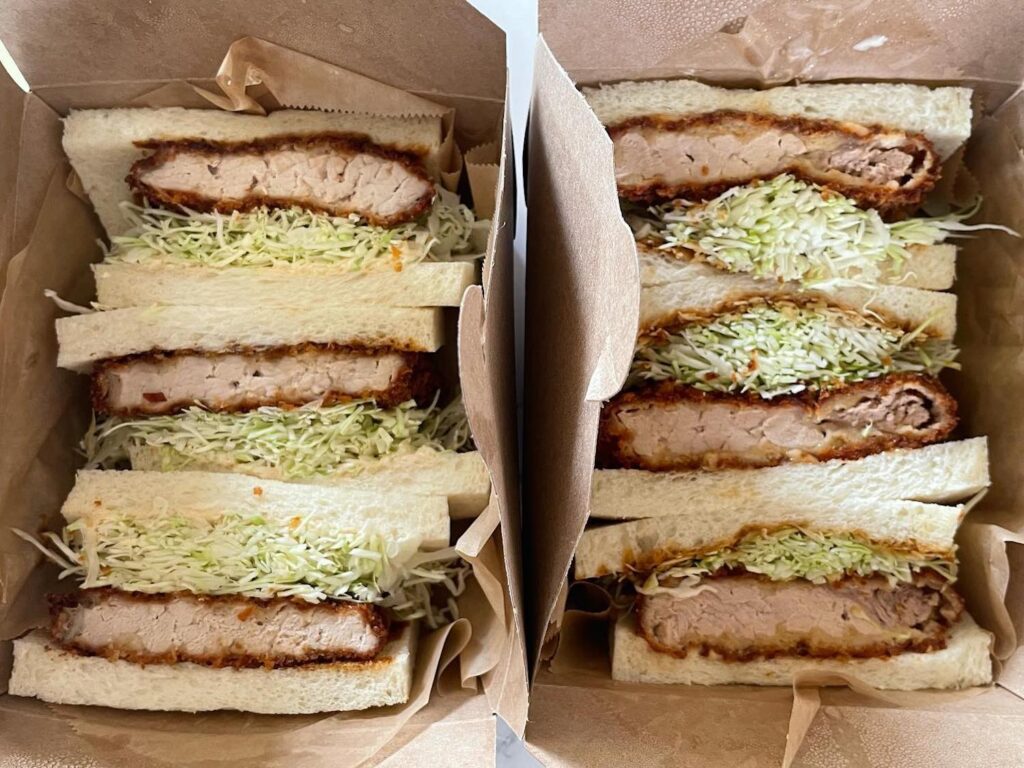 Stonemill Matcha (561 Valencia St.)
Ever since opening in 2018, the tamago and pork katsu sandos at Stonemill Matcha have set my personal bar for how clean, crisp, and craveable these sandwiches can be. This story was inspired by the desire to branch out and try other restaurant's versions, for a change, but they'll remain go-tos to uplift bad days or make good ones even better. (Not that I let sandwiches have that power over me.)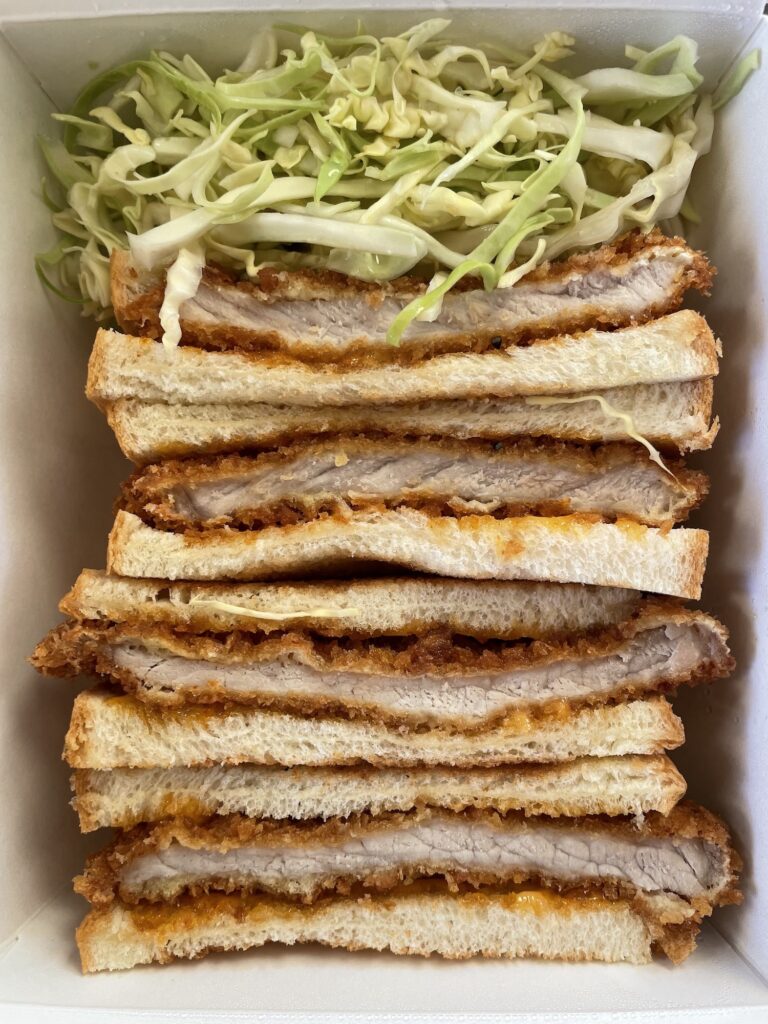 Torraku Ramen (300 DeHaro St. and 1449 Lombard St.)
The former ramen truck keeps sandwich crusts intact, which work well to contain the spicy and zesty orange sauce that's slathered on the pork katsu cando. As in all of the selections here, the katsu is fried well and isn't greasy, which is essential to hold whatever condiments are added.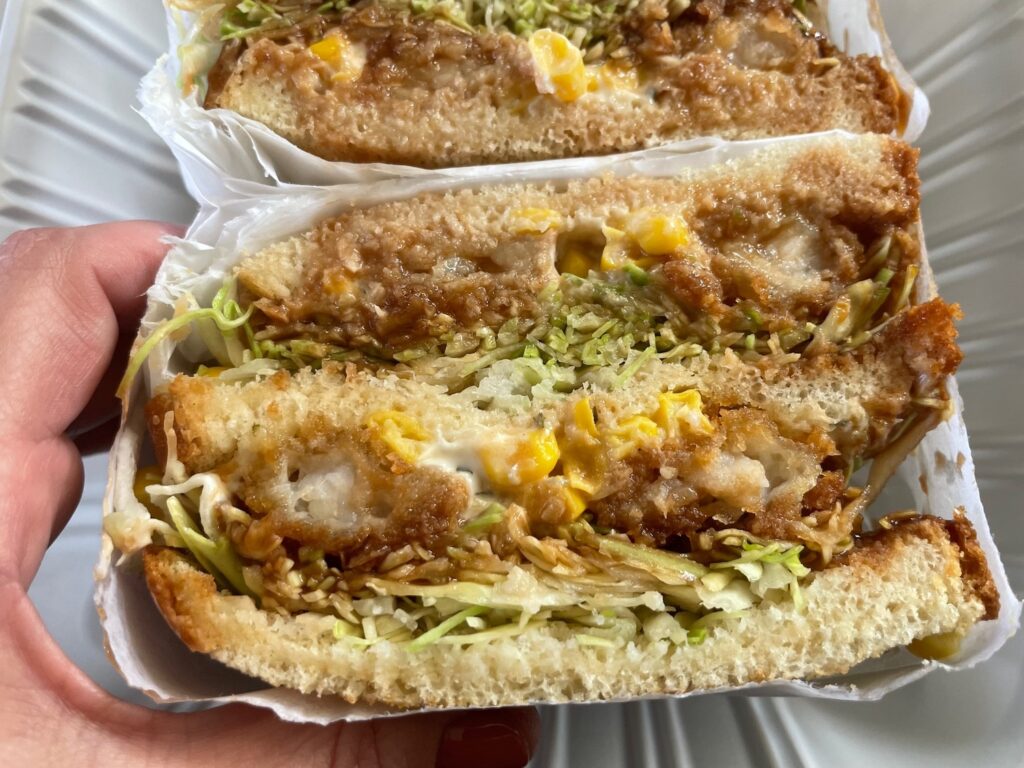 Volcano Curry (5454 Geary Ave.)
Many of the Japanese curries at Volcano Curry are available in sandwich form. The fried shrimp sando, with corn and curry sauce, is an ambitious affair, but don't be scared—just have a lot of napkins. The potato croquette sando also isn't for the faint of heart; the delicious, double-carb action hits all the pleasure centers, though. The restaurant offers mini-slider versions of most of the sandos as well.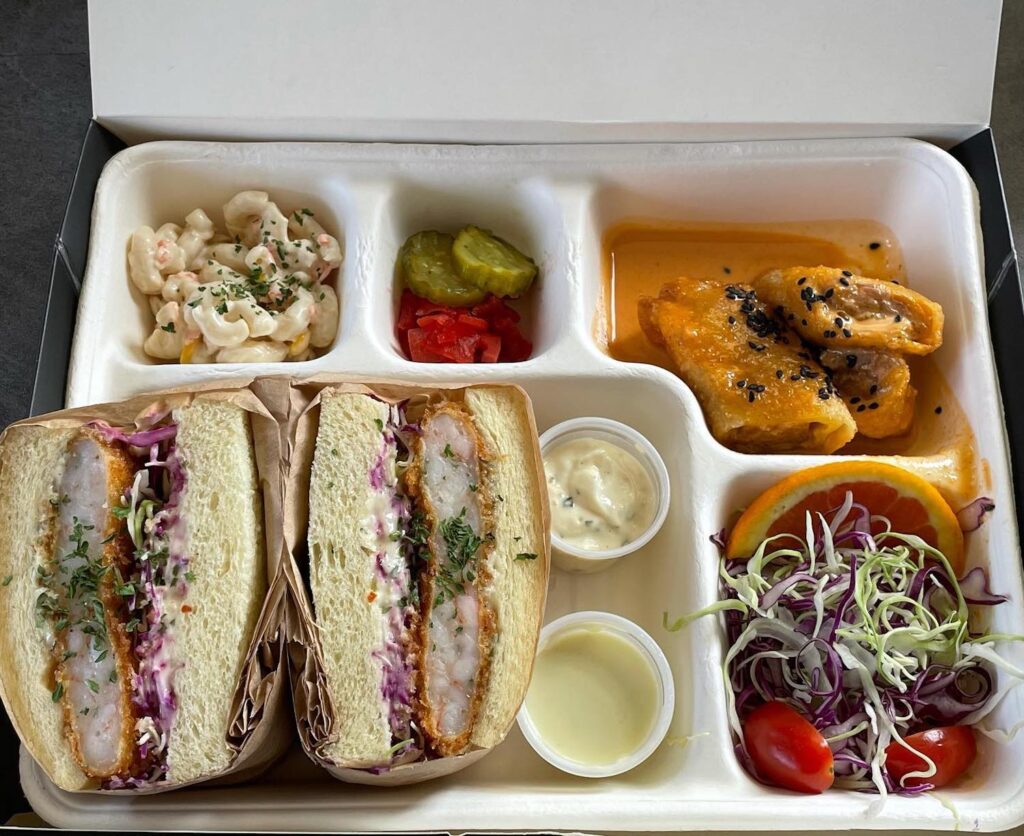 Katsuya (380 Bush St.)
Not to be confused with Southern California's Katsuya chain of restaurants, this Katsuya is hidden inside the International Food Court on Bush and doesn't get a lot of attention. But take a look at the size and scope of this ebi (shrimp) katsu bento box — it's another wonderful selection for sharing if you aren't ready to truly go to town. The katsu was still crispy and nice even after being delivered across town.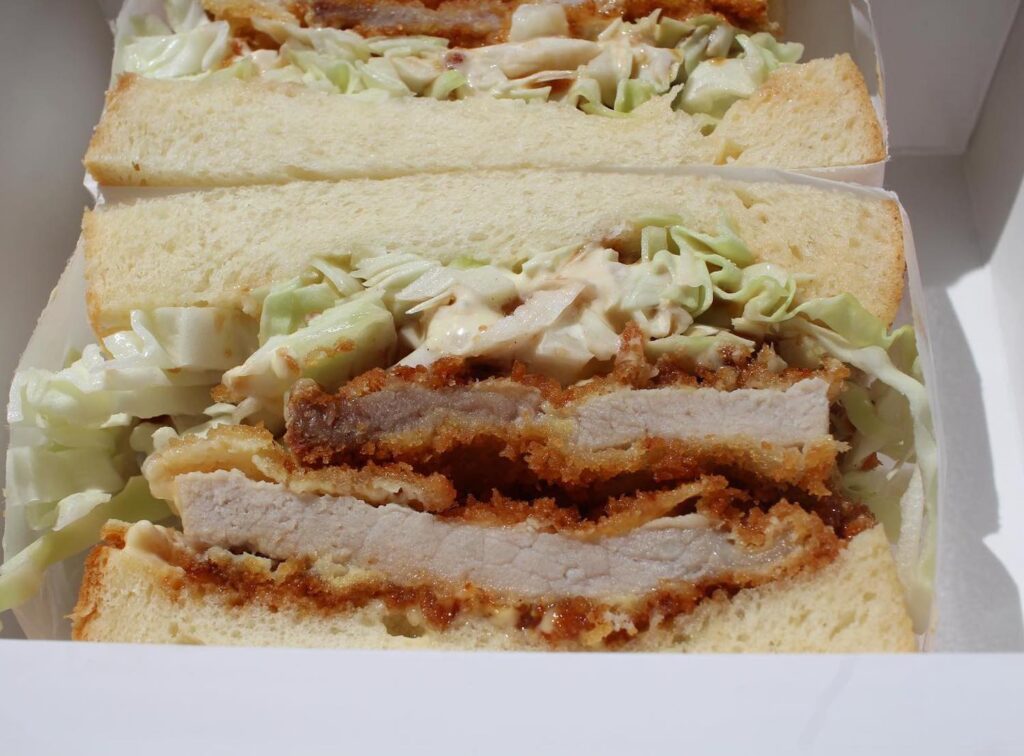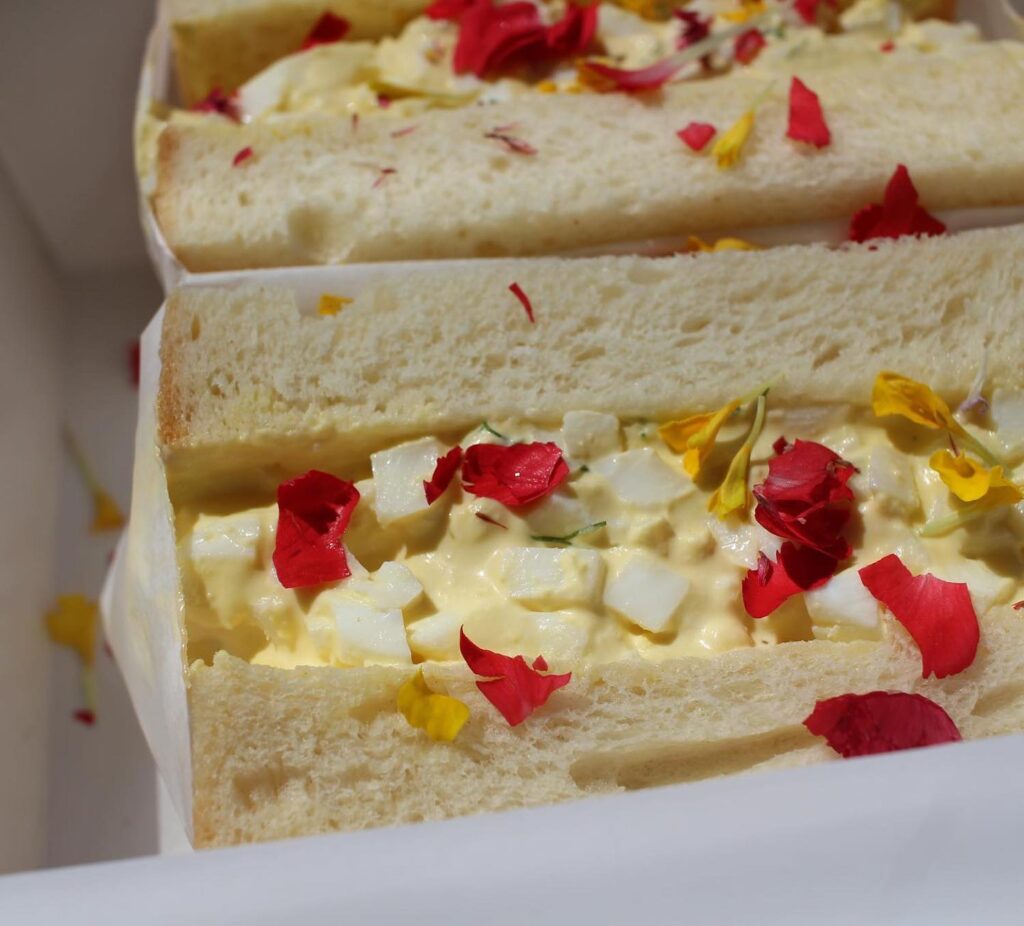 Bread 'N Chu (1900 Clement St.)
This Richmond District shop has the widest variety of sandos in the area—you can get unagi (eel), Spam, egg salad, pork, and a seasonal fruit sando for dessert. There's also a luxury option on the menu that's the fanciest in SF, a fried tamago sando served with fresh truffles and gold leaf that I hope someone buys for me one day.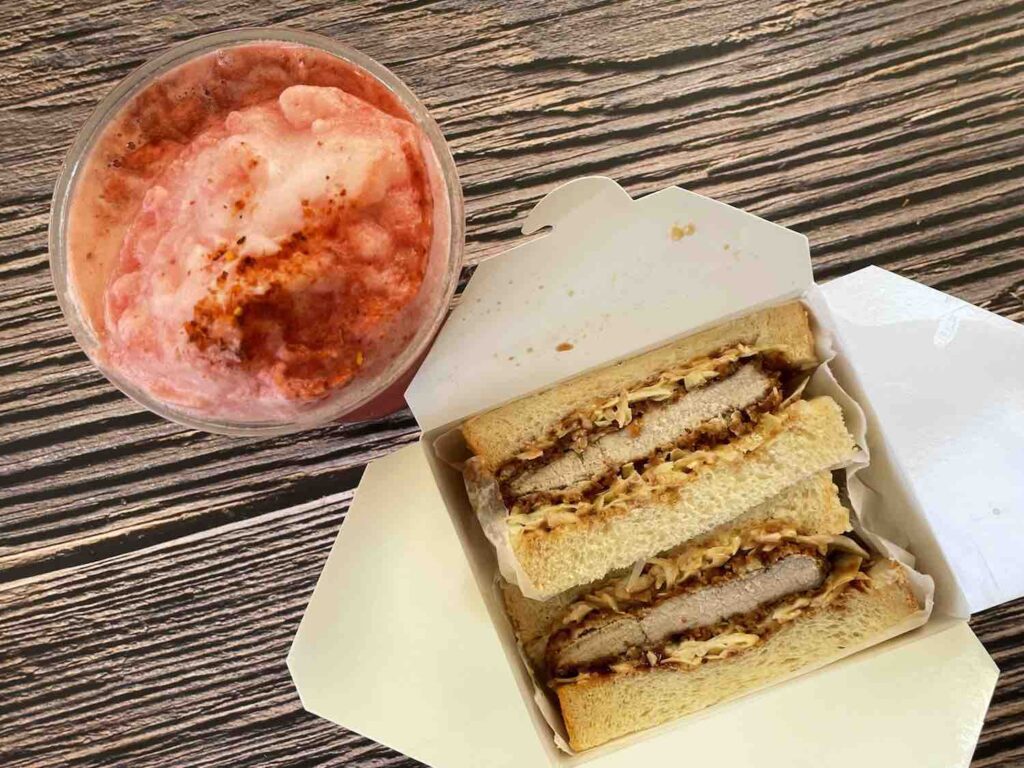 District Tea (2154 Mission St.)
Like Echigo Home Chef, you can get some really neat boba tea or fruit drinks to go with a sando, and my pairing of a watermelon freeze with Tajin and a pork katsu sando is one that bears repeating. The Japanese sando scene is alive, well, and rather fun in San Francisco.
Find more thought for food at Tamara's site California Eating