Lunar New Year began on Jan. 22, but San Francisco's biggest celebration is still to come — and there's so much more you can get into over the next couple of weeks, even if free is your only speed.
Watch lions dance
Millbrae's Lunar New Year Festival takes place from 10am to 5pm on Sun/29. It's free to attend the food and street art fair and lion dance performance, but you can reserve a spot on Eventbrite. San Francisco's annual Chinese New Year Festival and Parade, which remains the largest in the world, returns on February 4. Admission is free to attend unless you'd like to get there by 4pm and sit in pre-purchased bleacher seats ($41-70). The event starts at 5:15pm and runs around two and a half hours. A corresponding Community Street Fair runs on February 4 and 5. The parade is broadcasted on KTVU/2 in English and KTSF/26 in Chinese.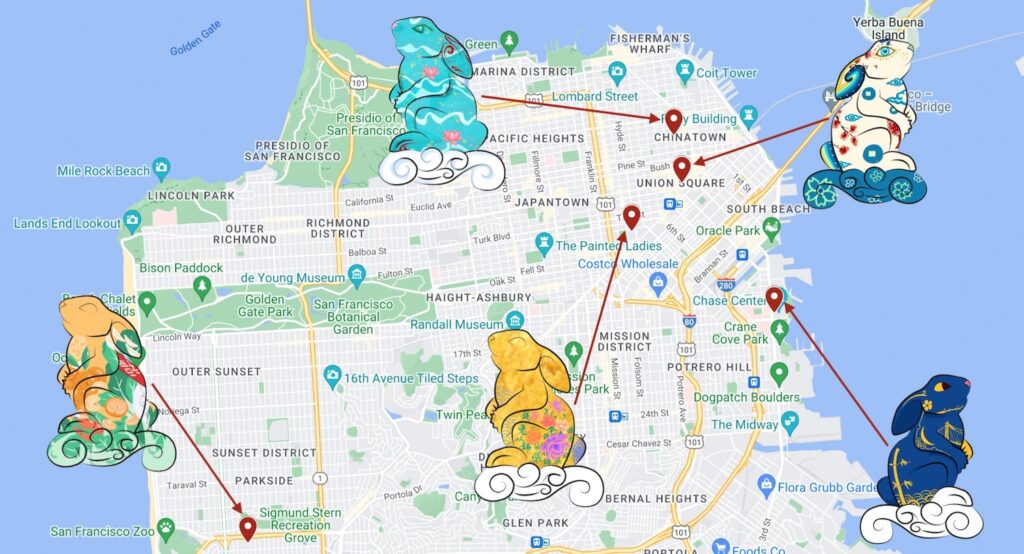 Chase rabbits around town
You can make a day out of visiting the five bunny statues placed around San Francisco by The Chinese Chamber of Commerce for the public art project Rabbit On Parade, on display through Feb. 5. A Warriors-themed Bravery Rabbit has hopped up at the Chase Center; you'll find the others at Lakeshore Plaza, Union Square, the Asian Art Museum, and Rose Pak Station in Chinatown; here's some suggestions of where to eat around the latter location.
Refine your dumpling wrap skills
The Mission's new Dumpling Club is holding a dumpling wrapping party ($98) on Sat/28 and Sun/29, with three 90-minute sessions available to purchase in advance. A ticket gets you 25 dumpling wrappers, guidance on how to fold and pleat and fillings to use (including a vegan option) as well as drinks and snacks. They're welcoming kids 10 and over, too.
Or wrap up a duck
Chili House invited 48 Hills to try some of the à la carte dishes served for Lunar New Year—the Clement Street restaurant was already a preferred place to have Christmas dinner for me, and is a calming place to relax and eat. Some of the Lunar New Year items, such as the Peking duck ($68.95), are house specials that you can pre-order the rest of the year, but we were introduced to the revelation of ordering a huge bowl of soul-fortifying duck bone soup to savor with the Peking duck and pancakes. See more photos of Chili House's Lunar New Year dishes from our meal on my Instagram feed.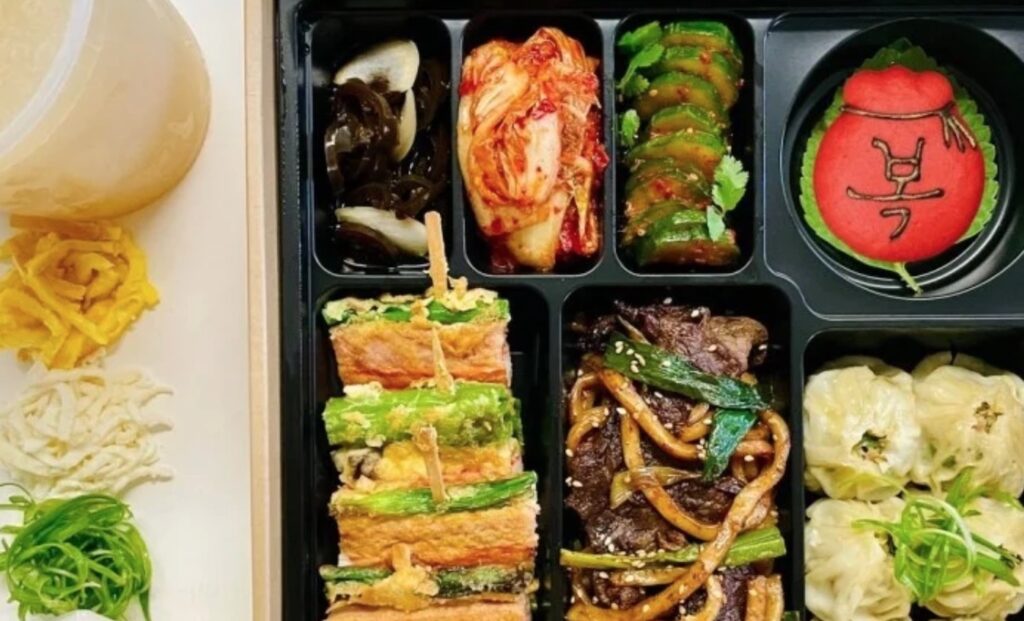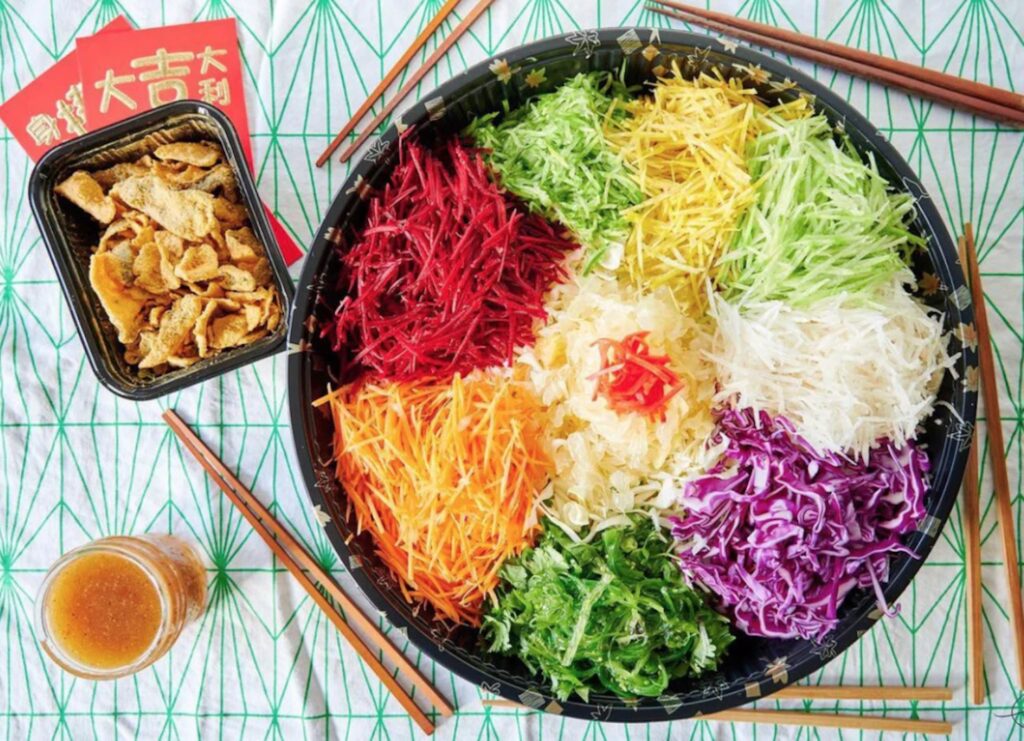 Celebrate with snacks at home
Locale has an intriguing selection of snacks and meals for Lunar New Year that are available for pre-order for Bay Area wide delivery on Thu/26 or Sat/28. This is the same service that can be used to transport French toast from Los Angeles to San Francisco, but for LNY the Korean Lunar New Year Feast ($78) by Southern California's Seoul Sausage (run by brothers Yong Kim and Ted Kim) looks very attractive. The set features multiple vendors from Los Angeles, including rice cake soup (ddukgook) with fresh rice cakes from Lucky Rice Cake, steamed mandoo and garlic kimchi by MDK Noodles, Seoul Sausage's bulgogi udon stir fry, skewers, and banchan, and Loaf Language's black sesame and hojicha milk jam macaron and serves two to three people.
San Francisco restaurant Damansara is also offering daily pre-orders to pick up its famous annual Malaysian Prosperity Salad ($58.88) through February 5. Chef Tracy Goh shares that she uses raw salmon sashimi as "a symbol of a new beginning and abundance, pomelo brings blessings, colorful shredded vegetables for harmony and happiness, pickled ginger for longevity, crushed peanuts for liveliness, fried chips represent gold ingots, plum dressing is a symbol of spring." The salad is meant to serve six or more people, who simultaneously mix it all together in hopes of a healthy and wealthy year.