This is the story of Oakland-based Kitka Women's Vocal Ensemble encountering a conceptual puzzle. It's a tale of an enclave of women—11 musicians and one theater artist working in the progressive Bay Area and, in 2023, living in culture that is advanced in thinking about gender fluidity. They are tasked with a project involving ancient Eastern European societal mores and the "sworn virgin" world.
Sworn virgins, Kitka's project literature explains, are "embedded in an ancient social code present in remote rural regions of Albania, Montenegro, Bosnia-Herzegovina, Kosovo, and Serbia. Born as women, life circumstances including the loss of male relatives in blood feuds or other vendettas, a lack of sons in the household, taking the place of a brother too ill to serve in the army, eldercare obligations, a desire to escape an oppressive arranged marriage, the death of a fiancé, abandonment by a husband—all lead these individuals to become men, thereby gaining the honors, rights, privileges and freedoms of community patriarchs."
In patriarchal Balkan societies, sworn virgins' decision to renounce womanhood and live as men after taking vows of chastity and celibacy is motivated by responsibility as opposed to sexual preference or the feeling of being male by nature. It is a means of survival and a act of responsibility and import, according to Kitka Executive Director Shira Cion.
For people unfamiliar with the vocal ensemble, Kitka is a 12-member, all-women group whose repertoire and commitment to traditional songs and vocal techniques from Eastern Europe and Eurasia has earned national and international accolades and awards. Now in its 43rd season, Kitka takes the stark dissonances and intricate rhythms and ornamentation of traditional Eastern European vocal music and infuses their impeccable technique into works by contemporary composers such as Meredith Monk, Richard Einhorn, Eric Banks, Chen Yi, Linda Tillery. Collaborations with musicians from groups such as Le Mystère des Voix Bulgares extends the palette and geographic scale of their repertoire and following.
In February 2023, a deeply immersive project has Kitka joining Karmina Šilec, a multi-disciplinary artist and artistic director of Carmina Slovenica, New Music Theater Choregie, and Ensemble ¡Kebataola!. Together, they will present the world premier of a new work, BABA: The Life and Death of Stana (Thu/23-Sun/26 at Z Space, SF). Šilec is the author, composer and director of the non-narrative production developed over a number of years through fellowships and residencies at Harvard Radcliffe Institute, the Stellenbosch Institute in South Africa, and The Ground Floor at Berkeley Repertory Theater.
Of particular interest when speaking to Cion in early February was Šilec's process and how it tested and expanded their artistry. Šilec's Choregie technique is a "meta composition" method that in development stages simultaneously and spontaneously explores movement, voice, sculpting, or mental training, imagining, improvisation, and rituals such as team-building. Kitka, having collaborated with numerous, eclectic artists during its history, is no stranger to complex and creative challenges.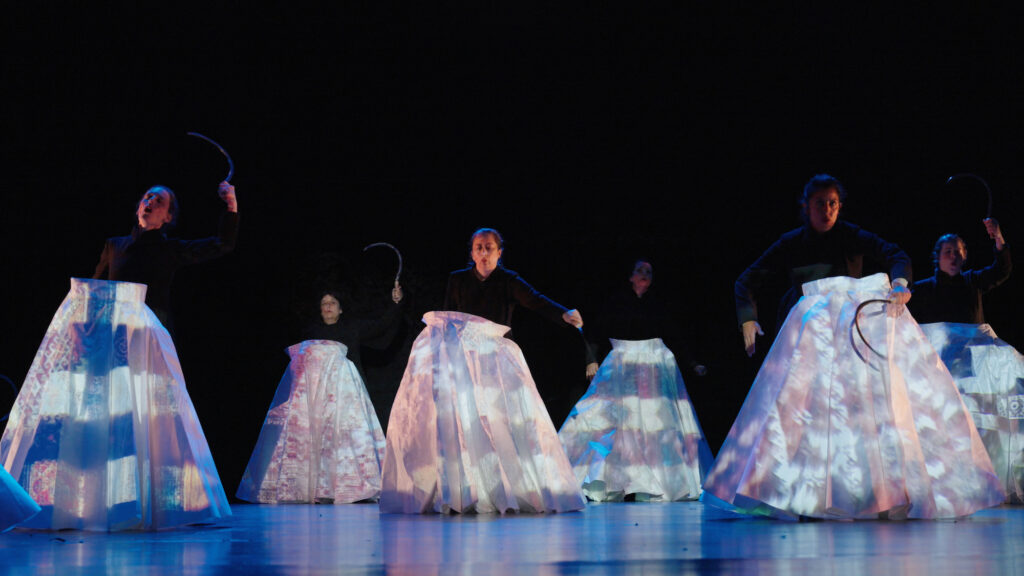 Even so, Cion says the five- to six-hour rehearsals six evenings a week are "grueling, stimulating," and the material changes radically from one day to the next. "She calls our script a menu and our actions a scenario. Between every rehearsal the sequence shifts, who does what shifts, things are added and cut. It feels random, but when we embody them, they later make sense. It's intuitive and poetic logic, instead of linear or narrative. It's abstract, visual storytelling."
The primary difference between the approach of other directors and Šilec is that she has Kitka working in all the mediums at once. Previously, the singers would have the music fully realized, embedded to the bone before encountering other theatrical elements like movement, text, costumes, lighting, and projections.
"What it means is that our brains are having to think multidisciplinary, from the get-go," says Cion. "It's slower, because a gesture might influence how or how many times you sing a passage. We had an ensemble gathering last night and talked about how frustrating it is and at the same time we felt expanded. We're accessing our full creative selves, the inbetween places of all of the modalities, instead of separating them into isolated sessions. The performative language is coming from our Kitka brains every minute."
Brainwork has also involved addressing the puzzle of respectfully and accurately representing women who live in patriarchal societies and make a choice not to actively resist oppression but to become men. "Karmina's thinking evolved and she came to a place where it wasn't about us embodying these people, but about our gaze and fascination with them. What do we project on them? Are they're brave women making this tradition, freaks making these choices…the full range. We in the Western world eroticize them for the choices they've made as women and this reflects on them."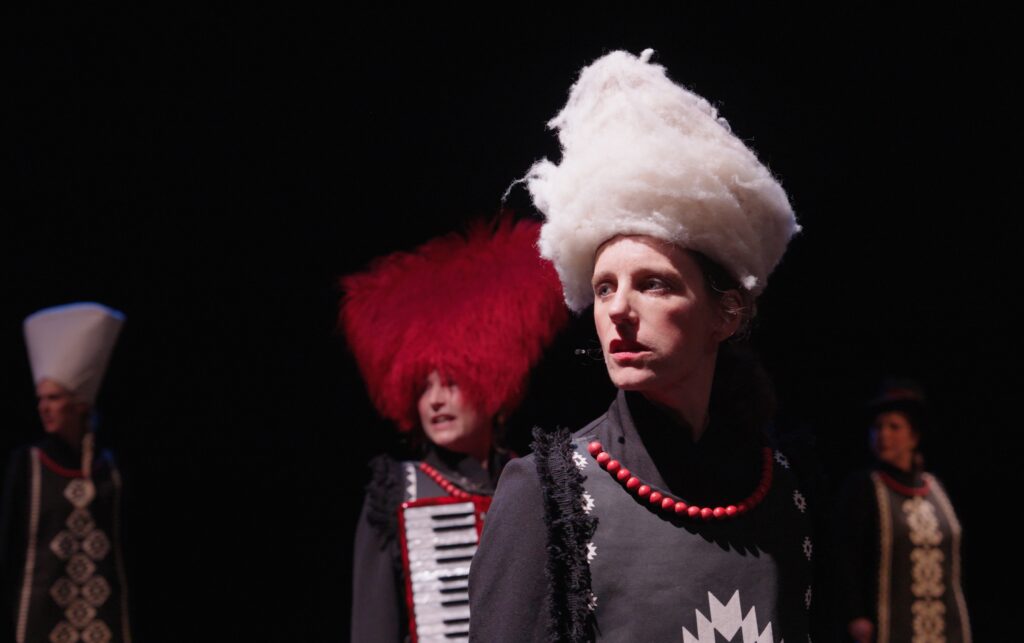 To gain a level of abstraction and filter out bias, Cion says the work "drops the needle on random moments in their lives, as if their full life is on an LP." As a result, we experience just moments of real, common human feelings. We also made a conscious decision to keep the pronouns fluid (one character could be referred to as "he" in one place and "she" in another), which plays on the ambiguity in how they are perceived."
In discussions and independently at home, the members of Kitka—who prior to the pandemic frequently toured internationally—think about presenting this work to Western audiences specifically. "We've talked about this a lot. We've taken extra steps with translations because Americans are unfamiliar with the phenomenon of sworn virgins. So there's an aspect of educating people here to this fascinating history. Also, Kitka is not accustomed to performing in English: we usually perform in Balkan languages. We've worked on how to tell a story we'd be more at home communicating in Bulgarian or in languages other than English."
Turning her attention to BABA's centerpiece, sworn virgins, and a performance that incudes chest binding, adult language and references to sexuality, birth, child abuse, and death, Cion says having experience in the Balkans is vital, as is taking a global perspective. ""Becoming a sworn virgin is a disappearing phenomenon because of globalization and women in the Balkans having more freedoms. But having been there, I see they still have a long way to go, and sharing that is relevant. BABA gives our community a window into what life is like in these communities that are tribal, patriarchal, and where women are so restricted.
"It might cause someone to realize it's not unlike how women have been constrained and constricted in this country. It's relevant because some of those rights we've won are gone or on the verge of being swept away. We are becoming acutely aware of how precious our hard-earned rights and freedoms really are."
BABA: THE LIFE AND DEATH OF STANA Thu/23-Sun/26, Z Space, SF. More info here.