San Francisco Ballet dancer and choreographer Myles Thatcher began developing a piece called COLORFORMS in the spring of 2020, his fourth for the Ballet. When it became obvious that it wouldn't be performed on stage in 2021 as planned, Thatcher instead turned the piece into a film, featuring 10 dancers in the San Francisco Museum of Modern Art, Yerba Buena Gardens and Golden Gate Park. The dance is set to Steve Reich's Variations for Vibes, Pianos and Strings, and the art in the museum included pieces by Alexander Calder, Julie Mehretu, and Ellsworth Kelly. 
Now, COLORFORMS will finally be coming to the stage at SF Ballet at part of "The Colors of Dance," March 14- 19, along with Helgi Tomasson's 7 for Eight and James Forsythe's Blake Works I.
Working on the film (which was directed by Ezra Hurwitz) was one good thing he experienced during the pandemic, Thatcher says, and he did everything he could to create color and delight in a bleak time.
"I knew that everyone was kind of sad at home and looking for some joy, and in the spirit of how I feel when I visit SFMOMA, and how I feel when I experience art, I wanted to capture that," Thatcher said. "I think the further along I get in my dance and choreographic career, the more I realize how living in this spirit of play is important to my creative process. It's finding possibility in almost being in that flow state. When you're doing anything you love, time stops."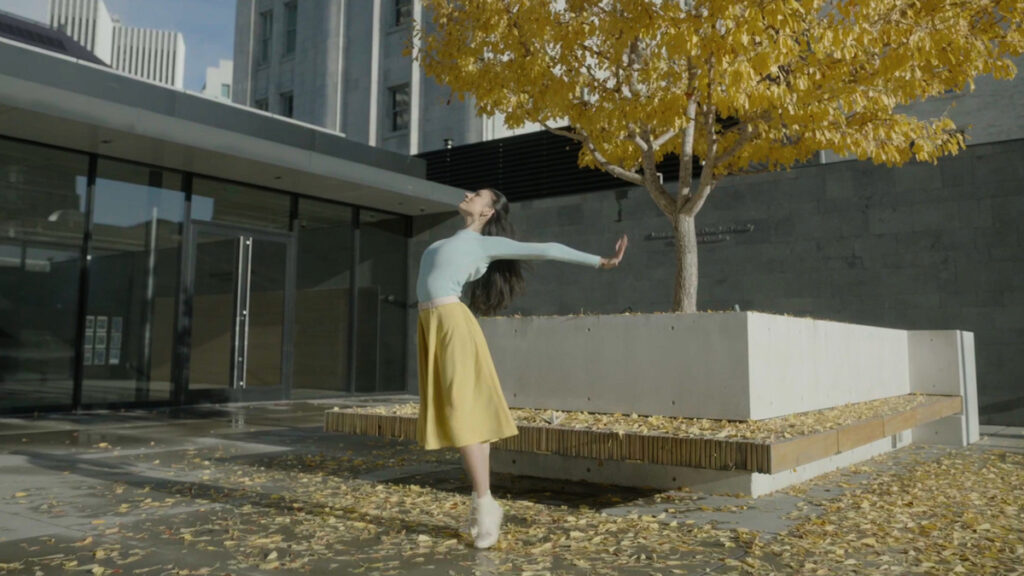 The film (which critic Rachel Howard called "a ray of sheer, unforced pleasure" in the San Francisco Chronicle) starts with a dancer inside the museum looking at a heavy tome about art, which she drops with a loud thunk, signaling a change of tone, and dancers go on to chew gum and blow bubbles, toss paper planes and bounce balls.
Tomasson, SF Ballet's former artistic director who retired last year after 35 years, told Thatcher to "dream big" when creating the film. For Thatcher that meant tearing down barriers.
"I wanted to make something that felt accessible for people who might not see dance every day," he said. "I thought, 'How do we break as many rules as possible in order to warm up these spaces, allow them to feel more inviting and playful and get this spirit of fun and joy going.'"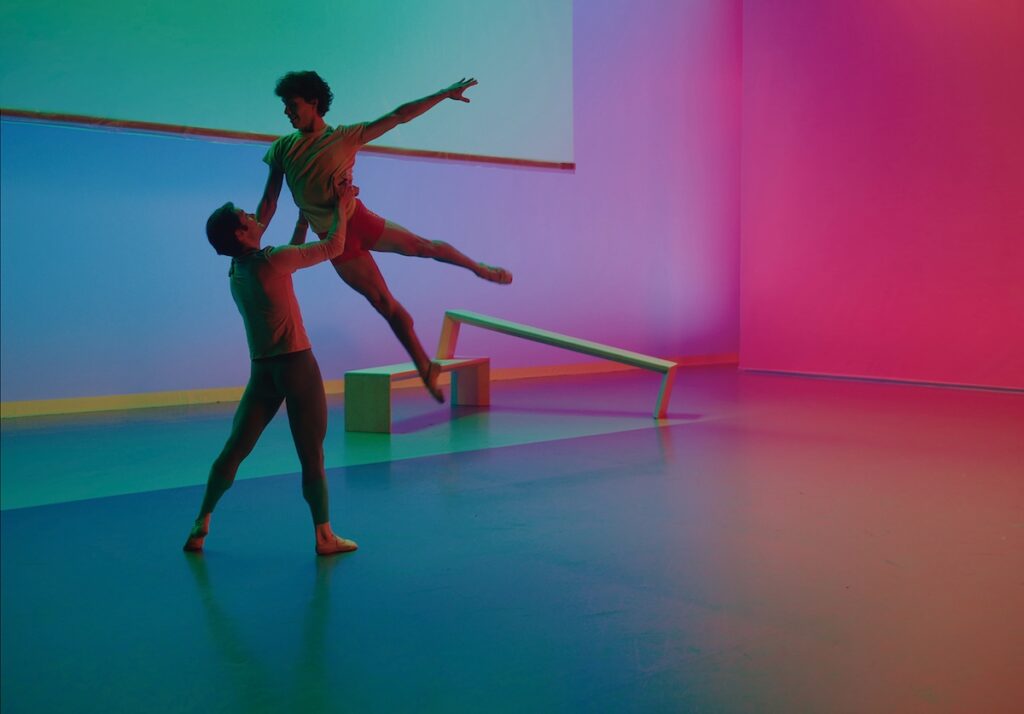 That's what the film did, says SFMOMA director of education, Julie Charles— at least judging by the reactions of students from Bessie Carmichael and Rosa Parks elementary schools, who came to see it in SFMOMA's Phyllis Wattis Theater.
Not only did they see the film, which is 25 minutes or so, but they also got a visit from Thatcher, as well as some dancers from the ballet who led them through movement exercises. Then students went into the galleries they had just seen dancers gliding through in the film, with a treasure hunt, where they looked for colors like "bubble gum pink," and "day old avocado."
"It was really fun for them to meet Myles," Charles said. "You put it in this context of "real people make art, and a real person made this thing." Then they can imagine themselves making something."
Charles says they are planning to show the film again for school groups later this spring, with multiple screenings and perhaps for middle and high school as well as elementary students.
Thatcher is glad his film is being seen by children, and he hopes some will make it to see the stage version. When adapting it, he says he's tried to boil down the essence of the film, which centers on a character named Jasmine.
"It's replicating her journey of being drawn in through art and community and seeing where that can transport her," he said. "All of the costuming and stage design and lighting and narrative will try to support her journey. So, we still have our same characters and same aesthetics, but they'll move through the world in a different way."
COLORFORMS will be performed as part of the Colors of Dance program at the San Francisco Ballet, Tue/14–Sun/19. More information here.