Alain Grissette started booking bands for Jupiter in April of 1993. The club's Berkeley location, which was right on the BART line, would serve as a lodestar that united a burgeoning DJ culture in the East Bay. Grissette would eventually DJ alongside a buddy of his, Yamu Myles—who was part of the early Mushroom Jazz sessions with Mark Farina—a couple of years later in 1996, out on the Jupiter patio for a party the two created called Beatdown.
"Back then, as now, Jupiter was known as the most popular outdoor beer garden jazz spot in the Bay Area six nights per week," stated David Rowe, director of retail operations at one of Delon's current residencies and Jupiter sister brewery, Drake's Brewing Company. "In addition to booking some 24+ bands per month, Alain a.k.a. DJ Delon had his own Thursday Night slot called Beatdown, where he would spin vinyl on the house decks with an eclectic mix of hip hop, house, and funk beats, all with a jazz undercurrent. It was pretty unique."
In addition to his occasional sets at Drakes Brewing Company, "Alain also books DJ acts for Drakes Dealership in Oakland and has been responsible for ushering in that 'vibe' in Uptown that wasn't as present in earlier years," continued Rowe.
Back in the early 2000s, San Francisco was experiencing a drum and bass, electronic music boom. The Low End Theory parties helped define the beat-based sound of contemporary Los Angeles for 12 years starting in 2006. That patio at Jupiter was home to epic Beatdown sessions where patrons, dancers, record fanatics, or first date candidates (who looked like the party founders) could get their electronic music flex on, without vibrational disturbance.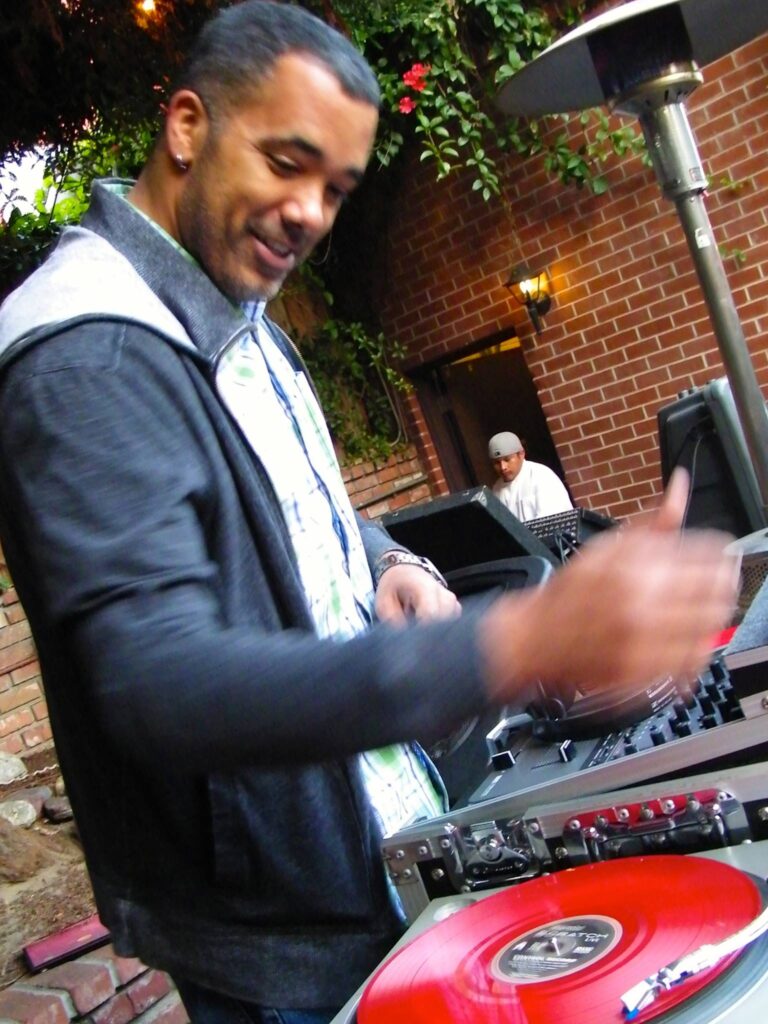 A clique-ish energy hovered over the mostly white electronic music community in San Francisco at the time, providing dynamics that weren't always what you'd call "open." But Beatdown? This was not just an event: it became an incubator between two scenes and eras. Alain had set up shop for all the peoples to get down.
Delon's DJ concept was honed during years of playing his dad's old soul and blues records, and being inspired by his older brothers' collection of early Prince and boom-bap hip hop records that nobody in Layfayette at that time was keeping an ear out for. He made mixed tapes for friends in high school, a hobby which continued into early adulthood.
But when it came to playing out in public, he had a different program.
In the party, he selected jazz (the vibe and scene at the time in the East Bay) along with electronic music from the UK—downtempo, side room/chill room sets from vinyl excavated in now-defunct 510 record temples like Mod Lang and Leopold's. At the time Grissette already knew a slew of cats who could play the killer house set, hip hop, or breaks set—c'mon it's The Bay—so he perfected his own métier. This side-room jungle/downtempo vibe expanded over the years into ever-less-obvious sets, eventually filling out an almost-three-decade, bedrock DJ career that brought depth and an audio pin drop to the East Bay nightlife community.
Check for that evolution in his April 2017 Gold Den Mix, recorded in a bicycle shop and bar for a cannabis charcuterie party in Oakland. It's a no-skips, all-trips affair with DJ Delon adding those gourmet cheeseburger modulations. Cool breezes and AOR-mellow temps link up with burgundy French grooves, and flourishes of blue-eyed soul, with a kind send-off courtesy a Dixieland jazz instrumental rendering of Chaka's "Ain't Nobody." That is how you close.
Investigate Delon's Soundcloud page (he's on brand in his profile picture, wearing a Sade tee.) It overflows with word-cloud descriptions: downtempo, lo-fi, chillout, funky, breaks, beats, and nu-jazz.
"Taste" is the first prompt that comes to mind.
"By the '90s, when Delon was starting, general listeners embraced the wide-ranging electronica genre, while so-called hardcore folks doubled down on whatever niche (and soon to be extinct) sub-genre they had signed up for. So much tension on the scene, man," exclaimed Blake Davis, formerly of Papa's Culture.
"But DJ Delon has always been a peacemaker, an ambassador, bringing that eclectic, East Bay sensibility to the dancefloor, the club, the patio, or lounge, with no velvet rope," Davis continued. "Everyone's invited."
On Thu/27, DJ Delon is celebrating his 30 years at Jupiter. We had a chance to speak with him.
48HILLS First and foremost: congratulations Alain on your many years of service as a top-tier Ambassador of Quality Music. You've added to the Bay Area's reputation for being ahead of the curve when it comes to nightlife entertainment, as well as the belief that we have the best DJs on the planet.
ALAIN GRISSETTE Thank you my man, I'm humbled by your words. It's been a trip reflecting back over all this time. Having had this opportunity [of the] right place, right time with a place like Jupiter in the '90s, before the condos moved in and we got away with murder with the shows we put on. And then with Drakes the past eight years, to be part of that too. I've been super fortunate, and maybe just a bit lucky.
48HILLS Where are you from originally?
ALAIN GRISSETTE Norcal born and raised, my dad is from Youngstown, Ohio, was in the Air Force, and in '67 married my mom who was from Quebec (crazy story.) He was able to get himself stationed to Beale AFB up near Marysville, where I was born. We wound up in the East Bay in the '80s, Lafayette then Pittsburg, where my mom still lives. My pops passed when I was 23.
At the age of 21, after a short stint in Saudi Arabia working for the military after the Gulf War (crazy story), I transferred into Cal and moved to Berkeley, and now have been in Oakland for the past dozen years.
48HILLS How did you get started as a DJ?
ALAIN GRISSETTE I was always into music, mainly from my dad and his old soul and blues records. But also a lot from my older brother, who was going to school in Berkeley when we lived in Lafayette and was bringing back all this burgeoning new music, like Prince and early hip hop that you just weren't hearing anywhere, let alone early 1980s Lafayette. I'd make tapes for friends at school and that just kind of continued into my adulthood.
It took a couple of friends—Blake Davis of Papa's Culture fame, who was also a bad-ass reggae/hip hop DJ in his day, and my man Yamu Myles, who was part of the early Mushroom Jazz sessions with Mark Farina. These cats really helped me find my style and inspired me to pick up DJing with vinyl.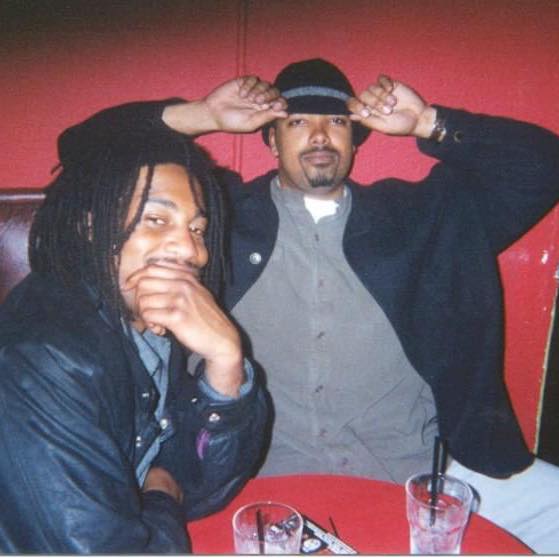 This was 1996, and I had already been booking Jupiter for a few years, only live bands at that time. I was able to convince them to let me and Yamu host a DJ night [called] Beatdown. Back then, there wasn't the DJ scene in the East Bay that we know now—it was pretty thin. We were outside, no cover charge, it was early, and we still played all this club-level stuff, so it was really a unique thing. The styles and genres we blended together got us a really solid following. And [since] this was before the condos came, we'd really just blow the place out and have the whole patio packed and bouncing. It's really hard to imagine, knowing Jupiter now unless you were there.
48HILLS What types of music first inspired you to start playing records in public?
ALAIN GRISSETTE I guess it started wanting to play my dad's old soul and jazz records, but I was steering away from the hip hop I grew up on and getting turned on to a lot of jazz through my buds gigging around SF. I was really getting into the electronic scene coming out of the UK, particularly drum and bass. Seeing Roni Size at Bimbos in '97 was all I needed—it's still my number one all-time show—and the downtempo, melancholic vibes from groups like Massive Attack, Portishead, Alpha, Tricky. I was convinced there was a side room audience here in the Bay for these styles. We had great record stores back then like Mod Lang on University and Leopold's on Durant that had great import sections, and I'd just get turned on to so much varying stuff. I knew plenty of cats that could kill a hip hop set, or kill a house or breaks set, so I just found my niche doing my thing, the side-room jungle/downtempo guy. Turning people onto stuff they likely wouldn't hear from other DJs was what I enjoyed, particularly [through] the downtempo mixes I put out back then.
48HILLS How did you get your start at Jupiter?
ALAIN GRISSETTE I was going to Cal and became a fan of the spot. My friends and I were always there, and I wound up getting a job as a doorman through one of my musician friends who happened to be dating a manager. This was 1993. At the time Jupiter was having music only on Saturdays, the same three rotating bands. [Programming] was being handled by the GM, who didn't put a lot of effort into it. At this time, I had a lot of musician friends who were in up-and-coming bands playing in SF, cats from Papa's Culture, Daddy Goddus, Mingus Amungus, et al. They all lived in Berkeley or Oakland, and they would come by Jup for beers, and they'd tell me that I should ask the GM to let me handle the music booking so I could then give them gigs closer to home. And somehow it worked out. I convinced management that to get the good bands, they had to give me a decent budget, which they did, so we started right off doing five nights of music [a week.] A lot of these bands were only playing in SF cause the venues in the East Bay for these types of bands just weren't there yet—spots like the old Elbo Room, Paradise Lounge, Up and Down club, bands like Charlie Hunter, Broun Fellini's, and Mo'fessionals. Papa's Culture had the Wednesday nights that summer of '93 when they were huge locally, and that patio would just be a teeming sea of bodies, festival sound system—just bananas. So, pretty good success right off the bat.
But again, this was when there wasn't anyone living around us, before the downtown condos moved in and we had to really reign it in. We went into a surreal few years in the 2000s where we had to do sound monitoring at all these different points around the block and had all these parameters we had to comply with. Like how many minutes per hour we could be above a certain decibel level, and the level limits changed by the hour.
Man, it was ridiculous.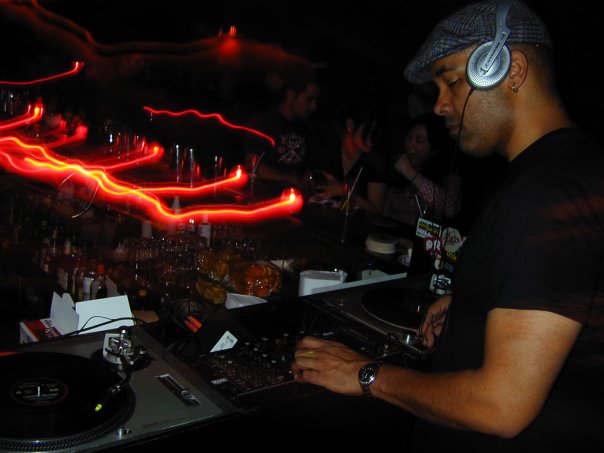 48HILLS What are the venue's distinguishing features that set it apart from other venues in the Bay Area?
ALAIN GRISSETTE It's really an oasis in the city center, this college town. We're just a block below campus and yet it doesn't feel like a "college bar." It got its own thing, with the redwood tree and the multiple levels. It seems like, while so much of Berkeley has changed and evolved, and especially downtown, that the Jupiter patio is a classic and welcoming urban space year-in, year-out. Because it is first and foremost a restaurant, we've been able to get away with what we do as a music venue for so long. The vibes created here through live music performances in this outdoor space, under this tree—what it's seen and been witness to. I love being part of it.
I love having those memories and still being able to come here and have it feel just like it always has. To still be a successful enterprise 30 years on, in an ever-changing city—kudos to the ownership for keeping-on, keeping on. And keeping me on. I love knowing that it's been this institution for now-multiple generations of so many young people who have come to work and be part of this amazing staff.
48HILLS Jupiter has live music and DJ-led events that cover a wide range of genres. How do you as a booker blend [the programming] so that it appeals to everyone?
ALAIN GRISSETTE Yeah, it was a trip to be in both of these worlds of live musicians and then DJs. They seemed so different, but there were just as many similarities as differences in what you'd look for. The ownership and I were on the same page as to the style we wanted Jupiter to reflect. That was to be rooted primarily in jazz, but allow for tangential styles, whether it was funk, soul, Latin, reggae, bluegrass. And the same for the DJs, keeping it varied with styles that were not too top-40 or too mainstream but still welcoming and familiar.
There's a sense that as a restaurant, we're just providing background music for folks eating and imbibing, so the challenge is to find bands and DJs that understand this and can be professional for the customers as well as the staff, all while finding room to be expressive and true to themselves. To stretch their art in ways that are fulfilling to them as well as the audience, so it's not a Murph and the Magictones situation.
48HILLS I've been listening to and enjoying your DJ sets for … sheesh, I'm old—at least 20 years. Whether we were on the same gig, or I was meeting people at Jupiter for good pizza and tasty cider, vibing in the garden, or stopping by randomly when you used to play for the—what you used to call "shiny happy people" at Laszlo in SF. By the way, the doorman at the time would always tell me on Saturday nights, "If it's Alains night, that means adults are in the building and my job is easy."
ALAIN GRISSETTE Ha ha. I really loved those early Laszlo years, the Mission was still really fun back then. And I still got the mix file for the set we did at El Amigo like 10 to 12 years back—that was a fun one too. But yeah man, thank you brother. It's good to have heads around that have been there, done that, and are still doing their thing, providing that cultural memory bank that bridges generations. Particularly in the Bay, which sometimes feels so foreign compared to just 10 years back, let alone the '90s.
48HILLS What's the one thing that connects all those different sets for oh so many different people, who may listen to various styles but all have a smile by the end of your set?
And trust, I've seen the smiles…
ALAIN GRISSETTE Dang that's a good question, and thank you. I was always the dude that could get dozens of great responses and kudos, and I'd be focusing only on the bar manager that hated on a set of mine, or the request-maker that got all moody cuz I didn't have their song.
But you're right, it is nice to get smiles. I guess it's [about] trying to create a flow and letting the music do the work. I don't get too jiggy with it, so to speak—trying to get cute with scratches or airhorns and shit! I just select music that reflects my influences, the vibe I'm trying to achieve, and just try and stay true to that.
48HILLS Last question, and it's a DJ/music nerd one. What is the one record—vinyl or digital—that winds up in your set, no matter the night or crowd you are playing for, and why?
ALAIN GRISSETTE I love doing the wind-down at the end of nights, the 1:30 to 2am GTFO vibe. While some DJs like to bang all the way up to the end of the night, I like to bring the pace way down, and end with chill shit. Set the mood for folks to go home and get it on.
I got a few super chill cuts I always try and stick in there, like "Mr New York" by Leron Thomas, a great tune about the foreign-ness of NYC to an old-timer. It always felt very reminiscent of how heads feel about SF and Oakland recently. There's this incredible jazz ballad that came out on Compost Records maybe 20 years back,"Clouds" by Wei-Chi. It just casts a spell with this slow relentless bass line over brushes, perfect vocals, and strings. Hypnotic for real. But one that goes all the way back, one of my first vinyl purchases at Mod Lang, is "Roygbiv" by Boards of Canada, a classic melancholic boom-bap that has always fit nicely into a chill hip hop or breaks set. Just an all-timer.
DJ DELON'S 30TH ANNIVERSARY THROWDOWN Thu/27, 7-10pm. Jupiter, Berk. More info here.