A sizable and loud crowd gathered in front of the office of District Attorney Brook Jenkins today to demand justice for Banko Brown—and in some cases, to call for the resignation or recall of the DA who won office after a billionaire-backed recall of her predecessor.
"Justice starts with truth," Sup. Dean Preston said at the rally. "And truth is in short supply in the killing of Banko Brown."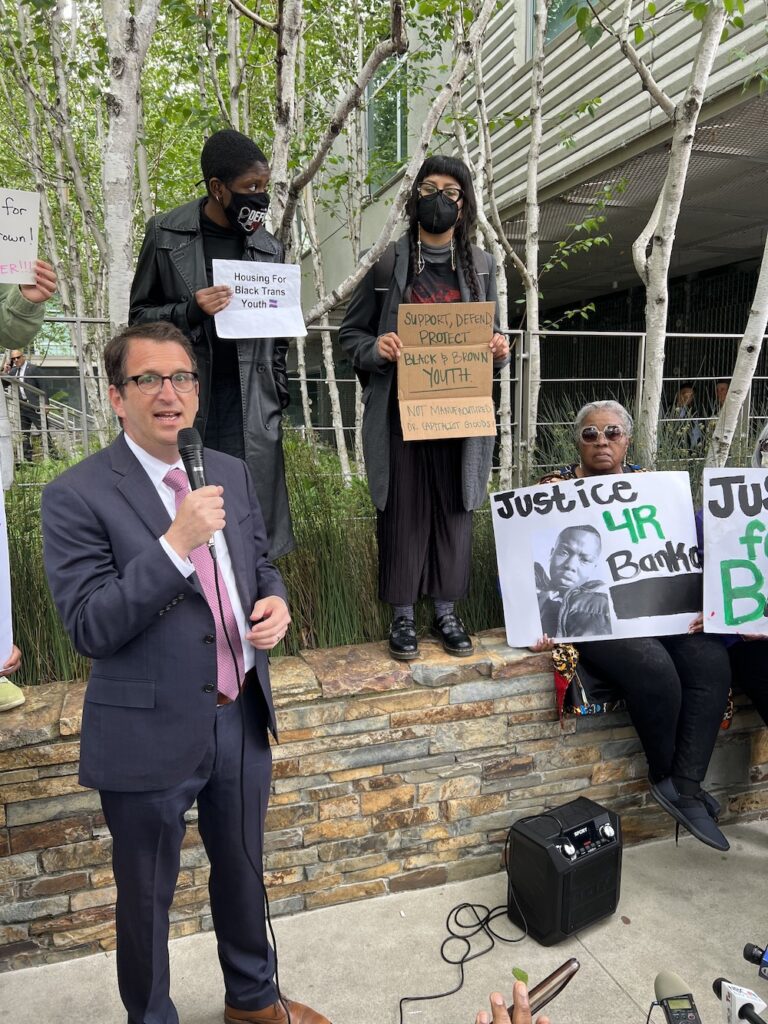 Preston noted that DA Brooke Jenkins first said that this was a clear-cut case of self-defense. "That was a bald-faced lie." Then she sent a condescending letter to Sup. Shamann Walton saying that she could not legally release the video. "That was a lie. We discovered it was a lie because she released the video.
"I am sick of the lies in this case."
Rev. Amos Brown, the pastor of Third Baptist Church who has in the past been an ally and supporter of the mayor, said that "a human being has been murdered." He addressed the allegations that Banko Brown had stolen some candy, saying that "our ancestors were stolen from mother Africa … this city is guilty of a crime."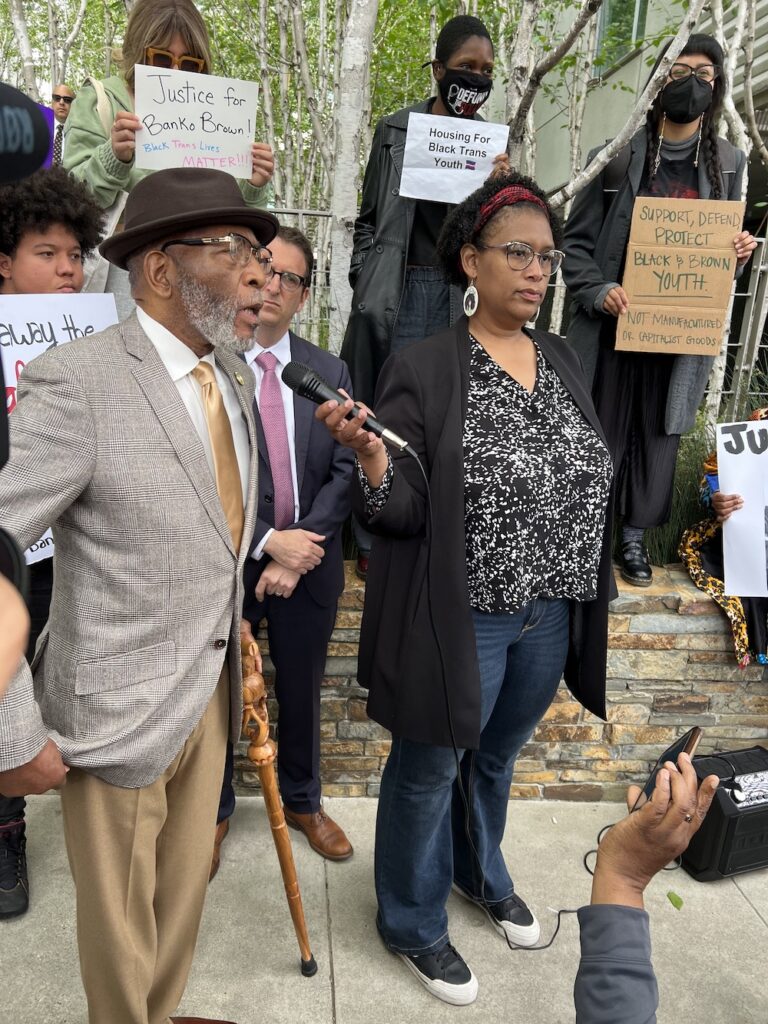 Honey Mahogany, the chair of the Democratic Party, said that "these have been very tough years for the trans community." Mahogany said that the city has been telling trans people that this is a safe place, that they can come here from states that are attacking their existence. "But why are we calling them here if it's not safe for them?"
Kevin Ortiz, co-president of the Latino Democratic Club, said that the city leadership has created the economic conditions that led to this killing. "This is on London Breed, the governor, the ruling class," he said.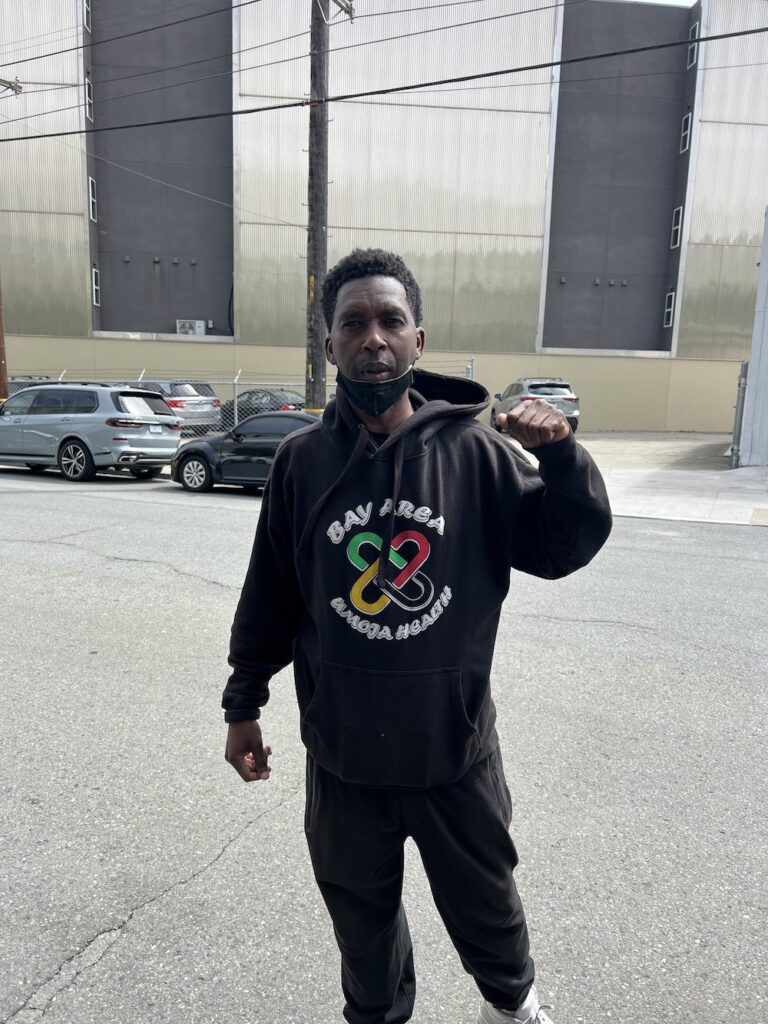 While the press conference was going on, I was able to speak to Kevin Epps, the legendary filmmaker of Straight Outta Hunters Point." Epps told me he grew up with Banko Brown's father.
"This is a tragedy beyond epic proportions," he told me.
A security person who probably worked for the DA's Office was watching the protest, with cuffs and what looked like a concealed gun, even though Jenkins and her staff work behind a locked iron gate and everyone at the rally was entirely peaceful.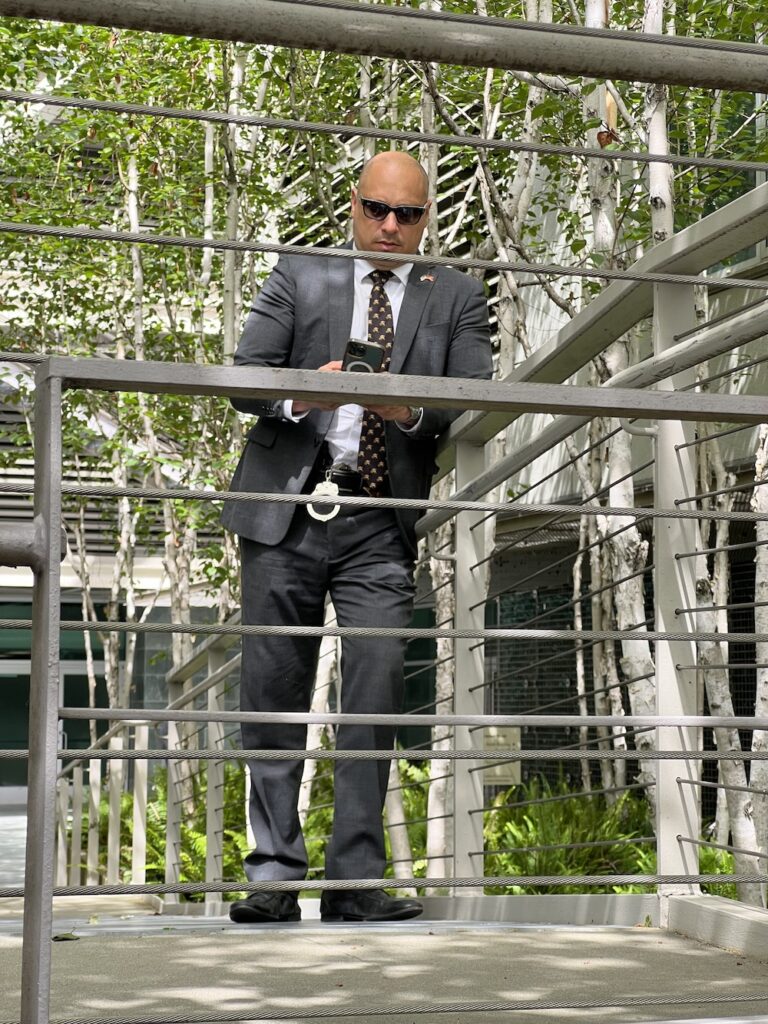 The pressure on Breed and Jenkins continues to build: At tonight's Police Commission meeting, Max Carter-Oberstone, the commission vice-president (and an appointee of Breed) said that he was "alarmed" at the way Jenkins handled the case.
"She expressed a decision before our own Police Department had finished its investigation," her said. "The fact that the suspect made of claim of self defense that is not corroborated by the video or witnesses is extraordinary."
He said that the responsibility of a prosecutor "was not done in this case."
Police Chief Bill Scott carefully avoided saying much about the decision, but he did say that his department, after reviewing the available evidence, booked the guard on charges of murder.
Representatives of a broad range of San Francisco organizations and activists were at the event today. Every supervisor, including Breed's allies, expressed concern at Jenkins' actions.
I suspect the mayor and the DA are hoping that all of this community anger and organizing dissipates before the 2024 elections. I'm not sure that it will.