If there is a guide to how a literary journal can publish for 35 consecutive years—and even survive the three year shipwreck otherwise known as the coronavirus pandemic—it might be found in the archives of ZYZZYVA. Founded by Howard Junker in 1985, the San Francisco-based publication initially began as a platform designed to give high prominence to West Coast poets and writers. Its footprint grew in distinction, and soon, its vigorous editorial pursuit of diverse national and international voices became obvious. Among many others, ZYZZYVA has published the work of Raymond Carver, Kate Braverman, Kay Ryan, Kaveh Akbar, Tommy Orange, Lucia Berlin, Rebecca Solnit, Daniel Handler, Adrienne Rich, Lawrence Ferlinghetti, Haruki Murakami, Peter Orner, Sherman Alexie, Robert Hass, and Ursula K. Le Guin.
Catapult to May 2023, and one finds the organization that has powered along with a minimal staff of three and has known only two editors-in-chief (Junker, and for the last decade, Laura Cogan) announcing its newly appointed editor, Oscar Villalon. Introducing himself to those readers who might not already know him as ZYZZYVA's longtime managing editor, Villalon writes in Issue No. 125 that his intention is to "keep things as excellent as they have been since Laura became editor in 2011." The launch of the new issue and a celebration of Villalon's appointment will be held May 25 at The Booksmith in San Francisco.
With the continued presence of Cogan as editor-at-large and the arrival of former San Francisco Chronicle book editor John McMurtrie as senior editor, Villalon heralds ZYZZYVA's "triple-cherry pull on the slot machine of life." Joined by a sturdy group of a half-dozen contributing editors, the team will continue business as usual, which in addition to the issues published this year include hosting or participating in readings, panels, and book festivals, and offering writing workshops, internships, and other outreach initiatives.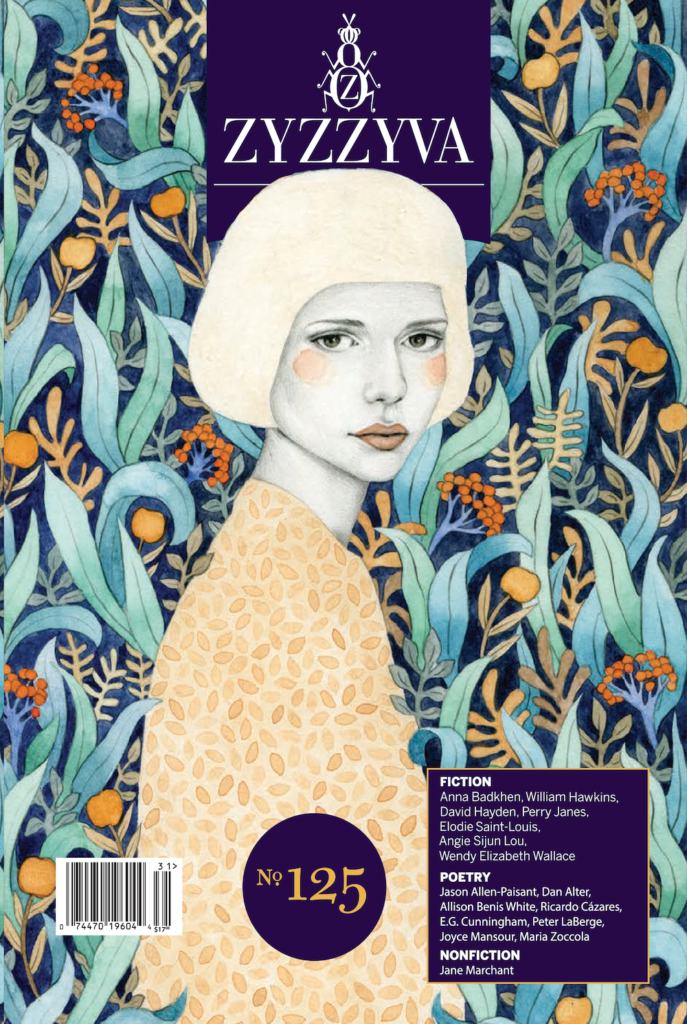 A person seeking for the golden thread that has held ZYZZYVA together for more than three decades might assume the "aha" is in the steady staffing, or due to the stunning literary stars shining in the index of writers, or perhaps its commitment to excellent writing. They might point to industry recognition coming in the form of awards, such as frequent inclusion in the Best American anthologies, Pushcart and O. Henry Prizes, the Council of Literary Magazines and Presses' 2019 Firecracker Award for Best Magazine; an AKO Caine Prize for African Writing awarded for a story published in 2021, and the Whiting Literary Magazine Prize received in 2022, along with the Recognition Award from the Northern California Book Awards. People more inclined to attributing ZYZZYVA's durability and success to serendipity or "right place at the right time" or simply luck, could also make a strong argument.
But many equally excellent literary journals are lightly staffed by top tier management and loaded with artistic talent—and have collapsed. Under the weight of plunges in the general economy and constantly rising production costs, there is the added pressure of competition from journals supported by academic institutions, and the massive impact the internet has had on reading and writing. It's likely that the best answer as to how ZYZZYVA has outlasted others is "all of the above."
In an interview, Villalon says a literary journal wants stability, but the only way to get it, ironically, is by seeking out and risking new things, by deliberately avoiding becoming a "we've always done it this way" echo chamber.
"The way you avoid that is the same as what they used to tell newspaper editors: it's getting out of the office. It's going to readers and listening to them, having coffee with folks, going to book festivals," he opines.
He says his approach based on curiosity and a hunger for alternative voices is instinctive, not prescriptive or performative. "My degree is in political science,; I don't have an English degree. So, you see? I was already coming in through the side door."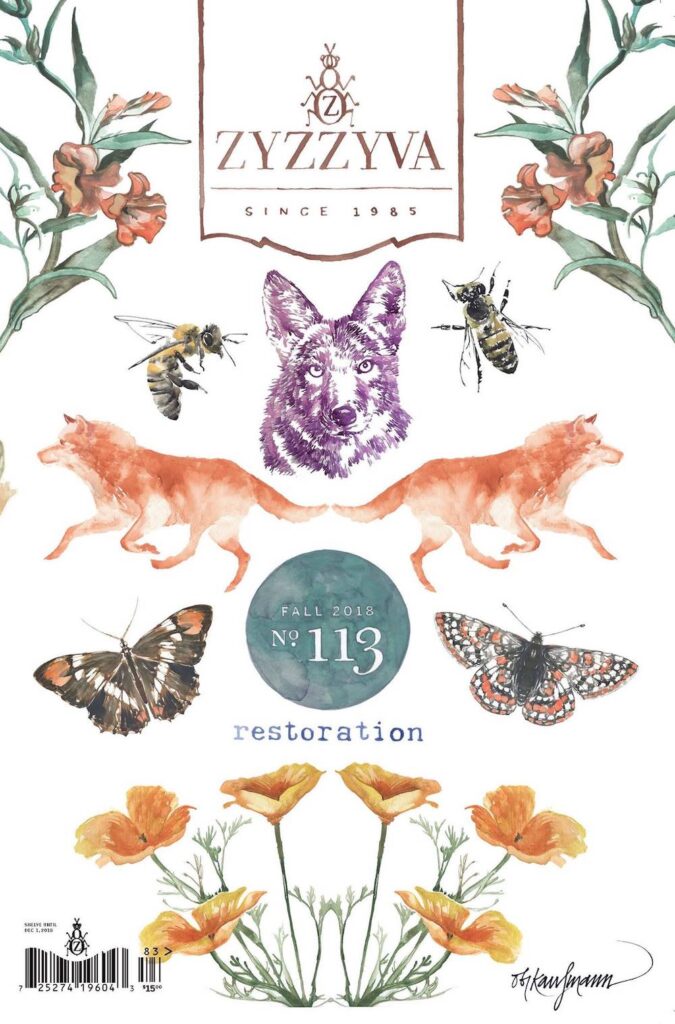 What we see here is the literary push for more, then more again.
"We're working on boosting our book reviews," says Villalon. "The panels, we do a good number and average at least once a month. We did over 25 events during the pandemic and have never had more than three people on staff. I'm used to churning out copy, pedal to the metal every day. I apply that mindset. You work at five things at once."
The day of his interview with 48hills, Villalon was on BART, headed to the Bay Area Book Festival. In his satchel was Fernanda Melchor's This Is Not Miami, and the Penguin reissue of Harry Crews' A Childhood. He calls his tome-toting habit, "cramming more reading in wherever and whenever possible."
Asked what he would most like to read and publish more often in the coming year, he says, "I want to read things that relate to the time we're in, but also relate the day-to-day, timeless things. There are voices coming from Latin American and Eastern European sensibilities and writers that came out of Black America that have the context of people just living their lives, and also the framework of the very trying times we're living in. It's writing that's cognizant of today and there's also love, death, work, children, parenting—eternal things. Writers try to explain to themselves the times they're in and we're still working out what that means. We're trying to come up with narratives that shed some light on our predicaments."
In a separate interview, Cogan says that kind of writing takes time.
"For most of us, pouring what we come to understand about what's happening [she mentions Covid and AI], especially in fiction, takes time. I just go to submissions with a really open mind. As long it's a writer engaged with something important, it's not a specific theme."
In the coming year, she says ZYZZYVA editors would like to support more long-form journalism, with themes that are generative and open-ended, and writing that cracks open topics such as civil discourse without being formulaic.
Like Villalon, she's rarely empty handed when it comes to books. "I pack multiple books for a short trip because I'm not sure what kind of mood I'll be in and what I'll want to read. There was a shift in my consciousness when I was reading everything, but not thinking writing was something happening around me all the time. There were literary journals publishing work that was happening in real time. Literature is not just a codified canon; it's a conversation. The journal does the same thing: we've created conversation with the physical journals which I hope are beautiful, and a deepened sense of community that is everything in concert: the journals, workshops, annual events, internship program, relationships with bookstores …"
Departing her role as the editor atop the masthead, but not her involvement with ZYZZYVA, she says, is bittersweet. She's leaving the head post with "the wind in our sails" from recent accolades earned, and confident that her team will continue to foster the best literature of the Bay Area and beyond. It's perfect timing, this stepping-back before burnout might dampen her passion for literature—not that this outcome was a given. Indeed, she's quick to say that she's excited to "read on a whim," and will no longer feel guilty when carving out three hours on an occasional Sunday for doing just that.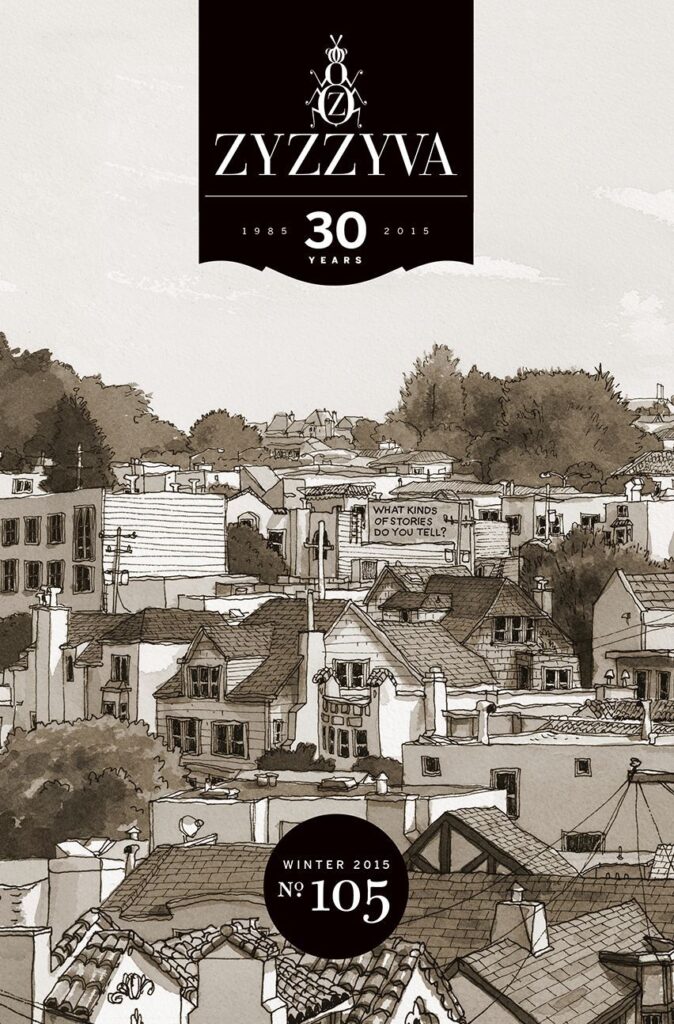 Returning to an early question about how ZYZZYVA has outlasted many other literary journals and continues to thrive, their separate answers run on parallel tracks. Cogan chalks it up to high caliber writers, a non-exclusionary focus on Bay Area culture, the playful and yet elegant design of the journal with stable cover elements ensuring instant recognizability, and the holding-on to an overall aesthetic that allows both artwork and voices to shine. Villalon says the publication's survival comes from reflecting society at large, taking risks, and never forgetting that the point of existence is linked to joy, solace, exaltation, excitement, asking questions, and discovering beauty.
Having lived in the pressure cooker of Covid, it's now time to shed a little anxiety, drop the minute-to-minute emergency mode, and have some fun. Which means in Villalon-speak: roll up your sleeves, expand the board of directors with additional "collaborative people who want to do cool things," and keep seeking out new, necessary work by discovered and discoverable voices. Oh—all that, and never travel anywhere without something to read.
ZYZZYVA ISSUE 125 CELEBRATION Thu/25, 7pm, free-$10. Booksmith, SF. More info and tickets here.