For spectators, San Francisco's Carnaval celebration offers lively music, wild dancing, glittery costumes, and spicy food. But for those familiar with the City's diverse underpinnings, the event also provides a setting for community organizing.
"Carnaval is an organizing movement that feeds the spirit, souls, minds, bodies, and hearts of our people with culture and social justice," says Roberto Hernandez, the event's emeritus executive director and CEO of CANA, an organization committed to preserving and showcasing Indigenous arts and cultures through events like Carnaval.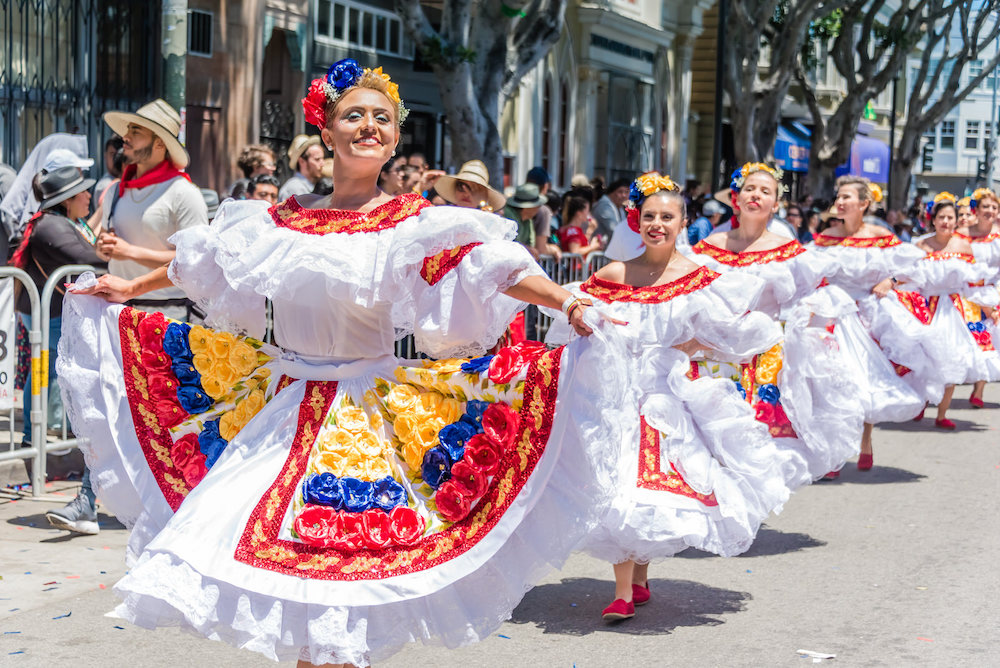 Dance, a pivotal part of the annual festival and parade (which takes place in the Calle 24 Latino cultural district), is in and of itself a powerful form of activism. It unites diverse groups to raise awareness, advance social issues, and provide an opportunity for emotional release. "It is an expression," says Carnaval's executive director Rodrigo Durán. "It is great to build relationships. The Latinx culture is rich in dances and music, and these different genres of music bring people together."
For 45 years, Carnaval San Francisco has fused Latin, Caribbean, and West African music, dancing, costumes, arts and crafts, and cuisine in what's grown into California's largest and longest-running multicultural celebration.
True to its mission of uniting people of diverse ethnicities, nationalities, and ages, the event boasts traditional music (salsa, mariachi, cumbia), more contemporary sounds (reggae, samba, bachata, dancehall, hip-hop, Afro-beats, and reggaeton), and tech and gaming activities.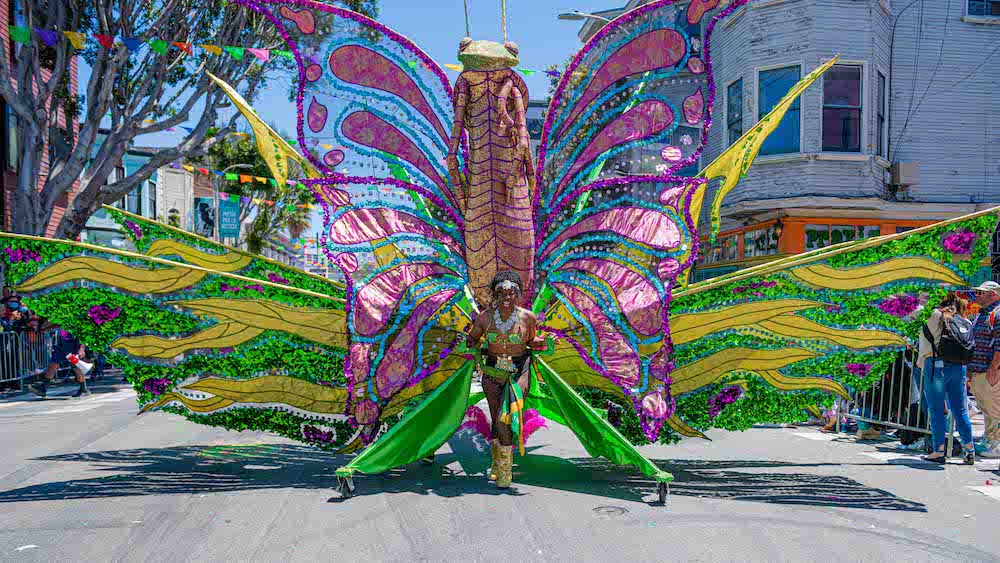 Headliners for this year's festivities (Sat/27-Sun/28) include Colombia's 61-year-strong cumbia-style group La Sonora Dinamita, and influential Cuban pop juggernaut Los Van Van.
The event's centerpiece is Sunday's grand parade, featuring a brilliant procession of contingents, many incorporating eye-catching floats and engaging performers.
I spoke to Hernandez and Durán about this year's can't-miss moments, the challenges of keeping the celebration going after over four decades, and fulfilling the missions of legendary Latinx civil rights leaders like Cesar Chavez and Dolores Huerta.
48HILLS What are some of the highlights of this year's Carnaval?
ROBERTO HERNANDEZ The colorful origins of America, world beats, international languages, organic foods, and Indigenous dances from Latin America, the Caribbean, and Mother Africa. This year, we're celebrating 45 years of music and movement, honoring artists that have paved the way for us.
We are showcasing two internationally renowned artists: La Sonora Dinamita and Los Van Van from Cuba. It took 30 years to get Los Van Van to perform at Carnaval due to the US government's lack of respect to provide artists from Cuba visas to the US.
48HILLS What makes Carnaval San Francisco stand out from similar celebrations elsewhere?
RODRIGO DURÁN Carnaval San Francisco is the only place in the world where you can enjoy and experience the music and dance traditions of 23 different countries—all in two days. In no other place will you find such foodie diversity. We treat the community with a little piece of all the Americas at Carnaval San Francisco's marketplace. It's the only Carnaval parade led by lowriders, a reflection of our culture in the Mission District that cannot be replicated.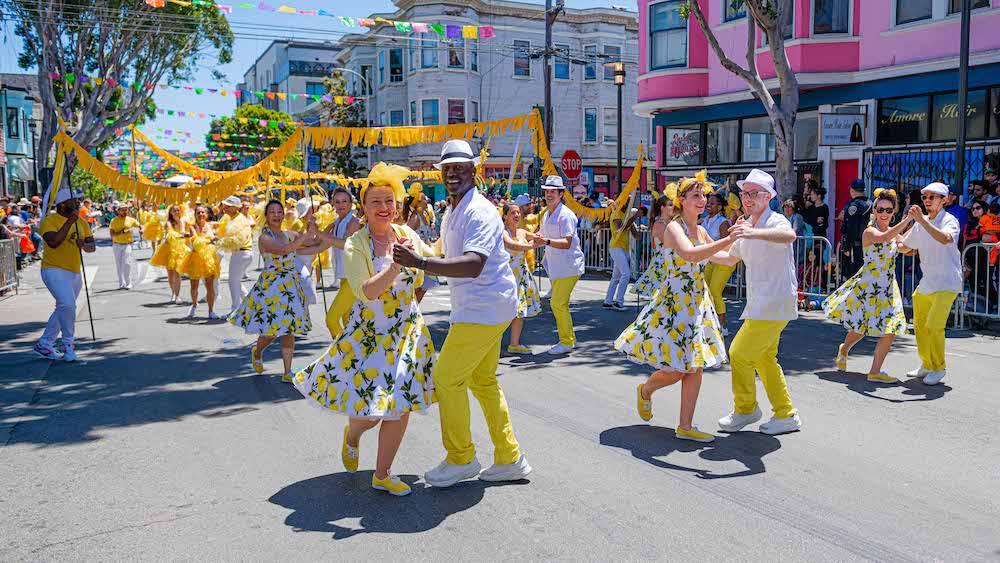 48HILLS What can you tell me about the founding of Carnaval San Francisco 45 years ago, and how it's evolved over the last four and a half decades?
ROBERTO HERNANDEZ Carnaval San Francisco was born directly from the deep inner spirit, soul, love, mind, and body of Black and Brown people of the San Francisco Bay Area who gathered in the melting-pot Mission District, planning and plotting to express themselves, take up space, and preserve and showcase cultural roots.
From its inception with a few hundred people to its heights of over 500,000, Carnaval has maintained its roots of resistance and love that shaped it 45 years ago—and today we still carry that same legacy.
We've been present in movements throughout the Bay Area and the country's history. We are an extension of the civil rights movement. We've been present for the United Farm Workers, LGBTQI Black Lives Matter, climate change, gentrification, Alex Nieto, Mario Woods, and the COVID pandemic.
48HILLS What changes would you like to see in the next five years?
ROBERTO HERNANDEZ Over the next five years, a new generation of young leaders will carry the flag to continue to educate our youth about the cultural traditions as they reach and celebrate our 50th anniversary in 2028. We have hopes for the MIssion District and will work with our Native American brothers and sisters to create wellness centers, recovery-supportive housing, homeownership, urban farming, green streets, mercados, workforce, and educational hubs.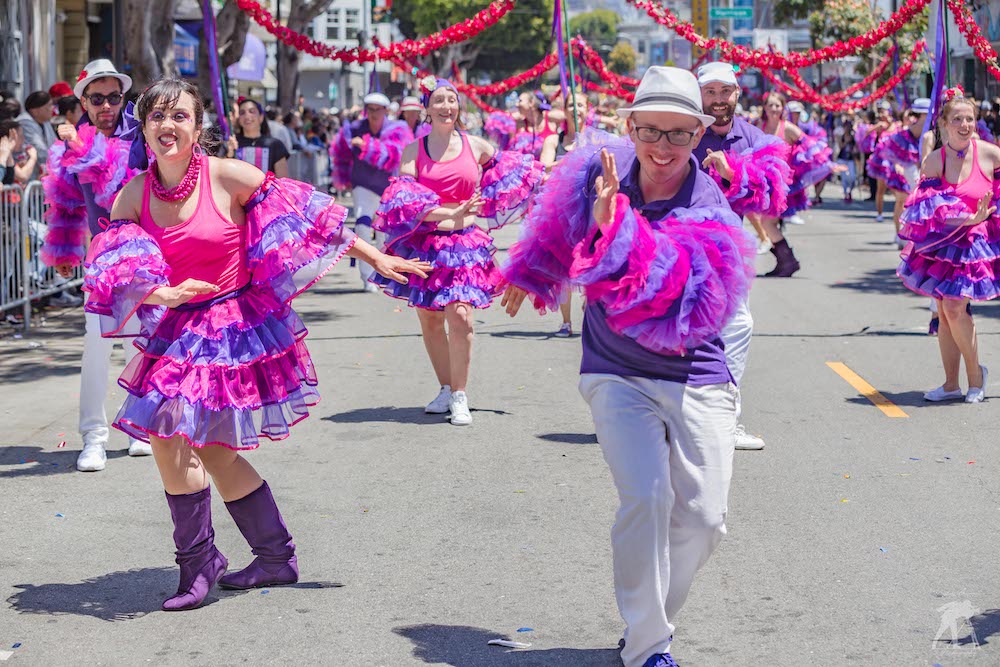 48HILLS What drives you to keep Carnaval going? What challenges must be overcome to ensure that future generations continue to appreciate and celebrate events like this?
RODRIGO DURÁN I'm a new father, and right now, the thought of having a community or a village around my daughter as she grows is important to me—and many in our Carnaval community feel the same way.
This is a generational celebration, and we take pride in instilling our culture, language, and music in the next generation. Before I was a father, seeing the youth in the parade and the festival filled my heart with joy and hope. That keeps me going.
The challenges we face every year are the ongoing increase in city permits. It's paradoxical that Carnaval and celebrations like these get funding from the City, so we can return the money to all the city departments by paying our permits to celebrate. That is always a challenge.
Then, how to ensure community involvement. If you're an individual, volunteer. If you're part of a group or an ERG, then donate your time and money. Bring resources to Carnaval. If you're a corporation, be a sponsor, and then get your people involved. If you're a dancer or musician, that's the holy grail for us. Join a group, start a group, and be involved in our parade and festival. Those are great ways to ensure that Carnaval continues.
48 HILLS Carnaval is a melting pot of Latin American, Caribbean, and African traditions. What can people in SF learn from seeing so many cultures together at a time when the City is seemingly turning into a monoculture?
RODRIGO DURÁN Carnaval teaches people that another world is possible. I've seen people of Asian descent dance better Cuban timba salsa than some Caribbeans or Cubans. I've seen some Mexicans dance better samba than some Brazilians. So people will see and realize how connected we are, and how beautiful it is to see folks from other cultures and countries embrace something outside of their immediate culture. Seeing that plants the seed that there's beauty and strength in learning about another person's culture, and seeing that kind of solidarity. I use the word "solidarity" not in the form we see in politics. There's a real humbling and loving solidarity coming from being exposed to and part of a multicultural celebration.
San Francisco is becoming a monoculture, not only in demographics or ethnicity, but also in the job market. So it's important to diversify. What kinds of folks coming to the City will benefit us in the long term—and will diversify us?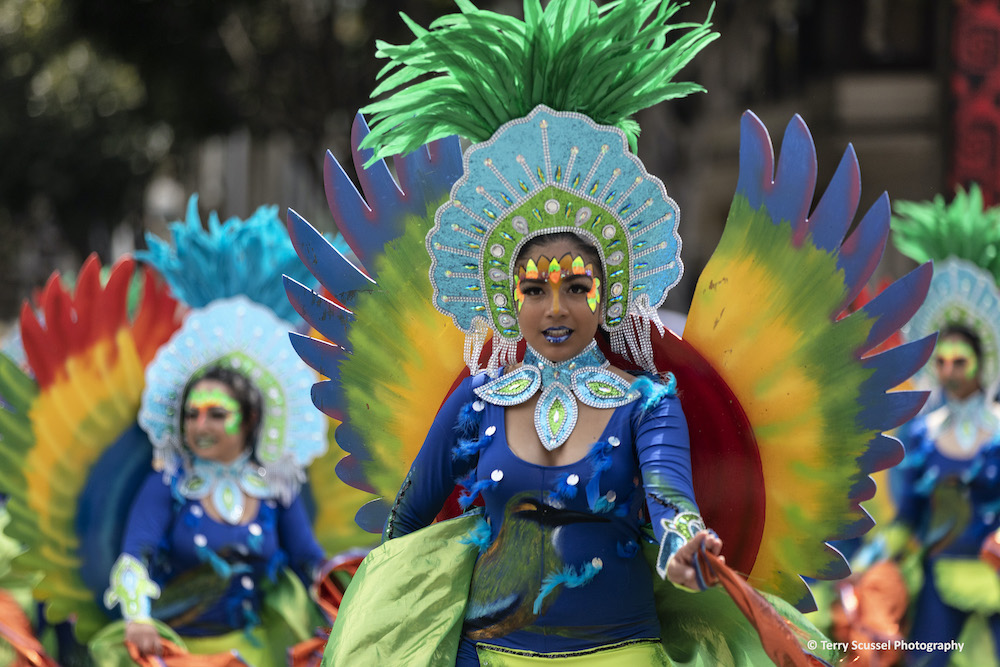 48HILLS Roberto, speaking of politics, you've been called "Mayor of The Mission" after decades of founding community-serving housing, nutritional, mental health, and cultural programs. What inspired your activism?
ROBERTO HERNANDEZ Born and raised in the Mission District, I learned Spanish at home; at school, I learned English. I struggled to learn since there were no bilingual programs. I was made fun of and consequently grew to hate school. I grew up at a time when Brown people did not exist—you were either White or Black. My birth certificate states I was White.
My papa understood the racism at school and sent me as a preteen to volunteer for the summer in Delano, California, for the United Farm Workers, where I met, worked, and learned from Cesar Chavez and Dolores Huerta. They fed my spirit, soul, heart, and mind. I learned to be proud of who I was and came back chanting "Brown Power" in school with my fist raised.
I became a lifetime volunteer for the farm worker civil rights movement, which shaped the rest of my life to be of service in the community for change. I learned from both of them to organize and will continue organizing 'til my last breath on Mother Earth.
CARNAVAL SAN FRANCISCO Sat/27-Sun/28, free. Mission District, SF. Grandstand seating for the parade located on Mission between 22nd and 23rd Streets is available for purchase for $30. More info here.