Lorena Maza, who has directed 60 plays, along with several operas and musicals, has a special connection with the opera El ultimo sueño de Frida y Diego (The last dream of Frida and Diego), which premiered at the San Diego Opera in October and closes out the San Francisco Opera's 100th season, running through June 13. Maza is best friends with artist Diego Rivera's grandson, who she met when they were eight years old.
The opera—the first for both composer Gabriela Lena Frank and Pulitzer Prize-winner Nilo Cruz, who wrote the libretto—is set on Day of the Dead in 1957, three years after Frida Kahlo died at 47 years old. Rivera misses his wife and wants her to come back to the land of the living. Kahlo, who earlier in life suffered a car accident that left her with terrible pain in her spine and pelvis, isn't so sure about returning.
The opera, which reviewers have called "gorgeous," "striking," and "alluring," is the first one that the San Francisco Opera has done in Spanish and the first by a woman of color composer. On a video call from the opera house, Maza said she and the team of Mexican designers made sure to keep clichés out of the story—along with castanets and religious references. She thinks the two artists, who had a famously tumultuous relationship, belong to everyone and the opera being in Spanish means more people can connect with it.
Maza also likes being in San Francisco, a place that was important to both her artist subjects. They got married for the second time here—right across from the War Memorial Opera House at City Hall.
48 HILLS: The composer, librettist and members of the cast have praised the qualities you've brought to the production. What unique angles have you taken?
LORENA MAZA I would like to talk about my team of designers, who are amazing. Nobody really knows this, but in Mexico, we have a great stage design. There is a quadrennial stage design competition in Prague every four years, and Mexico always wins—scenery lighting, costumes — because we have a tradition of great stage design, very modern stage design. So, what we brought was to get away from all this mass media folklore notion of Mexico, and suffering Frida, and a tragic love affair. Especially this view of the Anglo-Saxon Día de los Muertos, which doesn't correspond to the truth or reality at all. We don't do parades. We don't dress as Catrina— we just do altars in our homes and go to the cemeteries to honor our dead.
At the end, this is an opera, a love story, a story about forgiveness, surrender, and also about finding your identity through art. What we did is bring our vision as contemporary Mexican artists to this story and avoid all this—I call it noise. These folkloric clichés of Mexico and of these two artists. Sometimes someone becomes so famous that you forget about their lives and their art. You just remember what they're famous for.
What we did, we went to the origin, and what inspired them to be who they were. Diego and Frida created a whole universe for themselves, and they shared everything they loved: their love for Mexico and especially for Indigenous culture, pre-Hispanic culture, popular art, and their activism on social issues. They were truly into this possibility of a new utopian society where the working class and Indigenous came together to build a new world. They also shared the passion for painting.
We went back to all that. We started taking these elements from their iconography and from their homes. Their homes are like portraits of who they were—what they collected, what they ate, their garments, everything that surrounded them informed who they were. And obviously, we went back to all their art and their iconography, and we made a distillation of the elements we thought could work with this piece. 
48H What were some examples of the way you did that?
LM To start with, there is a ceremonial ritual part because this is also a journey from the underworld, a reverse hero's journey—it's not to the underworld and back, it's from and back. They were atheists, but they were very spiritual in a way, and they were they were very ritualistic, so we went back to this ritual of Día de los Muertos.
Especially, we went back to the Aztec deities. For example, Catrina is a very popular figure created in the 19th century by José Guadalupe Posada. But he only did this drawing of Catrina in black and white, which was a skull with a fancy hat. He was a satirical caricaturist, and it was just to say that death is democratic, so it doesn't matter who you are, you're going to die. And then Diego made her a full figure and dressed her and put her in one of his murals, which is called A Dream of a Sunday Afternoon in the Alameda Park.
So, Catrina is also Diego's creation in a way. We were thinking how can we depict Catrina if she is always in disguise? We associated her with Cōātlīcue, the goddess of life and death for the Aztecs who has a serpent skirt.
48H What did you think when you saw Nilo's script and heard Gabriela's music?
LM I love that it doesn't refer stylistically to Mexican music. It just refers to a unique universe, telling a unique story. It's not a biopic. It doesn't describe them from any time of their lives. It's a last encounter, so it's a very fictional. Nilo wrote a beautiful, beautiful text, I've read everything he has written for theatre, and I consider him an amazing playwright. I love him, and I want to do more of his theater pieces.
When I really got into the material, I loved it, and I also thought it was a good idea to bring in a Mexican team. We did some dramaturgical work because certain references or phrases couldn't possibly be there. For example, Diego said, "God exists," and Diego was an atheist! The most atheist of all! So, we changed it to "Mictlán exists." Mictlán is the Aztec underworld. We did a bit, but not much with the dramaturgy.
With Gaby, there is this amazing part when we do a tableau vivant and the mural comes to life, and Frida for the first time is back on earth. She stopped feeling pain, and she dances around to beautiful music, very melodic. But she has—what are those things—castanets? And we said, "Listen, Gaby, castanets are not Mexican at all. They're Spanish, and I'm pretty sure Frida would have hated them. So could you please just change those things?"
48H I talked to Alfredo Daza, who is portraying Rivera, and he said he liked working with a living librettist and composer as opposed to say, Puccini, and how willing everyone was to give feedback and change things.
LM Everybody was so willing and open. Gaby is absolutely generous, and Nilo too. We made a wonderful team, and they really believed in our view. We're so happy we're doing this. And an opera in Spanish in California makes so much sense. In San Diego, many, many, many people in the audience were there for the first time in their lives because it was in Spanish and because they could understand it.
They could see themselves there, represented. So, they can say, OK, opera is also for me. I can understand this. I can relate to this. It was beautiful to have this opera in Spanish about two characters known by everybody telling a specific, unique story. It's a beautiful story, and very moving because Frida doesn't want to come back because Diego's love is her pain. Why would she want to come back? She comes back because of her art, to be a painter again.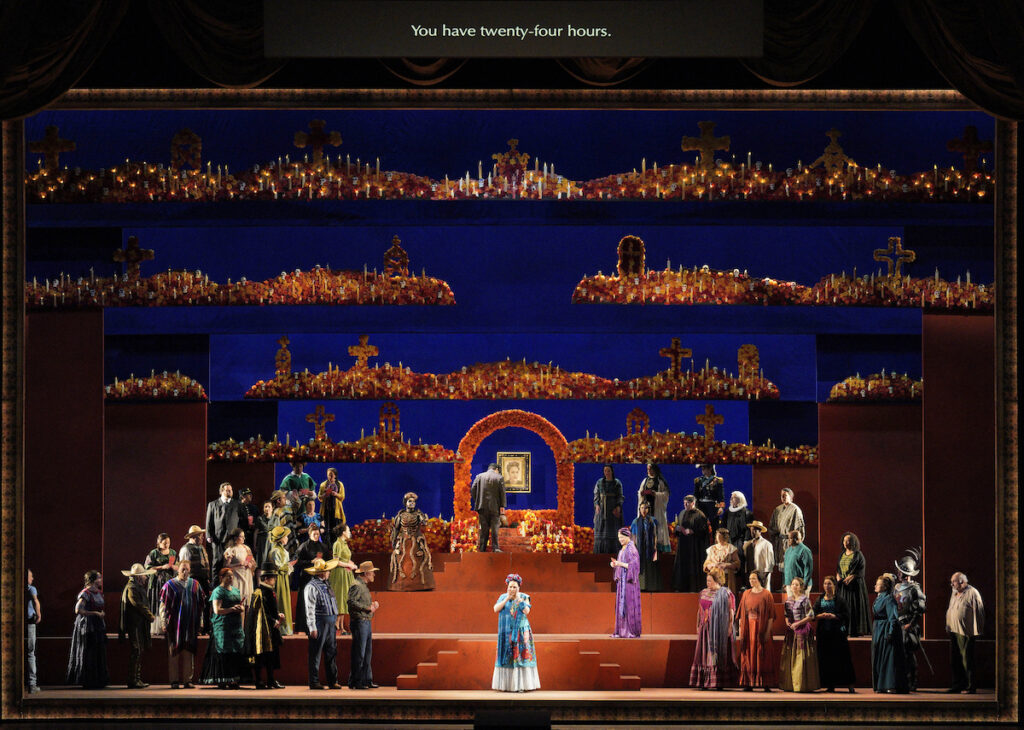 48H What did you learn researching this?
LM Frida and Diego painted our Mexican visual identity after the revolution. I hadn't understood that until now. When I think about Mexican history, in all my textbooks when I was a child, we had Diego's murals. Diego painted Mexican history for all the people who couldn't read or write in the 1920s. He made this very public, political, historical art, and Diego took politics into art and art history.
48H This opera premiered in San Diego and now it's coming to San Francisco, where they lived for a while. Why was San Francisco important to them?
LM The importance of them being in San Francisco is amazing. Because Frida when she came, on the immigration form she wrote she was a housewife. And when she left, she was a painter— she considered herself a painter. It was the first time she left Mexico, and she was recently married to this hugely famous muralist. So here, she realized truly who she was as a Mexican woman. And she created this image fashion-wise, and a true painter persona here. It was very transformative for both of them, especially for Frida. I do believe that she came here one way and when she left, she started to become who she was truly.
And to think they got married just across the street for the second time right here! For sure they crossed this path I cross every day.
EL ULTIMO SUEÑO DE FRIDA Y DIEGO runs through June 30 at San Francisco Opera. More info here.