If the first thing that springs to mind when you find out the SF Symphony is performing something called "Tchaikovsky X Drake" this Sat/29 is an unholy mashup of "Dance of the Sugar Plum Fairy" and "Hotline Bling," know that you are not alone. But it turns out the work, one of many such "fusions" by conductor-creator Steve Hackman, is less a mashup than a mapping of two romantic expressionists' aesthetics atop one another: Tchaikovsky's epic, swirling 1885 Fifth Symphony, which he characterized as "a complete resignation before fate, which is the same as the inscrutable predestination of fate" and 22 songs by Canadian rapper and former child star Drake, many culled from 2011 album Take Care, which takes as a theme "I been in this club too long."
Hackman's other fusions include Brahms and Radiohead, Bartók and Björk, Beethoven and Coldplay, Mahler and Biggie and Tupac. At this point hearing pop music and hip-hop in the symphony hall (or composers wanting to "expand the boundaries of classical") is no big shock—Brahms' 1879 "Hungarian Dances" Mahler's 1888 First Symphony with its klezmer folk tunes are repertoire staples; Carlos Niño and Miguel Atwood-Ferguson's 2009 Suite For Ma Dukes scored legendary hip-hop producer J. Dilla for chamber orchestra, etc. So the best way to approach Hackman's fusions is to listen to how he digs beneath the surfaces to reveal deeper musical truths about the artists' works.
"I became immersed in Drake's work via Take Care in 2011," Hackman told me. "I was immediately impressed by the craftsmanship, the rate of emotion and delivery, and his hybrid identity as a singer and rapper. Especially the song 'Marvin's Room' I felt was so intimate. He was really baring his emotions. And Tchaikovsky's Fifth just has a greatness in the classical canon as being so emotional—they were both wearing their hearts on their sleeve with this music. I want to expose audiences to that commonality.
"I've loved rap much since I was a kid, it's a kind music that is very familiar and comforting to me," Hackman said. "Hip-hop is probably the genre most befitting of mixing and interpolation and remixing because rap and spoken word are not married to some underlying harmonic structure. They have their own rhythm but aren't tethered the same away a melody is. You can take one rap line and superimpose it over any beat. That's why I think hip-hop is so explosive creatively and can be imagined so throughly. At the same time, I'm not just taking words and floating them over a classical composition. I'm wrangling all of these emotions and sentiments and weaving them throughout the symphony so that it becomes something new, that highlights Tchaikovsky's incredible expression as well.
"There are always those chance revelatory, felicitous moments when you realize a striking similarity between two artists like this—but what deepens my appreciation of songwriting and arranging is that make it myself. When you compose music that spans the spectrum of genres, you realize what great architecture lies beneath pop in relation to classical. I'm trying to start a conversation with classical musicians about popular music's depth and with pop audiences about the relatability of these composers from hundreds of years ago."
To that last part, Hackman has definitely brought classical touches into the pop world: a string quartet for Doja Cat at the Video Music Awards, a choir for Kanye West's shows, a full orchestra at the Greek Theater. And his own compositions for his project The Brink bridge music, multimedia, choreography, and fashion and design elements. "I do this because it's who I am, I love all this music equally," he said. "My early years were spent studying classical during the day and playing in a rock band at night. I just dreamed of not having to separate those things."
TCHAIKOVSKY X DRAKE 7:30pm, Sat/29 at Davies Symphony Hall, SF. Tickets and more info here.
MORE EVENTS OF NOTE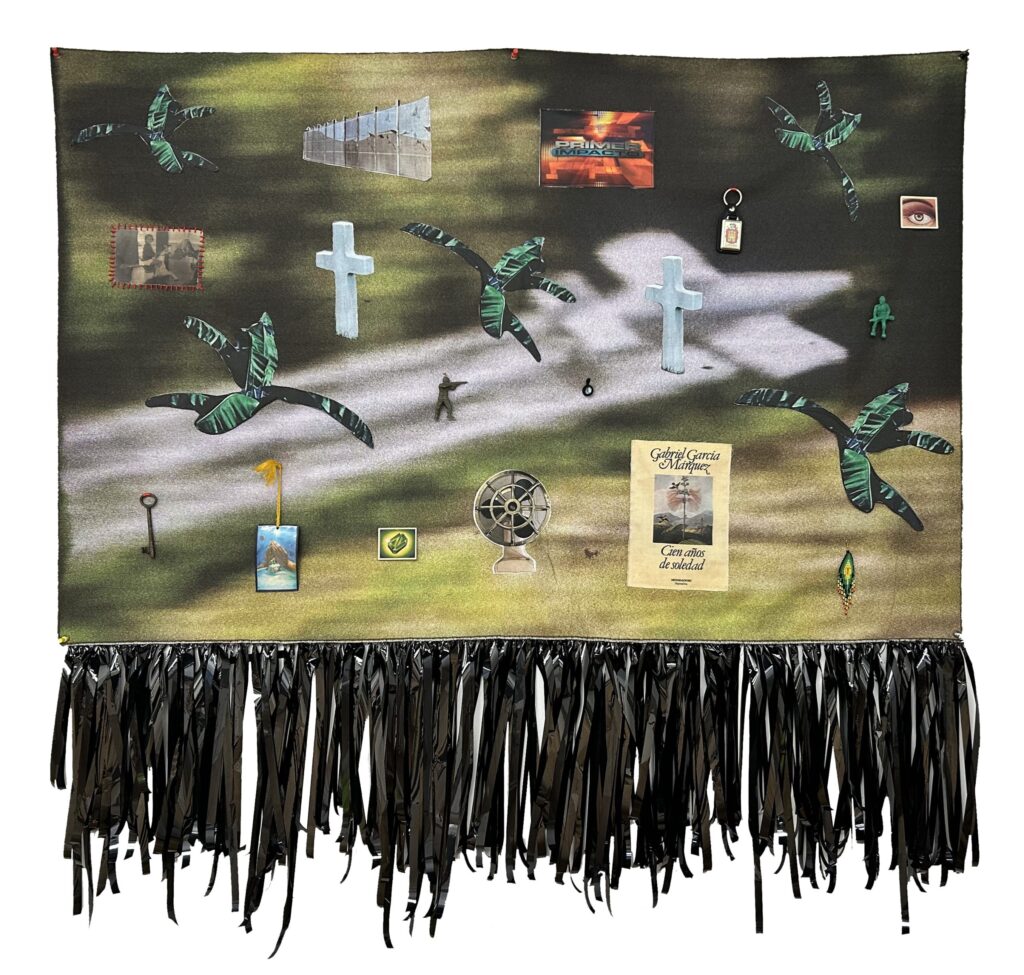 FRI/28: IN THIS HOUSE WE ARE ALL BURIED ALIVE Colombian-American artist Paola de la Calle takes inspiration from Colombian poet María Mercedes Carranza's piece "La Patria" in this stunning show, threading together "personal and collective memory to repair the ruptures of historical amnesia." Opening reception 7:30-10pm, show continues through August 27. SOMArts, SF. More info here.
FRI/28-MON/31: OUTSOUND NEW MUSIC SUMMIT The Bay Area is legendary for its legacy of experimental music and adventurous composers. Here's where to dive into the latest sounds, with appearances by Eki Shola, the Jack Curtis Dubowsky Ensemble, Isadora Kolmorgan, phog masheeen, and Las Sucias. Finnish Hall, Berkeley. More info here.
FRI/28: MADONNA SUMMER This jokey-sounding concept has no right to pop off as well as it does, mixing classic '70s disco Donnna Summer tunes with '80s boy toy Madonna bangers to keep you on the dance floor all night long. 10pm, Oasis, SF. More info here.
FRI/28: YOUNG HEARTS DORE ALLEY A fun affair leading up to this Sunday's great gay Dore Alley Fair aka Up Your Alley, and probably the only one not expressly X-rated. Good for them. DJ Nark's party features Sassmouth, D.A.D., Jesse Frank, and Mondo Nexus for some wild dancing. 9pm-2am, Public Works, SF. More info here.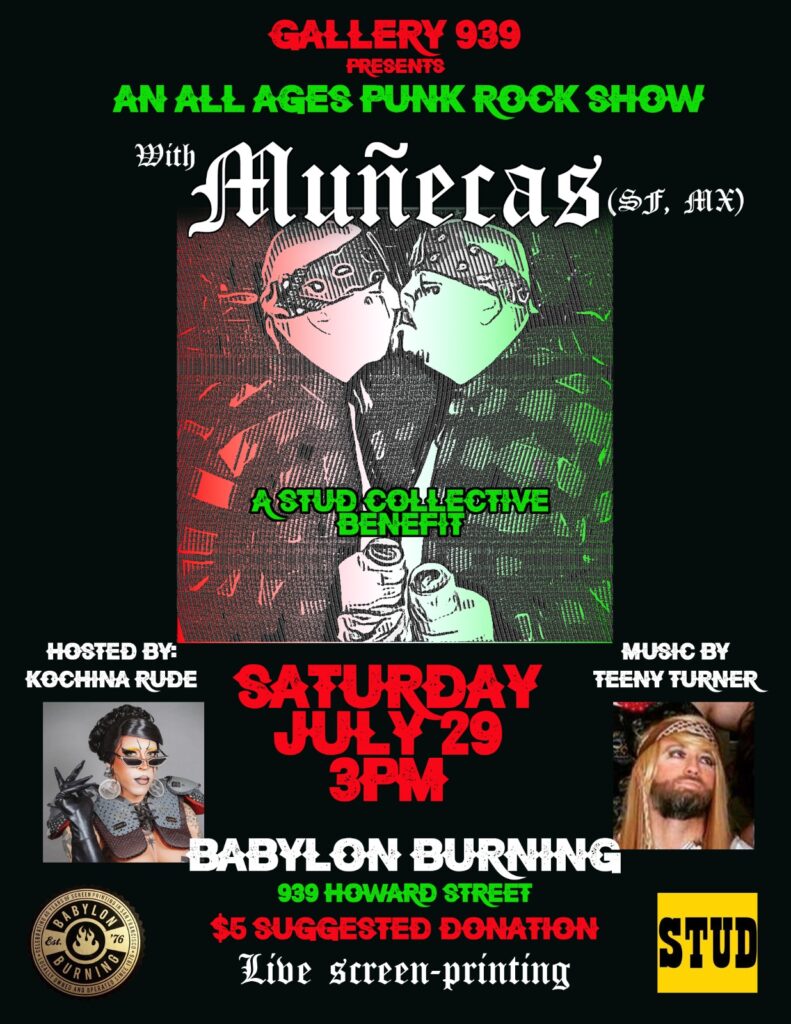 SAT/29: STUD COLLECTIVE BENEFIT It's a queer punk party to benefit your favorite virtual queer bar, still looking for a new home in the city. (Full disclosure, I am one of the owners.) Kochina Rude hosts, Muñecas plays live, and DJ Teeny Turner provides the tunes. Plus, Babylon Burning will screen print live! 3pm-6pm, 939 Howard Street (Babylon Burning warehouse), SF. More info here.
SAT/29: PARKS4ALL BREWFEST Dozens of local breweries come together to sample beer while celebrating Presidio Park and the National Parks Consevancy, accompanied by live music, glorious nature, and lawn games like Tipsy Putt. Noon-4pm, Civil War Parade Ground, SF. More info here.
SAT/29: EW: JASON KENDIG The EW parties at Underground SF are always sweet, and bringing in techno wizard Jason Kendig, legendary here for his Honey Soundsystem crew's parties (before he shuffled off to Buffalo) is so lush! 10pm-2am, UndergroundSF, more info here.
SUN/30: LOKURA DAY PARTY Get down in the back garden of the Record Bar to two powerhouse forces of Bay Area music, rap duo Los Rakas and DJ Chuey Gomez. Plus: Dos Fours & Gamibizi, Oteb & Solrac, DJ Klan, DJ Noise & DJ Lumbi. Packed and stacked. 2:30pm, Record Bar, SF. More info here.
SUN/30: UP YOUR ALLEY FAIR Folsom Street Fair's "dirty little sibling" is all the fetish you want without the lookie-loos and carnivalesque atmosphere (not that there's anything wrong with that). Throw on something faux-leather and/or athletic and live the day dream. 11am-6pm, Dove Alley, SF. More info here.