At first glance, you may think you are looking at a black-and-white photograph when viewing the graphite drawings of artist Zachary Oldenkamp. And yes, it's safe to say that he has been very turned on by photorealism in the pursuit of perfection. But to avoid being reductive, it's not just the exquisitely refined technique drawing you into an intimate moment in time, but choice of subject.
"Art's ability to help us learn and understand more about ourselves and the world around us has always been really inspiring to me. Experiencing someone's work is almost like being able to have a conversation with them and understand things from their perspective," Oldenkamp told 48hills.
Oldenkamp finds his muse by sitting patiently and thinking deeply. He says the three words that have guided his most recent body of work are "stillness," "mundane," and "thoughtful." Andrew Wyeth has been a huge inspiration, with the impact and presence of his work going far beyond the subject matter of each of Oldenkamp's pieces.
"It's like I can smell the air in the room or feel the breeze flowing through the branches of the trees and tall grass on the hill," Oldenkamp said.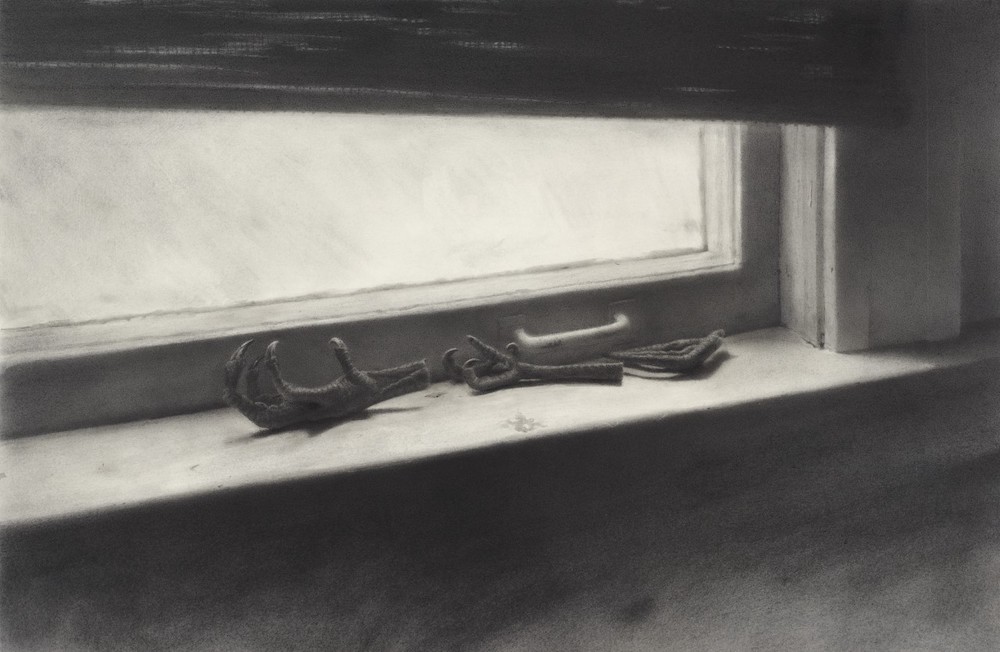 The artist grew up in the small town of Allendorf, Iowa, population 40. (Yes, 40, as in four-zero.) He packed up and left right after high school in 2006, and feels fortunate to have made San Francisco his home ever since, specifically the Nob Hill/Tendernob neighborhood. He came here to study at the Academy of Art (2006-07) and The Safehouse Atelier (2008-10).
His current studio is the spare bedroom of his apartment, chockfull of an art book collection, skulls, Star Wars figurines, classical sculptures wearing luchador masks (of the Latin American wrestling tradition)—all things he is attracted to for one reason or another.
"Since I was in school, I have always thought it important to surround yourself with things you are interested in, even if you don't fully understand why at the moment," he said.
Here you'll also find coffee cups full of pencils, and paper and sketchbooks scattered throughout the room. Oldenkamp references these objects for his drawings. One of the studio's wall is set up so that he can easily hang up and take down works-in-progress. When he gets stuck on any one piece of work, he switches it out for another; not just to take a break, but to feel the thematic synchronicity of works in a series.
"It can be a real struggle to know when something is finished, and the definition of what that means is something that changes over time," Oldenkamp said.
Sometimes it's about feeling out tonal structure, while making sure the choices he makes are supporting the overall intention of a piece. Other times, it's as simple as a looming deadline and getting a piece out the door.
"On occasion, the piece finishes me, and I just don't have anything left to give it," he said with a laugh.
For still-life pieces, he works from set-ups, keeping them assembled as long as he can until the need calls for a more practical use of a given object. When it comes to figurative works, Oldenkamp almost always works from a photograph, but does a lot of continuous drawing from life that informs decision-making.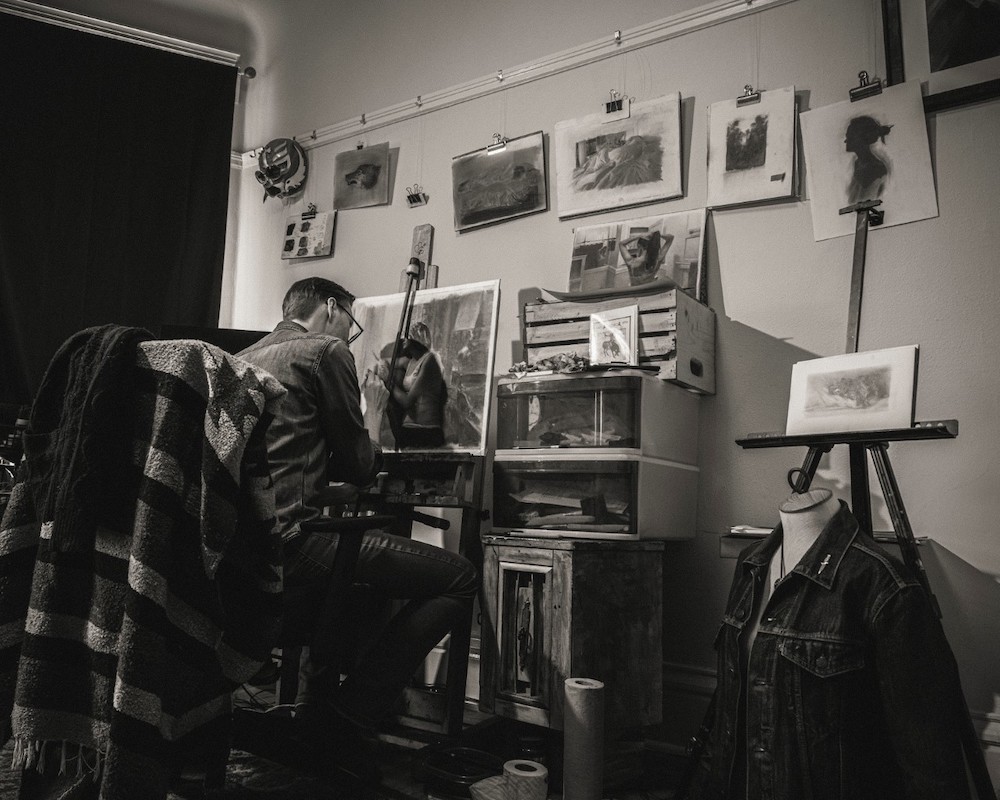 "A photograph has a lot of qualities that don't represent how things actually look to our eye, and I want to be conscious of making those adjustments for a more natural or true-to-life feeling," he said.
With regard to tools, Oldenkamp jumps around a lot, using charcoal and graphite in any form he can find—powder, pencils, and lead holders. He plays with application, too, utilizing not just brushes but toilet paper, cotton pads, and other materials. For surfaces, he mixes things up between Moleskine, Bristols, and various watercolor papers.
"The process of going back and forth has been a lot of fun for me. It feels almost more like painting," he said.
His drawings tend to be on the smaller side, as graphite on paper lends itself to delicate precision. But he is also intentionally asking the viewer to look at the piece a little more closely, creating a more intimate connection to the subject matter. Recently, he's started experimenting with making larger works, to see how that might impact the piece and its relationship to the viewer.
Previously, Oldenkamp had been much more focused on expressing color and materials. As his interest in specific content and the intention behind the work changed, so did the medium. Drawing facilitated his exploration of space and carried a more thoughtful or meditative tone in his work. Having said that, he hasn't given up on painting completely.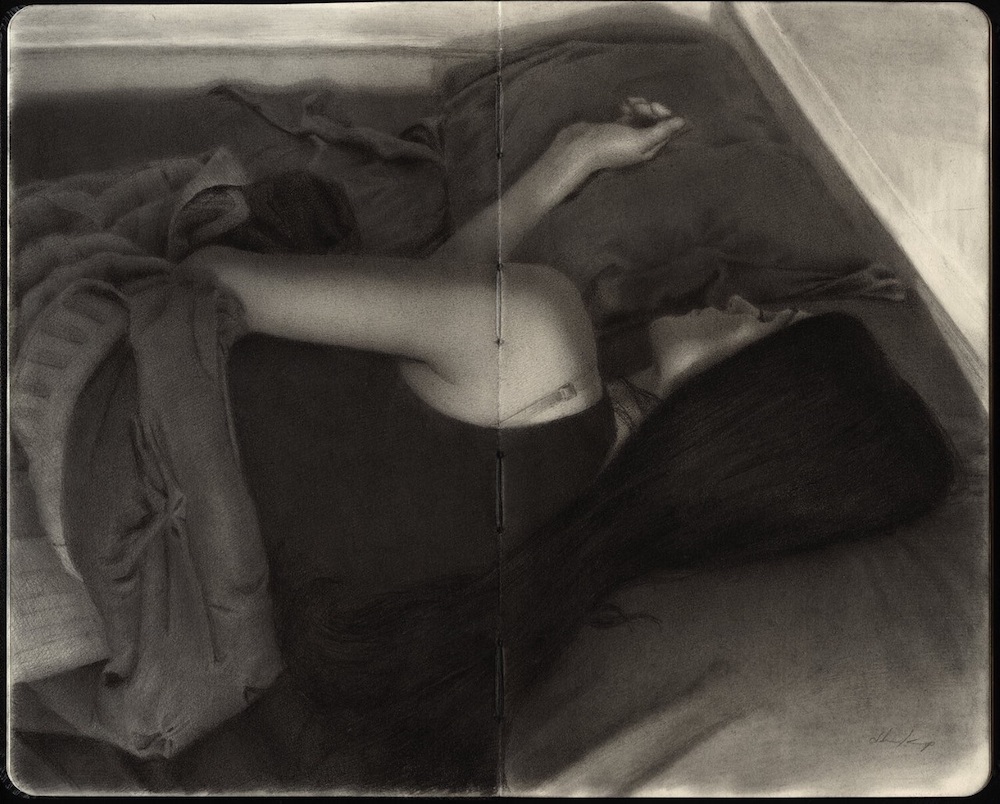 "I've started to dip my toes back into oil painting and it's a lot of fun. I'm excited about exploring some new methods that could merge these two processes," he said.
His recent portfolio is largely focused on expressing the value of everyday things, and moments in a person's life that are generally overlooked. A scene of a woman attending to her hair in a bathroom, ("The First Breath You Take") or several works of women resting or getting dressed, for example. Specifically, he is capturing the instances when one is thinking about the day ahead or reflecting upon everything that has happened. Over the last few years, he has found a lot of peace in those moments and hopes that by calling attention to them in his work, other people will find a similar feeling.
Referencing the recent tone of the pandemic and its effect on his work, Oldenkamp says that even though a lot of the themes of stillness and intimacy were already present in his work, shelter-in-place forced the mundane to take on an even larger focus. With his daily experience shrinking to a single space, it amplified an intention in finding the value in those small moments to maintain some sense of peace and reflection. Having lived in the same apartment for 10 years at the onset of that period, he started to closely observe his surroundings, the what and where of placement of objects in space.
"I found myself sketching corners of rooms at different times of day. Knowingly or not, we design the spaces around ourselves in a very meaningful way," he said.
And now that the world has opened up again, he's exploring outdoor spaces and going on walks around the city, observing the landscape differently than he did before. Running has also become a bigger part of his routine and provides the artist with exercise and an outlet from the confines of his work and studio. Other interests fold into his work, consciously or not. Oldenkamp likes to read, and his range is pretty wide, from biographies and social commentary to science fiction and detective books.
"There's a book shop in Russian Hill that has a fun collection of old dime store novels. Every so often I like to go in there and grab one or two," he said.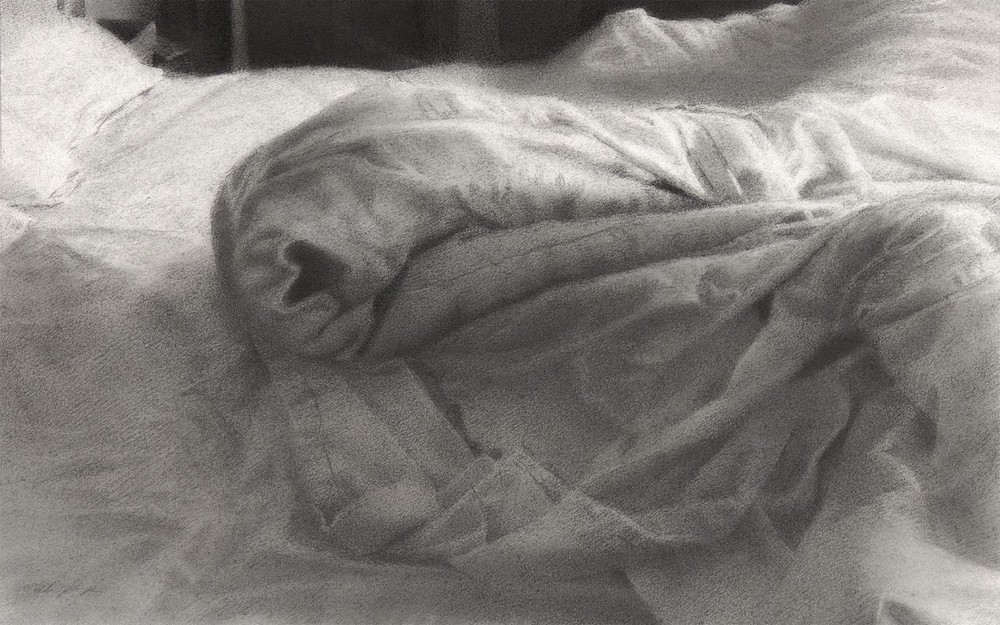 Oldenkamp has exhibited his work since 2014 and was featured in the group show "Tondo" last January at Harman Projects in New York, along with a solo show at their pop-up gallery in San Francisco. He has also exhibited with Harman's sister galleries, New York's Spoke Art and San Francisco's Hashimoto Contemporary, for the past several years. He will participate in a group show at Ryan Graff Contemporary, a new gallery at 804 Sutter Street, in November.
In his capturing of the quiet and solitary moments of our lives, Zachary Oldenkamp is trying to preserve the qualities that came forward during the pandemic—or arrive by surprise in normal circumstances—in a positive way.
"Everyone's life is full of different challenges, especially over the last few years. As I've gotten older, I've found things can become more overwhelming," he said. "There are a lot of distractions out there aggressively fighting for our attention. I think taking the time to dwell on and investigate these everyday areas of our lives has the potential to bring us a lot of clarity. And serenity."
For more information, visit his website at zoldenkamp.com and on Instagram.