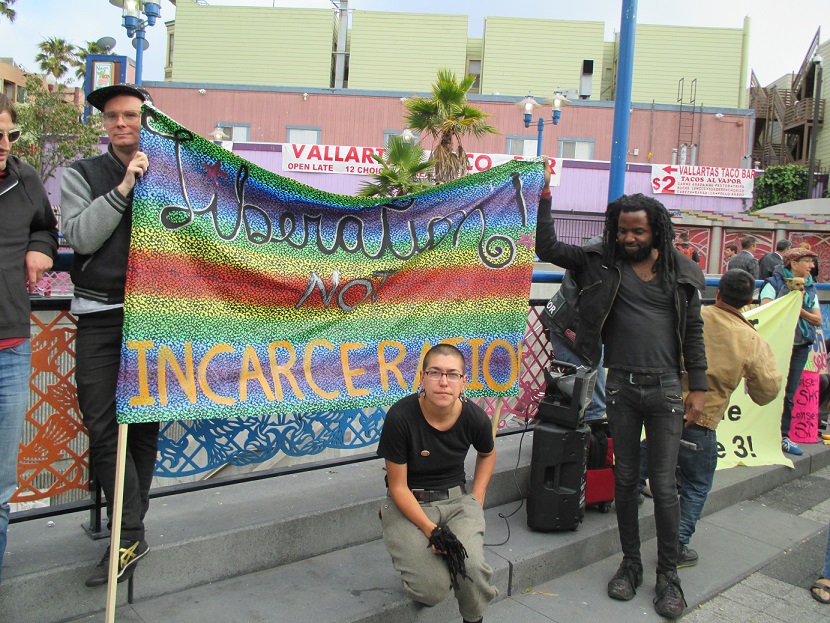 By Tim Redmond
JULY 3, 2014 — The three queer activists who spent time in jail after a protest over a "prison fantasy" party have been released, with the charges in abeyance — for now.
And while Rebecca Luisa Ruiz-Lichter, Prisca Carpenter, and Sarai Robles-Mendez are not talking about the specifics of the charges against them, Carpenter was happy to tell me that the version of the story the cops and Kink.com are telling bears no resemblance to what she saw that night.
The Gay Shame 3 aren't entirely in the clear yet — after three days behind bars, they were released pending further investigation, and charges could still be filed anytime in the next year.
But if the police and district attorney had any evidence at all to support the allegations that the three were involved in assault with a deadly weapon or resisting arrest, they would have filed already. The three were arrested based on the identification of a Kink.com security guard, who was able to give at best vague descriptions that would never hold up in court.
What's interesting to me is the account that a Kink spokesman gave me, and the police repeated, that the demonstration Saturday night turned violent, with one protester using a slingshot to attack the Kink fortress and another punching a security guard in the stomach.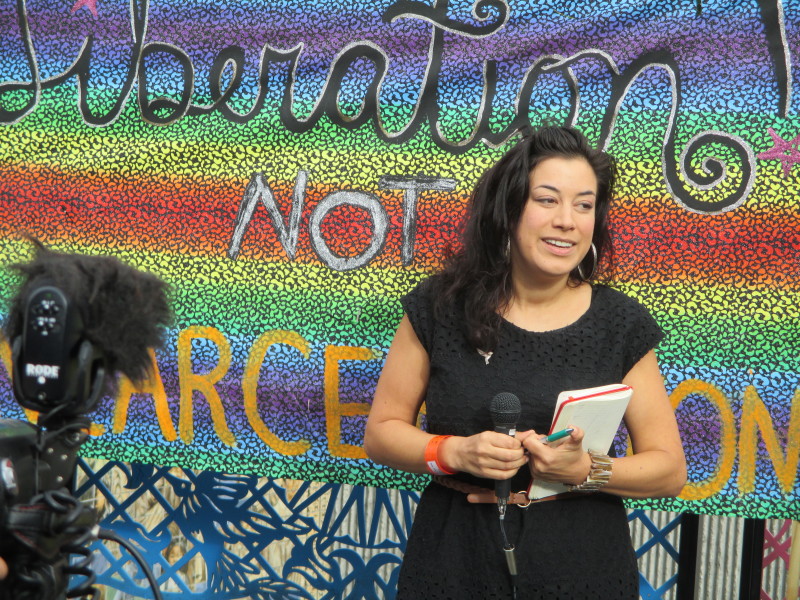 Help us save local journalism!
Every tax-deductible donation helps us grow to cover the issues that mean the most to our community. Become a 48 Hills Hero and support the only daily progressive news source in the Bay Area.
Our reporter on the scene, Erin McElroy, saw none of that. And when I talked to Carpenter, she agreed:
"It was all nonviolent," she told me. She said she never saw anyone with a slingshot, never saw anyone throwing vegetables, never saw anyone punch a security guard.
Doesn't mean it didn't happen, but so far I have not heard from a single witness who was there that night who saw any violence.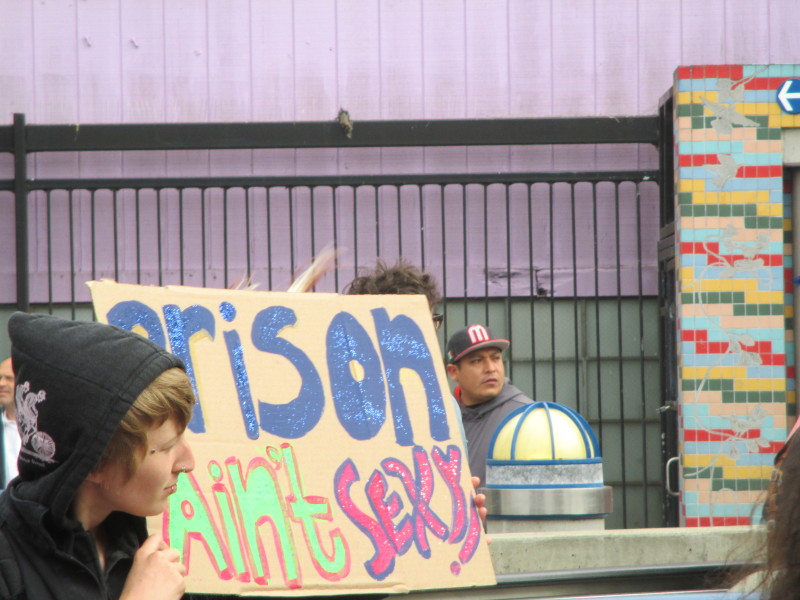 At least, not any protester violence.
Carpenter, who apparently met the description given by a guard, was "tackled to the ground and handcuffed," she told me. "The police never told me what the charges were, they had no idea."
She was held at Mission Station until about 5am — still without being told what the charges were, she said — and then transferred to the County Jail, where she learned the next day that she was facing felonies.
At a press conference this evening, supporters of the three said that there was "nothing worth fetishizing about the events."
In fact, Ruiz-Lichter told the crowd that when she finally got to call her support team, she said "this nothing like that party."
Nobody there has anything against fetishes, or kinky sex, or whatever gets you through the night. But the irony is pretty clear: While some people were paying $175 to pretend they were in jail, three others were actually going through it. Without their consent. And, it now appears, without any solid evidence that they committed any crimes.