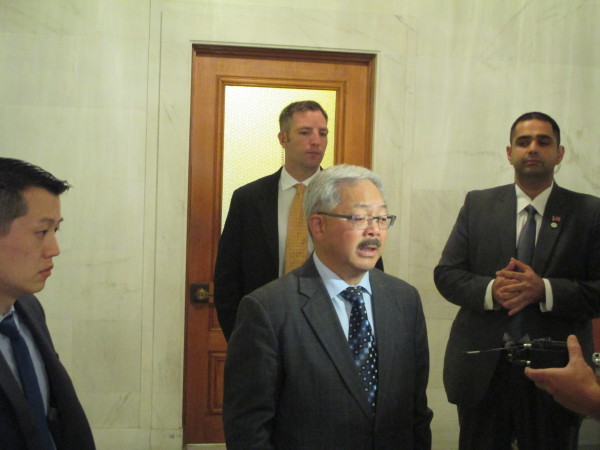 By Tim Redmond
Mayor Ed Lee's popularity has fallen below the 50 percent mark, the first sign since he took office that he may be vulnerable to a re-election challenge, a new poll shows.
The poll on San Francisco political attitudes, by J. Moore Methods in Sacramento, found that only 45 percent of local voters have a favorable attitude about the mayor. That's down from 65 percent just a few months ago.
The poll of 400 voters was obtained by 48hills.
Nearly 30 percent had an unfavorable opinion of the mayor. Seven percent had mixed opinions.
Now: Any one poll can be off base. This one also had the Board of Supervisors overall at 37 percent, with 29 percent citing negative opinions and 11 percent holding mixed views.
Previous polls have had both the mayor and the board above 50 percent.
But the marked decline in the mayor's favorable rating suggests that the ongoing housing crisis, and Lee's increasingly heavy-handed political tactics, are eroding his once-formidable popularity.
And it adds fuel to the possibility that someone with the ability to mount a serious challenge will take the mayor on in 2015. At this point, nobody has come forward.
The numbers could also be a temporary down-tick.
But a year is a very long time in local politics, and any sign that an incumbent mayor is tumbling will, at the very least, get some potential candidates starting to think.