Just 282 applications have been filed so far — meaning about 96 percent of all short-term rentals in the city are illegal today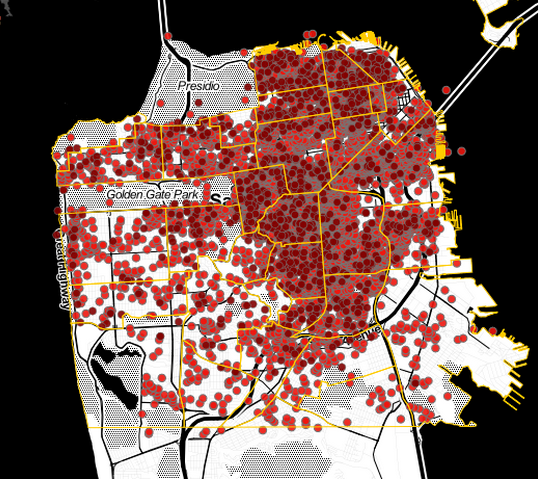 By Tim Redmond
FEBRUARY 18, 2015 — Only a tiny fraction of the short-term rental operators in San Francisco have signed up to join the legal registry.
City Planning Department staff reported to me this week that 282 appointments have been scheduled between the Feb. 1 legalization date and the end of April. That's about four percent of the existing Airbnb and VRBO units.
If hosts continue to sign up at this rate, it would take six years for all of the estimated 6,200 units in town to become legal.
It also means that 96 percent of all the short-term rentals currently operating in San Francisco are illegal.
According to the City Planning Department website:
You may not rent your unit (in all or a portion) as a short-term residential rental until you have received a Short-Term Residential Rental Registration number from the Planning Department.
Some of the backlog is simply due to the staffing limitations of the Planning Department – a sign that critics had a point when they said that the legalization would tax existing resources and that the rules would be almost impossible to enforcement. 
The department requires all would-be Airbnb hosts to provide a valid business license from the Treasurer's Office, proof of $500,000 in liability insurance, and proof that the place for rent is actually the hosts primary residence.
Each person can register only one unit.
It's clear that many of the existing rentals aren't primary residences. In New York, for example, this nifty little tool lets you check on Airbnb rentals shows, one third of all listings come from hosts with multiple units.
If that's the same pattern in San Francisco, then about 2,000 Airbnb listings will never be in compliance with city law. That's a lot of units, and so far, I'm not seeing any signs that the number of available Airbnb rentals has dropped by one-third in the past few weeks. "Actually, the numbers are up," Dale Carlson, who is working with a group that wants to better regulate short-term rentals, told me.
Which raises two questions: If a new law is passed and nobody decides to use it, was the law worth anything in the first place?
And now that it's clear which units are legal and which aren't legal, when will the city start enforcing the rules and shutting down the illegal ones?
Again, by the city's own rules and statements, nobody can rent out a short-term unit without a permit. There are fewer than 300 appointments so far, which means only a handful of permits have been issued.
Go to Airbnb.com and look up San Francisco. There are thousands of places listed for rent.
I can see the Planning Department, overwhelmed with applications, giving amnesty to anyone who has actually filled out the paperwork and asked for an appointment.  Gina Simi at planning notes:
it's still very early.  At this time we're focused on efficiently implementing the application process for the residents who make an appointment and have been successful in doing so since the ordinance went into effect.  We're strongly encouraging residents to visit our website (www.sf-planning.org/shorttermrentals) to familiarize themselves with the conditions and information they need to provide before they call to schedule an appointment.
But that website says you can't rent your place without a permit. What about those thousands that are on the market today whose owners or tenants have made no effort to comply with the law?
Portland, Oregon, passed an Airbnb legalization law last summer. But almost nobody there has signed up for permits, either. And now (unlike San Francisco) Portland has moved to fine the hosting platform –that's Airbnb — $500 a day for every listing that doesn't show a permit number.
If San Francisco doesn't do something like that, will we have to wait six years for the company to follow the rules?
Maybe not: Carlson said that a ballot initiative for the fall is pretty much 100 percent. "We're going," he said.