Thrillpeddlers' 16th annual stage spooktacular  is delightfully silly and gross in equal measure.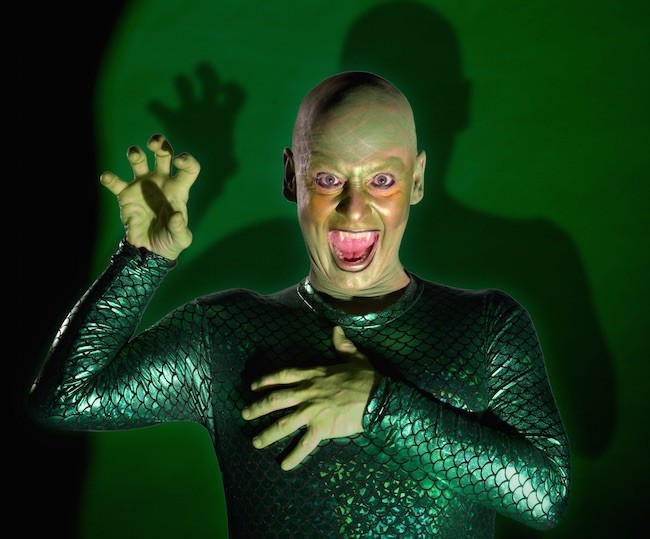 By Marke B.
ONSTAGE Things really get hilariously gruesome — and uncomfortable — in the second act of the Thrillpeddlers' 16th annual "Shocktoberfest" show (through Nov. 21 at the Hypnodrome). That's when the incest starts creeping into an All-American family's dream home, along with a mysterious gas from the cursed site it was built on. (It's also an affirmation that the elastic-faced, gender-jumping Birdie-Bob Watt, here playing a devious teen in pigtails and shiny Mary Janes, is one of our stage scene's absolute comic treasures.)
By that point we've already squirmed and laughed our way through throat-slittings, shootings, beatings, cannibalism, and a tray of disgusting ham rolls. But who's keeping count? This is "Shocktoberfest," a San Francisco tradition, bursting with vignettes that pay tribute to Grand Guignol, the French theatrical practice that replaced the public-square guillotine as ghoulish entertainment.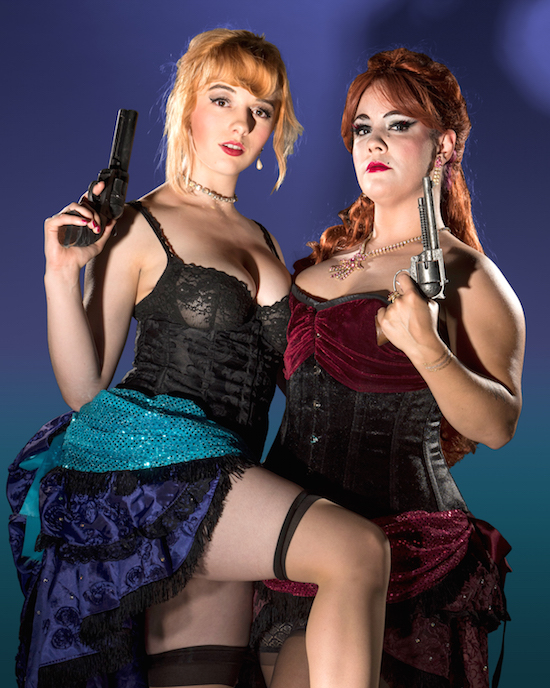 The action may not be as flashily-staged or exploding with vocal histrionics as the recent Lizzie: The Musical, Ray of Light Theatre's rock opera about the life of ax murderess Lizzie Borden. (Seriously, that show was like a Heart arena concert in 1988, squeezed into the Victoria Theater.) But the Thrillpeddlers know that what most audiences really want with this kind of material is campy humor, broad winks, a little leg, and blood, blood, blood. Indeed, half the fun is watching how cleverly mopping up the blood before the next spill is worked into the stage directions.

The squirms aren't limited to the merely bloody, of course. There's the incest, yes, but also bestiality, spousal abuse, sperm-guzzling, Orientalism, and — in a neat trick I thought only a Russian circus could fully pull off — double-auto-asphyxiation. Oh, and bad jokes. Plenty of those.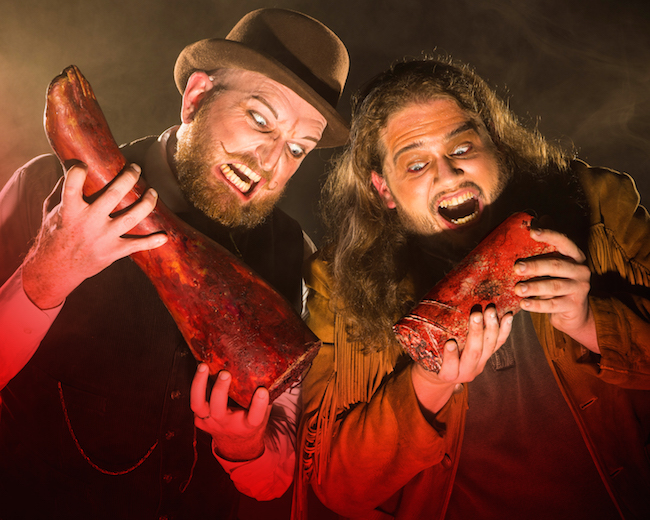 While this installment isn't quite as sharply directed or performed as ones I've seen in the past — most of the dialogue and setups are deliberately clichéd, in keeping with high camp style, so it's distracting when some simple lines are flubbed — the show still delivers many fabulously gross and wonderful moments. As always, the company excels at musical numbers: "Donner Party Diner" is quite possibly the perfect Thrillpeddlers number, flaunting both a ghoulish musical humor rife with clever rhymes and a love for '50s diner aesthetics.
Also perfectly in the Thrillpeddlers' wheelhouse (and composed, like "Diner," by Cockettes legend Scrumbly Koldewyn): centerpiece skit "The Revenge of the Son of Cobra Woman," which dives deep into the soft-Vegas, lounge-era exotica that Scrumbly does so well, presenting a stage spectacular worthy of Yma Sumac. Of course there's a volcano.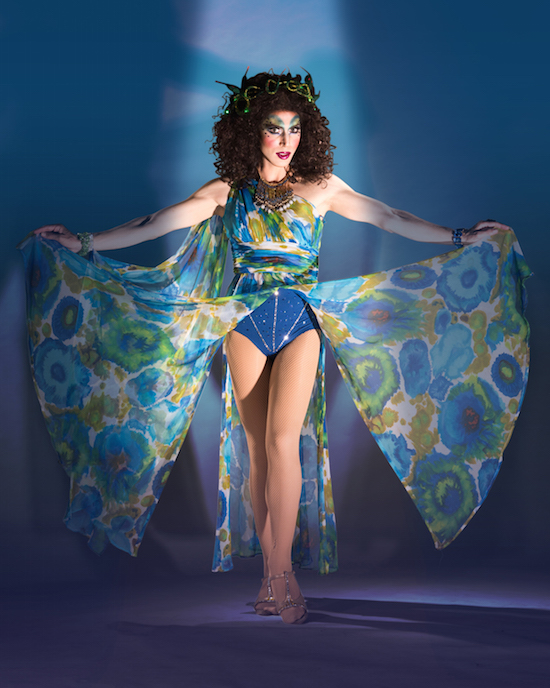 The complex plot machinations of the several vignettes are too complex to go into, or even really grasp. But along the way you get gold diggers, ham bones, doomed gay love, stunning gowns, a botched luau, and some hummable tunes. (The "Spookshow Finale" will truly make you leap from your seat. )
You also get, as with all Thrillpeddlers shows, a loving affirmation that San Francisco is still as freaky as it gets.
SHOCKTOBERFEST 16: CURSE OF THE COBRA  
Through November 21, 8pm, $25-$35.
Hypnodrome, SF.
Tickets and more info here.