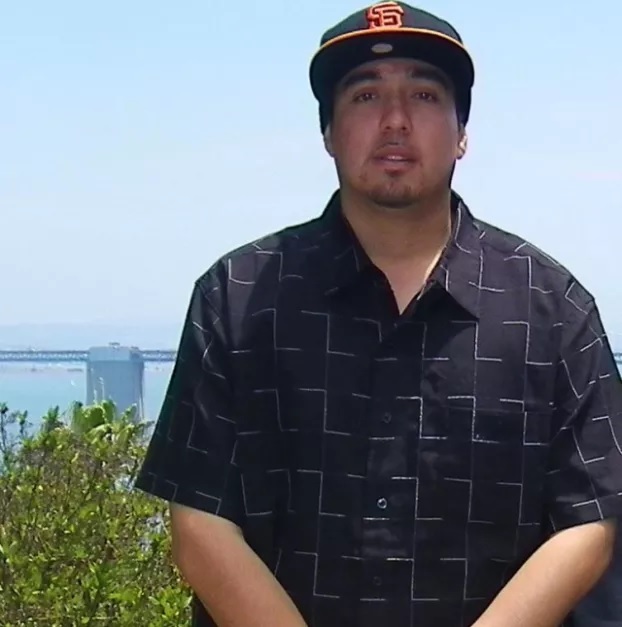 JANUARY 7, 2015 – A new movie about the killing of Alex Nieto points to some dramatic information about the case that directly contradicts the official police version of events – and that has never been reported in the press.
The movie, which we review here, is based in part on deposition filed in the family's lawsuit against the city. The depositions, and other documents relating to the suit, are in the public record, but have been largely ignored.
When I saw the movie, which features actors playing "Lowrider Lawyers" taking the city to court, I was stunned by some of the evidence that is cinematically introduced. So I called Benjamin Bac Sierra, the writer and director, and he told me that everything came from the public record.
He's right: Once I pulled the federal case documents, I found sworn testimony that is entirely different than what the police, the district attorney, and the Office of Citizen Complaints have reported. (The OCC doesn't release complete reports, but has a version of its investigation with all names redacted here.)
According to the official version, witnesses described Nieto as acting "erratic" and was aggressive, showing off what appeared to be a pistol on his belt. At one point he threatened to shoot a dog. When police were called, Nieto pulled a Taser, which officers thought was a gun, and aimed it at them.
That's what's been reported so far.
But the depositions and other legal documents on file in federal court show, among other things:
— An eyewitness who was no more than 20 feet away from the action said that he saw Nieto's hands in his pockets at the time he was shot. That witness also said that the officers never said anything to Neito except "stop" and that Nieto never responded to them.
In the police version of the event, the officers told Nieto to drop his weapon and raise his hands, and Nieto responded by telling the cops to raise their hands. Nieto, the police accounts say, "squared off in a defensive stance" and pointed the weapon at them.
The witness testimony completely contradicts that. Witness Antonio Theodore, who was on Bernal Hill at the time, testified that
[Nieto] was walking down there, and, yeah, I didn't show — I had no idea that the police was going after him, because it was pretty cool and casual walking. One officer came out on the right-hand side. Officer on the right-hand side shout out, "stop." Within that moment, approximately some — some how much of a second, and fired his first shot, bam; fired second shot, bam; fired a third. Alex Nieto went to his knees.
More:
Q. Did you see what Mr. Nieto was doing with his hands when the officers were in contact with him?

A. Mr. Nieto hands was in his pockets.

Q. Which pockets?

A. Jacket pockets.
If that's true, then it's unlikely Nieto was brandishing a weapon.
In fact, if he testimony of Theodore, who said he was about 20 feet away on a hiking trail above where the shooting took place, is accurate, police fired on Nieto almost immediately, without giving him a chance to surrender.
— Another witness testified that he never saw Nieto remove the weapon from its holster. And here's from the person who called 911 and reported Nieto to the police:
Q. So you watched him for about three or four minutes?

A. (Nods head.)

Q. During that three or four minutes that you watched Mr. Nieto, you never saw him with a gun; is that correct?

A. Correct.

Q. Now, you mentioned that you heard gunshots, eight or nine gunshots, and then you heard a pause?

A. I believe so.

Q. How long was the pause?

A. Ten or so seconds at the most.

Q. In between that eight or nine gun — strike that. During that ten-or-so-second pause, did you hear any officers giving commands?

A. I did not.

Q. During that ten-or-so-second pause, did you hear Mr. Nieto shouting anything?

A. I did not.
— The police version of events also suggests that Nieto was acting oddly and was aggressive and brandished a weapon at a dog that was being walked on the hill. But there is some indication that the dog owner  was predisposed to assume that Nieto was dangerous.
The dog's owner was deposed, and said he made a "quick decision" based on Nieto's clothing – a 49ers jacket – that he was likely a gang member and someone he didn't want to be around. The witness also testified that his dog, a large Siberian Husky who could be aggressive around food, was following Nieto and trying to get the young man's food while the owner was distracted looking at a female jogger's butt.
Later, the dog owner said that Nieto jumped up on a bench, apparently to get away from the dog, and aimed a weapon at the animal. The witness, a civilian, testified that he could tell immediately that Nieto carried a Taser, not a gun.
— One of the officers who shot Nieto testified that he saw what he thought were muzzle flashes from the weapon. He said that Nieto was lying on the ground (after he had been shot several times) and appeared to be firing a pistol. That's impossible – an expert from the Taser company testified that the Taser doesn't create a muzzle flash., or a recoil, or smoke, or any of the other characteristics of a firearm.
Eyewitness testimony in a case like this is always challenging and sometimes contradictory. Things happen fast; people's memories are imperfect.
But the legal evidence certainly suggests that there is a lot more to this story than what the police have said. A federal judge agrees: The city's motion for summary judgment, based on the argument that the officers were telling the truth and acted properly, was denied. The judge agreed that the facts of the case remain in question.
Trial was set for March 1, but the city has asked for a continuance for another week or so. You can get updates here.
The lowrider lawyer movie will be showing again soon; we will keep you posted.