The management of City College released a new contract proposal for the faculty yesterday, posting the 55-page draft on the school's website, sending a summary to every CCSF employee, and holding a press phone call.
But nobody notified the union.
It's another weird chapter in these negotiations.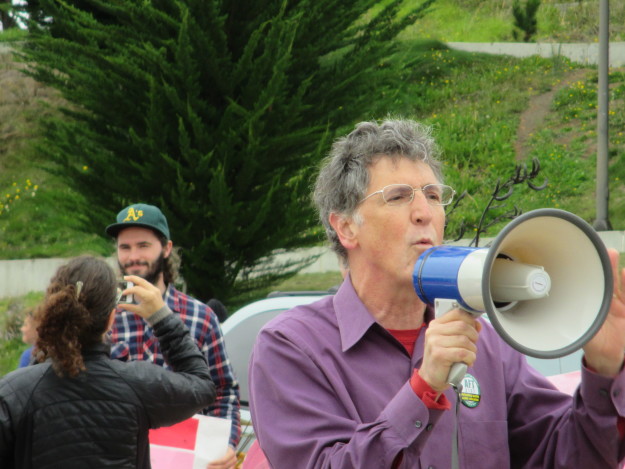 Chancellor Susan Lamb, announcing that she wanted to "put it all on the table" in advance of a fact-finding process, announced the contract offer, spun it as more than it was, and left the union to wonder: What, exactly, is this?
Normally, in labor negotiations, the two sides meet and talk, and present each other with proposals. Sometimes, they make those public. But it's rare that one side makes its plan public without first telling the other side.
That's apparently what happened here.
"Just as you thought things couldn't get stranger at City College of San Francisco, along comes an email from our Chancellor about negotiations announcing a new 'proposal.' Trouble is, they forgot to present the proposal to the Union," a message from AFT Local 2121 stated.
"The proposal wound up in the SPAM folder of our chief negotiator at 4:55pm [Tuesday]," Tim Killikelly, president of AFT Local 2121, told me. "And the email from administration was sent out to the school community and the press about about 5:50pm. It's the typical crap that they've been doing since the start of this process."
The union's comment:
Since the District has not bothered to inform AFT, "the exclusive bargaining agent" under the law, this is in itself another unfair labor practice. This kind of bad faith bargaining is straight out of corporate America's anti-union playbook.
The administration proposal calls for a pay hike of 7.19 percent over two years, according to the email Interim Chancellor Susan Lamb sent out. That's not what's in the proposal, which calls for a 3.7 percent increase (just enough to get the faculty back to 2007/2008 salary levels, before the Great Recession pay cuts) and a 1.02 percent cost of living increase. The next year, the COLA is 0.47 percent.
There's also a one-time 2.68 percent bonus for each of the two years, but those payments don't affect the base pay of the teachers and end after each contract year. And there's a 2.0 percent temporary bonus that might become permanent if enrollment and finances reach certain levels.
"And when you look at those benchmarks, it's when pigs fly," Tim Killikelly, the president of Local 2121, told me.
In terms of an actual pay increase, a permanent contract increase, the school's offer amounts to about a 1.5 percent hike in an area where the cost of living has gone up radically since 2007.
This is, of course, a larger issue for state employees at every level. When California was facing massive deficits and tax revenue was plummeting, employees agreed to pay cuts, furloughs, and all sorts of other devices that allowed the state to reduce expenses. Now that things are roaring again, those cuts have never been backfilled.
City College teachers are getting paid at a level that was determined close to a decade ago. You take the cost of living in San Francisco over the past decade, and it's way, way higher than it was. The federal inflation rate over that period is 14.4 percent, meaning that the dollars a teacher earned in 2007 are worth 14.4 percent less today, and it would take that much to break even. But in the Bay Area, and this city particularly, that rate isn't even close.
But the administration really, really wants to get its spin out before a scheduled April 27 one-day strike that could presage a larger labor stoppage.
The fact-finding session at Cal State came down almost entirely in favor of the teachers. We'll see how this one turns out.