By any standard, a recent Scott Wiener attack piece on Jane Kim, alleging that she doesn't respect the Chinese community, is vicious. People I know in Chinatown who support Kim say it's among the worst they've ever seen.
And it's also created a controversy in the LGBT community (thanks to Broke-Ass Stuart for breaking this) – because the photo that is at the heart of the attack piece was  used without the permission of the photographer, a prominent queer party-pic guy who supports Kim.
Here's the image. It comes from a front-page story in Sing Tao daily, and Wiener uses it to say that Kim "doesn't respect our community."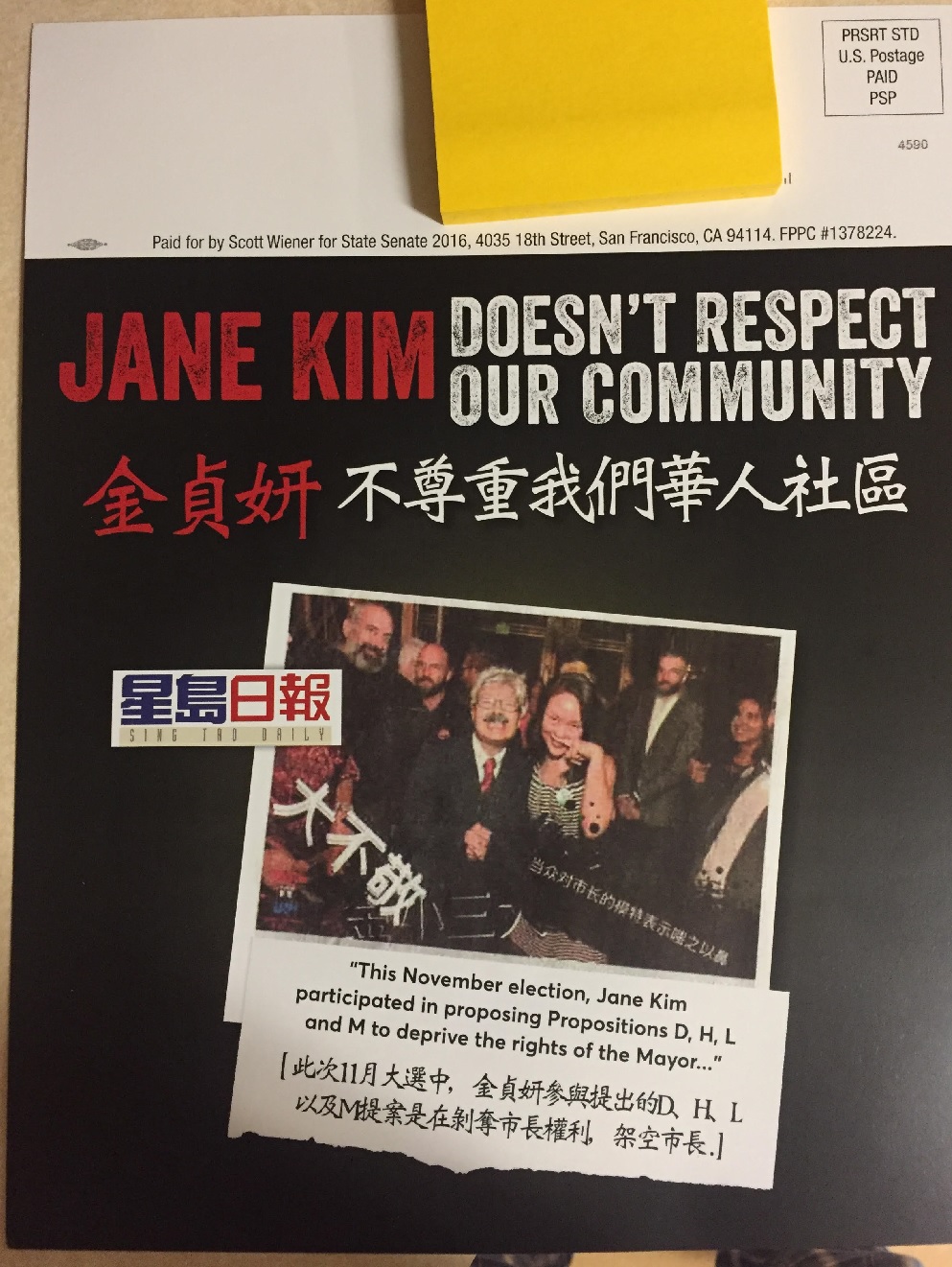 The immediate issue is that Kim supports the four measures – D, H, L, and M – that have a modest impact on the power of the mayor.
Not just this mayor; every mayor in the future. It's not an attack on Ed Lee; it's a series of proposals that look at how the city ought to be governed in the future. By this mayor or any mayor.
But there's also an issue with the picture.
The photo shows Kim with Barbara Liu McDowell, a prominent LGBT performer who sometimes goes to parties dressed as Ed Lee. She's been doing this for a while. She's Chinese-American. Nobody has ever suggested that her Ed Lee persona is disrespectful. In fact, Wiener also appeared in a photo with her: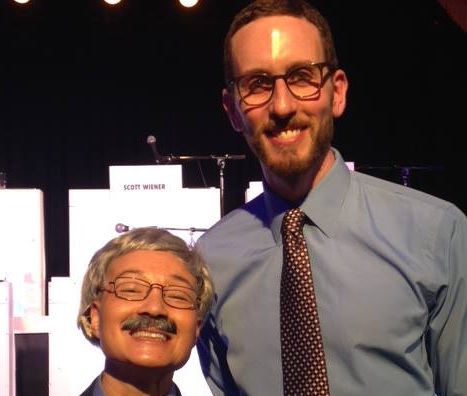 In this case, Kim was at a party where Liu McDowell was doing her thing, and posed for a fun picture where she said she wished she had a mustache, and a well-known party photographer, Garaje Gooch, snapped a shot.
He put it on Facebook, as party photogs do – and without asking his permission, he told me, Sing Tao took it and published it.
Most ethical news outlets make every effort to get permission to use photos and pay the photographers for their work. But postings on Facebook or Twitter are hardly private, and newspapers often use screen shots when the topic is newsworthy. Sing Tao can claim that this was a legit story. Whatever, I'm not here to argue the law.
The point is that the Chinese-language paper used the pic to suggest that Kim was making fun of the mayor, which Gooch says was untrue, that it was just a "fun moment," and Wiener picked up the image and used it – inappropriately — to attack Kim in the Chinese community.
Gooch was totally furious about this appearing in print, and in an attack ad. He and his husband are Kim supporters.
"We adore her," he told me. "This is just horrible."
The minute the attack mailer hit, Gooch said, his phone started buzzing like crazy with people asking him how a picture he took at a party, all in fun, was being used to attack his candidate.
"This is a nightmare," he said.
Wiener told me that everything was perfectly legal: He simply took a screenshot of a newspaper story. He's right, as far as I know – that's what's called "fair use." In a political campaign, you can use the images and logos of newspapers pretty freely – even if you've completely changed the content, as Wiener did when he put out this fake Bay Guardian mailer.
"We didn't steal any photo, and there was no copyright infringement," he told me.
He also said he had reached out to Gooch "both directly and through a mutual friend and I'd be happy to chat with him about the situation."
Yes, he did reach out. Gooch send me the Facebook message.   It starts off by saying that the use was entirely legal. Then it states:
If your goal is simply to trash me and disparage my reputation in the community, then clearly this message won't have much of an impact. But if you happen to be interested in the facts, now you have them.
No hint of any suggestion that the photographer might be deeply hurt by all of this.
I couldn't reach anyone at Sing Tao to comment. But again, this isn't a legal matter.
It's a question of whether you think this is the kind of thing a state Senate candidate should do – and the lengths that Wiener is willing to go to win.