UPDATE Saturday November 5: Nanci Armstrong-Temple was released at 2am this morning on bail. Bail was set at $55,000. Nanci will appear in court on Monday, November 7.
Nanci Armstrong-Temple was injured while being arrested at a homeless encampment in Berkley this morning. Armstrong-Temple, a mother and business owner, is a candidate for the Berkeley City Council in District 2 and prominent community organizer in the East Bay.
As the sun was coming up Armstrong-Temple made her way over to a homeless encampment close to her home in Berkeley to bring coffee and breakfast to the residents. 
Shortly after her arrival, members of the Berkeley Police Department and city officials gathered to remove the tents in which homeless people have been residing. The early morning raid follows weeks of efforts by the Berkeley City to tear down the encampment and dispose of the property of these residents.
In this video, Nanci is being held on the ground by officers. 
WATCH!: Nanci Armstrong (@fraggle94),candidate 4 @CityofBerkeley Council seat, VIOLENTLY arrested 4 protecting the homeless. #StandWithNanci pic.twitter.com/2pU440a8iN

— Edwin Lindo ✊🏾 (@EdwinLindo) November 4, 2016
According to an eye witness account, Armstrong-Temple was arrested while trying to protect 'Brust', a 70 year old woman, unhoused activist and founder of Consider the Homeless, from being arrested. At least two other residents of the encampment were arrested and injured.
Supporters say she she has been transferred to Santa Rita jail. The community organization, Anti-Police Terror Project, has made a public request for donations to contribute towards a bail fund, required to get Temple released from jail. 
Call the jail at 925-551-6500 and press 0 to demand Nanci Armstrong-Temple's release. PayPal bail fund is aptpinfo@gmail.com #FreeNanci pic.twitter.com/S2cffUNSeu

— Anti Police-Terror (@APTPaction) November 4, 2016
Nanci is running a strong campaign for city council on a platform of engaging with the community and has strong support as the city election draws near. She has endorsements from the well-known San Francisco actor, Danny Glover; public intellectual Kamau-Bell; the Cal Democrats; amongst others.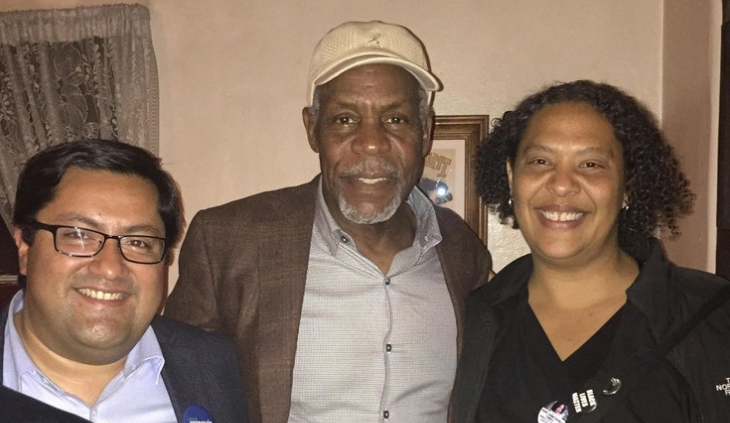 Earlier this week the the Daily Cal wrote in an endorsement editorial: 
"She's bold. She's principled. She's exactly what we want for District 2. Nanci Armstrong-Temple's history as an educator, entrepreneur and activist, along with her detailed understanding of city policies and practices, makes her particularly well-suited to serve on Berkeley City Council."
The East Bay Express also backs her, saying
we embrace Armstrong-Temple's agenda (police reform and accountability, a housing trust fund, overturning Costa-Hawkins Rental Housing Act and are impressed by those in her corner (former Mayor Gus Newport, the Berkeley Progressive Alliance, W. Kamau Bell). This social-justice activist will be a much needed voice on the Berkeley council, and she will prioritize the underserved residents of West Berkeley.