More than 150 people marched down Mission Street on Thursday night blocking traffic for two hours from 24th Street to 21st Street as they protested against what they call anti-housing ballot measures in the November ballot.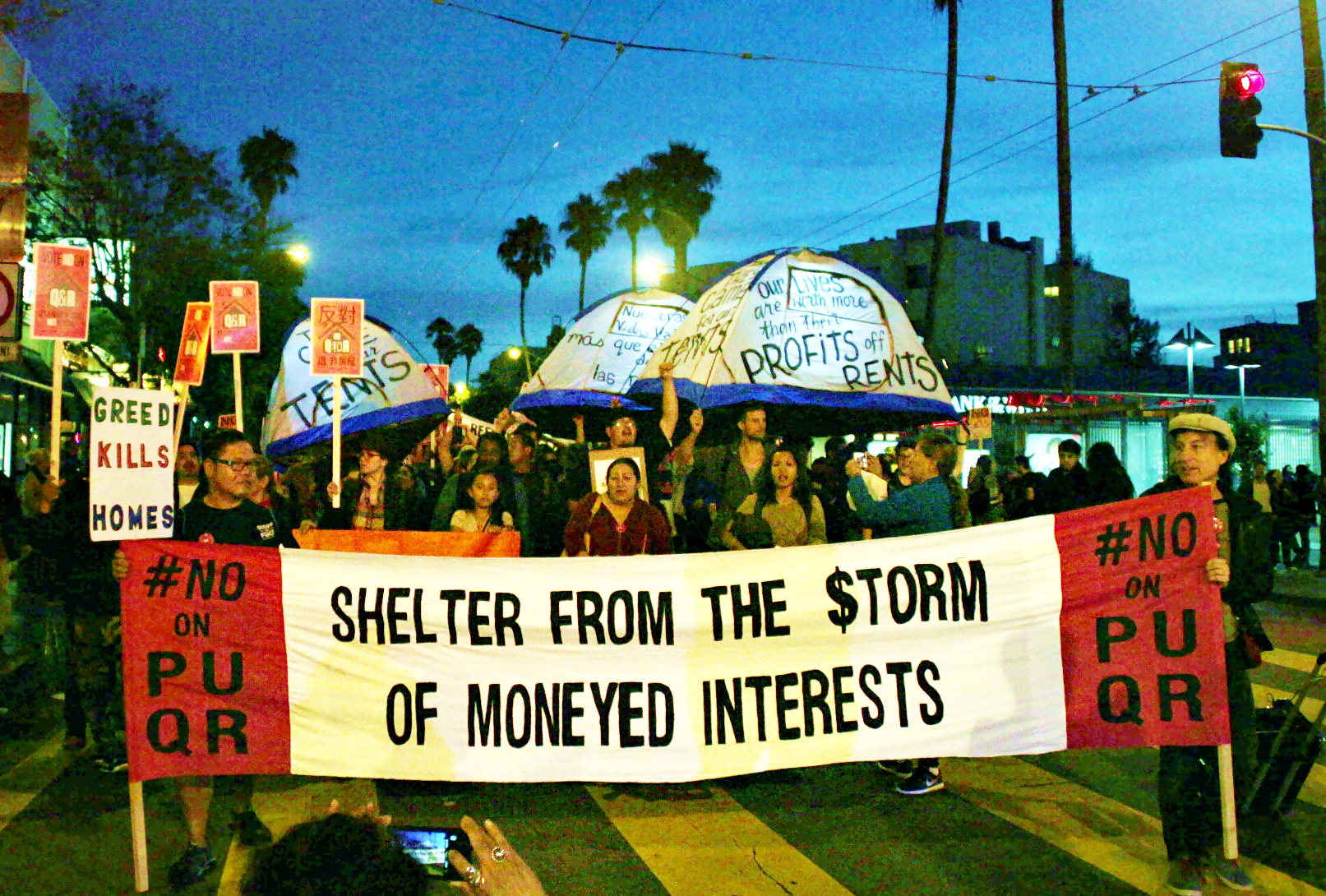 Around 80 protestors gathered at the 24th Street BART Station, at 6 pm with signs and banners, some using tents similar to ones used by encampment residents as banners.
"Homeless folks and tenants are tired of having wealthy elites push through policy that takes away our homes, our tents and our right to live in this city," said Bilal Mafundi, with Coalition on Homelessness, in a press release sent via email "We ask that folks have compassion for vulnerable residents instead of using us as political scapegoats. One way to do that is to vote down Propositions Q, R, P and U, and help us fight for housing as a human right!" he said.
With only 5 days until election day, community organizers and residents are speaking out again propositions P,U, Q, and R. Proposition P proposes to change the bidding requirements for affordable housing, Proposition U proposes to change the income level for affordable housing to a higher level, Proposition Q and R directly target unhoused people by banning encampments and establishing neighborhood crime units.
Prop. P and U are funded largely by the California Association of Realtors. Q and R are supported by Sups. Mark Farrell and Scott Wiener.
"Halloween just happened but in my opinion these are the scariest things out there," said Maria Zamudio, an organizer with Causa Justa.
Chants of "Fight, fight, fight housing is a human right" filled the air as protestors marched towards 22nd and Mission as a line of musicians and artists accompanied them. A few dozen SFPD officers marched on each side as traffic was blocked off for two hours from 24th Street to 21st Street.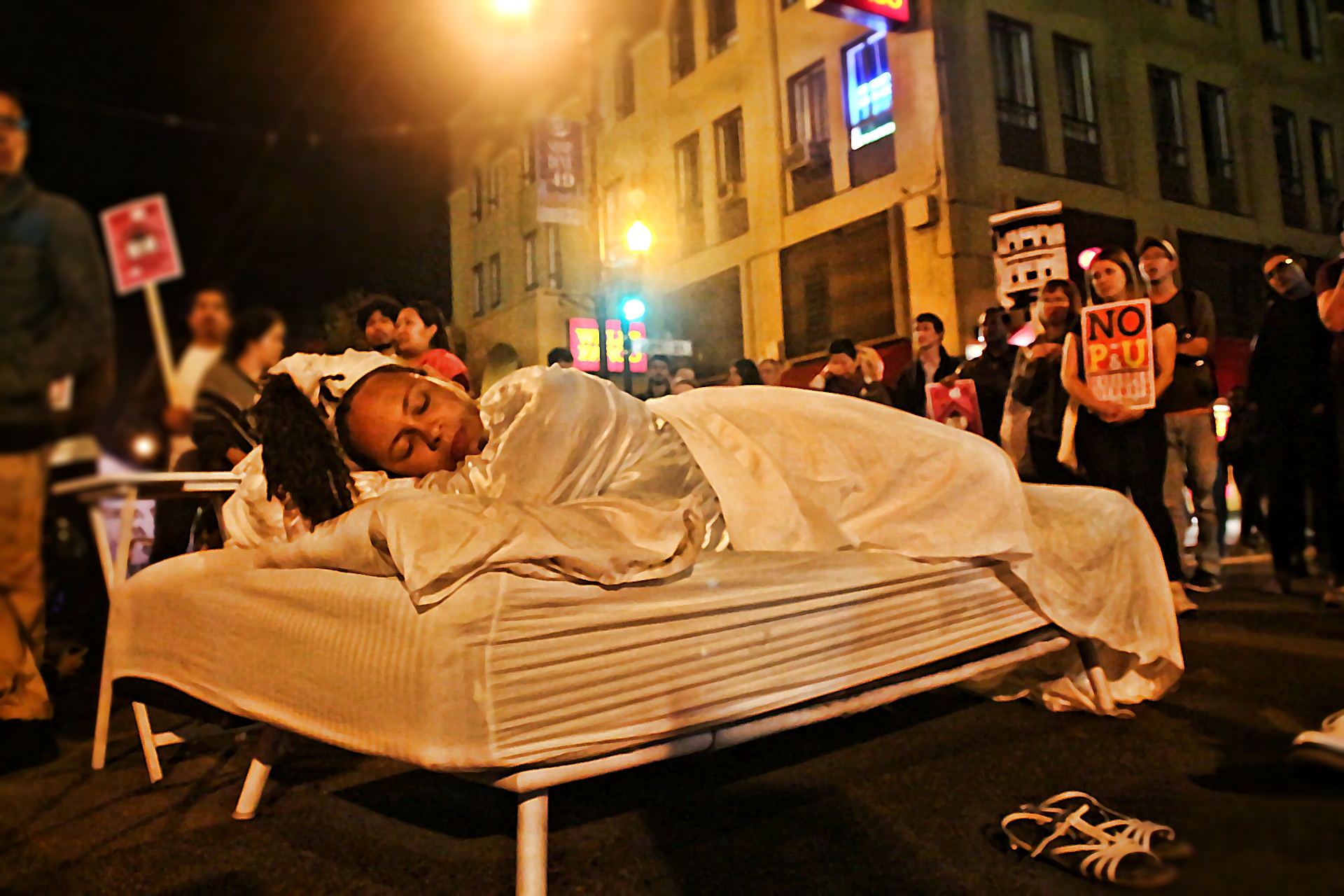 The crowd increased to more than 150 people as protestors creatively occupied the space the site of the burned-out building at the corner of Mission and 22nd streets. Protestors hung clothes in the dirt pit to symbolize the 60-people who were displaced as a result of the fire in January 2015.
"Sometimes the street has to be our house, the street has to be our home," said Zamudio, as protesters protestor laid down white furniture symbolizing a home in the middle of the street. Members from the San Francisco Anti-displacement coalition engaged onlookers into their performance art. Actors and community activists Mustafah Greene & April Martin sat on the table as if having dinner and scribbled notes to each other as Alicia Bell and Tiara J sat on the sofa.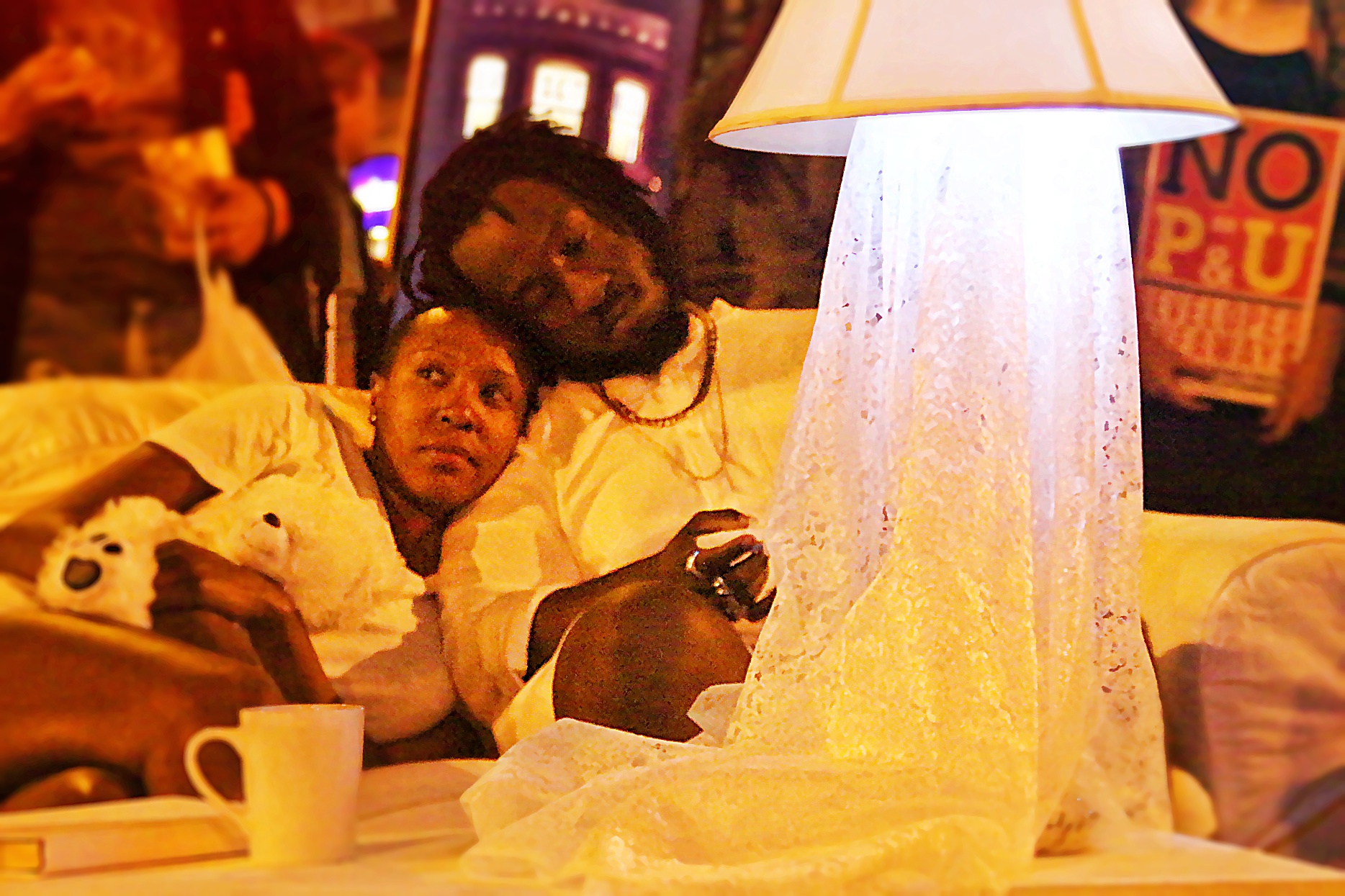 Actors moved around the make-shift home, occupying different spaces as poets read out their poetry addressing gentrification, homelessness and eviction.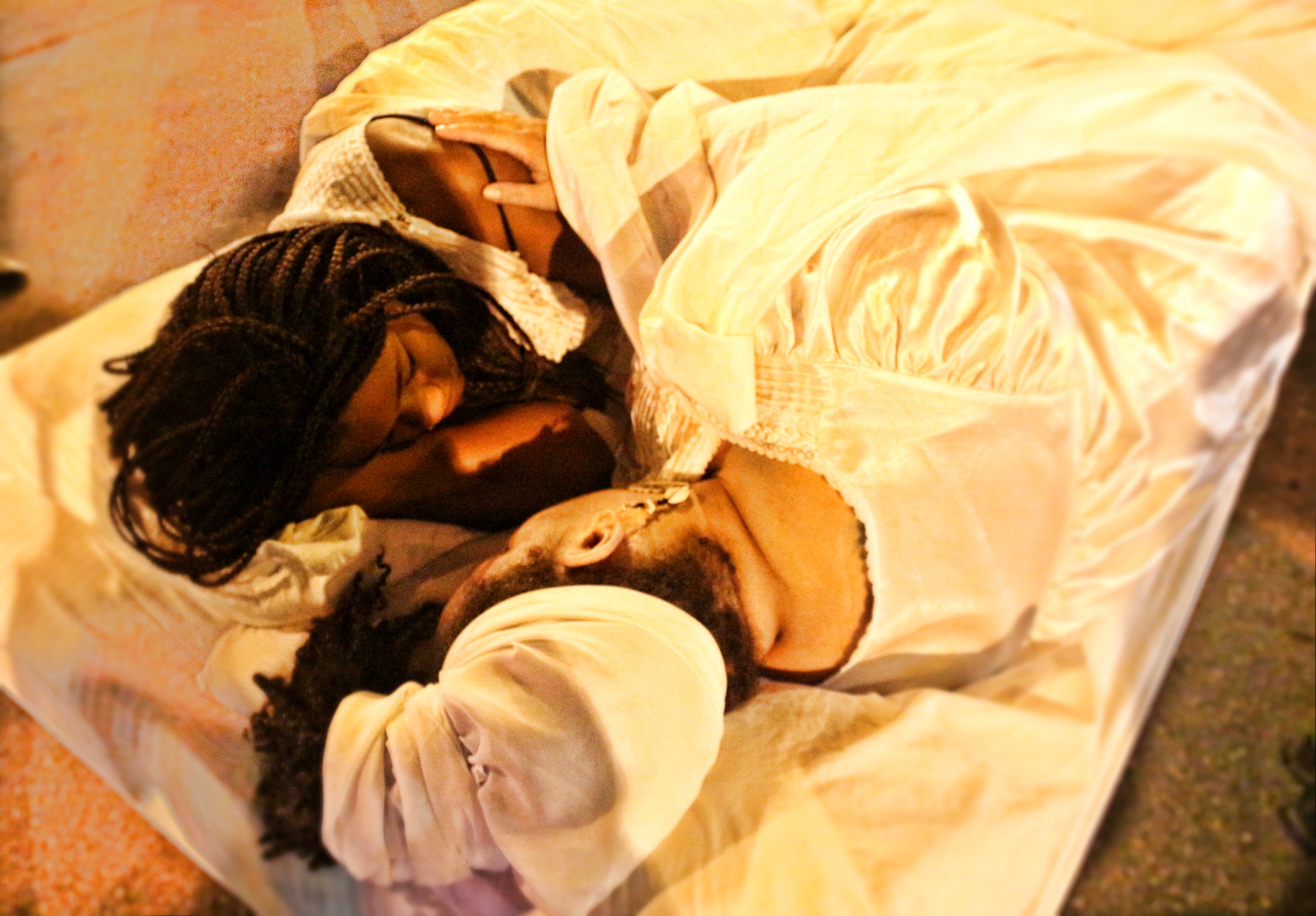 "As a woman of color with a disability I can understand how unhoused people are made invisible," said Noemi Sohn, Filipina-American feminist poet/performer with cerebral palsy. Noemi works in various movements dealing with disability rights, racial justice, women's rights and ending violence against women.
Poet and Community organizer Tony Robles didn't hold back: "I'll just say this — fuck the realtors!" he said.
Images were projected onto the market rate Vida-apartments right next to the now dirt pit, with images and personal stories of people impacted by rising rents and lack of affordable housing, one image read: "Bismark and Sandy are facing unlawful rent increases and eviction threats. If they lose their home, they would not be able to stay in SF"