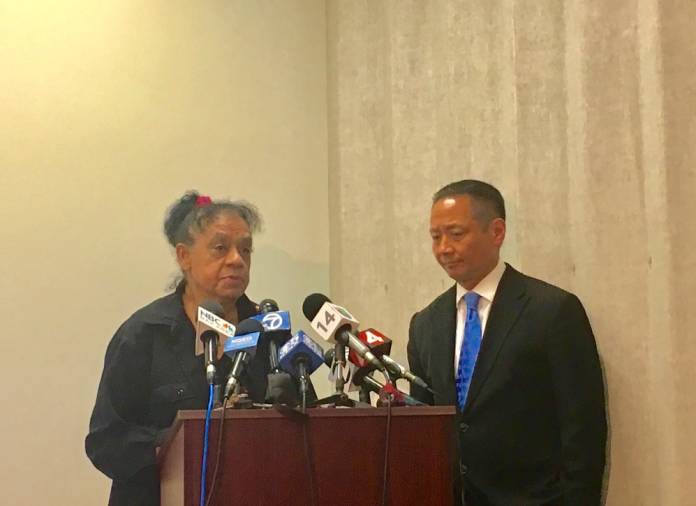 Remaining criminal charges against Sean Moore, 43-year-old unarmed man who was shot on the steps of his home by San Francisco police officers investigating a restraining order violation, were dropped today, San Francisco Public Defender Jeff Adachi announced.
Moore was jailed after the shooting that occurred on Jan. 6 on counts of assaulting a police officer, making criminal threats and resisting arrest. Family members say Moore suffers from bipolar disorder and schizophrenia and was critically injured as result of the shooting.
On April 25, San Francisco Superior Court Judge Jeffrey Ross dismissed eight of the ten charges against Moore. The Judge also noted that the two officers, Kenneth Cha and Colin Patino, were acting outside the scope of their duties and were trespassing when they remained on Moore's property after Moore declined to be questioned. 
Officer Cha was involved in recent officer involved shooting at a Subway at Market Street in response to an ongoing stabbing incident. 
Moore, who was released on May 4th, faced a single felony count, battery with serious bodily injury, for allegedly punching one of the officers, and a misdemeanor charge for allegedly violating a restraining order by banging on a wall.
The dismissal comes a day after a request for extraordinary review of Ross's ruling and a request to stay Moore's trial were denied by a California appeals court. The District Attorneys Office has filed an appeal of Ross's ruling and if it's granted prosecutors intend to refile charges. 
Public Defender Jeff Adachi strongly criticized the District Attorney's Office:
"The District Attorney has gone to extraordinary lengths to justify an unlawful use of force by police. Unfortunately, the same level of advocacy is not extended to the victims of police violence," Adachi said. "It calls into question whether the District Attorney's Office is unbiased enough to fairly investigate officer-involved shootings in San Francisco."
Moore's attorney and Deputy Public Defender Brian Pearlman said he was pleased by the dismissal of charges:
"The District Attorney is apparently willing to fight to the bitter end in order to prosecute an unarmed citizen shot by police, despite a judge finding that officers were violating his rights and trespassing on his property when they attacked him," Pearlman said.