ONSTAGE If hearing about an intimate drama with two couples—one youthful, one aging—trying to figure out their relationships automatically conjures up "Who's Afraid of Virginia Woolf?," John Kolvenbach's new play at the Magic Theatre will make you think again. The characters in Kolvenbach's "Reel to Reel" (through February 25) are about as far from Albee's bitter, antagonistic husbands and wives as you can imagine.
Kolvenbach's dialogue is no less brilliant, but he uses words (and other sounds – more on this later) to plumb the depths of love within a marriage. The playwright skillfully interrogates the way two very different people come together over time (in this case more than half a century), shave off the sharp edges, lift each other's spirits, and create a life together.
(Read our interview with "Reel to Reel" playwright John Kolvenbach here.)
In "Reel to Reel," the young people and the elders are actually the same people at different times in their lives—aged 27, 42, and 82. The older couple is played by Magic Theatre veterans Carla Spindt and Will Marchetti, and their younger versions by Zoe Winters and Andrew Pastides. The ensemble performs together seamlessly. Their often-complicated action on stage—moving quickly from scene to scene, decade to decade, not only speaking but also producing Foley sound effects live on stage—is agile and engaging.
When we meet the octogenarians Maggie and Walter, they seem cozily matched. Their gentle banter is witty, sometimes stinging, but never cruel. "You're 82. How did that happen?" Maggie teases Walter.
"I'm sorry, Maggie, but you are my one remaining interest. I'm focused. I'm a reduction sauce, thick at the bottom of the pan," Walter tells her, trying to pull her attention away from the audiotape she is splicing at her worktable. Their interplay seems as comfortable as the well-worn Turkish rug in the middle of their bohemian New York apartment.
At first, it hardly seems possible they are the same people as the young Maggie who comes on like a take-no-prisoners military officer, barking orders at the bewildered Walter. "Take out your phone. Call her now and tell her you met somebody and I guess tell her you're sorry and she can keep your guitar that you never play…"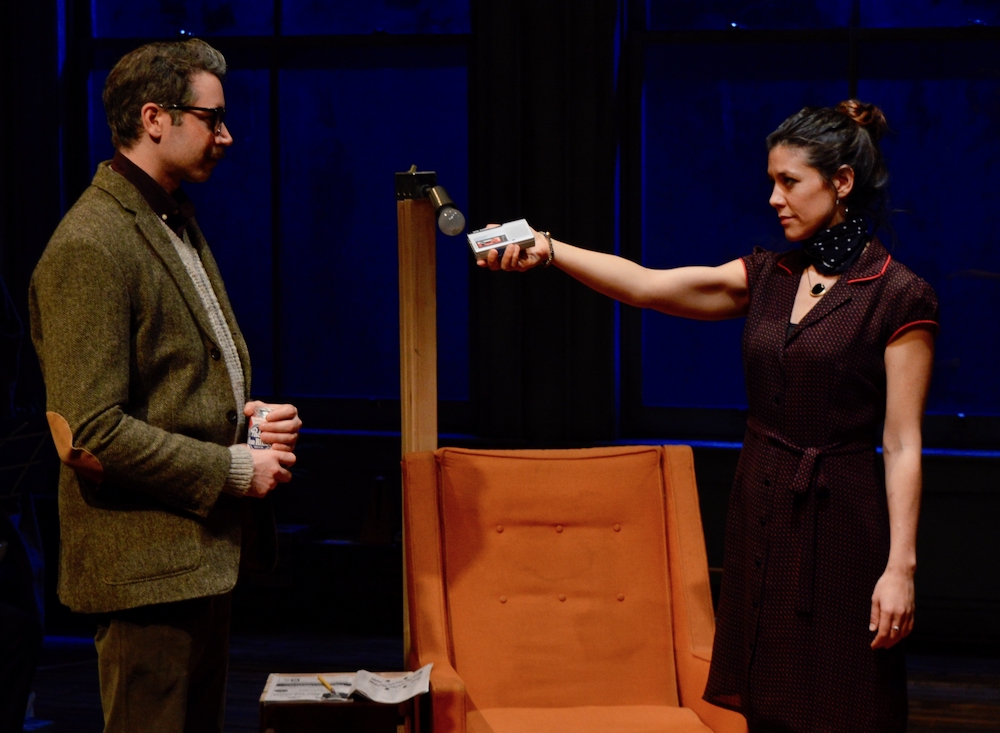 Ambushed, Walter fumbles with record albums and beer cans before succumbing to this feisty woman who has already decided his fate.
When she finally leaves his apartment, he fears she has disappeared out of his life forever, and becomes desperate to find her.
The Magic Theatre has produced several plays by Kolvenbach, including "Goldfish" (2009), "Mrs. Whitney" (2009) and "Sister Play" (2015). This is the world premier of "Reel to Reel," which he also directs. His witty and elegant writing never descends into sentimentalism, despite his concentration on the day-to-day stuff of romance, cohabitation, and lives that intertwine over the decades.
The sounds—some instrumental, some vocalized by the actors, a few played on tape—are crucial because Maggie is a "sound collagist." She records everyday noises ranging from covert conversations to washing machine cycles, painstakingly assembling them by splicing raw tape, and sometimes incorporating them into live performance art routines. It's been her lifelong obsession. She explains that she when she was nine years old, "I asked for a tape recorder for Christmas. The first thing I recorded was my mother's washing machine."
When we witness her performance art routine, including her recreation of the sound of "someone's femur being crushed" by "breaking raw macaroni with a hammer" and her admission that she started covertly taping her parents because she was obsessed with what they talked about when she was not there, her odd profession starts to make some sort of sense.
Maggie is also fascinated with the intimate sounds of their marriage, and Walter gets drawn into them too. Both the young and old get a kick out of describing and recreating their partner's snores "mumbling, and snorting and mewing—it sounds like cats," and sighs, screams, cries and laughter in ways that are funny and familiar.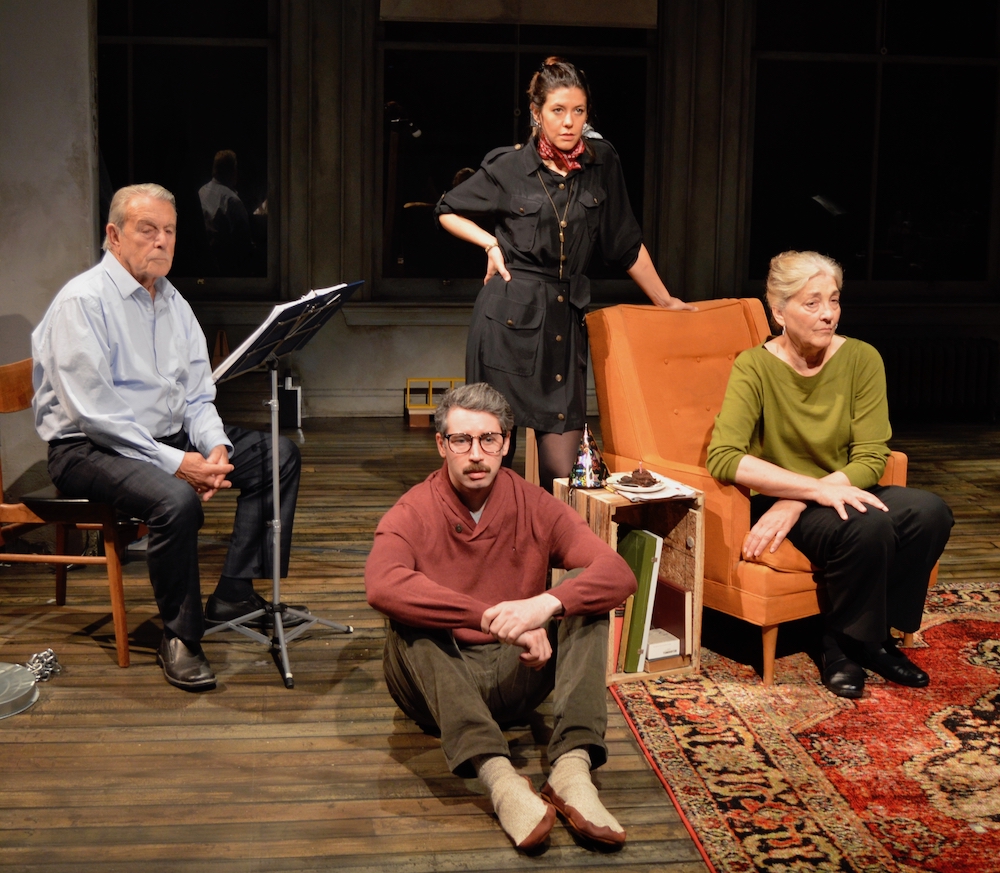 Walter too is an aspiring artist, he wants to be a filmmaker. But he is so disappointed with his major attempt, that he burns the last copy in the trashcan. At one point, he takes over Maggie's live "sound" act, one of the few scenes that seemed unnecessary and a bit too predictable.
All of the acting is superb, but Winters may have the most challenging role. As the younger Maggie, she has to go from shrill to shy, uninhibited to desperately private. This actress is not afraid to be vocal or vulgar and she creates a character that is intriguing and someone we—like the young, perplexed Walter—definitely don't want to lose track of.
Another star of the show is Sara Huddleston who designed the complex soundscape, using voices, instruments, buckets, bottles, and all manner of props.
Kolvenbach succeeds in convincing us that the most ordinary sounds of our lives—the sighs, the creak of an open cabinet, the long-distance phone call from parents, the insistent ring of a doorbell—can evoke the most extraordinary feelings. You will leave the theater listening to the world around you with a very different ear.
REEL TO REEL
Through February 25
Magic Theatre, SF.
Tickets and more info here.