ALL EARS  At turns goofy, touching, mesmerizing, super-funky, and just plain weird, local DJ Platurn's just-released, two-part mix of unfamiliar Icelandic rare grooves and pop hits, Breaking the Ice, is a brilliant, painstaking excavation of unheard gems—and of his own past. If your knowledge of that icy island's scene doesn't extend beyond Bjork and Sigur Rós, Breaking the Ice will blow your mind with dozens of tunes from the late 1960s through early 80s (and clue you in to what was happening on Reykjavik's intimate but lively glam rock, space pop, psychedelic, bubblegum, and pastoral folk scene). 
Platurn's a very respected name on the local turntablist and hip-hop scene, laying down beats at parties from Motown on Mondays to Dre Day (which he organizes). But in 2006 he started exploring the musical variety of his Icelandic roots with his cousin, especially inspired by his father.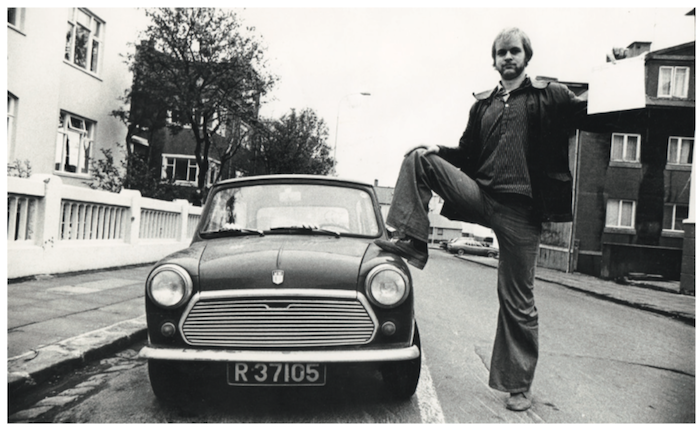 Platurn's dad was Magnus Thordarson, a groundbreaking DJ and concert promoter who, in the early 1970s, brought rock and roll to Iceland's only radio station. According to journalist David Ma, who wrote Breaking the Ice's excellent liner notes (buy the two-CD version for some awesome pics and documentation of the early Iceland scene), the national radio station, Ríkisútvarpið, was trying to be all things to all people, and looked down on overseas rock as "too aggressive"—so it ended up a bland morass of traditionalist tunes and propaganda. Thordarson changed all that when he scored a one-hour show and started breaking not only overseas records, but local bands who were adopting and developing new sounds.
"I was super into rock and roll, and its appeal to sexual impulses of young adults," Thordarson told Ma with a laugh. "But I wanted to take it beyond that, I wanted to speak about the lyrics and take it into the intellectual realm." Thordarson eventually opened Icelandic ears to everything from reggae to the Kinks, and fed a thirst for connection with the world that sparked Icelandic musicians to take up instruments and make their own noise (even if it was a cover of "Rock the Boat").
Platurn discovered his own mission regarding the music is father had hyped so well, when he realized how much groove a lot of it had—and started thinking about how the records from that time could be mixed together in a journey through Iceland's recent past. The seamless result toggles from energizing nostalgia to "WTF what is that?!" inspiration, much like a radio station from the past reaching our own attention deficit disorder present.  
I talked to Platurn over email about the records, his heritage, and the Breaking the Ice process that took 12 years to complete.    
48 HILLS Where you got ahold of these amazing records? Were there any specific shops you dove into? Were these mostly your father's records?

PLATURN Many different outlets. My father's collection (he was a DJ and promoter in Iceland back in the day), my own collection from when I was a kid, digging with my cousin in various places back home since 2006, and a couple of must-have pieces online. Almost all 65+ records came from old school excavation, not to mention the countless hours of educating myself—and maintaining broke status well throughout.
48H You and your cousin started getting really into older Icelandic rock music around 2006. What spurred you to start exploring more?
P Figuring out that said rock music had a lot more groove than expected. Was really that simple. I knew players in the music scene back in the day were bad ass musicians, I just didn't know to what extent how soulful and interesting a lot of the grooves really were.
48H I love how you've talked about how a lot of Icelandic music had funky drumming "almost unintentionally." Can you give me a couple examples of records that you recognized that on?
P Not really mentioning names, but there are very popular bands back home that many know about, like Hljomar for instance, that had great pocket drummers throughout many of their releases. 
48H How did you make the mix itself, i.e. what software tools did you use, or was it purely turntable oriented? Was there any challenge to working with such older records?
P All recorded in Pro-Tools. All original vinyl pressings, so yeah piecing it all together certainly wasn't easy. From the time I started to completion I'd estimate it took me roughly two years to complete the actual recording process. Choosing the music and finding all the pieces where I felt like I was satisfied took roughly 12 years. Older records always present a challenge, but that's what I love about projects like this. I've never been one to take the easy-street shortcut.
48H Are there any interesting or surprising connections between Iceland in general (or Icelandic music specifically) and the Bay? 
 P Not really. There is a Northern California Icelandic Society that gets together a few of times a year to celebrate popular holidays back home, but that's about it. There's only about 350,000 of us, and a rough guesstimate of how many live outside of the island would probably be somewhere between 20 and 30 thousand I'm assuming, spread out all throughout the planet. 
I did purposely put two records on there that certified the California/Iceland connection for me personally. First one is a cover of The Mamas & The Papas "California Dreaming," a rendition translated as "Farm Boy's Dream." And the other a hokey pop-disco song entitled "Frisco Disco," not to be confused with the classic B-boy break from Eastside Connection of the same name.