The "sf.citi" website shows 29 Bay Area tech companies as members. Almost all the big guys are there (except Apple and Oracle) — Facebook, Google, Amazon — plus all the SF headquartered companies that might face a hefty new tax if Prop C wins — Salesforce and the rest — plus of course Ron Conway's own AirBnb.
Those companies are now associated with a No on C ballot argument that is based on a false assumption that existing approaches — more housing, more shelters, more bathrooms/showers, more mental-heath services/facilities, more drug treatment, etc. — don't work well enough, and what is needed is "innovation."
In other words, stuff that is to be figured out … later, maybe someday.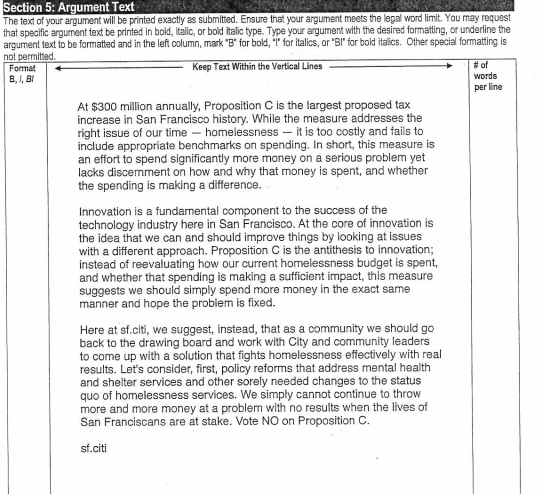 Actually, all those approaches do work, and have prevented SF homelessness from being far worse than it is now. It's basically a question of scale. More will help more. And sure, some innovation would be good too — but that will take money as well, whatever it proves to be. Where else would that come from?
The truth is, face it … they just don't want to pay the new Prop C tax. It would hurt their profits. A teeny bit.
The No on C argument's most ironic sentence is "… we should go back to the drawing board and work with City and community leaders to come up with a real solution …"
But: That is exactly how Prop C was created! The city's human services community that actually knows what it is doing to fight homelessness put it together with the city leaders who aren't under Ron Conway's control.
And most of all, we have not actually yet heard directly from SF Tech Industry's real leadership about Prop C. From Marc Benioff of Salesforce, Mark Zuckerberg of Facebook, and all their peers. They are putting their names on our city's hospitals and our new commercial landmarks. 
How will they put their names on our city's future?