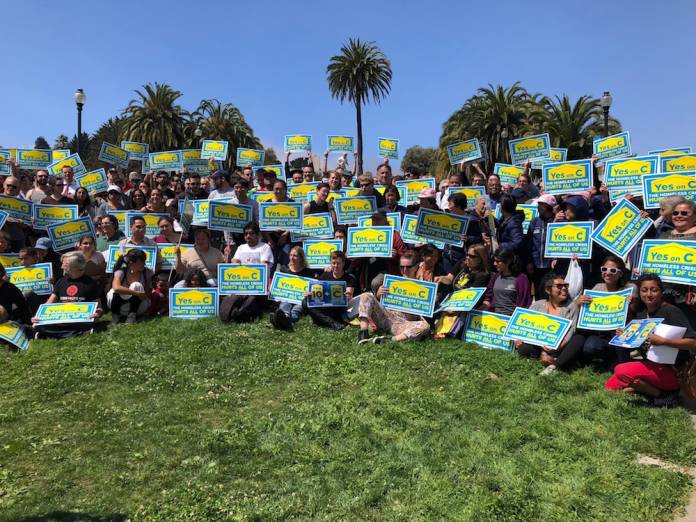 The Yes on C campaign, representing the most important issue on the November ballot, held a rousing kickoff today – and the debate is going to put the spotlight on local elected officials.
So far, the six progressive supervisors – Sandra Lee Fewer, Jane Kim, Rafael Mandelman, Aaron Peskin, Hillary Ronen, and Norman Yee – have all endorsed it. The five others have not.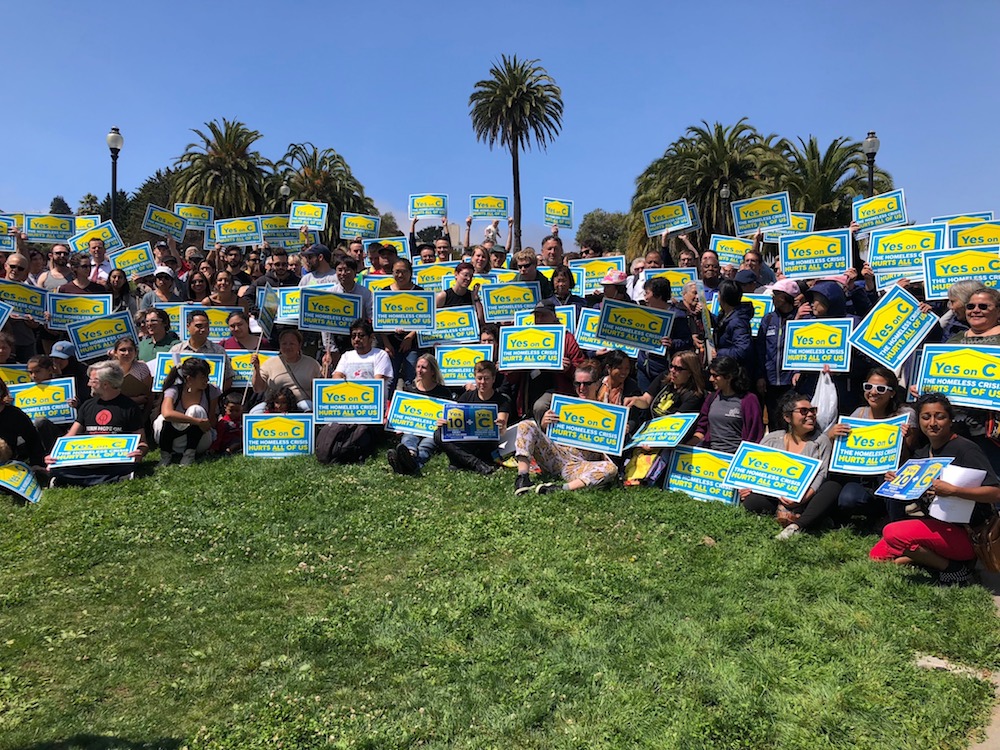 This is going to be a defining issue in the future of local politics, a chance for organizations, officials, and individuals to tell us which side they're on.
This fall – but also for years to come – political groups like the Tenants Union, the Harvey Milk Club, the League of Pissed Off Voters and others will be asking candidate for every office: Where are you, or where were you, on Prop. C?
Every progressive group in the city, and every credible community-based housing organization, is on board.
The Chamber of Commerce and the big landlords are against it.
So where are our elected officials and candidates now?
Mayor London Breed has said nothing, and abstained when the issue came up at the Democratic County Central Committee, where both Reps. Nancy Pelosi and Jackie Speier vote in favor of endorsing Prop. C.
Sup. Vallie Brown, recently appointed by Breed in D5, has not taken a position on the issue. She told me by email:
"I've been digging into the details of Prop C. I've talked to a few folks about it and I'm reaching out to others for more information."
I suspect we will hear the same from others allied with Breed over the next few weeks, at least until the mayor makes her position (or non-position) clear. But I have to say: There's not a lot of details to dig into. Prop. C is very clear: It would add a very small tax to the biggest businesses in town – the tax would only apply to gross revenues of more than $50 million – and pretty much every company in that category just got a much greater tax break from Trump.
That money would go to make a real impact on the homelessness situation in San Francisco.
At the rally today, Deepa Varma, director of the Tenants Union, said she's often asked what it would really take to address the homeless crisis.
"I say, it's a big problem. We'd have to tax the rich and build a whole lot of housing … and guess what – we're doing it!"
Dean Preston, who is running in D5, told me he sees nothing complicated about it:
I believe we should tax the richest corporations – who just got a massive tax cut from Trump and the GOP – to fund desperately needed solutions to homelessness. That's why I'm 100 percent supportive of Prop. C and will do everything I can to help pass this measure.
Sup. Katy Tang, who is not running for re-election, wrote a ballot argument against Prop. C. Jessica Ho, Tang's aide who is running in D4, declined to answer a question about the measure for the League of Pissed-Off Voters questionnaire.
Gordon Mar, who is also running in D4, is a strong supporter of Prop. C.
In District Two, the incumbent – Catherine Stefani – and her main challenger, Nick Josefowitz – both have so far ducked the question. Neither responded to the League on that issue. I have contacted both of them, and will let you know what they say.
In D6, Matt Haney is a big supporter of the measure, and was at the rally today. Christine Johnson, also a candidate, did not respond to the League or me. Sonja Trauss is a founder of the Yimby Party, which is struggling with the issue; she told the League she supports Prop. C, although she wasn't at the kickoff and hasn't been involved in the organizing work.
In D10, candidate Tony Kelly was at the rally today and has made Yes on C a part of his campaign. Shamann Walton has also endorsed the measure.
Theo Ellington didn't respond to the League or me.
Lots of candidates are doing campaign kickoffs and seeking endorsements and support. Prop. C is ahead in the only poll I've seen, and it's a real solution to the problem that everyone agrees should be at the top of the city's agenda.
Let's see who is willing to stand up to the landlords and side with the community, and who isn't.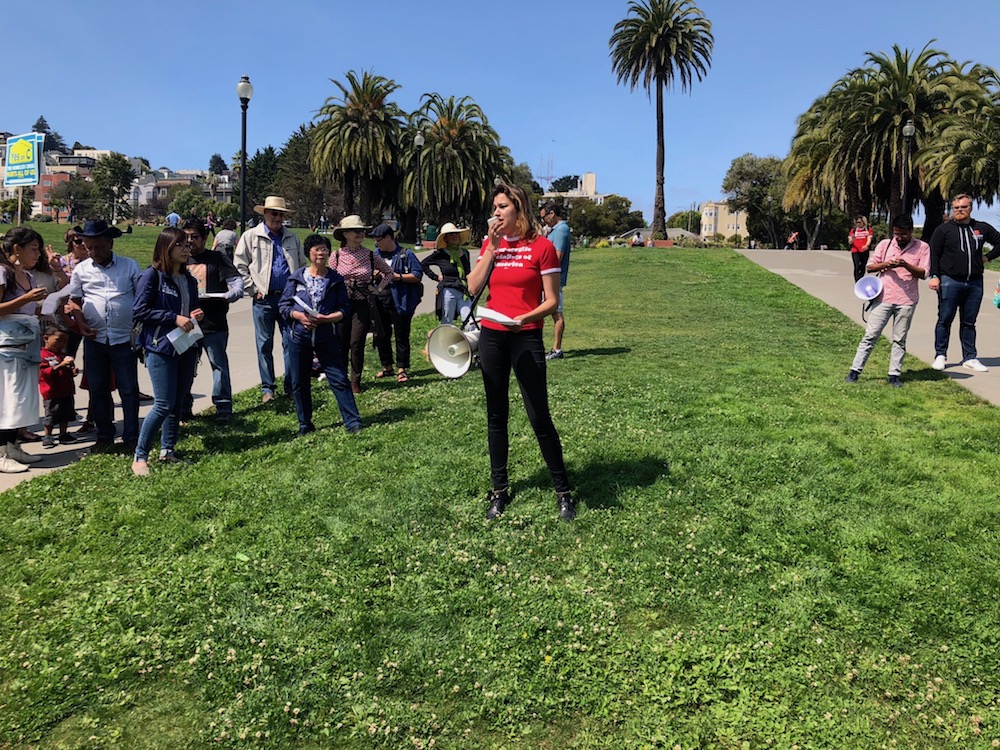 The best comment of the rally today came from Shanti Singh, vice president of the SF Democratic Socialists of America. DSA played a key role in getting this on the ballot, and will be actively involved in the campaign.
Singh talked about Prop. 10 (the Yes on 10 and Yes on C campaigns are working together) said that the landlords argue that rent control ultimately leads to gentrification and higher rents. "If that's the case," she said, "why aren't they all in favor of it?"