ONSTAGE George Saulnier plays the title role in Anton Chekhov's Uncle Vanya, which opens the Cutting Ball Theater's 20th anniversary season (through October 21). Saulnier feels the Russian writer is somewhat misunderstood. 
"He's a lot funnier than people realize," he said. "He's very human. I like his humanness."
Saulnier trained with Paige Rogers (the play's director and the co-founder of the Cutting Ball with her husband Rob Melrose) at the Trinity Rep. Every few years after she and Melrose started Cutting Ball, she would call Saulnier to try and get him to come out, be in a play. Saulnier, who spent over a decade with Boston's Rough and Tumble Theater and now lives in Pittsburg, could never do it. Until now. 
He's glad to be in Uncle Vanya, which he thinks is about depression and loss and everything dripping away before you're ready for it to. With some funny elements! You know—Chekhov. And Saulnier likes playing the role of Vanya. 
"He shows a lot of himself, and you have to be open and go to scary places to do it right. I find that gratifying," he said. "Recently I was in Anne Frank, and I played the dentist who is sort of there as comic relief. It's a very simple task – he's sort of shortsighted and blunt and kind of obvious. With what I'm doing now, I don't know how it's going to land."
In the play, Vanya, who once was considered a brilliant intellectual, feels he has wasted years managing the family farm. Now his dead sister's husband, a retired professor, and his much younger wife have returned to the farm with Vanya's niece. Vanya's mother lives there as well, and a doctor keeps showing up to treat the professor's gout, only to be sent away. As often happens in Chekhov's stories, nearly everybody seems to be in love with someone who doesn't feel the same about them. They also drink copious amounts of tea and take shots of vodka.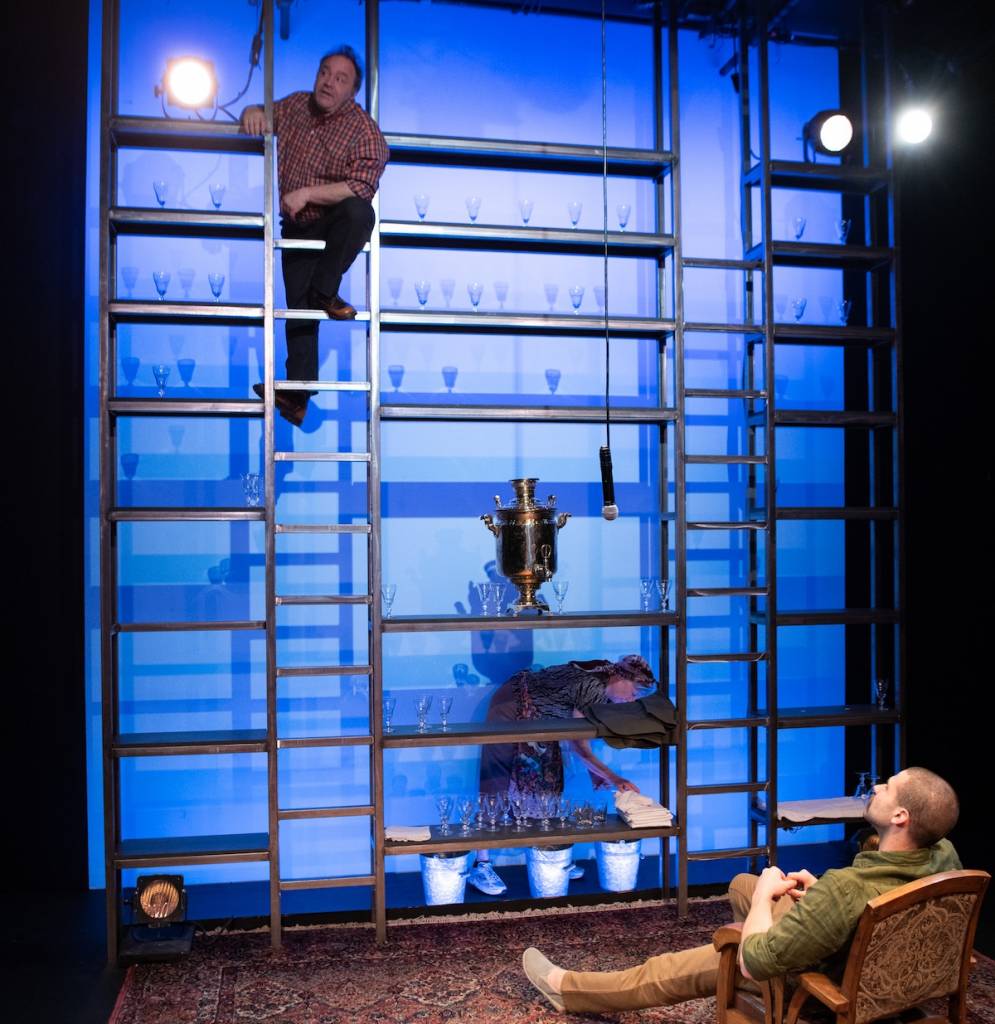 Rogers has said she's been interested in Uncle Vanya since teaching a class on Chekhov at an arts high school, finding the characters' interactions true to life. Now, she says, she sees the play as being about work and how work impacts our self-esteem. 
Saulnier also sees a preoccupation with work in the play. Although they find it unfulfilling, some characters, including Vanya, say they need to work in order to distract themselves from their problems in life. 
"It's definitely in the text," he said. "All the characters talk about work, although it's different. In 18th century Russia, there was a hard line class-wise between the working class and the upper middle class and the aristocrats."
The staging of the play includes the characters sometimes speaking into mics that hang from the ceiling and climbing on scaffold-like shelving on the sides of the stage. Saulnier says he doesn't like experimentation just for the sake of it, but in this case he thinks it works. The mics, for example, spotlighting certain ideas and creating intimacy in some moments. 
"I like using off-beat things as long as you're enhancing the play," he said. "It should be trying to communicate the story and serve the text."
UNCLE VANYA
Through Oct. 21
Cutting Ball Theater, San Francisco
More info here