Calvin Barr has a tall order ahead of him in Robert Krzykowski's debut movie The Man Who Killed Hitler and Then the Bigfoot (which opens the San Francisco Independent Film Festival on Fri/31). The military man was to hunt down and kill the German dictator at the height of WWII and, decades later, do in the legendary hirsute hominid known as Bigfoot while the creature hides out in the Canadian wilderness, carrying a deadly plague.
These two monstrous figures were, in reality, impervious to entire armies of men, so it's marvelous to think that one man could locate and assassinate them both — especially a character as peaceable as Barr, played by the mustached and deep-voiced Sam Elliott of Tombstone, The Big Lebowski, and Hulk (and by The Hobbit's Aidan Turner in flashbacks.)
That being said, it's the struggle within that is the toughest to conquer for Barr in Krzykowski's character study about a sensitive, lonely man who must come to terms with these killings and the other casualties he has left in his wake.
Elliott, currently up for an Academy Award for his much-lauded supporting role in "A Star Is Born," told me he'd have no reservations about killing the Führer.  He also spoke about what drew him to this fantastical tale, abotu playing a reluctant killer, his Oscar nomination, and why both A Star Is Born, and The Man Who Killed Hitler and Then the Bigfoot are the right films for the wrong times we're living in.        
48 HILLS What drew you to The Man Who Killed Hitler and Then the Bigfoot when your agent first presented it to you?
SAM ELLIOTT It's a very provocative title that makes people wonder what it's about. I read what was presented to me and knew that it was a very young, first-time director. Then I got on the phone with Robert D. Krzykowski and heard how intelligent and well-spoken he was, and how long he had been working on it, and also about some of the people that Robert had gotten involved and were mentoring him along the way. As soon as he said that [writer-director] John Sayles (Eight Men Out, Passion Fish, Lone Star) and one of the great effects wizards in the business, Douglas Trumbull (2001: A Space Odyssey, Close Encounters of the Third Kind, Blade Runner) were involved — that spoke everything of Robert and the kind of story he's telling.  
Ultimately, it was really about what's on the page, this fantastical tale. There are a lot of things about this character — the way he deals with people, his goodness — that were really touching to me, and close to me in terms of the way that I am as a person.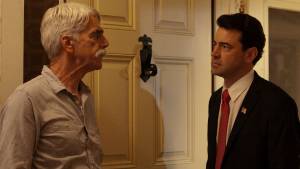 48 HILLS In the film, you play a kind of reluctant killer. First he kills Hitler during World War II on behalf of the U.S. military. Then decades later, he is summoned by Canadian authorities to kill a deadly plague-carrying Bigfoot. While he's good at what he does, he's not dying to do it and it actually takes a major emotional toll on him.
SAM ELLIOTT He was very unsettled about killing. Clearly, when push comes to shove, he had no trouble with it. But it wasn't anything he was proud of.
I think he'd gotten away from it and finally made peace with it. Then, when they come to him at his home and ask him to go after Bigfoot, telling him he's the only person who can do it, he just went back in it again, because he was a military man, had worked for the government, and had allegiance to it.  It's like a lot of the great warriors in this country that lay down their lives for the rest of us. They're committed to it, and he's committed to it.
But I think he's very sad about it, also because he lost the love of his life precisely because he was in the military.  
48 HILLS Conservative podcaster Ben Shapiro recently admitted at a March for Life rally that he couldn't, on principle, kill a baby Hitler. I have to ask: Could you?
SAM ELLIOTT Yep, if I could have gotten to him. There's no doubt that the world would have been a much better place if he, or anybody else of his ilk, had never been around. And I think that's one of the things that makes this film the right film for the right time.
I'm also expecting to get a lot of blowback on being the man who killed Hitler in the movie, from all the people who are still out there who share his mentality. Nobody's holding back on anything today, and I think it's obvious who set the tone for it.
But it's the times we are living in. It's like A Star Is Born. One of the elements of A Star Is Born is talking about addiction and alcoholism. There isn't anybody in the world who doesn't know someone who's been touched by alcoholism, either from personal experience or a family member or loved one. It's the world we live in, and it's a terrible thing about it.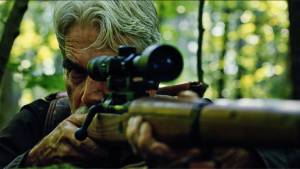 48 HILLS Speaking of A Star Is Born, I have to congratulate you on your Best Supporting Actor Oscar nomination.
SAM ELLIOTT Thank you. It feels good. On some level, I think it's about fucking time, from a tongue in cheek standpoint. For me, it's always been about the creative gain, but to be recognized for your work is a wonderful thing. I'm thrilled to see all the nominations that have come to the film because it means that a lot of people are being recognized for a lot of hard work.
It's very interesting to have A Star Is Born energy going on right now, and behind that I'm going to be going out and enjoying seeing what happens to this little indie movie. It's like opposite ends of the poles as far as what kind of films they are and where they came from. I'm very excited for Robert Krzykowski, and beyond anything, I'm very excited to see what happens to the film on his behalf.
48 HILLS What's coming up next for you?
SAM ELLIOTT I'm filming the last 10 episodes of "The Ranch" for Netflix with Ashton Kutcher, and then I'm looking forward to doing nothing for a time. I've never had such heat burning under me as I do right now, so I'm sure some work will be offered somewhere. It's really about what's on the page for me and the people that are there.
That's why I'm thrilled to talk about The Man Who Killed Hitler and Then the Bigfoot. I started working on this little indie movie a week after I wrapped on A Star Is Born. It's been a long time coming — 12 years for Robert — so I'm almost more excited on Robert's behalf than my own.
THE MAN WHO KILLED HITLER AND THEN BIGFOOT
Thu/31 7pm, $13 
Roxie Theater, SF  
Tickets and more info here.